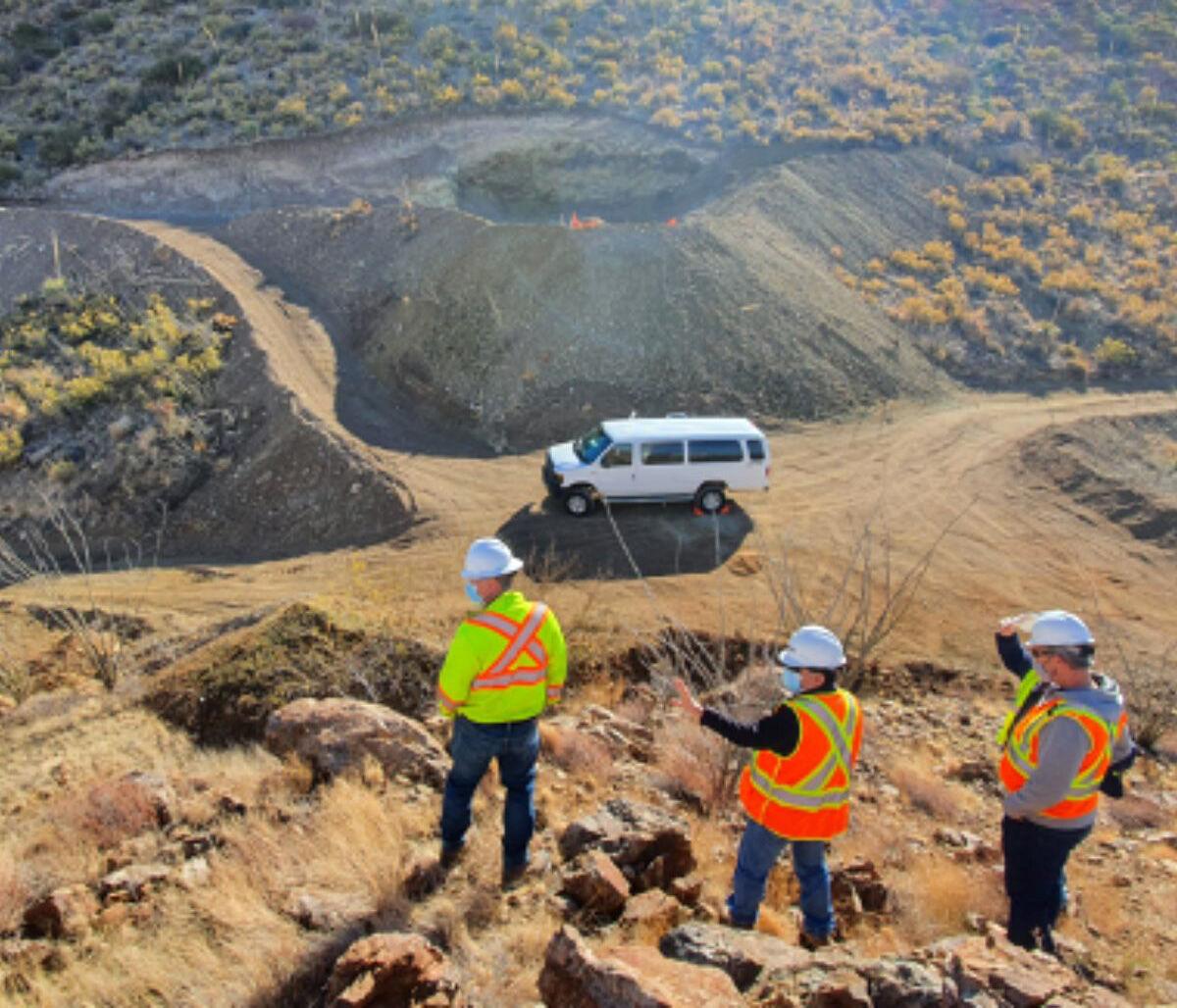 A plan Hudbay Minerals Inc. has filed with the state details how it proposes to reclaim or restore the Santa Rita Mountains' west slope, facing Sahuarita and Green Valley, after mining there.
The company is considering building three open pit copper mines there, but says filing the reclamation plan doesn't mean it will definitely build them.
The plan proposes what the company calls "concurrent reclamation," a practice it already plans for the proposed Rosemont Mine on the mountain range's east slope, facing the Sonoita highway.
Concurrent reclamation calls for waste rock and other materials to be deposited in what would be their final configuration while mining proceeds.
While the mine operates, slopes on its outer-edged facilities would be built at the angles at which they will exist during reclamation, Hudbay said in its reclamation plan for its Copper World project on the mountains' west slope.
These slopes would be covered by waste rock that doesn't erode, so slopes won't have to be regraded after the mine closes, the plan said.
Company officials have long promoted concurrent reclamation as one of many reasons that they see Rosemont as a model for sustainable mining practices.
But Pima County Administrator Chuck Huckelberry, a longtime opponent of mining in the Santa Ritas, said last week about the reclamation plan, "the only acceptable reclamation plan is one that leaves the land as they found it.
"Our definition of reclamation is filling the hole," or backfilling the mine's planned three open pits, Huckelberry said.
That seems unlikely to happen, given the history of Hudbay's still-unbuilt Rosemont Mine, which would be built in the Santa Ritas east of Copper World if Hudbay and the federal government can successfully apperal a 2019 federal court ruling blocing that mine's construciton.
Years ago, Huckelberry and some environmentalists had wanted the planned, half-mile-deep Rosemont Mine open pit backfilled, in part so it wouldn't fill up with water and form what they feared would be a toxic pit lake.
Bit Hudbay and the U.S. Forest Service successfully resisted efforts by Huckelberry and another federal agency to require backfilling at Rosemont, out of cost concerns, among other reasons.
Hudbay has proposed the Copper World reclamation plan to the State Mine Inspector's Office. The office has posted formal legal notices seeking public comments on the plan by Oct. 15.
After mining is finished, the plan calls for these steps, among others:
The company would reclaim 1,123 acres, about 86% of land it would previously have disturbed.
Materials determined unsuitable to exist in foundations lying underneath outer slopes of waste rock would be removed and placed inside waste rock storage areas.
Reclamation would keep the site in stable condition to minimize soil erosion.
Permanent piles of mining materials would be designed to not restrict surface drainages or contribute to excessive erosion. Drainage channels would be established if needed.
All facilities not needed for closing the mine would be removed. Areas left behind would be regraded, capped with soils suitable for plant growth, and seeded.
Some sediment ponds might be left in place or new basins established to control the sediment load to downstream drainages.
A major goal of the plan's revegetation efforts would be to meet state requirements to establish "native, diverse and productive plant communities capable of stabilizing the soil against wind and water erosion and supporting the post-mining land uses of ranching and wildlife habitat."
Vegetation cover put on the site would include 70% of the existing native vegetation on the site today. It would be placed atop waste rock and tailings areas.
Reclamation is expected to be finished 12 months after the mine closes. The site would be monitored for five years after that.
Plant species used in the area must be native, commonly occurring in the project area now and known to support wildlife habitat and commercially available.
When asked if Hudbay's reclamation plan met Huckelberry's standard for acceptability, Amanda Lothner of the Mine Inspector's office referred a reporter to a section of the state's mine reclamation law that says any person who wishes to comment or submit an objection must do so in writing to the Arizona state mine inspector. Lothner is a reclamation specialist for that office.
The law defines reclamation as measures taken after mines close to "achieve stability and safety consistent with post-mining land use objectives specified in the reclamation plan." It doesn't require reclamation to what land looked like before mining, let alone backfilling.
It does, however, say a reclamation plan must contain measures needed to "achieve a safe and stable condition," suitable for planned post-mining uses. A mining company must also show the reclamation plan is "compatible with good engineering practices regarding erosion control and seismic activity."
At Rosemont, backfilling would have required Hudbay crews to scoop up waste rock and mine tailings it leaves behind from processing copper ore, and return it to the half-mile deep open pit after it stops mining copper. It would take 16 years, 24 hours a day, to handle about 881 million tons of material, the Forest Service said in its 2013 final Rosemont environmental impact statement.
The Forest Fervice said it was prohibitively expensive, costing up to $996 million and taking up to 24 years to accomplish, and also would pose major worker safety concerns.
The U.S. Fish and Wildlife Service also pushed for backfilling during the mid-2010s, in an early draft of a biological opinion on Rosemont. It backed off after the Forest Service rejected the idea.
Huckelberry has written that Rosemont would still earn the company hundreds of millions if not billions in profits even if backfilling cost $1.5 billion, depending on how high copper prices are. Backfilling is intended to reduce water loss from evaporation in the open pit after mining stops and the pit fills with water.
Officials of Hudbay's predecessor at Rosemont, Augusta Resource Corp., have said Huckelberry has exaggerated the mine's likely profits.