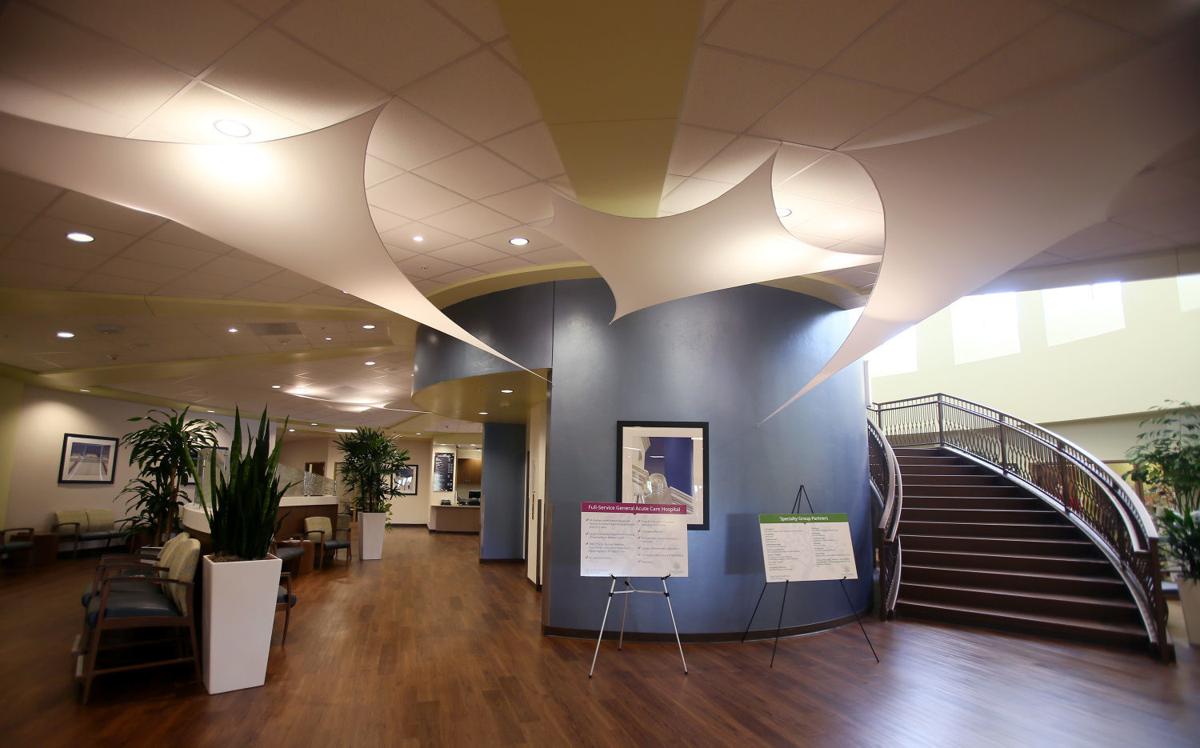 Rural hospitals are finding they cannot transfer some patients needing surgery and specialty care to Tucson or Phoenix hospitals, creating a crisis that one Bisbee physician blames for a recent patient death.
The problem is related to the number of COVID-19 patients in Arizona's hospitals, the majority unvaccinated, as well as an increase in patients who delayed care during the earlier months of the pandemic.
After a patient in need of surgery at Santa Cruz Valley Regional Hospital in Green Valley could not be transferred anywhere in state, a Tucson gastroenterologist drove to Green Valley to operate Friday. Now the hospital has filed a complaint with the Arizona Department of Health Services about the inability to transfer.
"We're rationing care but not in a rational way," Stephen Harris, CEO of Santa Cruz Valley Regional Hospital, said Monday. "If the patient went to an emergency room in Tucson, they would have to take them, but since they need a transfer, they are not getting a spot."
Currently, he said, there's no way to tell which hospitals have space for non-COVID patients without making numerous phone calls. Increasingly, he said, his hospital is not finding places for patients to go.
The same thing is happening in Cochise County, said Dr. Cristian Laguillo, a senior physician with Copper Queen Community Hospital in Bisbee. Laguillo, who served a tour in Afghanistan as a combat medic, said he has never felt this helpless trying to help patients.
Over the weekend, he had a patient in need of cardiothoracic and pulmonary expertise and surgery, but Copper Queen could not find anywhere to transfer him after calling every hospital with the speciality in Tucson and Phoenix, he said.
"He shouldn't have been in my hospital. We couldn't find an ICU bed, and he died on me," he said. "I did everything I could to save him."
Dr. Julia Brown, director of emergency services at the Bisbee hospital, has also found no transfer beds available in Tucson over the last week or so.
"Hospitals are refusing to take our patients. So, in some instances we have had to hold patients who needed specialty care we were unable to provide," she said. "In some cases, these patients became very unstable and were at risk of dying from conditions that were completely treatable."
Other examples of non-COVID patients who needed transfers and couldn't get them were provided by Dr. Heidi L. Lodge, chief of staff and director of the Douglas Clinic: a patient experiencing kidney failure; a woman with severe hemorrhaging — the clinic did not have enough blood or gynecological expertise to help her adequately; and another patient in respiratory failure who eventually died.
"There are more examples, and unfortunately there will be (even) more examples," Lodge said. "We understand the need to ration care in the times of a pandemic, but currently care is being rationed in favor of COVID patients by using the (surge) line. The line has proven invaluable to us, but we need to be able to use this asset for all patients requiring a higher level of care."
The medical surge line being used in Arizona was established in April 2020 by the state health department to help with the transfer of COVID-19 patients across the state, depending on bed availability, and can only be used to find beds for COVID patients.
Harris, who has worked as a CEO in various hospitals since the 1970s, said he has never seen anything like this before. He has had other patients in need of care who have not been offered spots at hospitals recently. One patient needed open-heart surgery and waited a week before Harris said he threatened to go public with the problem. A bed was then offered at a Tucson hospital, he said.
"These are life-and-death decisions," he said, adding that his staff members are sometimes finding a "very distracted person on the other end of the line" when they call trying to find help.
Harris said the Santa Cruz Valley hospital can see up to 50 people in the emergency room on a busy day, and two or three might require a higher level of care than it is able to provide.
While the Green Valley hospital has six ICU beds, the Cochise County facility does not have an ICU. Still, it's been operating like it has one, Laguillo said.
"We do not have a physical ICU, but we do what we have to do," he said. The patients who are now being attended in its makeshift ICU would have been in a real one, pre-COVID, with adequate staffing, expertise and equipment, he said.
Public information officers with nearly all of Tucson's hospitals told the Star on Monday that they are able to take patients, but not all provided specific information on whether they have declined patient transfers in recent days or weeks.
At one point Monday, ICU bed availability in Pima County was at 6% with 20 beds available, according to data provided by the county's Health Department.
Statewide, 8% of adult intensive care beds were available as of Monday.
"We accept transfers from in and out of the Tucson area when we have the space and staff to accommodate them," said Becky Armendariz, associate vice president for marketing and public relations with Banner Health. "This has been our practice throughout the pandemic, and it has continued."
Banner Health in Arizona reported in late August that its facilities were so full it was providing care in hallways, waiting rooms and ambulances. Among patients with COVID hospitalized at Banner at that time, 96% were unvaccinated.
"This recent COVID resurgence has again stretched the resources of state and local health care facilities. Over the past few weeks, we have seen an increase in requests for transfers from hospitals throughout Arizona and from neighboring states," said Veronica Apodaca, director of marketing for Northwest Healthcare. "Our hospitals remain very busy, and there have been times when we have had to decline transfer requests from other facilities."
Laguillo said Copper Queen is serving COVID-19 patients without too much trouble so far, as it has the equipment it needs and makes use of the state's surge line.
But the transfers for other critical medical needs are failing, he said.
"People have died, people are suffering," he said. "The usual standard of care is no longer applicable to the current circumstances."
In Green Valley, Harris said, the only reason the hospital's patient survived Friday is because Tucson Dr. Sylvain Sidi drove down Friday evening and performed the needed surgery.
"We started calling the hospitals in Tucson and Phoenix, and every single one turned us down," he said. The patient lived, Harris said, "only because this doctor was nice enough, was human enough to save his life."
Laguillo would like to see the state open up a line for all patients in critical need, not just patients with COVID-19.
If the patient does not need help for COVID, he said, there's often no way to find out where there are openings without making endless phone calls.
"We need the same type of service now more than ever for every patient, not just the COVID patients," he said of the line. He would like this line to provide information about neighboring states, not just Arizona.
Dr. Theresa Cullen with the Pima County Health Department said a non-COVID surge line would benefit patients and hospitals throughout the state, especially in rural areas, for two reasons: It would help physicians isolated in smaller communities connect with urban hospitals, and it would help save "precious time."
"What it means is I make one call as opposed to making 30 calls, as opposed to making 40 calls," she said Tuesday, adding that she would like to see a non-COVID surge line continue after the pandemic.
"You have all heard these stories throughout the country," Cullen said. "There's no reason for any of us to believe that in Arizona, the need to develop and push an accelerated ability to transfer patients to a higher level of care is not needed."
Rural Arizona hospitals have sent patients to New Mexico, Utah and Colorado, Anthony Gimino, a Pima County Health Department spokesman, said Monday.
The county's Health Department receives information regarding transfers, requests for transfers, and the number of declines in Arizona, but the information is not specific to each county.
"So, while we can track patterns and receiving hospitals, we don't track where people are coming from," Gimino said, via email.
Arizona Department of Health Services' spokesman Steve Elliott said he couldn't immediately answer questions about whether Arizona could or should create a new surge line for non-COVID patients. The COVID-19 surge line was created by way of an executive order from Gov. Doug Ducey.
"Our team is very good at treating COVID. We've stayed up to date with everything," said Laguillo, a family doctor and also the senior medical officer for the New Mexico National Guard.
He said seeing patients in need of care they are not getting has been devastating.
"I've worked at multiple centers, and these are people who would normally have been cared for by a team of physicians," he said of the patients who have had to wait for care. "I've been on call the last three days, and it's felt like a year."
Contact reporter Patty Machelor at 806-7754 or