Sen. Kyrsten Sinema officiated a wedding in Bisbee over the weekend where costumed guests included a couple of people wearing Native American costumes with full headdresses and face paint.
Sinema danced next to a person dressed as a unicorn at the wedding, while protestors marched outside and one passerby yelled that she was a corrupt sell-out, a video posted on YouTube shows.
"Senator Sinema officiated a personal friend's wedding at which a small group of activists protested during the private ceremony," said Sinema's spokesperson Hannah Hurley in an email. "While the Senator knows the bride and groom, she does not know and did not interact with the wedding guests who wore disrespectful and racist costumes to the ceremony, and she strongly condemns such behavior."
The video, taken by a protester, shows Sinema through an opening in the wall where the wedding took place smiling and dancing while a man outside yells "Sinema is taking corporate money to destroy us all."
About 20 protesters marched outside The Courtyard, a venue in downtown Bisbee, where the wedding was taking place. The wedding schedule said costumes were welcome.
Bisbee resident Molly Harrico, who was at the protest, said she was "shocked and appalled and disgusted by the white people who walked into the wedding party dressed in full Native American regalia."
Harrico attended the protest because of Sinema's opposition to the Biden administration's Reconciliation Bill, which contains climate change provisions the Bisbee resident particularly supports.
"It felt to me like an opportunity to let it be known that we are not happy with how she's conducting herself," Harrico said. "As a representative who works for the people, she certainly is not doing that. It feels to me like she's just an obstructionist basically."
Hurley responded, "As she has said publicly, Senator Sinema is excited for the opportunity in the legislation to pass policies addressing our changing climate."
Several people at the protest who spoke with the Star said they saw it as an opportunity to have their voices be heard by an elected official who they find inaccessible, including Anne Teters, a Bisbee business owner.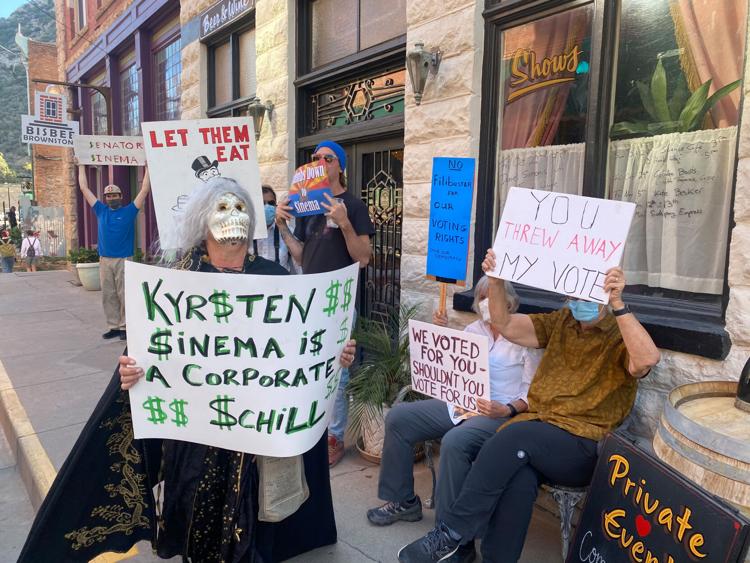 "I've been very dismayed and horrified and astonished and disgusted by the way Kyrsten Sinema keeps blocking legislation that we need like to lower prescription drug prices or to raise minimum wage or to protect the climate — all these things we obviously need for the future, for the present," Teters said.
Sinema, elected to the Senate as an Arizona Democrat in November 2018, has received criticism for not getting behind key pieces of the Democrats' agenda, including the $3.5 trillion bill. It would have included funding for clean energy and policies to combat climate change as well as free community college, funding for child care and universal pre-K, medicare expansion, extending the child tax-credit, cutting prescription drug prices, paid family and medical leave and more.
"She's got the whole country in a stranglehold," said Bisbee resident Gretchen Baer, who attended the protest, referring to the fact that Sinema is one of two Democratic holdouts in the Senate who are blocking that key piece of President Biden's agenda. "This is not just some local politician that we don't like for whatever reasons. This is somebody who on a global level is stopping positive change."
As guests entered the wedding, they were handed little American flags, and the ceremony began with them singing the Star Spangled Banner.
Protestors outside the walls of the venue agreed to be quiet once the ceremony started, after a woman who said she was the bride's mother was seen pleading, on the video, that they not ruin her daughter's wedding, while some protesters shouted at her.
But one man who walked by and heard Sinema was inside had something to say. "Stop taking corporate money," he yelled over the wall. "Total corruption of our government. Total sell out. Totally unacceptable."
"Keep laughing," he says on the video, as it shows Sinema inside the walls smiling and dancing with wedding guests.
Baer said Sinema and the other guests could definitely hear the man outside, as his voice boomed over everything else.
Baer and other people in Bisbee said that during a dinner with the wedding party, Sinema was wearing a jacket that said "Go sit on a cactus," reminiscent of photos of her that went viral in April wearing a ring that said "F— off."
"In all the years that Kyrsten Sinema has been representing us, she's never come to Bisbee, never had any interest, never done one thing, never reached out in any way, shape or form," Baer said. "This was our opportunity to speak up, so we took it."