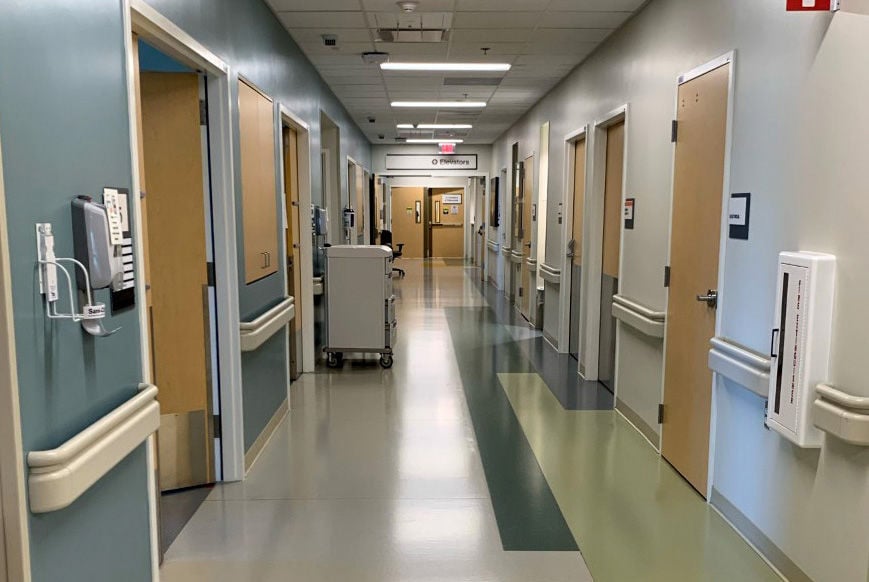 Here's a rundown of information local hospitals are providing about their COVID-19 surge plans, as well as what they still need to prepare:
Tucson Medical Center HealthCare, 5301 E. Grant Road
"Like other healthcare facilities, we have been working for months on surge preparations in case we see an influx in COVID-19 patients," wrote Judy Rich, president and CEO of TMC HealthCare, in an email reply to the Arizona Daily Star.
"We have already started to convert areas of the hospital typically used for ambulatory care into inpatient ready space. Additionally, we have adjacent partners who have agreed to assist with less acute patient care."
TMC reports that it is adequately supplied to deal with a surge in patients at this time.
"Like other organizations have noted, we know that getting supplies can certainly be challenging, however we have deep supplier relationships that have allocated supplies to meet our current needs," she wrote. "We are reevaluating our demand and forecast daily as the patient population changes and trying to anticipate our future needs to ensure we are adequately supplied."
Banner-University Medical Center Tucson, 1625 N. Campbell Ave., and Banner-University Medical Center South, 2800 E. Ajo Way
Statewide, Banner Health reports increasing its bed capacity for coronavirus patients by canceling elective surgeries, converting nonclinical spaces such as conference rooms and using surgery centers. In Tucson, the provider is using recently vacated clinical and administrative spaces in two towers at the Banner–University Medical Center Tucson campus. The hospital is also considering bed expansion at a variety of clinical sites throughout Tucson.
In addition, if needed, Banner will put up tents in parking lots and football fields and is working with community leaders to house patients in hotels and local churches.
The Banner Health Foundation is collecting donated medical supplies and personal protective equipment, or PPEs, and donations can be dropped off Monday through Friday, from 10 a.m. to 2 p.m., at the Banner Home Health Office, 575 E. River Road. The following unused items are needed:
Masks, including N95 and surgical and procedure masks
Disinfecting wipes, including Clorox, Lysol and other brands
Alcohol-based cleaning wipes
Nonsterile gloves
Protective face shields or goggles that can be worn over glasses
Isolation or surgical gowns
Shoe covers
Nonperfumed hand sanitizer appropriate for use in a clinical setting, with greater than 60% ethanol alcohol or 70% isopropanol
Paper towels
Liquid hand soap
Homemade masks for optional social-comfort use by Banner's health-care workers but which cannot be worn by providers who are directly caring for COVID-19 patients, nor those in any procedure rooms or isolation areas.
Carondelet St. Mary's Hospital, 1601 W. St. Mary's Road, and Carondelet St. Joseph's Hospital, 350 N. Wilmot Road.
Carondelet, which is jointly owned by Tenet Healthcare Corporation and Dignity Health and Ascension, is doing a lot of work to prepare alternative care sites for a potential COVID surge both inside and outside of the hospitals, wrote Tenet spokesman Keith Jones in an email to the Arizona Daily Star. Within the hospitals, rooms are being repurposed to designated COVID units for more streamlined and specialized care. Other areas that could be used for a patient surge include pre-operative bays, the post-anesthesia care unit, endoscopy or surgical suites, and outpatient clinics, he wrote.
Our hospitals are partnering together to assist in caring for patients wherever needed. Hundreds of associates have volunteered to fill in for alternate positions or retrain back to the bedside. Many physicians and advanced practice providers are similarly volunteering to care for patients in expanded capacities. We are also looking at greater telemedicine capabilities.
What's needed? Donation of isolation gowns, N95 masks and face shields are needed, as well as homemade masks. Community members can call 520-872-3373 for information on the items that can be accepted at the two hospitals.
Northwest Medical Center, 6200 N. La Cholla Blvd., and Oro Valley Hospital, 1551 E. Tangerine Road.
Both Northwest Medical Center and Oro Valley Hospital are working to identify areas within our hospitals and affiliated clinic spaces that could be used for additional bed capacity, wrote Veronica Apodaca, director of marketing for Northwest Healthcare. There are several spaces that are currently used for different types of patient care, like pre-op and post-anesthesia care units, outpatient clinics, and surgery centers that could be used to add additional beds. Some of the patient rooms at Northwest and all of the rooms at Oro Valley are single-occupancy rooms that could be converted to double-occupancy.
The two hospitals need donations of FDA-approved personal protective equipment, or PPEs, as well as surgical masks, N95 masks (medical and construction grade), gloves, gowns, face shields and eye protection. They are also accepting hand sanitizer, hand soap, paper towels, rubbing alcohol and other items. Anyone interested in donating supplies is asked to email 1730.NH.Feedback@northwestmedicalcenter.com.
Concerned about COVID-19?
Sign up now to get the most recent coronavirus headlines and other important local and national news sent to your email inbox daily.