The county-run Tucson Mountain Park gun range will reopen in mid-February after being closed more than six months.
Heavy monsoon storms last July decimated portions of the more than 6-decade-old gun range, wrecking a ramada roof, said Leonard Ordway, shooting sports program manager for Pima County Natural Resources, Parks and Recreation.
"The first storm that hit us on the night of July 5, it picked up the center of the roof up three or four feet and smashed it down, and then it buckled in the middle. It was basically beyond repair," he said.
The county is spending $120,000 on rebuilding the ramada and other upgrades to the rifle and pistol range at2405 S. Kinney Road. The park itself dates to the late 1950s and repairs over the decades were largely piecemeal, with no significant improvements in years.
Construction crews preserved the historic stone columns and framing, but the new roof will be slighter higher and extended to offer more shade to park users.
Ordway said the new structure, once complete, will also provide better sound reduction to area residents.
Resident Stan Skinner hasn't been to the range in some time, saying he shoots in safe, deserted areas near Three Points and Red Rocks.
But he would prefer to use the county facility — if the hours were extended into the late afternoon.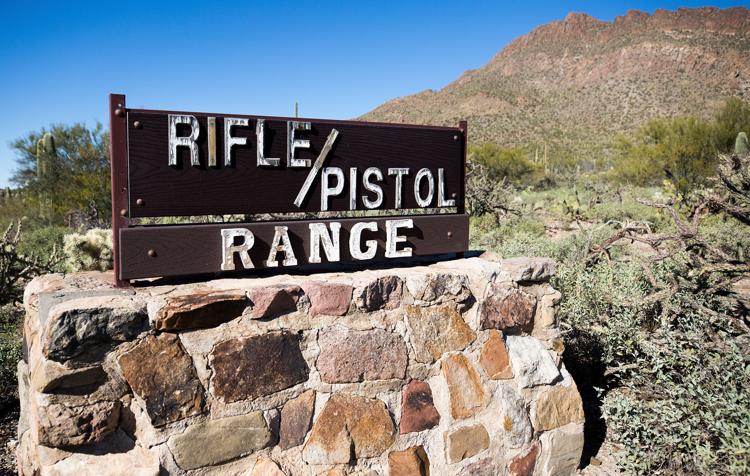 "The Mountain (Park) Range is so close and convenient," Skinner said. "If that could happen, I'd be really pleased to go to that range."
While the park is currently closed, the posted hours varied by day and time of year, but it never stayed open past 2 p.m.
County officials are listening to Skinner and others, with officials confirming that they're recommending additional funding next fiscal year — which starts on July 1 — to extend the hours of the park.
A portion of those costs would be recouped through range fees.
Pima County also operates the Southeast Regional Park Rifle and Pistol Range, the Southeast Regional Park Clay Target Center, the Southeast Regional Park Archery Range, the Tucson Mountain Park Archery Range, and the Virgil Ellis Rifle and Pistol Range in Ajo.