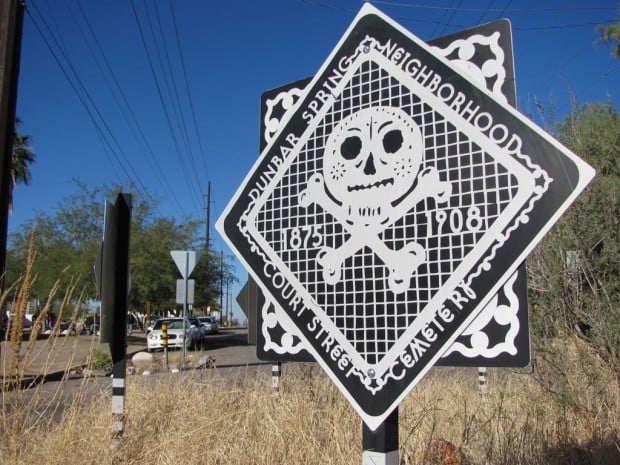 It's a normal Tucson neighborhood - except that part of it sits atop a onetime cemetery where thousands of people are still buried.
Signs in the Dunbar Spring Neighborhood, north of downtown, depict a skull and crossbones and identify the area as the Court Street Cemetery.
The signs - in a traffic circle at First Street and 11th Avenue - are no joke.
Thousands of bodies buried in the cemetery, which was in operation from 1875 to 1909, were never removed as the area developed into a residential neighborhood, said Homer Thiel, project director for Desert Archaeology Inc.
Thiel, who has studied the cemetery extensively, said searches of burial registers and other records indicate that as many as 8,900 people might have been buried there.
The cemetery was bounded by Speedway on the north, Stone Avenue on the east, Second Street on the south and Main Avenue on the west, Thiel said.
It remains unclear how many of the burials were moved as homes were built in the area in the early 1900s.
"The cemetery was closed in 1909, and many of the remains were relocated to the Evergreen Cemetery on Oracle Road, but it is believed that many more were not removed," says an account on the website of the Dunbar Spring Neighborhood Association. "Residents have occasionally discovered human remains when digging on their properties."
Thiel said study of the area continues, but "it is still uncertain how many burials were removed."
"My current guess," he said, "is that a least half of the burials were left in place and are present beneath the streets, sidewalks, buildings and backyards of the neighborhood."
Is there something you've noticed while driving through Tucson that has piqued your curiosity to the point you wish you could find out more about it? Drop us a line, and we'll look into it.