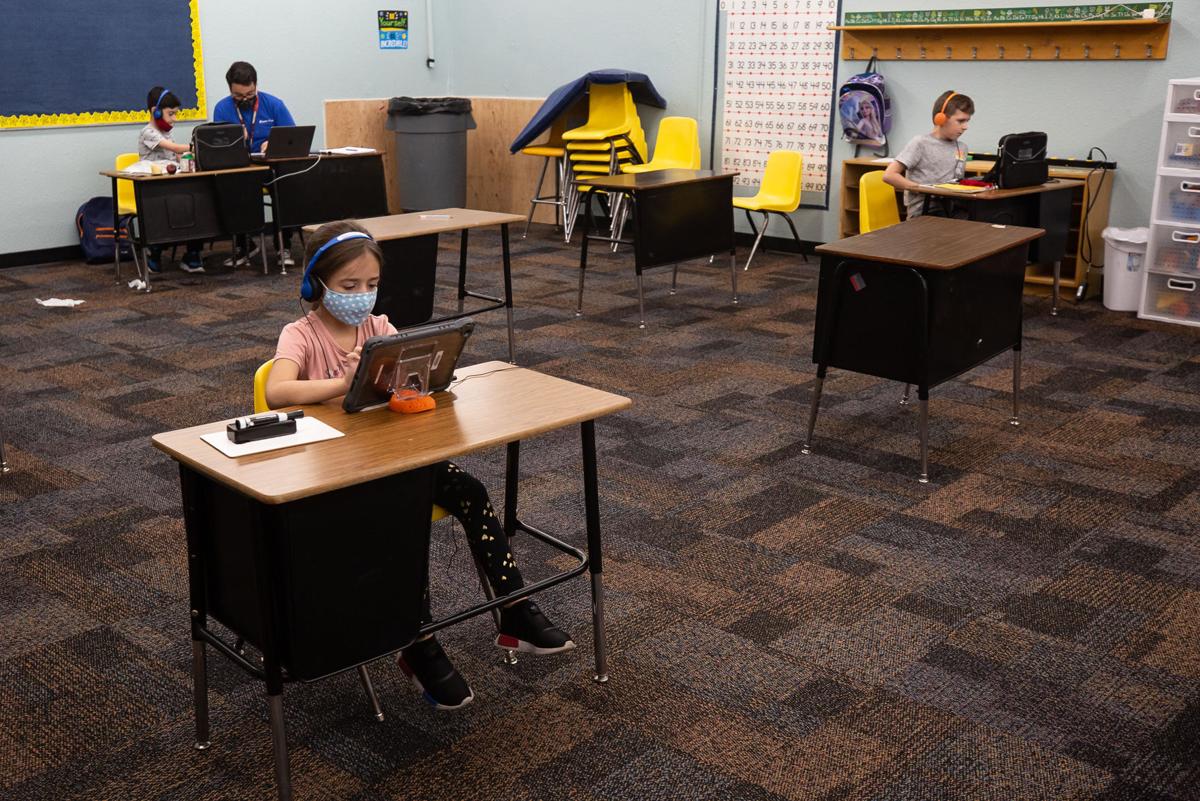 Alice Flores hesitantly lets her grandson's hand go at the entrance of Wright Elementary on Monday morning. The concern is tangible on her face as the 8-year-old is led inside by a school monitor.
Flores worries more about second-grader Jesus then his first-grade sister Jenessa, who is also led into the school. Jesus gets nervous when he's away from his grandmother, and last year — the children's first at the school — Flores came and ate lunch with them every day.
"I overprotect them a little bit," Flores said. "My whole insides want to cry out for them."
As the new school year begins, Flores can't eat lunch with her grandchildren, who she's raising on her own. Because of the coronavirus, parents and guardians are asked not to come onto campus, to have as few people together as possible.
Flores has kept the kids isolated since a statewide stay-at-home order went into effect in March. At 58, she's not that worried about herself. It's her grandkids and the uncertainty around how COVID-19 affects children that worries her.
"I'm really worried, I'm confused, I'm concerned about a lot of different things," she said. "I don't know what to do."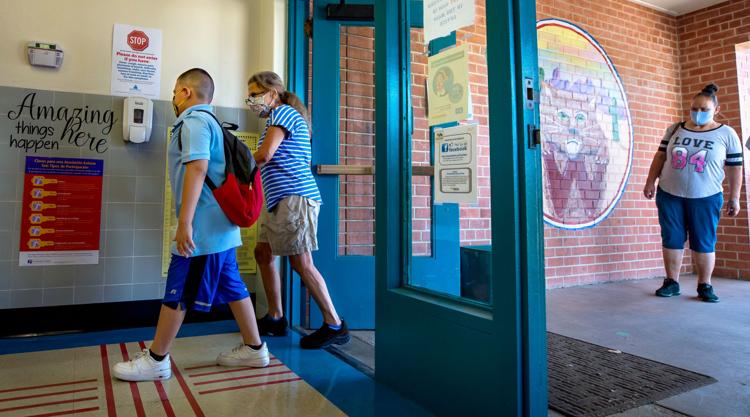 The children fall into an at-risk category, prioritized by the district for in-person services. Flores was also struggling to get the kids logged on to their online classes, so she brought them in person.
"We were having a very hard time," she said. "I don't want them to fall behind."
Unaccounted CHILDREN
After two weeks of remote learning and one week of campuses opening their doors to at-risk children, Tucson school districts are working to account for thousands of children who haven't been served at all.
Some families may have been confused by the various start dates that have been shared over the last several months. There's also the fact that online learning began earlier than when schools were required to open on Aug. 17 for on-site care.
For some, a lack of internet service or access to coveted computers and tablets may also play a role, though districts continue to work to get all their families online devices and access to the internet. TUSD plans to distribute the final round of devices next week, which were on back order due to a high demand, adding up to 10,500 devices distributed to families.
Earlier this week, more than 2,400 students hadn't been reached throughout the Tucson area. About 1,700 of those children were supposed to be attending Tucson's largest school district, TUSD. Though the numbers are high, with each passing school day, students are trickling in — just a week prior, the whereabouts of upwards of 3,500 students were unknown.
"Every day you're finding kids are logging on," Superintendent Gabriel Trujillo said. "With phone calls and teachers calling and finding kids, that number goes down a little bit every single day."
Sunnyside, Tucson's second-largest district, dropped 435 students from its rolls on Wednesday after not being able to reach them during the first 10 days of school.
That many no-shows is typical in a normal year and what the district had projected precoronavirus due to an aging community, said district spokeswoman Marisela Felix.
"Our loss in enrollment is consistent with what we expected, and we did not lose more students due to the COVID pandemic," she said.
Tanque Verde Schools did not provide a number, but said their no-shows were very similar to a normal year. And the Amphitheater, Catalina Foothills and Sahuarita school districts all said they are still working to get an accurate count on how many students are missing from online learning.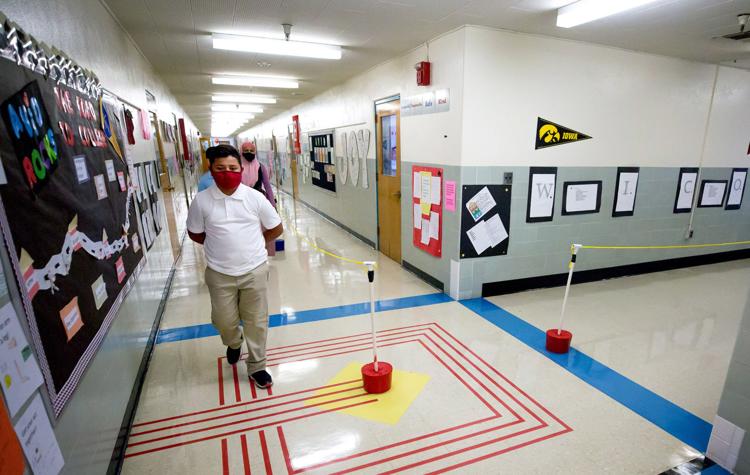 NOT YOUR TYPICAL CLASSROOM
Inside the classroom at Wright Elementary, a handful of students sit 6 feet apart or more, while two monitors move around the room, making sure the children have masks on and are able to sign into their online classes.
The monitors put green-dot stickers on the occupied desks to mark the ones in use — one of the many precautions the school has in place to mitigate the spread of COVID-19, along with one-directional hallways, transparent partitions in the office, no-touch water fountains and an air purifier that Principal Deanna Campos paid for herself.
By Thursday, with the help of monitors at the school, Flores' grandkids have the hang of getting into their online classes. And Flores is having second thoughts about them going in person.
"I'm really thinking of bringing them back home," she said. "I wanted them to get out for a little while, but they're just bored over there. What they're doing over there, they could be doing here at home, comfortably."
TUSD was ready for about 2,500 kids identified as being in at-risk populations to come to campuses, but only 586 showed up on Monday, a number that may continue to decline due to school being so different than what families were expecting. The at-risk population includes kids experiencing homelessness, those in foster care, English-language learners and some children with special needs.
"Many families were still thinking that it's the teacher in the classroom in person, so not necessarily understanding it's an on-campus learning space where you're just in front of the computer and you get access to online learning," Trujillo said.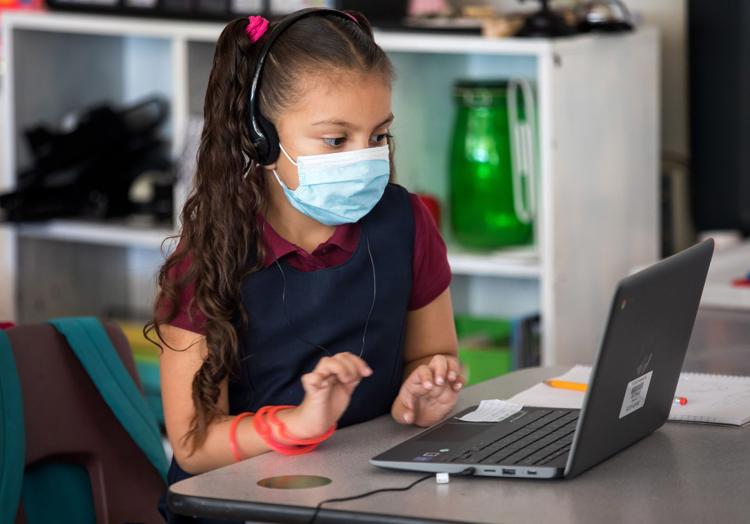 That experience isn't unique to Wright or the Tucson Unified School District.
Across Tucson's nine major school districts, 1,397 students plus "several hundred" in Vail showed up for on-site supervision. The Pima County School Superintendent's Office collected numbers from 43 districts and charter schools, which were expecting nearly 5,000 children collectively, but instead almost 1,500 students came in person.
ROOM FOR MORE CHILDREN
One of school districts' main concerns over the last month has been how to comply with the governor's executive order to make space for any child who wants it while also complying with public-health guidelines on social distancing and small groups. This necessity was only heightened when the Pima County Health Department, based on local health data, said it likely wouldn't be safe for schools to open until at least October.
One TUSD school was forced to shut down two days after opening its doors after two confirmed COVID-19 cases among staffers. While students were anticipated to show up at the school, Tolson Elementary, none had.
With fewer children showing up to TUSD schools than expected, the district is opening more space for families, even those not in the at-risk categories.
About 40 to 50 students at Borman K-8 Elementary who are not considered at-risk are returning to campus Monday, Aug. 24, and will be "exercising their right to be in on-campus learning" — remote learning with on-campus supervision, Trujillo said. Located on Davis-Monthan Air Force Base, the school will likely have a higher number of students than other TUSD elementary schools.
Though the state-required on-site services aren't akin to a traditional learning environment, they are designed to be a resource for families.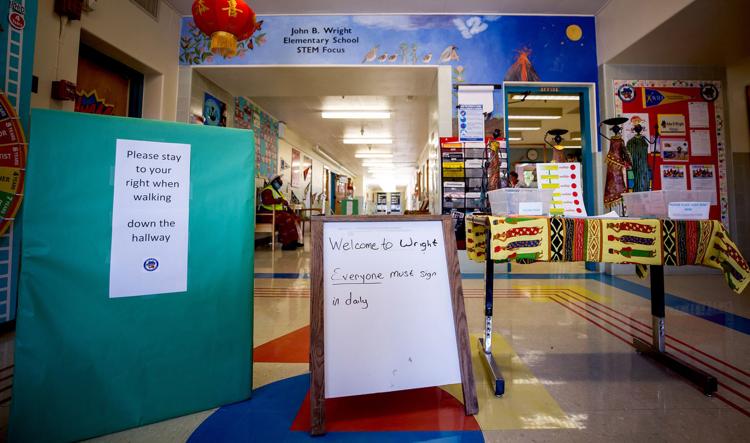 "We are going to focus on making sure that all of our parents understand that on-site learning spaces, on-campus learning spaces, are available for everybody," Trujillo said.
For more information about on-site care, TUSD families can call 225-4800. TUSD also plans to share more on its website, tusd1.org/NextStepsfor2020, about the options in the coming week.
Contact reporter Danyelle Khmara at dkhmara@tucson.com or 573-4223. On Twitter: @DanyelleKhmara.