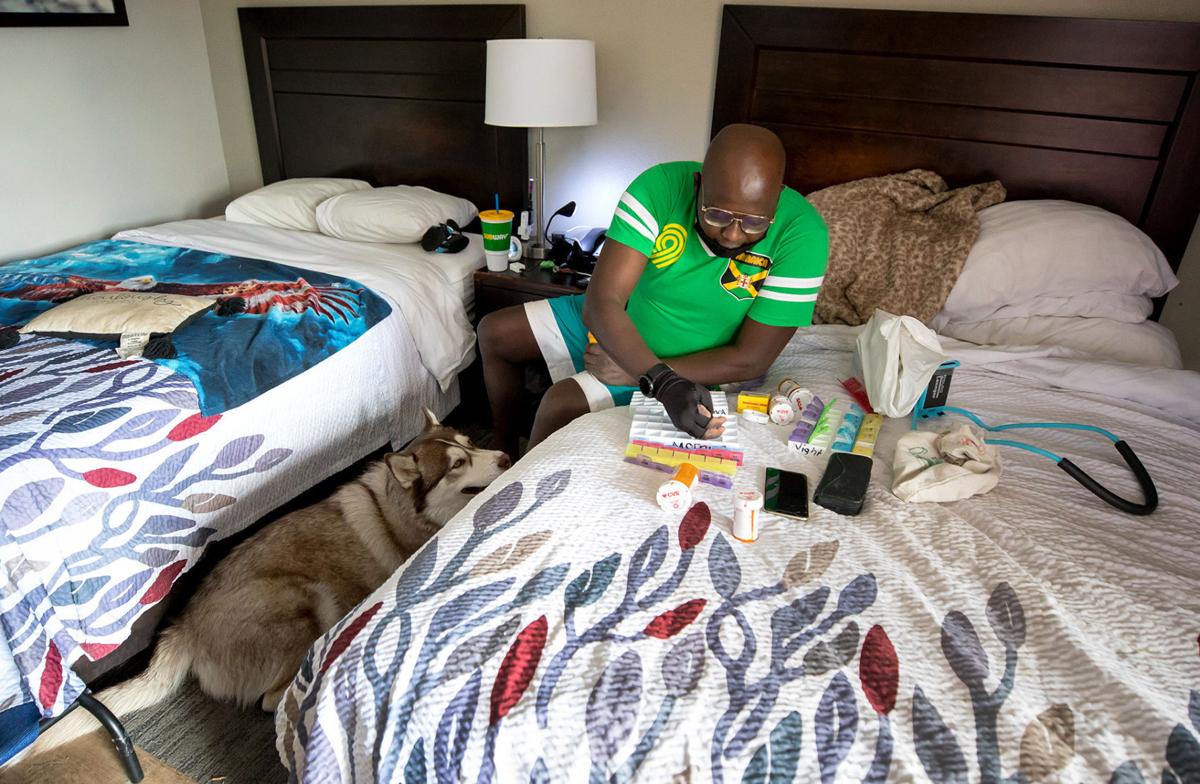 Yak Garang has been living in a hotel room for a week now, his well-being dependent on his service dog and the kindness of others.
Anonymous donors have saved him from homelessness so far, and an attorney helped him avoid having an eviction on his record, but currently there's no answer to Garang's biggest need: a new place to live.
His case is one of hundreds, if not thousands, playing out in Pima County, as people face booming rental costs and slow turnover of rental units.
"People are having trouble finding an apartment because many renters are staying in place during the pandemic and because of the demand of the limited units, landlords can ask for more rent," said Liz Morales, director of housing for the city of Tucson. "We also are seeing landlords selling properties and tenants having to relocate."
Many property owners and landlords are overstretched after months of waiting for rental assistance funds from government on behalf of tenants not paying rent.
The housing crisis — present throughout the pandemic — has been compounded in 2021 by Congress not approving additional eviction prevention dollars until late December.
This delay was followed by the state moving funding oversight from Arizona's Department of Housing to its Department of Economic Security, which required new systems to be established.
"The contracting and expanding of programs is really challenging — this would have been much smoother if Congress had passed aid sooner so that there wasn't a three-month gap in funding," said Manira Cervantes, community services manager with the county's Community & Workforce Development Department.
Here's what that means here now, at this one-year anniversary of the COVID-19 pandemic:
There are more than 4,000 applications pending for rental assistance and, while $31 million is currently available, it won't be dispersed until the city of Tucson and the county Board of Supervisors approve the new contracts.
Local rent costs have jumped 7.1% from last year, compared to 5.2% for Arizona overall, with the median monthly rent for a one-bedroom apartment here at $825 and, for a two-bedroom, $1,103.
The vacancy rate for rental units here is 3.6%. In February 2020, it was 5.8%.
People who got caught up on rent owed are now behind again after pandemic assistance ran out in December.
The federal eviction moratorium is set to end March 31 and the county is anticipating a huge number of evictions then.
For Garang — a refugee from South Sudan who witnessed atrocities as a child and now lives with complex medical challenges — it means searching daily for a place he can afford.
So far, he's only had one possible lead. It's an isolated spot on South Nogales Highway, far from the medical services he needs and the community he relies on for support.
Bureaucratic delays, insufficient relief
What's largely unknowable is how many people will be evicted, or priced out of their rentals, before assistance arrives.
Data provided by the county constables' office shows 4,376 eviction orders from the court are still outstanding, dating to March 1, 2020, although it's not clear how many of these will be enforced.
Once the federal moratorium lifts, eviction judgments that were issued within 45 days of that date are immediately enforceable. For those older than 45 days, the landlord needs to ask the court to restore the court's order.
That's because the Centers for Disease Control and Prevention moratorium allows the landlord to file for eviction for nonpayment of rent and obtain a judgment as well as any restitution owed. However, it prevents the eviction order from being served while the moratorium is still active.
A report released in February by the University of Arizona's Southwest Institute for Research on Women explores these issues, using data from the Census Household Pulse Survey and consulting firm Stout Risius Ross.
The findings:
Statewide, estimates from the consulting firm suggest as many as 33,200 households could be at risk of an eviction when the federal moratorium ends unless they get relief from unemployment benefits, relief checks or rental assistance.
Projecting statewide figures onto Pima County indicates the number of renters at risk of eviction ranges from 3,065 to more than 4,777, with a total estimated rental shortfall for these households ranging from $14 million to $21 million.
Nearly 16% of Arizona renters reported they were not current on their rent between Feb. 3 and Feb. 15, and 23% said they think it's very likely they will be evicted within the next two months.
If the statewide estimate of tenants not up to date on paying rent is applied to Pima County's 151,943 renters, as many as 24,007 households in Pima County may not be current on their rent.
The report includes disclaimers for sometimes being unavoidably inexact and not including the possible — and positive — impact unemployment insurance payments, rental assistance or stimulus checks might have on the findings.
Presiding Constable Kristen Randall said people call her office frequently to say they are trying to find somewhere to move but nothing is available. One unit that became available following an eviction last week had five applicants waiting once the tenant moved out, Randall said.
From the landlord's standpoint, the most effective way to prevent evictions is very straightforward, said Courtney Gilstrap LeVinus, president of the Arizona Multihousing Association.
"Pima County and the state must more effectively and quickly deploy eviction relief funds," said LeVinus, adding that "bureaucratic delays and insufficient relief" have put property owners in a serious bind.
"No one wants individuals or families to lose their homes in the middle of a crisis," she said. "At the same time, many property owners haven't received rent payments for months on end."
Maintenance issues
Garang, 44, lived in his apartment at Bellevue Winstel, 3737 E. Bellevue St., for about four years before things changed over this last year. The problems started with mice, a failed maintenance inspection and a rent increase.
"It was not an unrealistic increase, but we wouldn't pay the increase because they wouldn't fix the fail on the inspection," said Terrance Watkins, housing director of Community Partners Integrated Healthcare, a subsidiary of Intermountain Centers, which oversees Garang's housing subsidies through Medicaid.
The rent at the property, which is managed by SB Properties, increased from $635 per month to $680, Watkins said.
Garang has a medical condition related to sickle cell anemia that causes severe vertigo and fainting spells and so, for the last several years, he's received federal assistance for housing. The U.S. Department of Housing and Urban Development requires annual inspections of rentals tied to those funds, Watkins said.
A possible infestation of mice, a broken bedroom window and no hot water were reported as problems in December 2019, but Watkins said only the hot water issue was addressed. When contacted by the Arizona Daily Star twice last week, the people who answered the phone at SB Properties hung up on the reporter, and no one responded to an email request for an interview.
Watkins said his caseworkers were still trying to negotiate about the condition of Garang's apartment when the pandemic hit.
"Technically, if the unit fails inspection we are supposed to stop payments altogether, but we didn't because it would have left them homeless," he said, referring to Garang and his dog, Wolf.
Garang said he continued to pay his share of the rent, which is $231.03 per month, but over time that started going toward arrears and he fell behind.
By January, he was facing an eviction.
Reduce the stress, expedite the process
During the first round of CARES Act funding, Pima County and the Tucson maintained two separate systems with different eligibility requirements.
The two entities are now consolidating their efforts into one system, with one way to apply.
But first the Tucson City Council and the county's Board of Supervisors need to vote on the contracts that will make the funds available. That's planned for Tuesday, March 9, for the city, while the next county meeting is March 16.
"Once they approve of the contract, we will make $16.2 million available to the community," said Morales, the city's housing director. Morales said the lead agency that will distribute the funds is Community Investment Corporation, which will subcontract with up to 10 nonprofits that will process the applications.
Morales said they hope to assist between 4,500 to 5,000 households with the combined funds, $31 million, from the city and county.
"We want to do everything we can to reduce the stress and expedite the process of making tenants and landlords whole," said Cervantes. "With just one portal, that means tenants only have to apply to one place and there won't be duplication of effort on staff's part."
"We are ramping back up and our goal is to hit the speed we had this fall of 200 families a week assisted," she said. "If we can do that, it will take about 10 weeks to go through the existing backlog."
If rental assistance is approved, landlords could now receive up to 12 months of back rent and up to three months paid in advance.
The hope now, expressed by many people interviewed who are working to prevent evictions, is that the eviction moratorium will be extended a few months so they can get the funding out.
Pandemic hardships
In February, Pima County Supervisor Matt Heinz asked the board to approve expanded eviction protections that would protect people from what he and constable Randall both call a "loophole" in the CDC's moratorium.
The board approved the measure but in the next meeting rescinded it.
Part of that may be tied to the actions of two state legislators, Republicans Vince Leach of Tucson and Bret Roberts of Maricopa, who asked Attorney General Mark Brnovich to rule the county's additional protections were illegal.
Heinz said while the CDC moratorium protects tenants who cannot pay rent due to pandemic hardships, it allows evictions for "material breaches" of the rental contract, which can include anything from a broken-down car on a property to having too many pets.
Data provided to County Administrator Chuck Huckelberry from Presiding Superior Court Judge Kyle Bryson shows 2% of eviction orders here were attributed to a material breach in 2019. That increased to 7% during 2020.
For a month-to-month comparison, there were six material breaches in August 2019 compared to 28 in August 2020, and 21 in December 2019 compared to 49 in December 2020, county data show.
"People haven't just become three times more likely to not trim their hedges, or three times more likely to not report a pet," Heinz said after the measure was rescinded. "All that's changed is that people are suffering economically and can't pay their rent."
Pima County's recommendations
The county started a task force after the pandemic to look at ways to prevent evictions and homelessness. One consideration is whether to start a specialty court that deals only with evictions. Another is to have one judge assigned to eviction cases to eliminate current inconsistencies.
The current process, Huckelberry wrote in a memo to the county supervisors, is "heavily weighted in favor of landlords" and having more attorneys available to help tenants could alleviate that.
For now, when there is a judgment for eviction ordered, the tenant cannot be evicted as long as the CDC moratorium remains in effect.
However, according to Randall and Huckelberry's memo, landlords have filed numerous motions to require the court to enforce an eviction mostly by alleging that the defendant did not comply with the CDC requirements, such as establishing a payment plan or seeking rental assistance.
The motions to compel an eviction are often set to be heard within just a couple of days, while the notice is mailed to the tenant. Hearings should be scheduled further out, Huckelberry suggested.
"We have heard that defendants miss the hearing because they do not receive the notice timely. Consequently, defendants are routinely not present to defend themselves," he wrote. "The motion to compel is granted, and the defendant is evicted."
"Living the American dream"
Garang moved to Tucson in 2001 when he was in his early 20s, but his journey started a decade earlier when his village in South Sudan was attacked by a militia.
Almost everyone was killed, including his parents. Garang, just a child, managed to escape with help from a relative.
Garang started having health problems and symptoms of post-traumatic stress disorder in 2011. He's been unable to work since 2018 and needs assistance with driving any distance.
Before that, however, Garang said he was "living the American dream." He graduated from the University of Arizona after studying political science, philosophy and computer science and started his own company, Yakotech Complete Computer Services.
He also worked as a caseworker helping refugees, a job he loved.
"They help me with my health, too, my mental health," he said of helping others. "It keeps me busy doing something to give to my society and my community."
Garang tried to represent himself in his eviction proceedings at county Justice Court in January but found the process overwhelming. He was trying to keep an eviction off his record and needed to show the judge his canceled checks.
Justice of the Peace Adam Watters had scheduled a "one-minute hearing."
Attorney Joel Ireland, who stepped in to help late in the process after hearing of Garang's situation, said Garang arrived early, but the court's COVID-19 procedures delayed him and so he missed the 60-second window.
A motion for reconsideration was denied on Jan. 28.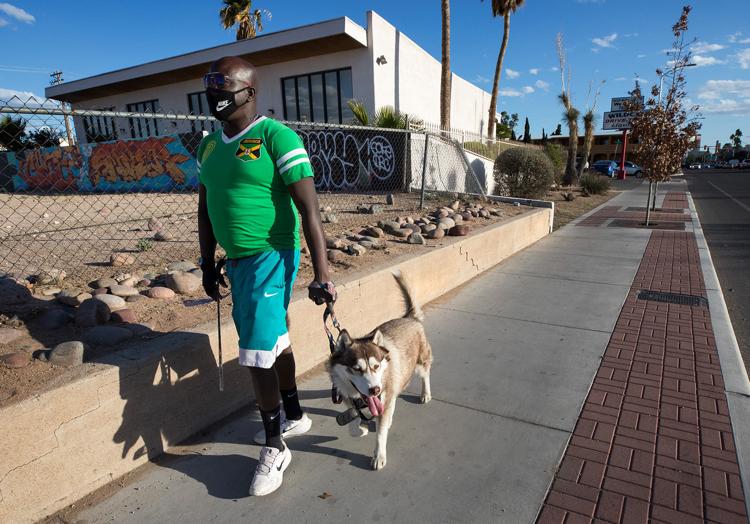 The only thing left was to appeal, but Garang couldn't afford it.
"People have to put down a bond to appeal and that usually deters people," Ireland said.
Ireland got the judgment down to $1,000 from $2,600 owed, and got the eviction off Garang's record as long as he was gone from his apartment by the end of February.
That was accomplished, with Ireland's help. Garang's furniture is now in storage, and he is staying at a hotel with Wolf until they can figure this out.
The problem is, there's nowhere for him to go.