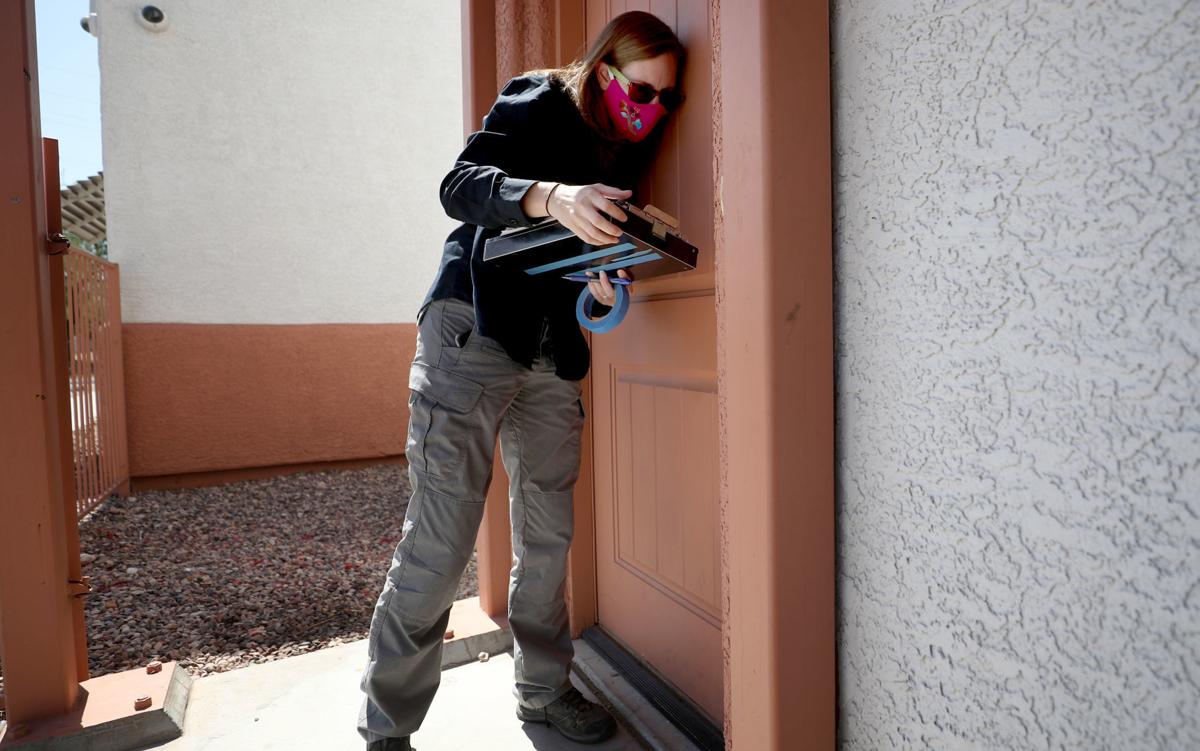 More than 74,000 Pima County residents could be at risk of losing their homes as Arizona Gov. Doug Ducey's moratorium on evictions approaches its end.
Across Arizona, 365,000 renters could face eviction over the next four months, according to a recently published analysis by the international consulting firm Stout Risius Ross.
The University of Arizona's Innovation for Justice Program at the James E. Rogers College of Law uses Stout's methods for making local predictions while the program's Cost of Eviction Calculator provides cost estimates: The state could pay over $2 billion and the county upwards of $419 million for costs related to a surge of evictions. Among the expenses: related child-welfare cases; medical and emergency room visits; shelter fees; and involvement in the juvenile court system.
Ducey's order delaying evictions for renters affected by COVID-19 is scheduled to expire July 22.
There are no plans to extend the order at this time, said Patrick Ptak, the governor's spokesman, who added that the state is continuing to monitor the situation.
"Since March, $5.7 billion has been paid out to 15 million initial and continuing unemployment claims," Ptak said. "We don't want to see anyone kicked out of their home."
Pima County and the city of Tucson are meeting regularly to prepare for what could be an explosive crisis, compounded by people still struggling to file unemployment claims.
Further, over the last few weeks, there have been delays in unemployment payments brought on by a statewide effort to weed out fraud in thousands of claims. Ptak said the fraud investigation is happening not just in Arizona, but in several states nationwide.
A "number of checks" have been withheld over the last two weeks due to the investigation, said Brett Bezio, a Department of Economic Security spokesman.
"This followed a spike in claims being filed about two weeks ago," he said. "The department assessed all claims received to determine those that contained possible fraud and have released payments for those that did not trigger a fraud indicator."
Requests for more information and exact numbers were not released to the Arizona Daily Star as of Friday, but Bezio did say there are "tens of thousands of pandemic unemployment assistance claims identified as potential fraud being held as we evaluate the circumstances of those claims."
Tucson already a "top" city for evictions
During prepandemic times, Tucson was already a "Top 25 evicting city," with a filing rate more than 3% above the national average, according to the national Eviction Lab, Princeton University's nationwide database of evictions.
As Tucson prepares for evictions to increase, the city's housing director, Liz Morales, said Tucson is setting up a system to make direct payments to landlords, and also will be asking landlords to hold off eviction requests as they try to help tenants stay or find alternative housing.
Together, the city and county have about $14.5 million from the CARES Act — a sum that Houston ran through in less than a day of providing housing assistance earlier in the pandemic.
Morales said the county's constables have been proactive in working with the city. The plan is for the constables to refer people directly when they are about to serve eviction papers.
"Hopefully, within two weeks, we'll have a good process and a quick way for them to access us," Morales said.
Another message she wants to get out: Tenants need to contact their landlords if they are experiencing COVID-related challenges, including layoffs. Morales said several property owners and managers here said that's still not happening enough.
"Maybe they are afraid to let the landlord know what their issues are, but I think if most landlords know they are struggling, they will work with them and help them find resources," she said.
Daniel Tylutki, interim director for Pima County Community Development and Neighborhood Conservation, said his office is planning to collaborate with both the city and local nonprofits to try to help.
Pima County is hiring 25 people to help with the waiting list, which includes 5,300 active applications. Tylutki said they are working on about 1,300 right now.
During a typical year, Tylutki's office assists about 1,500 people with rental assistance. During the pandemic, it has received about five years' worth of requests, so far.
"One major concern all of us can agree on is that more time is needed to get the funds to people that are suffering," said Meghan Heddings, executive director with Family Housing Resources, adding that the current requirements to apply for help are "overly burdensome, especially for someone in crisis mode, and therefore many people never finish pulling together all of the items needed.
"There are positive steps happening, but the likelihood of the county employing 25 new staff, training them and being able to distribute the funds available to all those that need it by July 23 is an unrealistic task."
End of protection: "a pending tsunami"
Many of the nonprofits that will help people who lose their home during the months ahead are already stressed with requests.
The end of Ducey's executive order is a "pending tsunami," says Peggy Hutchison, CEO of the Primavera Foundation.
"The nonprofit sector is working closely with the for-profit sector to prevent evictions and keep our residents and our communities safe from the coronavirus," she said.
"We need the governor to work with us to do what's best for the residents across the state. An investment in eviction prevention now will be a huge step in preventing the spread of the coronavirus while also helping to save our economy."
A lack of affordable housing, evictions, and homelessness have been at crisis levels for years, said Jay Young, executive director with the Southwest Fair Housing Council.
"The market is not producing enough housing across the spectrum, particularly affordable housing. Section 8 and public housing have years-long wait lists," Young said. "People facing evictions have very few resources to assist them and almost never have counsel to represent them. People are homeless, generally speaking, because we lack the political will as a country to house them."
And, he said, all of these issues are now being greatly exacerbated by the pandemic.
Solving these issues will require that the federal government fund nonprofits at dramatically higher levels, he said.
"The data shows that people of color are much more likely to live in neighborhoods of low opportunity and high rates of poverty in Tucson and most cities and towns throughout the country," Young said. "This pandemic has again made it glaringly apparent that our communities are still separate and unequal in many ways. "
Ron Barber, district director for Democratic U.S. Rep. Ann Kirkpatrick, said legislation introduced in the House and co-sponsored by Kirkpatrick would expand the federal eviction moratorium under the CARES Act, which is set to expire at the end of the month, and expand the moratorium to cover all renters until March 2021.
Doing so would help people most at risk from domestic violence, mental health problems, suicide and substance abuse compounded by the COVID-19 pandemic, Barber said.
"We know from reports by police and social service agencies that these are some of the 'hidden' negative impacts of the stay-at-home requirements, along with unemployment being at an all-time high," Barber said.
"The solution is in the hands of the governor and the Congress."