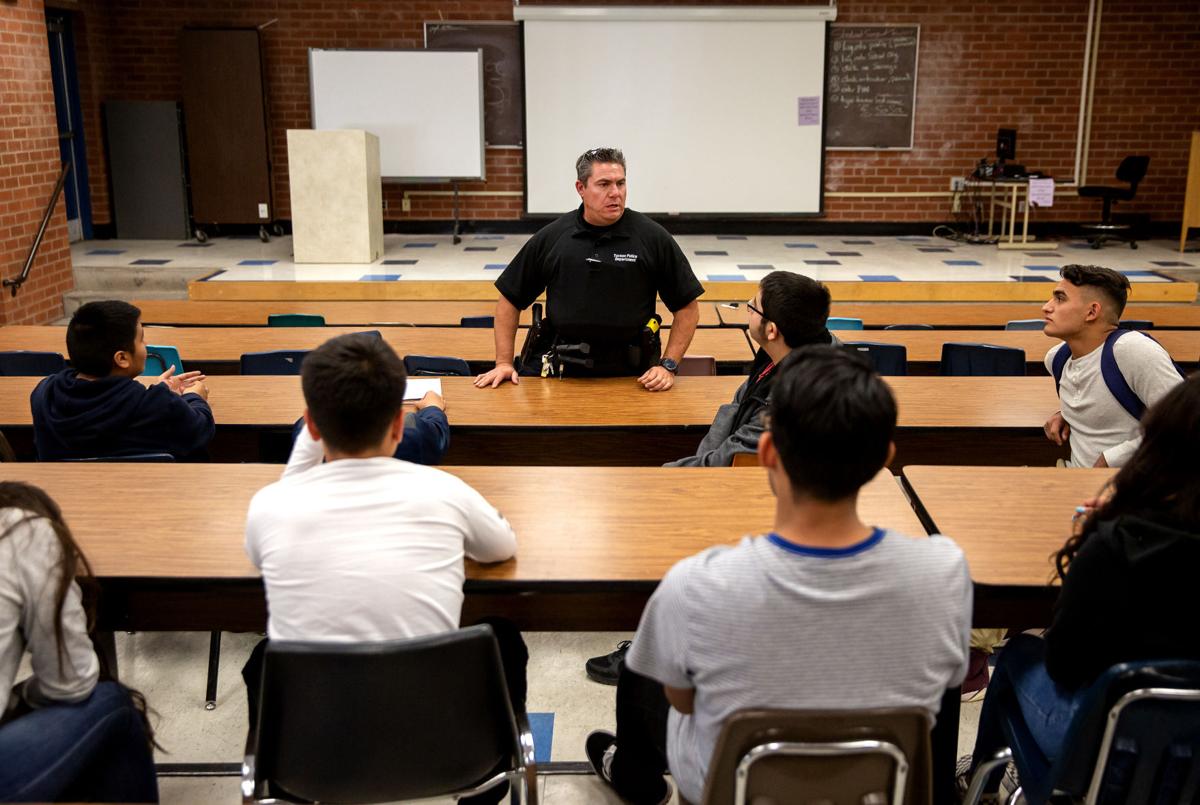 Tucson Unified is keeping officers in schools after reevaluating the practice, prompted by local and nationwide protests over the police killing of George Floyd last spring.
TUSD's Governing Board voted 4-1 on Tuesday to keep the program, which includes maintaining six school resource officers on campuses and implementing eight recommendations created by a community advisory board.
The district created the school resource officer community advisory board in August to review the program and create recommendations, after then-board President Kristel Foster said she was reconsidering her decision to support police on campuses, saying her thinking had been based on her fear of school shootings and the need to protect students.
"I imagine having a police officer — not any particular one but just the police in general — what that uniform symbolizes in these vulnerable students' lives every day, that this cannot be easy," she said during a June 9 board meeting. "And we're asking them to come to our schools every day to this space and feel safe with an authority figure that threatens their very existence."
Sadie Shaw, the only TUSD board member who voted against the measure, said Tuesday that she'd like to see a community-based mentorship program in schools rather than school resource officers, or SROs.
"I think we have to be honest with the nature of policing in America and the nature of some of the communities where the SROs are serving," Shaw said during the Feb. 23 board meeting. "Many and maybe all students from some of these schools have trauma surrounding police officers, whether it's a personal thing that happened to them or something that happened with their family or friends or extended family, and to think that a police officer can provide that mentorship, I think it's kind of counterintuitive."
The officers working in schools are meant to enforce the law but also be a resource in mentoring, building relationships, law-related teaching and community involvement. A school resource officer is equipped to handle a situation with a student differently than an officer who would respond to a 911 call, said Jeff Coleman, TUSD's director of school safety.
"That SRO is part of that school community and has a much better opportunity to successfully resolve those calls," he said.
Tucson Unified held several online forums to engage students on how they felt about officers in schools, and Shaw says many of the students in the forum said they did not feel like the officers served a mentorship role for them.
Additionally, Pueblo High student group MEChA started a Change.org petition in August asking that officers be removed from TUSD schools. That petition has garnered more than 2,300 signatures.
Board member Adelita Grijalva, who has been critical of the SRO program in the past, expressed support for an "alternative to arrest" plan, saying if it's successful, it could keep some young people out of the juvenile justice system.
The plan, which has been happening informally in schools for five years, means a school officer won't arrest a student for minor charges if the school and the parents of all children involved in the incident, including any student who is a victim, all agree that the student won't be charged. In these cases, the school decides what discipline measures will be taken, if any.
Grijalva also expressed support for the program as a whole, with the eight recommendations in place.
"I just feel like we have an opportunity here to really monitor and reestablish this program in a better way," she said. "And it's our responsibility … that we do that."
The district plans to have many of the advisory board's recommendations in place by the beginning of next school year.
1. Develop policies and practices that include explaining to families and staffers the officers' role in schools, a standard method to report concerns about an officer, site-based teams using data-driven decision-making in planning officers' actions, law-related education and a biannual program review.
2. Reevaluate using TUSD funds on the program until there are clear accountability measures in place with a focus on equity.
3. Adopt a "feeder school model," offering partial services to more schools.
4. Create an ongoing advisory committee to implement, monitor and evaluate recommendations.
5. Implement a biannual review of the program for effectiveness, with quarterly check-ins.
6. Hold trainings for program administrators, which include mandatory reporting training and explains the role of a school officer, emphasizing that they are not a part of the school discipline process.
7. Develop and implement a tracking system that includes metrics for measuring safety, discipline and mentoring services.
8. Conduct a review of the officer training to ensure it addresses school and community experiences, which includes courses in crisis intervention, de-escalation skills, threat assessment, trauma-informed care, diversity training and legal updates.
The second recommendation is no longer relevant as the district has already stopped using officers on campus that it pays for out of pocket.
Three of the officers currently at schools are with the Tucson Police Department and funded by Arizona school safety grants, a three-year state-funded grant award. The three other officers are provided by the Pima County Sheriff's Department.
The grant-funded officers are stationed at Utterback Middle, Pueblo and Tucson high schools. The three Sheriff's Department officers are at Sabino High, Pistor and Valencia middle schools.
The sheriff's officers also offer partial services to Lawrence Middle, Robins K-8 and 10 elementary schools that feed into those middle and high schools.
Contact reporter Danyelle Khmara at dkhmara@tucson.com or 573-4223. On Twitter: @DanyelleKhmara