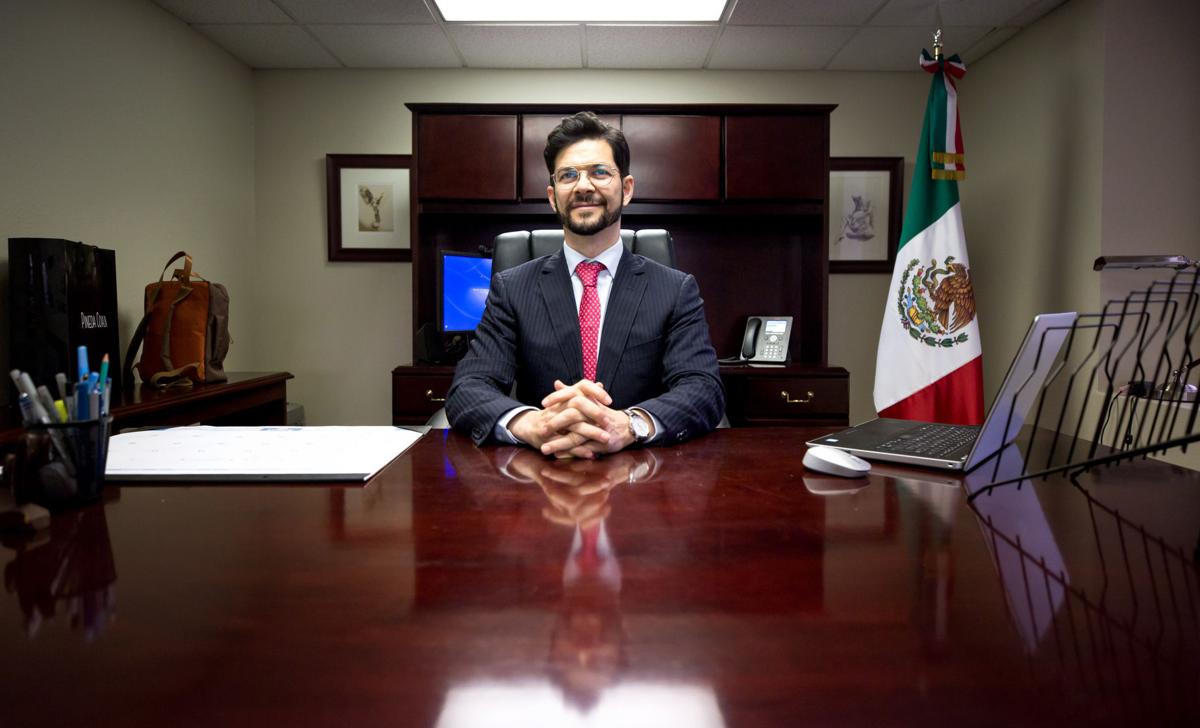 For years, Rafael Barceló Durazo would drive five hours through the Sonoran Sierra, crossing the border through Agua Prieta, Sonora, near Douglas. It's a path hundreds of families take each year to Tucson to shop, study, work or visit a relative.
His most recent trip to Tucson was a more permanent one, as Barceló Durazo took office as the consul of Mexico in Tucson on Aug. 1.
"Sonorans have Tucson as a second home and the Tucson Mall as a third," said the 40-year-old consul, laughing.
Barceló Durazo was raised in the mountain town of Huásabas, east of Moctezuma and about 150 miles south of the Douglas border.
"The truth is that (Tucson) is a city that we have a lot of appreciation for," he said. "There are many members of our community who have historically lived here for decades and who maintain a very special bond between our communities."
Setting a different tone for the office
He spoke with La Estrella de Tucsón, the Arizona Daily Star's Spanish weekly, on his first day in office from the consulate's central office at Broadway and Alvernon. The consulate continues to provide all its services but is requiring an appointment.
The position of consul had been vacant since the previous consul — also from Sonora — Guillermo Rivera Santos was dismissed earlier this year just a few months after his arrival.
Rivera Santos was accused of sexual harassment months after taking office, and the Ministry of Foreign Affairs removed him from his position.
The new consul — who unlike his recent predecessor has been a career diplomat since 2010 — wants to set a different tone at the head of the office in Tucson.
He said he wants to strengthen the relationship with Mexican residents in Pima and Pinal counties and with local authorities, and that he will work with dedication, effort and professionalism for his community.
Barceló Durazo is a law graduate from the University of Hermosillo and has a master's degree in administration and public policy from the Center for Economic Research and Development in Mexico City. He studied as an exchange student at Columbia University in New York for a semester while pursuing his master's degree.
He has focused on human rights during his career, most recently in his two years at the headquarters of the Mexican Foreign Ministry and before then when he worked with the Mexican embassies in Brazil and Costa Rica and in Mexico's Justice Supreme Court.
Aware that undocumented people frequently face abuse because of the false belief — by themselves or by third parties — that they do not have the right to report abuse or the right to a legal defense, Barceló Durazo reiterated that the consulate is a safe place where they can go in search of counseling.
"The most important thing is that they know that no one should be a victim of abuse, and that if they are, they can approach the consulate, and it will gladly have the opportunity to guide them and even link them with authorities or civil society organizations," he said.
Consul in times of COVID-19
Every Thursday, for several months, the consulate has held a live information session through its Facebook page, connecting residents to health and other services to help during the coronavirus pandemic.
Continuing to take advantage of social networks during the pandemic is one of Barceló Durazo's objectives.
"This is a pandemic that I think will reinforce the importance of us understanding that our individual behavior always affects the collective," Barceló Durazo said. "There are behavioral changes that we have to make to take care of ourselves and together we can overcome this very complicated episode that was imposed on us in 2020 and that is likely to continue for quite some time."
One of the consequences of the pandemic has been the closure of the border with Mexico for non-essential travel since March 22, an order originally issued by the U.S. Department of Homeland Security for 30 days and has been renewed month to month.
Although there is still no official information on whether the partial closure will continue, Barceló Durazo said "the situation does not allow us to be very optimistic at the moment about a reopening."
We still have on both sides of the border "a sensible growth in the number of people infected and unfortunately also of people who are dying day by day."
On Mexico's president and the census
In a virtual conversation with La Estrella de Tucson, Barceló Durazo talked about the recent visit of Mexican President Andrés Manuel López Obrador to the White House and the importance of Mexicans in the U.S. making themselves count in the census.
"We are in a political context quite different from what we were used to," he said about the relationship that the presidents of both countries have established. "President López Obrador has always made it a priority for us to have friendly ties, particularly with our most strategic partner in every way."
He also said the new North American regional trade agreement whose signature was the official reason for López Obrador's visit to Washington, will benefit binational populations such as Arizona and Sonora as they find new ways of doing cross-border business like trade, electronic and for labor rights, he said.
Barceló Durazo also urged the Mexican community in this region to participate in the 2020 census, as census data helps allocate public resources and determines electoral districts. Participation in the 2020 census is considered a civic responsibility for all residents. He reminded residents that filling out the census is safe for everyone, regardless of immigration status.
His role as a public servant
Throughout the interview, in a calm and cordial tone, Barceló Durazo emphasized that he will work for the protection of the human rights of Mexicans and that he will seek to contribute to the opening of even more opportunities in the areas of education, security, health and cultural exchange.
He said he has always understood his role as that of a public servant.
"We are paid by Mexican taxpayers. You are also the one for whom we are here," he said, addressing Mexicans in Southern Arizona. "Please consider me your friend."
Get local news delivered to your inbox!
Subscribe to our Daily Headlines newsletter.