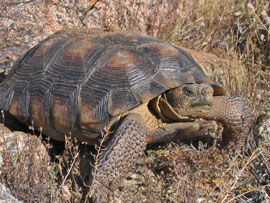 The Sonoran Desert tortoise is a candidate for endangered species protection once again after federal regulators agreed Monday to reconsider their 2015 decision not to list the reptile.
The move comes in response to a lawsuit filed in Tucson in September by the conservation groups WildEarth Guardians and Western Watersheds Project, represented by the Western Environmental Law Center.
Under the agreement approved in federal court in Tucson on Monday, the U.S. Fish and Wildlife Service will take a second look at the tortoise's status with input from scientists and the public.
"The Fish and Wildlife Service should be applauded for doing the right thing here," said Matthew Bishop, an attorney with the law center, in a written statement. "The 2015 decision merely assumed tortoises were doing fine in the absence of any population data. This was not legally or biologically defensible."
A new decision from the service is due in 18 months. Until then, the tortoise will receive heightened protection as a "candidate species."
The Sonoran Desert tortoise's range spans most of Arizona, including Tucson. It is a separate species from the Mojave Desert tortoise, which lives in California and Nevada and has been listed as threatened since 1990.
The primary threat to the Sonoran variety is habitat fragmentation and destruction from land and road development, livestock grazing, the spread of invasive species, increased wildfire risk and climate change.
"Desert tortoise are known for moving slowly, but without full federal protections, they have been racing toward extinction," said Cyndi Tuell, Arizona and New Mexico director with Western Watersheds Project, in a prepared statement.
The current population of Sonoran Desert tortoises is largely unknown. According to environmentalists, the Arizona Game and Fish Department hasn't  sufficiently funded tortoise monitoring over the years, and since 2019, the Arizona State Land Department has barred any scientific studies of the species on state trust lands.
Thomas Jones, amphibians and reptiles program manager for the state Game and Fish department, said his agency has been collecting data on tortoises for more than 30 years and has no plans to stop. So far, the department has not identified any dire threats to its survival.
"While we recognize that conservation challenges certainly exist," Jones said in an email, "the department stands by our analyses, and those produced by our collaborators, that have concluded, in general, that Sonoran desert tortoises remain widespread and are doing well throughout their Arizona distribution."
Western Watersheds Project and WildEarth Guardians previously petitioned for the tortoise to be listed.
In 2010, the Fish and Wildlife Service determined that the reptile's situation was bad enough to warrant federal protection but deferred action because other species deserved higher priority.
Five years later, the agency reversed its position, concluding that the risks to the tortoise weren't serious or imminent enough for listing.
That decision spared homebuilders and ranchers from additional regulations designed to protect tortoises.
Contact reporter Henry Brean at hbrean@tucson.com or 520-573 4283. On Twitter: @RefriedBrean