The University of Arizona will require anyone visiting campus next semester to have a negative test for COVID-19 within the previous week.
President Robert Robbins announced the requirement on Monday as the university responds to the growing number of coronavirus infections across Arizona.
Robbins says students won't be able to access campus Wi-Fi if they don't have a recent negative test logged. Visitors are also being asked to get tested, but Robbins acknowledged it will be hard to enforce for some visitors, such as people shopping in the bookstore or using outdoor campus spaces.
The university will also be conducting a new type of PCR (polymerase chain reaction) test. In it, the person will swish and gargle saltwater for 45 seconds then spit the solution into a test tube.
Dr. Michael Worobey, head of the UA's Department of Ecology and Evolutionary Biology and a member of its BIO5 Institute, demonstrated how the test works during the school's weekly campus briefing on Monday.
"It's sort of thought of as the gold standard for how to test for the presence of the virus," Worobey said of PCR tests.
The more common PCR tests for COVID-19 have been the nasal or throat swab tests. Worobey said the swish and gargle test is more comfortable and more effective than swab tests because it "pulls virus out of about 30% to 35% more people."
The new testing method can also be self-administered, reducing the risk of exposure for health-care workers, Worobey said.
"This is different than the spit test and appears to be more sensitive and doesn't require the production of large volumes of saliva, which is difficult for some," Worobey said in an email.
The UA is planning a testing blitz from Jan. 6-12, the same week students will be moving in to dorms for the spring semester.
Robbins said he'd also like to eventually require the COVID-19 vaccine for people visiting campus, with religious and medical exemptions.
"I would very much like to see this be required for everyone who works and comes to campus as a student," Robbins said of a vaccine.
The first doses of a coronavirus vaccine are expected to arrive in Arizona later this month and will be earmarked for health-care workers.
State officials on Monday reported 1,567 new confirmed COVID-19 cases statewide with no new deaths. The numbers are far lower than the 5,000-plus new cases reported several days last week, but Monday reports are often artificially low because of delayed weekend reporting. Official case numbers are also thought to be an undercount because studies show people can be infected without feeling sick.
In Pima County, there have been 45,892 cases of coronavirus, up 726 from the previous day. There have been 730 deaths in Pima County with no new deaths reported Monday.
Since the pandemic began, officials have reported more than 365,000 cases resulting in 6,950 deaths in Arizona.
Between Nov. 27 and Dec. 6, the university administered 6,110 tests, 130 of which came back positive. The university's positivity rate in those 10 days was 2.1%. The UA has administered more than 93,700 tests since Aug. 4. Of those tests, almost 2,900 have been positive, totaling a 3.1% positivity rate.
Robbins on Monday said while there's a light at the end of the tunnel with vaccine distributions approaching, he expects cases to continue to rise after the holidays.
"I think we can all expect this is going to get worse before it gets better," Robbing said "And the vaccine couldn't come at a better time than now."
The fall surge of coronavirus cases has continued to elevate occupancy rates of increasingly stressed hospitals in Arizona closer to capacity. Just 8% of intensive-care beds and 10% of all inpatient beds were unoccupied Sunday, according to the state health data.
Gov. Doug Ducey has imposed restrictions that closed some establishments and require distancing and other precautions .
But he hasn't ordered a statewide mask mandate, a new stay-home requirement or curfews although many local governments have imposed masking requirements.
Photos: New drive-thru COVID-19 testing sites at PCC campuses in Tucson
PCC West campus COVID-19 Testing Site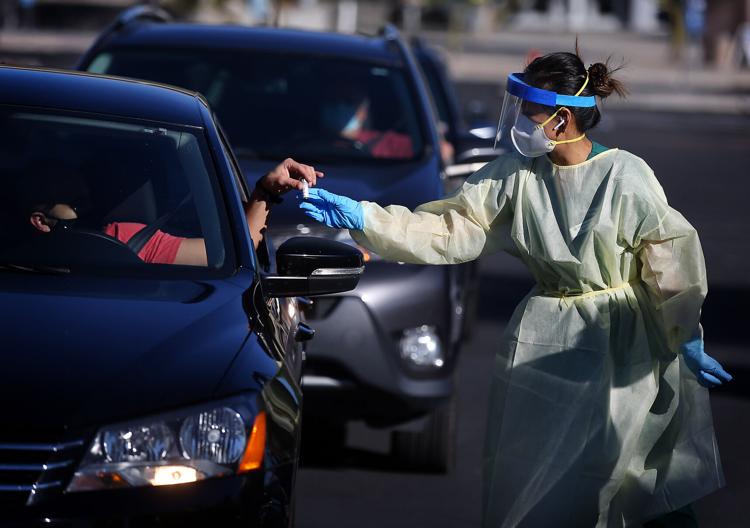 PCC West campus COVID-19 Testing Site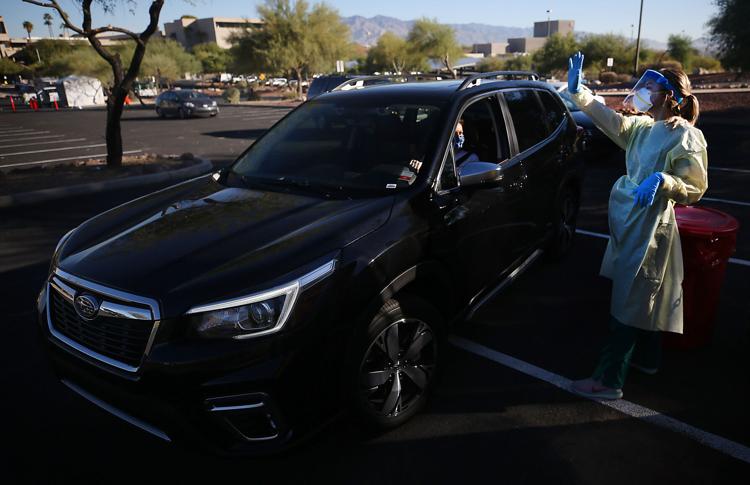 PCC West campus COVID-19 Testing Site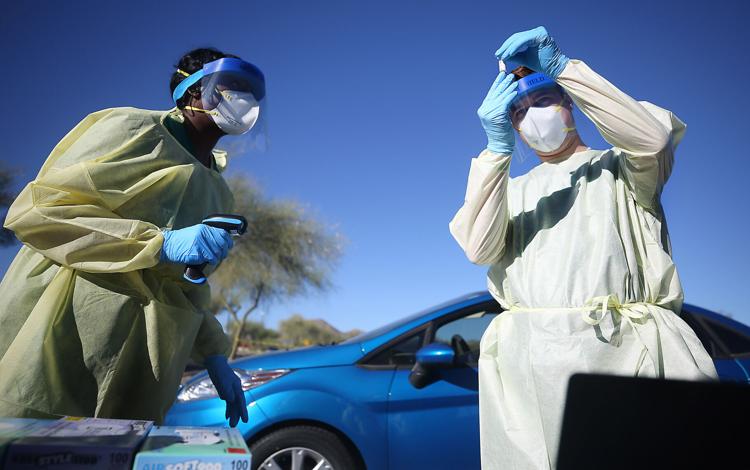 PCC West campus COVID-19 Testing Site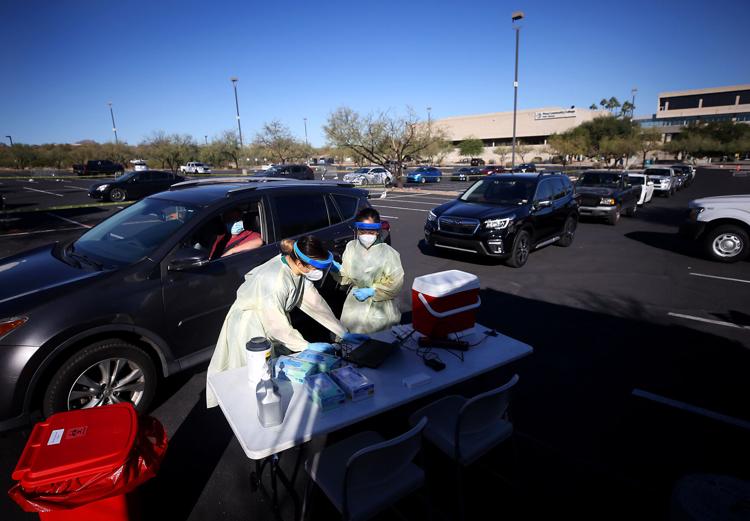 PCC West campus COVID-19 Testing Site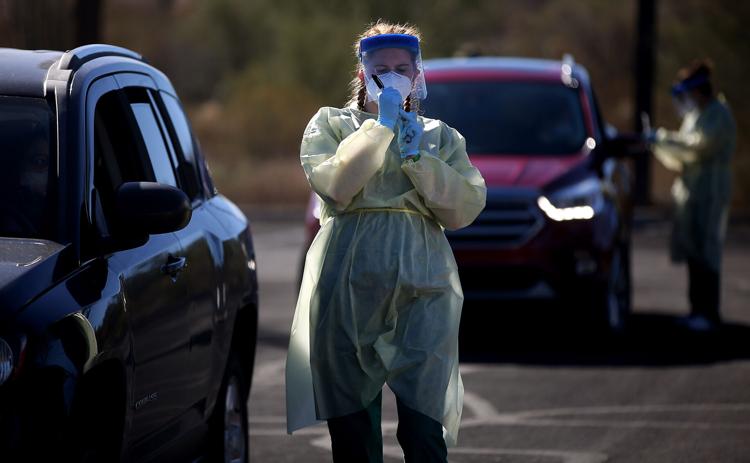 PCC West campus COVID-19 Testing Site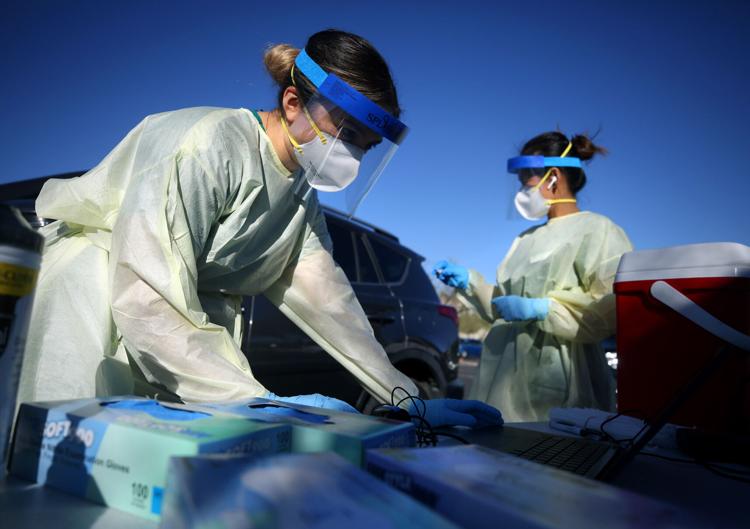 The Pima County Health Department announced Friday expanded free COVID-19 testing at several locations, as test positivity rates approach 12% and new cases surge here and across the nation.
"What we're seeing right now is scary," Dr. Theresa Cullen, director of the Pima County Health Department, said. "Cases are well above our summer surge, when Arizona was a worldwide COVID-19 hot spot."
Extra testing hours will allow 270 additional appointments per day each at the Kino Event Center and Morris K. Udall Center, plus expanded hours at the El Pueblo Center testing location.
As temperatures drop and COVID-19 cases rises, states begin to bring in equipment to keep test administrators and residents warm.
For the Kino Testing Center, 2805 E. Ajo Way, appointments are now available Monday through Saturday from 10 a.m. to 7 p.m.
At the Udall Testing Center, 7200 E. Tanque Verde Road, appointments are now available Tuesday through Sunday from 8 a.m. to 5 p.m.
The El Pueblo Testing Site, 101 W. Irvington Road, Building 9, appointments are now available Monday and Wednesday from 5 p.m. to 8 p.m., and Saturdays from 7 a.m. to noon.
The Pima County Health Department, Pima Community College and Arizona State University (ASU) are opening three new COVID-19 testing sites over…
Associated Press writers Jonathan J. Cooper and Jacques Billeaud contributed.