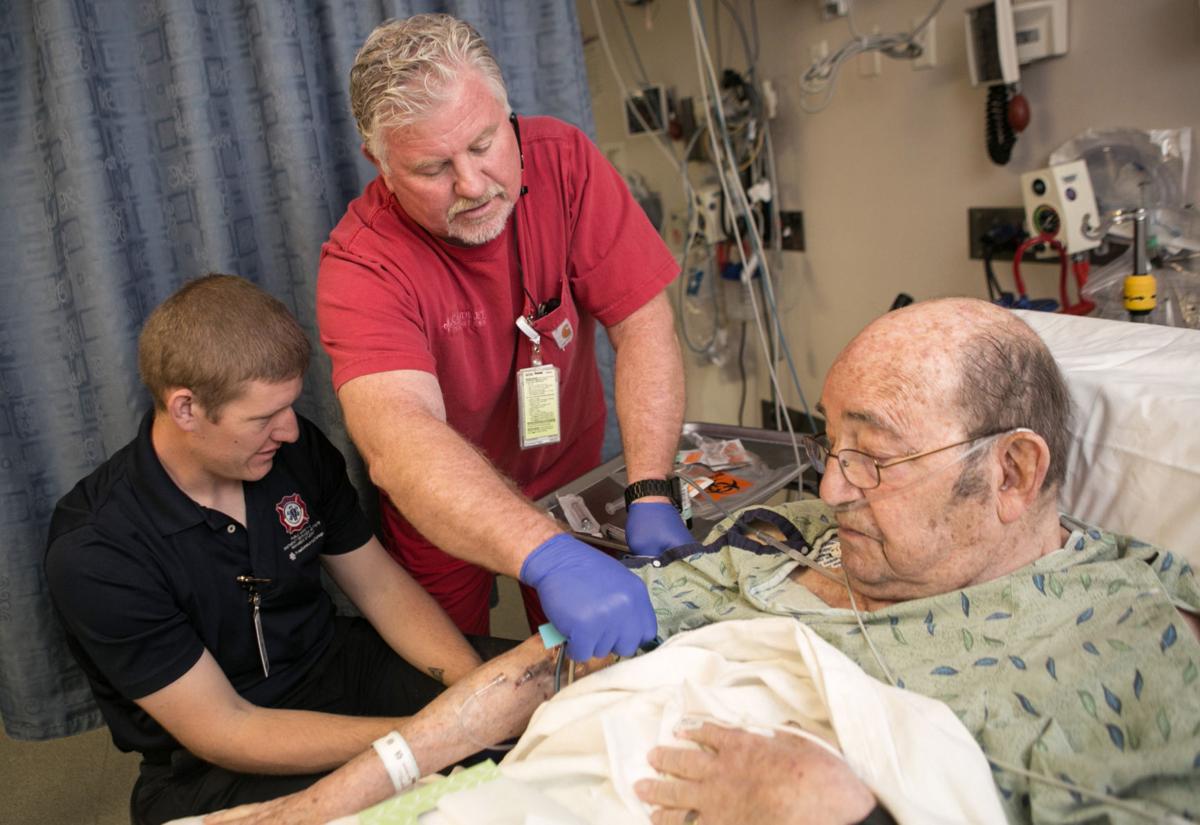 The pendulum is swinging among older adults when it comes to work — more are staying longer on the job, or returning to the workforce after retiring.
Two local programs that work with older workers say most who are looking for employment need a job so they can maintain their lifestyles and pay their bills.
Some aged 50 and older who have lost their jobs or are transitioning into new careers have not yet hit full Social Security retirement age. They need help with medical coverage. Others realize their employer pension, savings and investments — if they have them — are not enough to support them. They need either a full-time or part-time job.
There also are those who retire and are doing well financially. But, after taking months off to rest, travel, read books, catch up with friends and doing what they want when they want, they become bored. They are revitalized and know they still can make a difference. They seek a career that they are passionate about.
According to the Bureau of Labor Statistics, in two years workers age 55 and older are expected to comprise 24 percent of the U.S. workforce. Now, 10,000 Baby Boomers are turning age 65 every day and will continue to do so up to 2030, according to the Pew Research Center.
"About 12 years ago, we started giving a special workshop for older workers who wanted to look for work," said Charles Casey, director of the Pima County Community Services, Employment and Training Department.
"We were preparing for the great tsunami of people turning 65."
"The trend is that people aged 55 and older are finding that they have creative interests and means to pursue something new and different career-wise," said Adina Wingate, a Pima Council on Aging spokeswoman.
"But, there are people who absolutely find themselves steep against economic barriers, like medical coverage. They face the reality that for them to live in their lifestyle and have a roof over their head, they have to go back to work."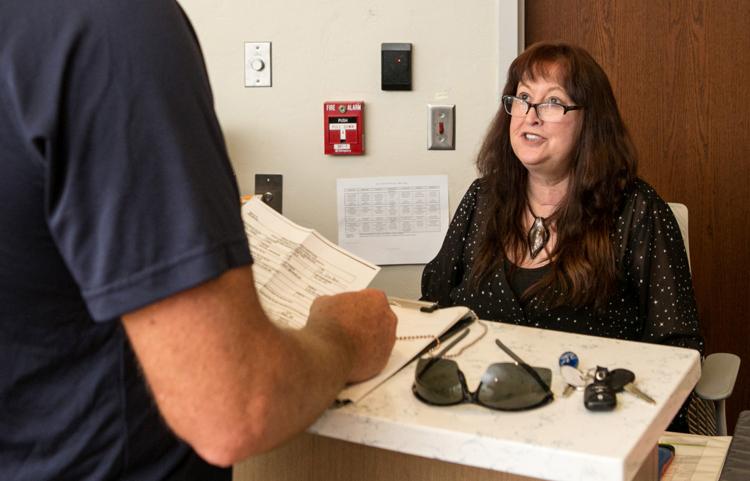 Medical clerk
Kim Bryant, 62, is an example of the changing workforce — retired after a long career, she found a new opportunity.
Bryant retired in 2009 from the U.S. Postal Service after 30 years in a clerical position. At the time, she was 53 and realized her pension would not meet her financial needs.
"I did not have any savings or investments," said Bryant. However, health insurance coverage was included in her pension.
Since she began working with the Postal Service prior to 1984, Bryant explained, she paid into a federal employee retirement system, not into Social Security.
Now that she is no longer a federal employee, she pays into the Social Security system and will be eligible for benefits.
Two years after retirement, she worked in retail to help maintain her lifestyle. She continues paying the mortgage on a three-bedroom house on Tucson's northwest side. The paycheck helped her with the extras in her life, including a yearly vacation in Cabo San Lucas on the southern tip of Mexico's Baja California peninsula.
She and her boyfriend, Tom Herst, recently bought a house in Roosevelt, Arizona, where they go often to the lake.
Bryant left the retail job in 2014 and saw an opportunity to transition into a different career through Pima Community College's Back to Work 50 Plus program in partnership with the AARP Foundation.
Back to Work 50 Plus is a free program that connects job seekers, aged 50 and older, with the information, training, support and employer access to get back into the workforce, said Roger Forrester, program coordinator.
"I saw an opportunity to get a better-paying job through the program," said Bryant. She enrolled and took classes to become a medical office clerk. In 2015, Bryant was hired at Sonora Behavioral Health Hospital, where she works part-time.
"I love this job. I like to help families who are experiencing a rough, emotional time. I believe I am making a difference," said Bryant, whose duties include admitting patients.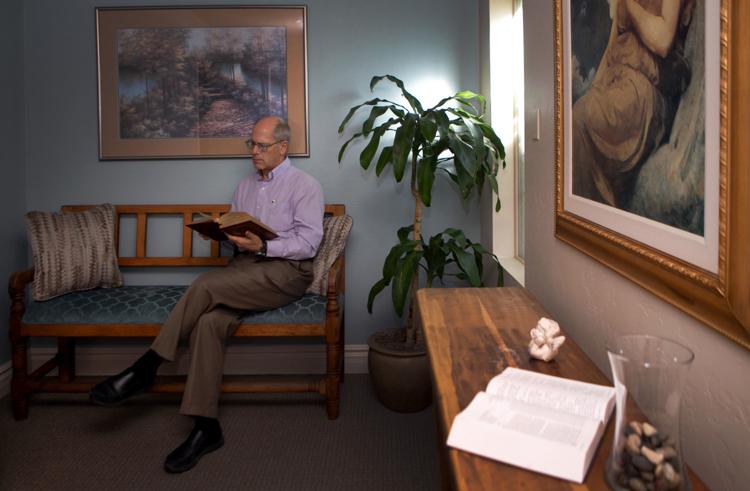 Hospice chaplain
The Rev. Bob Reese, a Presbyterian minister, also went through the Back to Work 50 Plus program after leaving his job at First Presbyterian Church in Silver City, New Mexico, where he was pastor for 18 years.
Two years ago, he and his wife, Beth, moved to Tucson where Beth was hired at the University of Arizona Libraries.
"It was my turn to follow her career," said Reese, 59. "She had always supported me. Now it was my turn to support her," he said. The couple has three grown children.
Reese did not have to return to work right away. During his break, he took much-needed rest to read and take in the quiet — something he longed for.
"I revisited my calling and my sense of purpose," he explained. "I was too young to stop working permanently."
In 2016, Reese went through the Back to Work 50 Plus program where conversations with instructors gave him "some clarity about what I wanted to do, what was important to me, what I valued and what made my heart beat."
This led Reese to apply for a chaplain's position at Casa de la Luz Hospice last year, and he is now working full-time. He is one of 11 chaplains who are part of a team, including nurses and social workers who work with patients and their families as they face death. He said he enters "the sacred space of families caring for one another, struggling to do the best they can."
"There is such generosity of spirit. People get tired and weary. ... It is the place where the hard, gritty work unfolds," explained Reese. "This is where people live out their wedding vows ... or the nurturing of children who are taking care of their parents.
"Sometimes the beautiful thing is the hard work a caregiver has to do to keep it together, be the strong one. And what I get to do is come alongside them and support them and be in touch with their own spiritual resources," said Reese.
He shared what a patient said: "Up until now people have been caring for my wounds, but you all are caring for my soul."
The chaplain said he helps people live on with their faith. For those who do not have faith, he helps them tap into sources of strengths and resilience .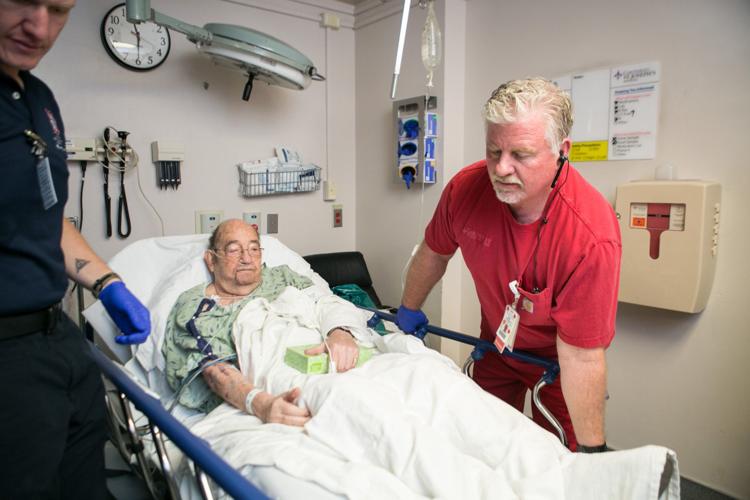 Hospital paramedic
After working as a firefighter for more than 30 years, Dave Pope retired in May 2011 as a Tucson Fire Department captain. He was 50.
Before working for the city, he was a firefighter with the Flowing Wells and Drexel Heights fire districts. He was living his dream, doing a job he was made to do.
In his decades of service throughout the area, Pope took on a career filled with pumping adrenalin — fighting fires and once commanding a three-alarm blaze, treating burn victims and rescuing crash victims from twisted metal, and working with the Tucson police Special Weapons and Tactics team.
His preferred role was as a paramedic, treating the sick or injured facing potential death and helping make a difference. That led him to work part-time as a paramedic in the emergency room at St. Joseph's Hospital four years ago.
"This job gives me the ability to help others every week. I like working with the doctors, nurses and ER staff," said Pope.
"This is very different from working on a medic truck with one patient. In the ER, I work with four nurses and 12 patients," Pope said. He can administer IVs, EKGs, draw blood, apply splints, intubate and assist doctors, freeing up nurses for other procedures. On a busy day, the ER staff tends to 200 patients.
Pope's wife, Theresa, can relate to her husband's ER experience. She is a registered nurse who used to work in the emergency room at St. Joseph's, but now works at the Tucson VA Medical Center. They have five children, four grown and one teen at home. When not working, the family travels with friends, goes boating at Roosevelt Lake and takes in concerts, including the Country Thunder music festival every year.
Pope explained that he remains in a fast-paced atmosphere because he has the energy and desire to give back to the community.
In addition to working at the hospital, Pope is co-director of Save a Life Foundation, a nonprofit he joined as an instructor in 1982. The program is close to his heart, he said, because it helps people save lives. The foundation provides CPR and first-aid training in the city and surrounding communities.
Finding jobs
Some, like Pope, are well-connected and have kept up with training and the qualifications needed in specific careers. They learn about job opportunities through friends and others in their career network.
For others who need help brushing up on skills, including filling out applications and searching for jobs online, they can seek guidance at PCC's Back to Work 50 Plus program and the county's Arizona at Work Pima County One Stop.
Both programs offer workshops, including mock interviews, access to training to update skills, résumé and cover-letter guidelines, how to apply for jobs online and job referrals.
About 200 people go through the county program each year and about 80 percent find jobs, Casey said.
PCC offers more than 100 degree and certificate programs, and in-state residents who are 55 and older receive a 50 percent discount on credit courses.
During the past three years, 670 have participated in the Back to Work 50 Plus program's orientation and 500 have enrolled in coaching programs, said Forrester. He said more than 300 enrolled in classes, including computer, nursing, human resources and business. More than 300 have found jobs.
Contact reporter Carmen Duarte at cduarte@tucson.com or 573-4104. On Twitter: @cduartestar