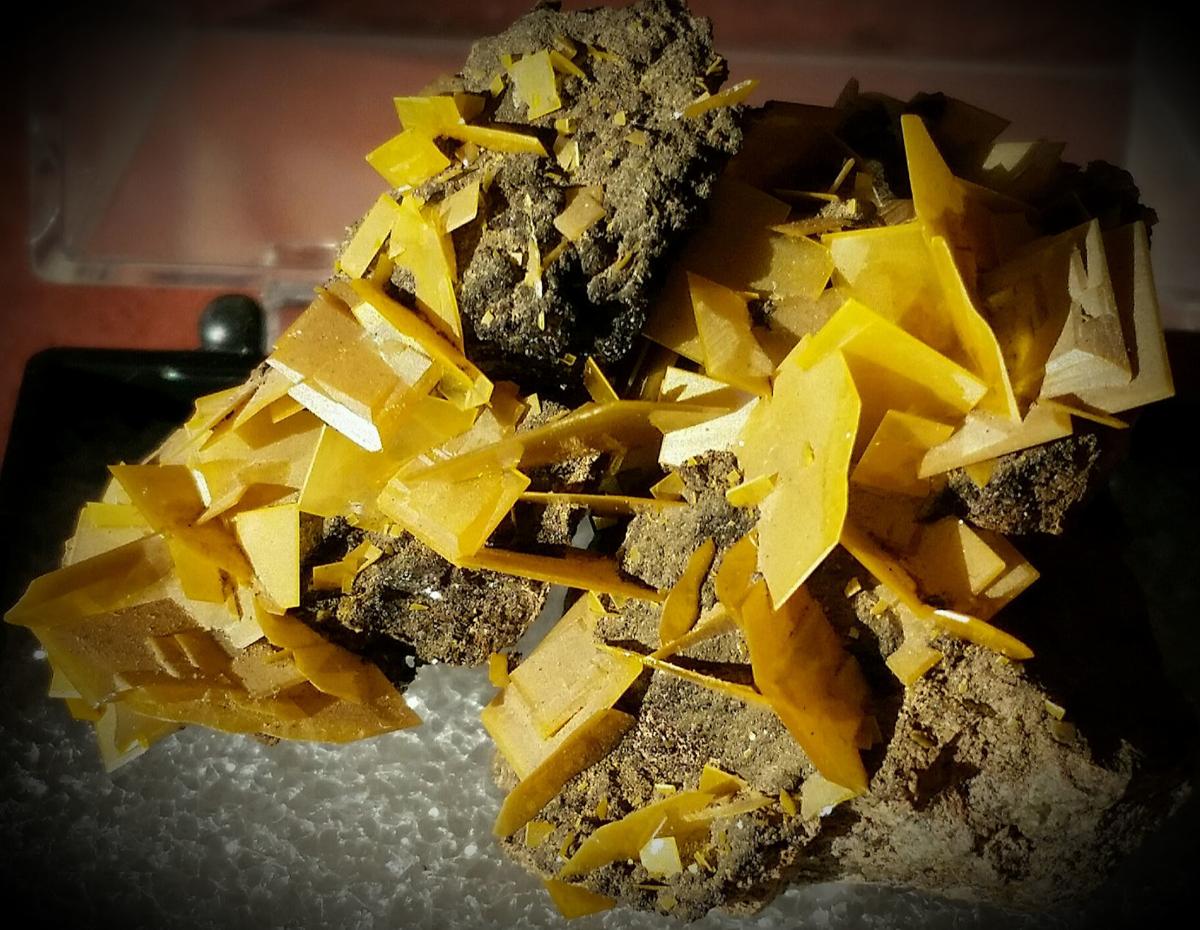 Wulfenite — Arizona's official state mineral — is the theme for this year's 65th Annual Tucson Gem and Mineral Show, where exceptional specimens are on display from mines in Arizona and around the world.
Although classified as an uncommon mineral, wulfenite has wide distribution among the oxidized portions of lead-bearing deposits across Arizona.
It's named in honor of Austrian mineralogist Franz Xaver von Wulfen, who researched and wrote about the Carinthia lead ores in the Bleiberg District in 1785.
Wulfenite crystals were originally called melinose, from the Greek word meli denoting honey, because of their honey-colored appearance.
Wulfenite, a molybdate of lead , is one of several principal molybdenum minerals including powellite, molybdite, molybdic ocher, ilsemannite and molybdenite. It is a secondary mineral found in open cavities of igneous rocks, the product of alteration found in upper oxidized portions of lead veins with commonly associated minerals including galena, pyromorphite and vanadinite.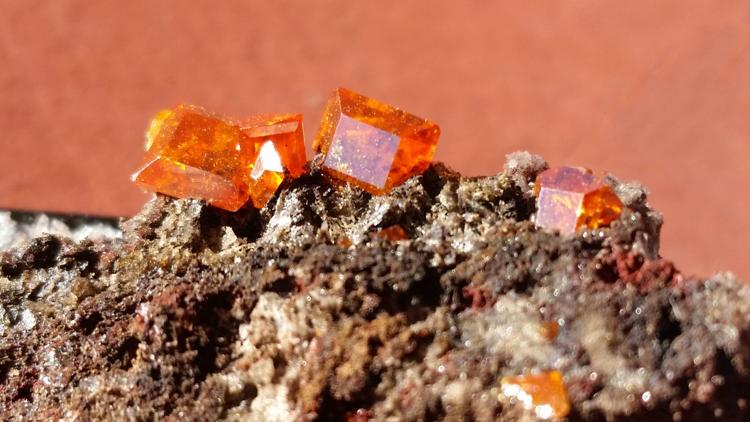 Molybdenum is not a naturally occurring element. It always forms as part of a compound such as the commonly found ore molybdenite and also wulfenite. Its industrial qualities when alloyed with other metals such as steel and iron include strength, hardness and resistance to wear and corrosion. The hard silvery metal also has a high melting point — 4,800 to 5,560 degrees Celsius (8,600 to 10,000 degrees Fahrenheit). Molybdenite contains a compound of molybdenum and sulfur. Its molybdenum concentration is 60 percent compared to 26 percent molybdenum found in wulfenite. Wulfenite is lacking in deposits primarily composed of molybdenite, which is why it is not found in porphyry copper deposits. Its occurrence is linked more closely to lead (galena) deposits.
Commercial mining of wulfenite for molybdenum lasted until the mid-20th century when it was supplanted by the more economical extraction of molybdenum from molybdenite found in porphyry copper deposits.
A rapidly industrializing world led to the heightened mining of molybdenum ores and innovative methods of its concentration for market, including the use of wet processing involving tables, vanners and various types of pneumatic ore separators.
The flotation process ensured the concentration of molybdenite on a larger scale, making the United States a top molybdenum producer during World War 1.
While less commercially important than molybdenite, wulfenite is a popular mineral among collectors who admire its beauty in resinous or adamantine luster, color and form.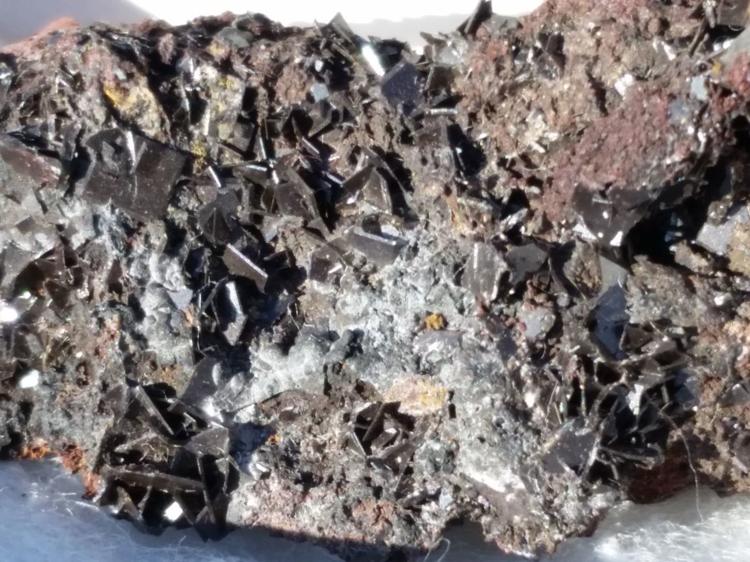 Wulfenite crystals follow the tetragonal system with clearly defined square tabular transparent or translucent tabular, pyramidal or short columnar crystals. It is extremely brittle with a hardness of 3 out of 10 on the Mohs mineral hardness scale.
Arizona, California, Colorado, New Mexico, Montana and Washington are states containing collectable specimens.
Arizona contains more than 275 wulfenite mining localities including the most famous and prized, deep-red-colored specimens from the world-renowned Red Cloud Mine in Yuma County.
Among other noteworthy mines, the Hilltop Mine in the Chiricahua Mountains produced limited amounts of deep-yellow, butterscotch-color specimens with a white crystalline calcite matrix that are highly sought after and valuable to mineral collectors.
Early wulfenite mining endeavors in Arizona were notable at the Mammoth-St. Anthony Mine. Originally worked for gold, the tailings from the underground workings supplied 750 tons of wulfenite concentrates constituting the total U.S. production in 1903. The wulfenite itself occurred as light-yellow to bright-red crystals containing tungsten.
The Glove Mine located on the southwestern flank of the Santa Rita Mountains produced some unusual wulfenite specimens with black crystals caused by the formation of manganese inclusions. Wulfenite coated with hemimorphite and vanadinite was mined at the Finch Mine in the Dripping Spring Mountains. Other notable localities are the Rowley Mine that has produced amazing wulfenite specimens, some of which include blood-red balls of crystallized mimetite atop transparent orange crystals. The 79 Mine has yielded some interesting wulfenite samples, including those with paper-thin blades on black microcrystal descloizite.
Arizona approved wulfenite as the official state mineral in March of 2017.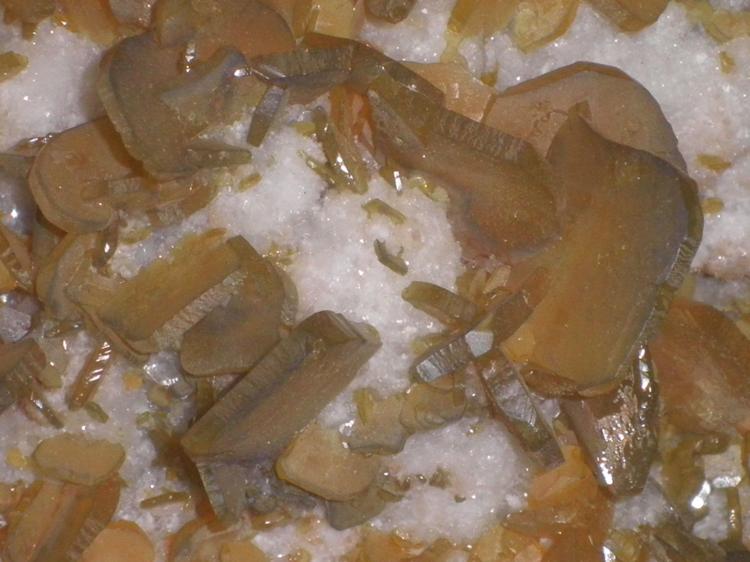 William Ascarza is an archivist, historian and author of seven books available for purchase online and at select bookstores. These include his latest, "In Search of Fortunes: A Look at the History of Arizona Mining," available through M.T. Publishing Co. His other books are "Chiricahua Mountains: History and Nature," "Southeastern Arizona Mining Towns," "Zenith on the Horizon: An Encyclopedic Look at the Tucson Mountains from A to Z," "Tucson Mountains," "Arizona-Sonora Desert Museum" with Peggy Larson and "Sentinel to the North: Exploring the Tortolita Mountains." Email Ascarza for signed copies at AZMiningHistory@gmail.com
Get local news delivered to your inbox!
Subscribe to our Daily Headlines newsletter.