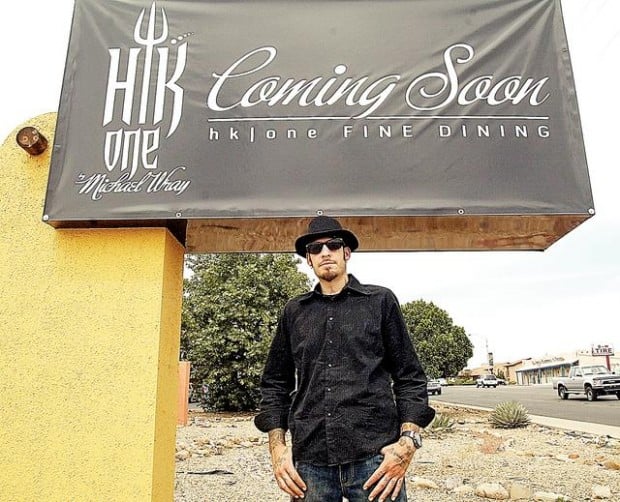 SIERRA VISTA — Celebrity chef Michael Wray has big plans for Sierra Vista.
In three short months, Wray will bring his own brand of style and cuisine to the local food scene when he opens his newest restaurant, HK One.
The 32-year-old got his big break after winning the first season of the Fox reality television show "Hell's Kitchen" five years ago.
In the time since the show, Wray has been a part of 11 restaurant openings, started his own custom chef knife company, Skull and Cleavers, and taken a year off to raise his son.
"I didn't want to work every day. So I made the sacrifice, and I was a full-time dad for a year. It was amazing," Wray said.
Most recently, he worked as the executive chef at the Standard Hotel in Los Angeles. A good job, he said, but the duties kept him out of the kitchen more than he liked.
"It just wasn't what I wanted," he said.
Wray came to Sierra Vista in February after 10 years in California to be closer to his family — both his parents and a brother live in the area — and to possibly open a restaurant. He did not have any immediate plans when he arrived, but before long interested parties presented him with opportunities he couldn't pass up.
"By March, I had already been approached by two of my partners to open a restaurant," he said. "Ever since I've moved out here, everything has just been happening."
This new partnership has led to Wray's restaurant venture, HK One. Scheduled to open in August, HK One ("Hell's Kitchen," Season One) will serve a fluctuating menu of original French-Asian fusion dishes of Wray's own design.
"My menu's going to be based on what ingredients I can get locally and fresh," he said. "If I get a week's worth of great vegetables, that will be on my menu. If I get a great crop of tomatoes, I'll do a bunch of different tomato recipes."
Apart from a selection of fruits, vegetables and meats from local farmers, the restaurant also will have fresh seafood flown in from the West Coast overnight.
"Really, it's just down to Earth, good food," he said.
Major remodeling efforts are under way to change the aesthetic of the building, which currently sports a Southwestern motif, to something more inclined to Wray's taste. The tile floors are to be replaced with blond-and-black wood panels, and black leather booths will line the walls of the south side of the interior. It will all be accentuated with soft, intimate lighting.
"I almost want kind of an industrial feel, like the Meatpacking District in New York, where a lot of those old brick buildings have been turned into restaurants," he said.
Other ideas include a set of cameras inside the kitchen, so that guests can watch as their meals are being prepared, and a chef's table, located inside the kitchen itself, that would seat up to half-a-dozen people.
Wray said he's looking forward to becoming a part of the community of restaurateurs in Sierra Vista's West End.
"I really want to set up a partnership between a lot of the service workers out here," he said. "Just to interact as a community and bring us all together. I really want to be competitive, but also supportive of all the other restaurants in town."
He's also looking into the possibility of having children come to the kitchen on Sundays (when the restaurant is closed) to work on a project.
"I would love for children to come in on the weekend, and we could make little spider cupcakes," he said.
It's a chance for Wray to embrace his artistic and teaching tendencies.
"If this wouldn't have happened to me, I definitely would have been an instructor. I love to teach," he said.
His artistic habits range from the more traditional — black-and-white photography — to the macabre.
"I like to take chicken skulls and duck skulls and draw on them and then make Christmas ornaments out of them," he said.
Wray said it did not slip his mind that a recession may not be the best time to start a gourmet-class restaurant.
"I thought about that, but one thing that I believe is that, no matter what, people want to make themselves happy," he said. A good night out can provide an escape.
"When you go to a restaurant, it's an evening of forgetting about everything and eating great food," he said.
"There's a huge population of people out here that just want somewhere cool to go, and I'm going to give them a great experience."
"By March, I had already been approached by two of my partners to open a restaurant.
Ever since I've moved out here, everything has just been happening."