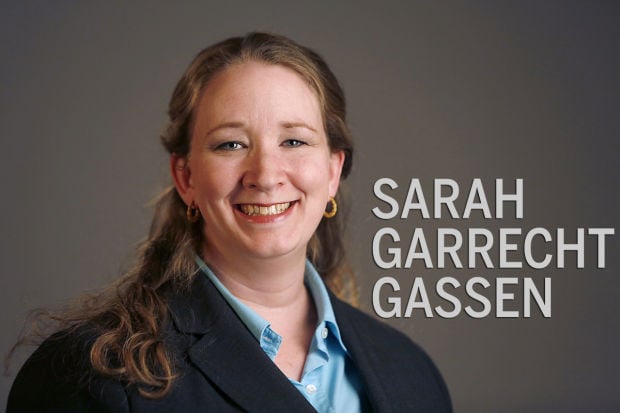 The following column is the opinion and analysis of the writer.
Arizona's junior senator-turned-campaign-T-shirt-hawker had her media moment late last week, after manipulating her job failure into a campaign fundraising ploy.
Martha McSally, a Republican, is following former Maricopa County Sheriff Joe Arpaio's good ol' boy school of campaigning:
If the people who know you don't like you, do whatever you can to attract the attention of Republicans in other states; they can at least send you money.
And there is no surer way to become a conservative darling than to insult a journalist for asking a real question.
The query she ducked was this:
"Senator McSally, should the Senate consider new evidence as part of the impeachment trial?"
It's a relevant question we constituents should know the answer to — it's a question every constituent should want the answer to.
Even if you believe the impeachment of President Trump is a farce, don't you want to know the thoughts of the woman at least nominally representing you in the Senate, a woman who is asking for your vote to remain there? Because, remember, McSally and every other public official works for us —for you.
You're the public in public servant. Yeah, you.
This manufactured moment points to a less viral but more substantive trend, one waged in McSally's performance and reinforced by a dangerous bill sponsored by Sen. Vince Leach in the Arizona Legislature.
"Who wants to know?" has become more important than our government officials' responsibility to our people.
Leach, a Republican from SaddleBrooke, is the primary sponsor of Senate Bill 1089, described as "public records requests; contact information."
Don't be fooled by the bill's bureaucratic housekeeping exterior.
Leach's legislation would place significant limits on your ability to find out what people elected or employed in state and local governments are doing in our name and with our tax dollars. 
Under Arizona law, "All officers and public bodies shall maintain all records, including records, as defined in section 41-151.18, reasonably necessary or appropriate to maintain an accurate knowledge of their official activities and of any of their activities which are supported by monies from this state or any political subdivision of this state."
Arizonans also have the right to view or request copies "of any public record."
"Public record" sounds like something only lawyers or journalists might want to see, but you use public records every time you check up on a contractor's license; read restaurant health inspection reports; find out if your child's teacher is certified and if the child care center you're considering is licensed; look up how much money is spent on city parks; ask which companies are winning contracts for government work.
I could go on and on. Public records are why we know who has given how much money to which candidates running for office —and why we can track that person's votes if they win.
Anyone can request and receive this information. It is yours for the asking.
Leach's bill would change that. The government "may not disclose a public record unless the requesting person has furnished the person's name, address, telephone number and email address, if any, to the public body."
I called and emailed Leach this past week because I'd like to know his perspective but he didn't respond. And yes, I left my name and contact information.
In a culture where we sign our personal data away so we can save a few cents with store loyalty cards, I'm concerned Leach's provision may not raise the alarms it should.
Public information belongs to the public, not only to people willing or able to leave their name and contact information for all to see. Public records requests are themselves public records.
Why does Leach want to know who is asking for public information? How will our personal information be used? Why does the government need to know what information a specific person is requesting? What is the public good being served?
Requiring personal information creates a public safety threat if the person seeking the records is being abused, stalked or is a whistleblower calling out bad behavior within the government.
Any time public officials dodge questions, like McSally, or put up barriers to keep us from knowing what they're doing, like Leach, we must ask why — and what they don't want us to know.
Catch the latest in Opinion
Get opinion pieces, letters and editorials sent directly to your inbox weekly!