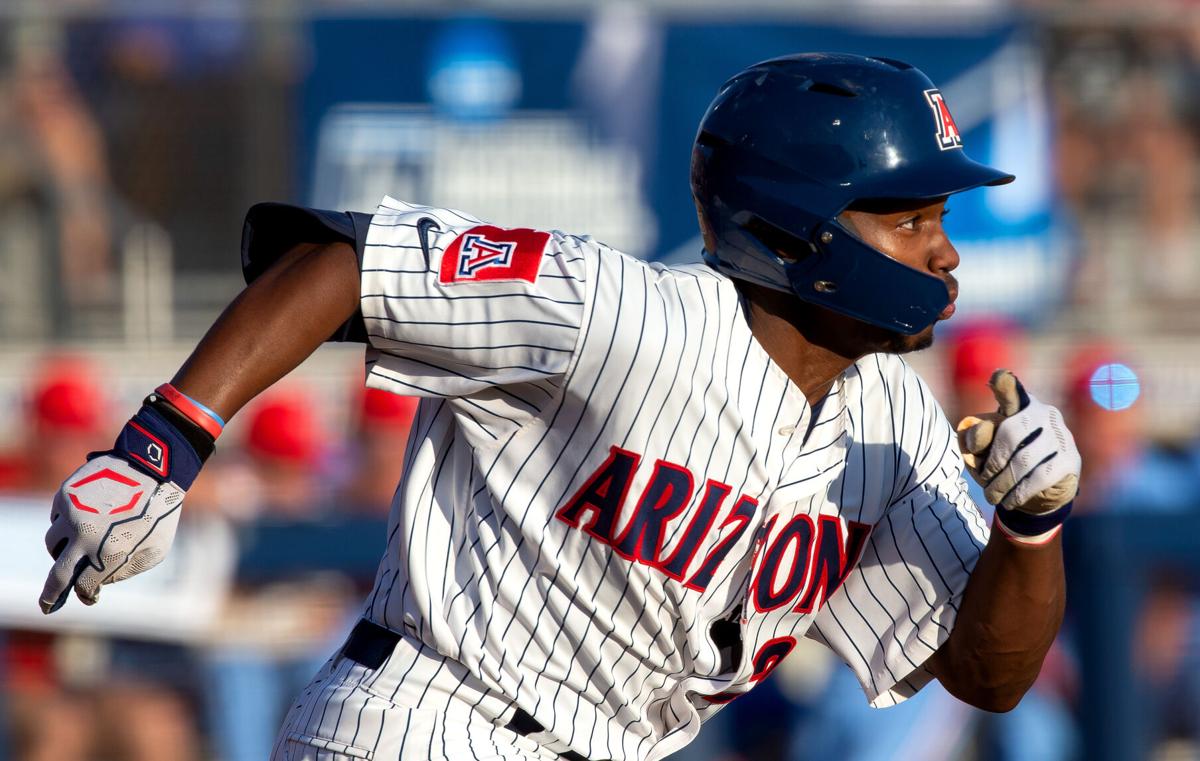 OMAHA, Neb. — Vanderbilt coach Tim Corbin didn't name a starting pitcher for Saturday's College World Series matchup against Arizona. The presumption is that Kumar Rocker, who spoke to the media here Friday, will get the call. His teammate, Jack Leiter, is just as good — maybe even better.
There's no mystery about what either will face when the first Wildcat steps into the batter's box.
Fourth-year junior Donta' Williams is the man who makes the nation's most prolific offense go.
"He is truly the engine of our offense," UA coach Jay Johnson said. "I don't think he gets the credit he deserves. He very easily could have been the Pac-12 Player of the Year. I think he's an All-American-caliber player."
No participant in the CWS gets on base at a greater rate than Arizona's leadoff hitter. Williams has a .495 on-base percentage. He has reached safely in 47 consecutive games. But that's hardly all he does for the Wildcats.
Williams leads the team with 80 runs and nine stolen bases. He runs the bases with abandon. He plays center field with no regard for his body. He simply plays hard all the time.
"He's a great leader in terms of words. He says the right things," Johnson said. "He's a great leader in terms of actions, in terms of controllable things, work ethic, off the field.
"But I think his true value is how he impacts our team on the field, impacts his teammates."
Williams has saved his best for what should be his last run at Arizona before getting drafted and turning pro next month. In six postseason games, he's hitting .481 (13 for 27) with nine runs. He also has two homers.
Williams has improved steadily as a Wildcat, raising his batting average and slugging percentage every season. Since the start of the 2020 campaign, he has 20 more walks (65) than strikeouts (45).
Williams credited multiple coaches for making him the player he has become: Johnson, hitting instructor Marc Wanaka and strength coach Jim Krumpos. Williams talked about developing a foundation for offseason work, getting bigger and faster and working on his mental game.
The constant: Williams' all-out effort in every phase of his play.
"We know that he's going to really give us all he's got," UA first baseman Branden Boissiere said. "He's willing to play hard for us, so it makes us play hard for him."
Playing their game
Williams, Boissiere and their teammates know what they're up against Saturday: Rocker and Leiter are both projected to be top-five picks in the MLB draft.
But it's not as if they've never faced elite pitching.
In the Tucson Regional, Arizona squared off against UC Santa Barbara right-hander Michael McGreevy, whom Baseball America just bumped up to No. 16 in its Top 500. Stanford right-hander Brendan Beck, whom the Wildcats could see later in the CWS, is ranked 81st. Ole Miss lefty Doug Nikhazy is No. 76.
"We've been here before at some point in our lives. Every hitter has faced a top prospect," Williams said. "I think it's just not making the situation bigger than our plan. We talk about being where your feet are, not making any moment bigger than what it is. Just kind of treating it as another game. So that's what we're going to do.
"We can't let the stage get too big for us. So just go ... right back to our training at the end of the day. See the baseball, put a great (swing) on it."
Corbin on Cats
Rocker or Leiter will face a UA team that's batting .329. Even ninth-place hitter Nik McClaughry is batting over .300 (.317).
"If you start at the top and work down, it's very potent," Corbin said. "The guy at the top (Williams) is very good. (Jacob) Berry is not a freshman; he's not ... a two-hole hitter. When you hit 17 home runs and (produce) 70-plus RBIs, that's not usually statistically what a two-hole hitter looks like. Jay's in a situation where someone has to hit two.
"They all produce. You pile them up together — the combination of left-handed hitting, some quality right-handed bats with strength, with average, with pretty good plus-minus in terms of walk-to — these guys are very difficult to (get) out."
Draft move 'positive'
This is the first year the NCAA Tournament is being contested with the MLB draft taking place at a later date. It's scheduled for July 11-13 this year. In years past, it has coincided with the postseason.
That made for awkward moments such as players being drafted while they were playing games. It also created potential distractions.
"It's very much a positive for the kids," Corbin said of the change. "You just don't want kids conflicted or split. That's not fair. No fault to anyone, it's just what it was.
"This is a team event, one of the greatest things they'll ever do ... even if they get to the big leagues. Every single big-leaguer that's ever been to Vanderbilt that's played in the College World Series has always come back to these moments, this tournament, as being the most important moment of their baseball life."
Rocker, who's ranked fifth overall by Baseball America, said his sole focus is on the CWS.
"When it comes to the postseason, it's not anywhere close, even in the season, (to being) about you," Rocker said. "It's about your team, winning each game, moving forward. That's the most exciting part about being here."
Inside pitch
Johnson tried hard to recruit shortstop Carter Young, who ended up at Vanderbilt. The second-year player from Selah, Washington, has a team-high 15 home runs. "Another West Coast guy," Johnson said. "At the house I used to rent, we had a small pool in the backyard. I stayed on the phone with him and walked around the pool for 80 laps, and I couldn't get him to say yes."
Vanderbilt second baseman Tate Kolwyck, who hasn't played since the regional opener because of a hand injury, is on the active roster. Corbin deemed him day-to-day. Kolywck is batting .288 with a .984 fielding percentage.
Vanderbilt's Enrique Barfield Jr. leads the nation with 46 stolen bases. "I don't know that I've ever seen 46 on a stat sheet," Johnson said. "He will run at any time — no outs, no strikes, two outs, two strikes and everything in between. We're going to have to do a good job. Obviously, the best thing you can do is keep him off base. That will be the focus."
UA left-handed relievers Randy Abshier and Gil Luna did not travel with the team. The two were placed on interim suspension before the Super Regionals by the dean of students office because of an off-field incident.
Contact sports reporter Michael Lev at 573-4148 or mlev@tucson.com. On Twitter @michaeljlev