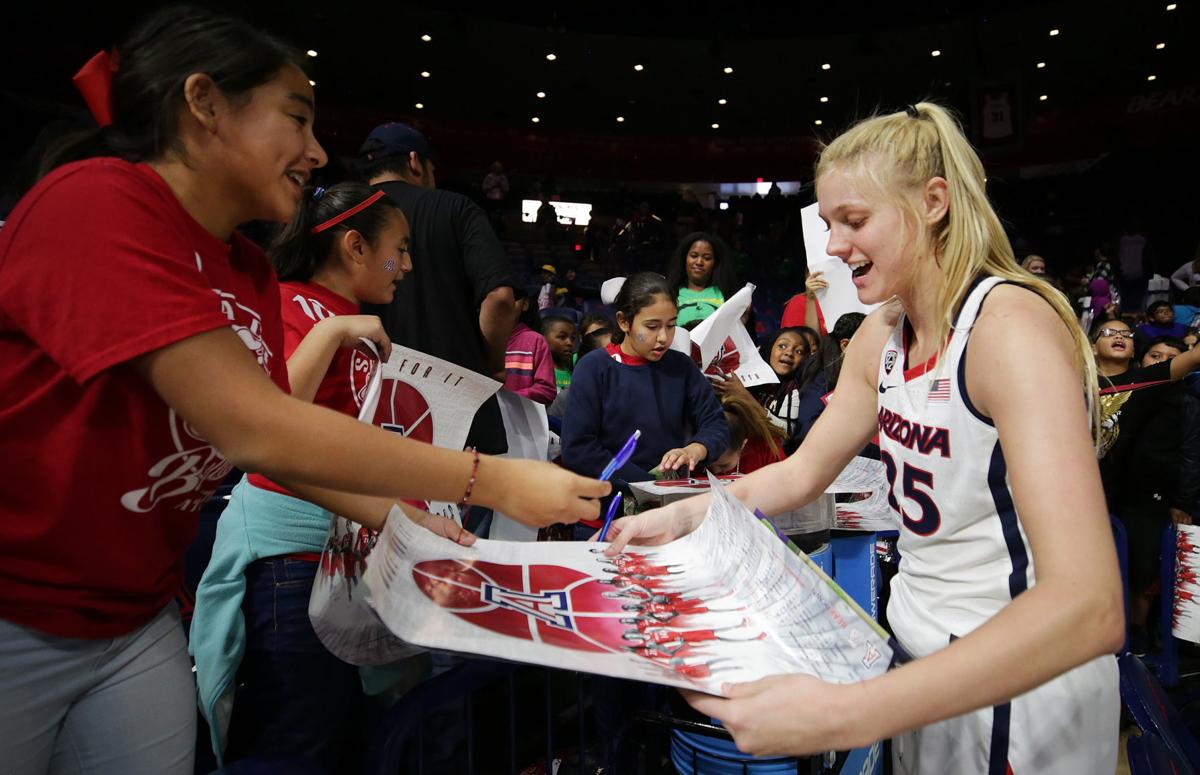 The Arizona Wildcats' 11-game winning streak came to an end Sunday with an 80-64 loss to Utah in Salt Lake City.
They didn't go down without a fight: Aari McDonald scored 34 points for the UA, which rallied late after trailing by 25 points at halftime and 11 points at the end of three quarters.
Before the Wildcats take the floor at McKale Center on Friday night against No. 24 Cal, let's take a look back at the program-best streak. Here are the highlights:
• Sam shoots the UA to a win. Arizona's 69-67 victory over the Buffs last Friday was the closest of any during the streak. It was the most dramatic one, too. Arizona and CU were tied late when Dominique McBryde took an inbounds pass and was quickly trapped by the Buffs' defense. She passed to teammate Sam Thomas, but the ball was tipped. Fortunately for the UA, the ball fell into Thomas' hands — and she had a clear path to the basket.
"It was very clutch of Sam," McDonald said. "Some players would panic, but she calmly got to the basket."
Poise is key to Thomas' game.
"Even if the play is broken, if the ball is tipped, she'll go get that 50/50 ball," forward Semaj Smith said. "We all love Sam, so we all got hyped when she scored."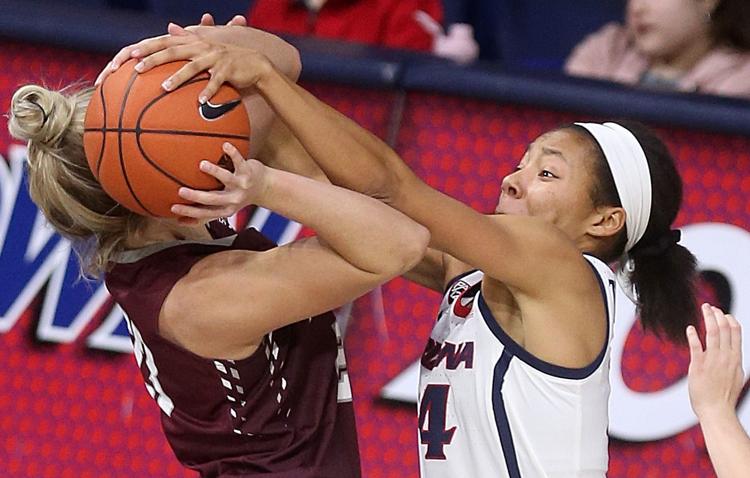 • Arizona upsets ASU. Arizona's 51-39 win over ASU on Dec. 30 was arguably the highlight of the Wildcats' young season. The Sun Devils came into the game ranked No. 17 nationally but struggled against a tough UA defense. The Wildcats held ASU to 23.2 percent shooting; the Devils finished with just two second-chance points; only one player, Kianna Ibis, scored in double figures.
"That win solidified that we can win and make noise in this conference," McDonald said.
Dominique McBryde was a force inside in the rivalry game.The forward finished with nine rebounds, two blocks, four steals, and six points. It's her defense that McDonald remembers most.
"Her defensive effort against Kiana Ibis … she took her out of her game from the jump," said McDonald. "She got Ibis frustrated. It was really effective how she got her assignment done."
In many ways, the rivalry win put the UA on the national map. The Wildcats received 15 votes in the following week's AP poll, and two in the USA Today coaches' poll.
"That was a good moment for the program to show we are on the right track and moving in the right direction," coach Adia Barnes said. "We don't get caught up in all of that, but it's still a positive for the program."
• Cats figure out Long Beach State and a "funky" defense. The Wildcats' 70-43 win over Long Beach State on Dec. 9 was a strange one. McDonald picked up her first foul less than one minute into the game, and Cate Reese and Thomas each had two fouls halfway through the first quarter. McDonald had two more in the next few minutes.
With three of the starters in foul trouble, Lucia Alonso took control of the game. She played 31 minutes and had no turnovers.
"We don't win this game without her composure," Barnes said. "There were tough matchups for our guards, especially with all the fouls, and Lucia took the game on her back and ran the offense with pressure the entire game.
McDonald liked the way Alonso "handled the ball with all their funky-type of defense."
• Aari goes off. McDonald had so many highlight-reel moments during the streak that it's hard to pick just one.
Could it be the time she flexed after scoring against ASU?
McDonald is averaging 25.4 points per game, the second-most of any player in the country. She has won the Pac-12 Player of the Week award three times; on Wednesday, she was named to the Wooden Award Midseason Watch List.
"One of the unique things about Aari is that she is a great offensive player and a great defensive player. That is rare," Barnes said. "If you look at the other top players in the country, they may be good at offense, but not defense; they aren't both. What I love about her is that she is a great teammate, a great person and is very unselfish. You may see her score 38 points, but it's unselfish. She wants to win, and her mentality is that she'd rather have 10 assists, 10 boards. She's not a score-first person."
Her teammates bring up the little things she does every day.
"It's not even about her numbers; it's her ability to stay humble," Tee-Tee Starks said. "She's had multiple 30-point games, yet you wouldn't even know. She's not one to boast about it. Her ability to stay humble is not something many people have."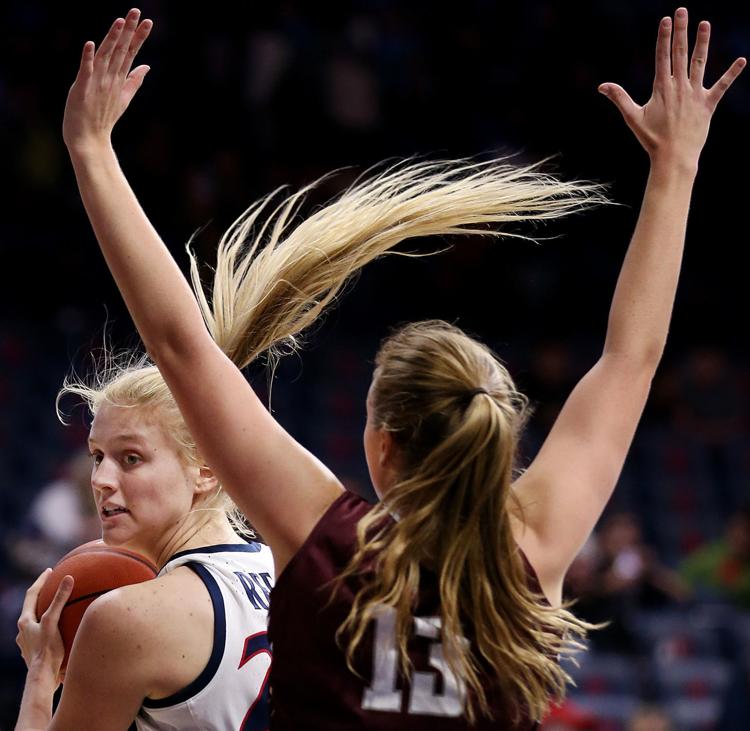 • Reese's rise. Freshman forward Cate Reese scored 19 points and grabbed 16 rebounds in the Wildcats' 73-32 win over South Carolina State on Dec. 23, earning Pac-12 honors. Throughout the 11-game winning streak, Reese averaged nearly 11.2 points and 8.5 rebounds per game. She leads all Pac-12 freshmen in both categories.
Reese also has the most double-doubles among all freshmen in the Pac-12 with four.
"She's not playing like a freshman," Starks said. "There's no excuse of, 'Oh, she's a freshman and she's learning.' It shows on the court fighting for rebounds and 50/50 balls. Typically, you don't see that from a freshman. She's a competitor. One thing that stands out when we watch film is of Cate diving on the floor for loose balls. On a lot of possessions she ends up on the floor. She wants to be the first one to the ball," Starks said.
Barnes said she didn't have one favorite moment from the 11-game streak. She said she's more proud of where the Wildcats are as a program.
"This team has a personality to do special things," she said. "That may not mean we win the Pac-12, but we will do special things. We have all the tools.
"The city loves basketball, and they filled the arena against Arizona State … bringing 5,000 people. That was great. They are a great sixth man. It's exciting because we can bring basketball to another level, and my goal is to do that."
Be the first to know
Get local news delivered to your inbox!