Thirteen years after he joined the Collegiate Basketball Hall of Fame, former Arizona basketball coach Lute Olson will be enshrined.
Olson was first added to the Collegiate Basketball Hall of Fame in 2006, when the new organization immediately pulled in the college coaches who had already been named to the Naismith Basketball Hall of Fame. The Naismith Hall of Fame, which covers all levels of basketball, added Olson in 2002.
But because so many Naismith-inducted college coaches were moved to the Collegiate Basketball Hall of Fame in 2006, the organization decided to re-honor them.
Olson will be feted Nov. 24 in Kansas City, joining former coaches Homer Drew and Rick Majerus and a handful of players, including former UNLV star Larry Johnson. Arizona legend Sean Elliott was inducted into the Collegiate Hall of Fame last year.
Olson, 84, coached the Wildcats from 1982-83 through 2006-07. Over those 24 seasons, he was 587-190 (.755) while taking UA to the NCAA Tournament 22 times, including four Final Fours and the 1997 national championship. At Arizona, Olson produced 35 players taken in the NBA Draft, including 14 lottery picks, while coaching the Wildcats through his 72nd birthday in September 2007.
"I have been a firm believer that you build a successful program with good people," Olson once said at the UA. "We never recruit the great players who are questionable people. Hopefully, they will be great players as well."
While coaching the Wildcats, Olson also boosted his Naismith résumé by leading the last amateur-only USA Basketball senior team to the 1986 FIBA World Championship.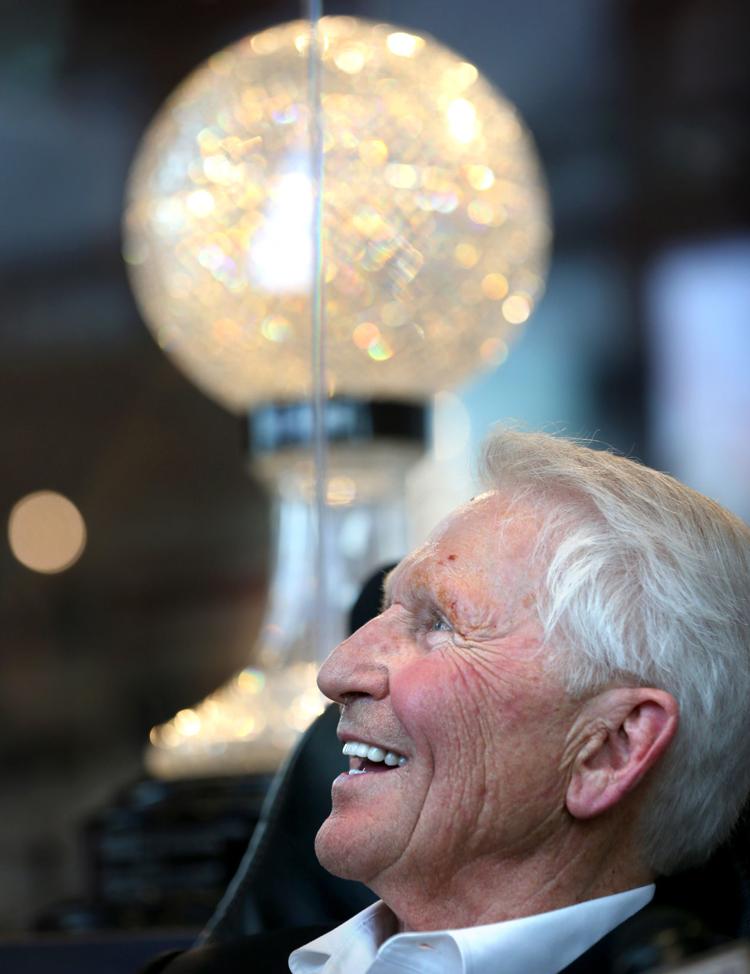 Before arriving at Arizona, Olson took Iowa to five straight NCAA Tournaments, including the 1980 Final Four, and left as the Hawkeyes' winningest coach — his 165 wins there now rank third in school history.
A native of North Dakota, Olson graduated from Minnesota's Augsburg College in 1956, then began his career by spending 11 years as a high school basketball coach in Minnesota and California, plus one year as a non-coaching teacher in Colorado. He then made stops at Long Beach City College and Long Beach State before moving to Iowa in 1974.
Olson retired from coaching in October 2008. He had left the Wildcats in October 2007, announcing he was taking an indefinite leave of absence for what he called a "medical condition that is not life threatening," and wound up missing the entire season. He returned in April 2008, but retired for good six months later.
Since retiring, Olson has been a regular at UA home games until this season, during which the UA announced he had been hospitalized with a stroke. He also has worked for the UA foundation as an ambassador, traveling around the country to appear at functions involving the school's fundraising arm.
"The hair was right," Olson said at the statue's unveiling, drawing laughter from the dozens of former players, donors and staffers who attended the event at the Jim Click Hall of Champions on the north side of McKale Center.
UA athletic director Dave Heeke said at the ceremony the statue fit in well in an area where fans congregate before games.
"That's what it's all about," Heeke said. "It's a symbol right there at the front door."