Zeke Nnaji put on 12 pounds over his first three months at Arizona, one of the easier adjustments he made this summer.
The basketball hasn't been too bad, either. The well-regarded freshman forward from Minnesota gained a week of high-level experience while trying out for USA Basketball's U19 team in June, and during his work with the Wildcats over the rest of the summer, found UA schemes aren't much different than those of his high school program.
Elsewhere on campus, he's good, too.
A pre-business major, Nnaji has even found a place to pursue another passion: Inside a room at the UA's Fred Fox School of Music, where Nnaji heads several mornings each week to play what UA coach Sean Miller calls some "amazing" piano.
On some days Nnaji will go with classical. Sometimes, blues or, his favorite, ragtime.
"If you heard it, you almost can't believe it," Miller said.
Born to a musically inclined family that includes a father from Nigeria and a mother from Minnesota, Nnaji says walking across campus to play piano gives him a great start to the day.
"it's a nice, relaxing place where I can just get away and just let my mind loose, you know?" Nnaji says.
So if there was any really hard adjustment for Nnaji to make this summer, maybe it was simply this: Walking out the door. Nnaji is from Minnesota, after all, a place where triple-digit heat combined with single-digit humidity isn't usually part of the equation.
"The first week I was here, I had headaches every day," Nnaji said. "It was so hot. I was drinking, but I guess I was drinking as much as I needed to for Minnesota weather. Coming down here, i had to adjust to that."
Before long, Nnaji learned how to keep himself hydrated, desert style, and went back to competing with teammates on the court and chilling with them off it.
"It's great. I love, I love being here," Nnaji said. "The players are great. I think everyone's super close. I think that's rare, especially like to have everyone on the same page just so close and together."
Nnaji moved to Tucson in early June, then left later that month to compete for a spot on the U19 World Cup team. He made the cut from 31 invitees to 18 finalists but did not make the final 12-player roster, finding it a valuable experience even as his back flared up.
"There were elite guys there and I learned so much from the accomplished coaches that were there,"Nnaji said. "I learned that I can play with the best of them."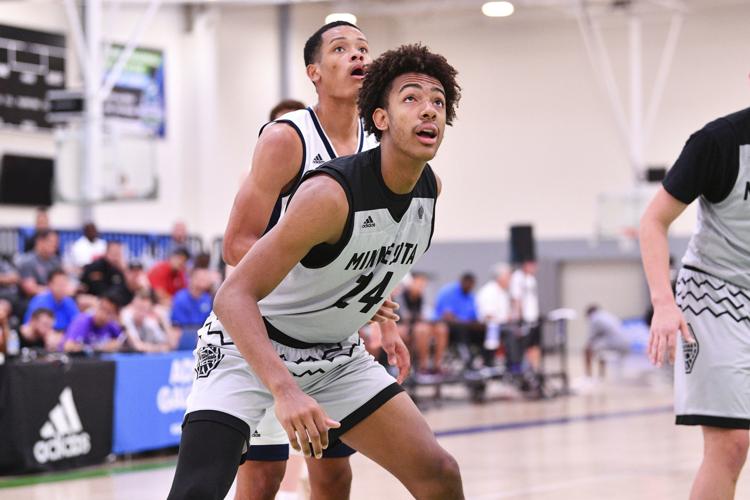 USA's final U19 roster included big men such as incoming Villanova freshman Jeremiah Robinson-Earl, USC-bound high school senior Evan Mobley, and two returning collegians: Mississippi State's Reggie Perry and Purdue's Trevion Williams.
Miller was on hand to watch, being part of the USA Basketball Junior Team Committee that determined the U19 World Cup team.
"It's fair to say he would have been one of the last guys cut," Miller said of Nnaji. "He really did a good job. If you judged him a year ago, he tried out for the (USA) under-18 and how he would have looked then (versus) how he looked in this tryout, it was a night-and-day difference, which I think says a lot about his growth."
In between the summers of 2018 and 2019, Nnaji led Hopkins High School to the Minnesota Class 4A title, joining fellow UA freshmen Nico Mannion (Phoenix Pinnacle) and Christian Koloko (Sierra Canyon School in California) in finishing their high school careers with a state title.
"It was great," Nnaji said. "I accomplished the goal I started out with — to win state — and couldn't ask for a better ending."
At Hopkins, Nnaji played for longtime coach Ken Novak Jr., whom Miller and Nnaji both say accelerated his development.
"Coach Novak really emphasized defense, stunting (lunging), ball pressure, everything like that, so I was definitely very prepared," Nnaji said.
At Hopkins, "we worked on a lot of the things we work on here now. I think the only thing that's really different is the terminology, the speed of the game and just how physical it is. I had to get a lot stronger to be able to handle him playing out here."
That's why the 6-foot-11-inch Nnaji now weighs somewhere between 240 and 245 pounds, up from 228.
"I'd say that's a great starting point," Miller said.
Miller also raves about Nnaji's versatility, which is a major reason why he's expected to play a significant role at both power forward and center as a freshman this season.
Miller said Nnaji is adept and strong defensively, with the ability to block shots or guard players on the perimeter, and his offensive game includes passing, shooting and ballhandling.
"Zeke is as talented physically as any player that we've recruited at Arizona," Miller said. "In the month of November, it will be very difficult to judge any of our freshmen and Zeke in particular.
"But I do think that every game we play, as we keep moving forward, he'll continue to show a lot of promise. He's going to be a big, big part of what we do."
Be the first to know
Get local news delivered to your inbox!