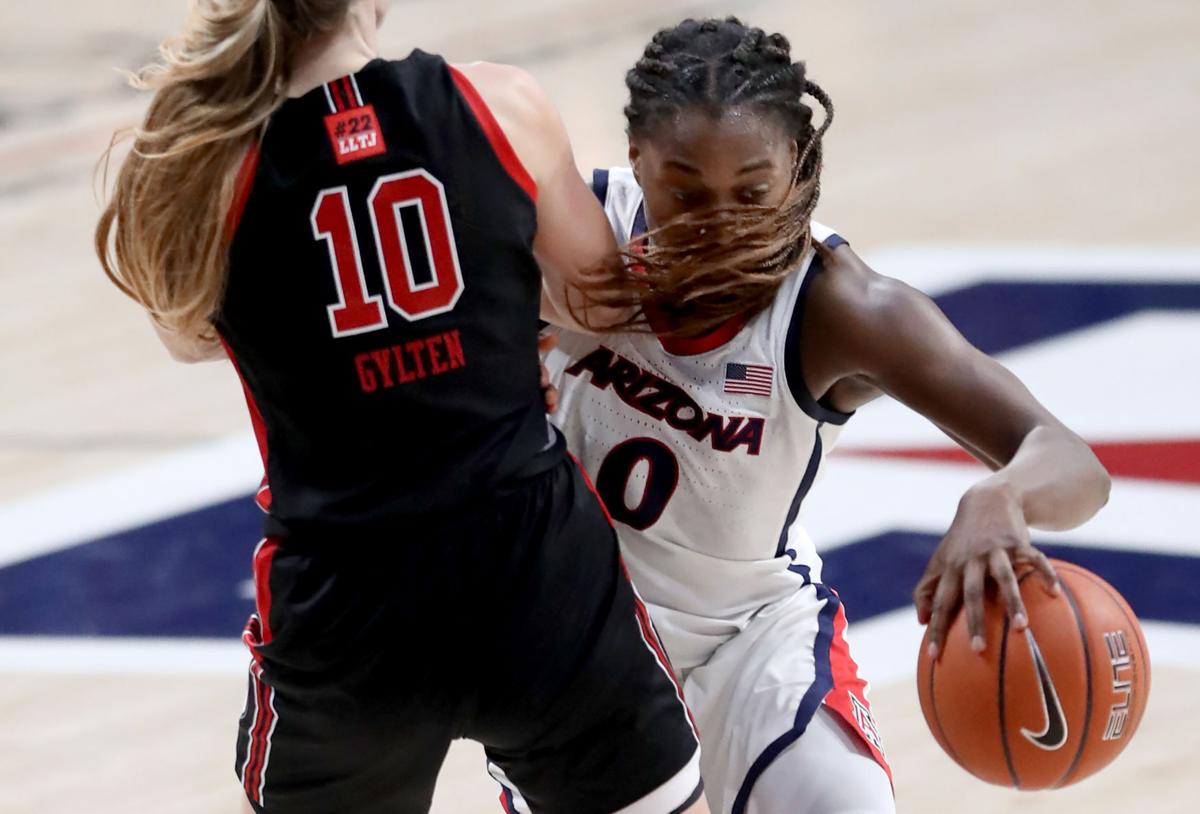 UA coach Adia Barnes never questions Trinity Baptiste's energy, attitude or desire to get better.
That's just who Baptiste is — even on her day off.
"I try not to watch any film, any basketball, just take that time to clear my mind and mentally just reset," the senior forward said. "We get one day off — usually on Mondays — (but) the rest of the week we're going pretty hard and everything is about basketball and school. It's important on your off day to just reset and take care of yourself. For me, sometimes I put my phone down, get a little more sleep, read more or just rest."
Baptiste credits the Athletes to Visionaries collegiate program with keeping her on track. Founded by former Florida State star Morgan Jones, the program helps athletes figure out who they are and find their vision for what's next.
Baptiste already has a plan. The graduate transfer wants to play basketball professionally, then open up her own gym and help train other athletes.
For now, she's focused on the present. The ninth-ranked Wildcats will play at No. 12 Oregon on Monday night in a game that'll air nationally on ESPN2. Baptiste is averaging 8.7 points and 5.5 rebounds this season.
Jones and Baptiste met when both were at Virginia Tech. Baptiste played her first three years there, while Jones was a Hokies broadcaster. Both are from Florida — Baptiste is a Tampa native, while Jones hails from Orlando. During the pandemic, Jones invited Baptiste to participate.
The season-long program includes weekly calls featuring notable people, including ESPN basketball analyst Monica McNutt, Tampa Bay Buccaneers senior director of player relations Sarah Evans, and ESPN analyst and host Brooke Weisbord. They give tips on life and other skills, such as how to manage your money.
Baptiste said Athletes to Visionaries has taught her to take care of herself first.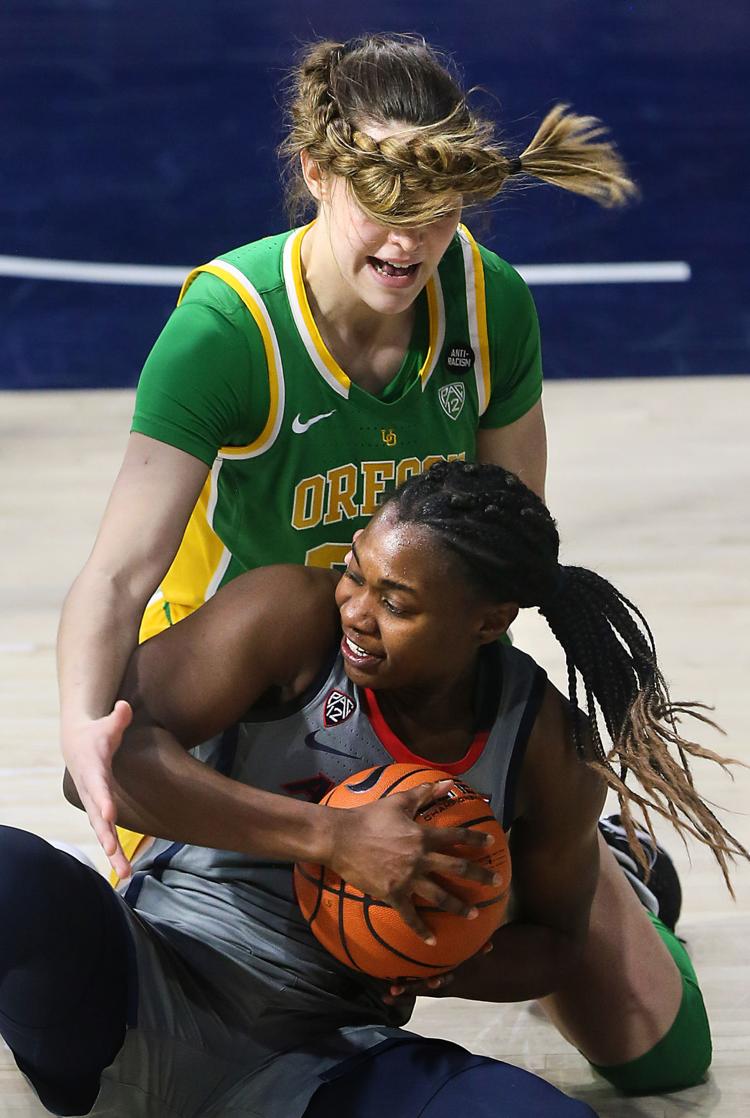 "If I don't take care of myself, I have nothing to give to anyone — my coaches, my teammates," Baptiste said. "I can show up every day to practice, but if I'm not taking care of myself, mentally and physically, I'm not helping anyone.
"When things start to feel a little overwhelming for me — even just being here with the new circumstances and COVID protocols and being away from family — it's just asking for help. If you need help, don't be afraid to ask for help. We have so many resources here. Some athletes go through things, but they don't reach out to anyone.
"I think the biggest thing is when I need help, or I'm struggling, I'm just vulnerable with people we have — whether it's coaches, Jessie (Johnson), our athletic trainer, or Jaime (Fernandez), our strength coach. I go and sit down (in their) office and talk to them. I think it's important just to be vulnerable."
Extra time in Oregon
With Friday night's game postponed because of COVID-19 issues within the Oregon State program, the Wildcats have a little more time on their hands.
Arizona learned that the game was being postponed as they were flying into Corvallis late Thursday afternoon. The team needed to kill four days before Monday night's game in Eugene.
Thursday's dinner came from The Old Spaghetti Factory. Friday night's meal was from the hotel — a choice of chicken, steak or salmon plus veggies, rice and potatoes. Every Arizona player received a snack bag full of healthy goodies.
The Wildcats scrimmaged Friday, then held a study hall session. Sam Thomas, who is pursuing a master's degree, wrote papers.
She said it's been a normal road trip — to a point.
"Basically, the same routine — just obviously not having any game, which stinks. It is what it is now. We just get to watch everybody else in the Pac-12 play."
Thomas and roommate Cate Reese like their routines. Their hotel room sparkles, a carryover from their apartment in Tucson.
"Once the bed is made, then I feel like it's like we're in a good spot — the bed is made, the windows are open, then I feel like, 'OK, I can be more relaxed,'" Thomas said. "And the trash needs to be pretty clean. We don't have the maids come in, because we don't want to deal with anything like that. We are in charge of keeping the room clean. We've been doing a good job."
Thomas keeps all her things in one area of the room. "I like to keep my shoes by the vents so they don't smell too bad in the room," she said.
Reese is happy to go with the flow — even though it means hearing Thomas' alarm go off every morning for up to 20 minutes.
"I'm used to it at this point," Reese said. "She's always been like that. I hear it at the house, too."
The roommates have stayed close during their extended time together.
Thursday night, they bought toys for Proxy, Thomas's dog, on Amazon.com.
"We know what annoys each other and each other's tendencies. I think that helps," Reese said.
Added Thomas: "We're pretty relaxed. Cate's pretty easy. When I need something a certain way, she'll usually be respectful and keep it that way. …I think it does help (with basketball) as we come home after practice and we talk. That's all we talk about — what went right, what went wrong, what we need to do better. Then we can see that in the game — how it translates."
Rim shots
The documentary film short "Adia" premiered Friday at the Loft Cinema. Zoe Lambert, a UA School of Theatre, Film & Television student, details Adia Barnes' journey as the Wildcats' coach. "Adia" is one of 15 films that are part of the "What's Up, Docs" collaboration between The Loft and the UA; the shorts can be streamed for free at loftcinema.org/film/whats-up-docs/. The shorts are also posted to YouTube

All rounds of NCAA women's basketball tournament will be held in San Antonio from March 21-April 4. The change was expected; typically, the first and second rounds are played at schools with the higher seed, with the Sweet 16 and Elite Eight held at regional sites.