Stop taking silly shots. Feed Zeke. Don't foul so much. Rebound.
Play for Arizona, not yourself.
On and on and on came Sean Miller's messages, to the media and to his team over a long two-week break that started after the Wildcats lost three of four games to finish nonconference play.
But in a 75-47 win over ASU at McKale Center on Saturday in their Pac-12 opener, at least for one night, the Wildcats turned mostly into that team.
While they hit just 4 of 15 3-pointers, the Wildcats avoided taking many of the ill-advised shots Miller had been upset about, hitting 47.6% overall while scoring efficiently on the break and through Zeke Nnaji inside.
Arizona scored 25 fast-break points and gave Nnaji the ball so he could take more shots than any other UA player, and the efficient freshman big man responded with 17 points on 7-for-11 shooting and 11 rebounds.
Miller's messages were sent, and received.
"Yeah. Definitely," guard Josh Green said. "When you have someone like Zeke as the four man, not many people are his size, height or strength, so it's a big factor for us guards in getting him inside. It creates for our a whole offense -- obviously he's gonna bully his player down and if they double, it brings it out for the perimeter players."
Green responded by collecting 12 points and seven rebounds while taking only one 3-pointer – a miss – after Miller said before the game that he could maek the case that anyone shooting 32 percent should never take such a shot (Green was hitting 32.5% from 3).
Instead, Green picked up his points where he gets them the best, on the break. He scored eight of his 12 points after halftime while UA took advantage of many fast-break opportunities: He went uncontested coast-to-coast after he rebounded a missed Sun Devil free throw, and later made a fast-break layup after Nico Mannion stole the ball and threw it to him.
After that play, Nnaji then created his own assist, stealing the ball from Remy Martin, the guy who led the Sun Devils to a season sweep of the Wildcats last season, then dunking it in to give UA a 63-37 lead with 7:24 left.
That was pretty much how it went all night. The Wildcats were motivated and efficient, getting forward Stone Gettings back from head injuries for the first time in over a month, and increased production from freshman center Christian Koloko.
Overall, UA had four players in double figures with Nico Mannion and Dylan Smith adding 10 points each, while 10 total players scored.
They were fast, but not too fast for Miller's liking.
"We want to play at a fast tempo … it makes sense with Nico and the team that we have," Miller said. "But one of the things that we've gone through is you can play at a fast pace, and sometimes shoot yourself in the foot. Taking challenged 3s, and ignoring somebody that's very efficient around the post (in) Zeke.
"I think that it's up to us to make good decisions. You have to take the good early opportunity but when we didn't take that tonight, we ran better offense, and we were more balanced. And we have a team of guys on offense that can do a lot of things."
While the Wildcats fouled more than Miller would like – Green even picked up a second-half technical along with ASU's Jaelen House after the two held an apparently inappropriate conversation at the end of a play – the Wildcats outrebounded ASU 49-35 and also helped hold the Sun Devils to just 30.5% shooting.
Then again, ASU just wasn't shooting well at all. It was 8 for 19 from the uncontested land known as the free-throw line and just 3 for 21 from 3.
As such, the Sun Devils never really challenged to win a third straight game against the Wildcats after sweeping them last season for the first time in a decade.
The win moved UA to 11-3 overall and 1-0 in the Pac-12, in which the Wildcats will next face predicted conference winner Oregon on Thursday in Eugene.
ASU dropped to 9-5 and 0-1.
While there were dips in UA's effort, the Wildcats' lead never dipped below double-digits after the first 15 minutes of the game.
Arizona took a 16-9 lead over the first eight minutes, recording four assists on their first seven baskets, shooting 7 for 12 to that point.
After regaining his starting role following a second-half benching in UA's Dec. 21 loss to St. John's, guard Dylan Smith started the new trend of efficiency. With the ball inside the arc but no easy shot open, he dished to Nnaji as he raced along the baseline, and Nnaji put it in.
The Wildcats continued careful play throughout the middle of the first half and, with just under four minutes left to play, were shooting 12 for 23 from the field with only five turnovers while outrebounding ASU 18-11.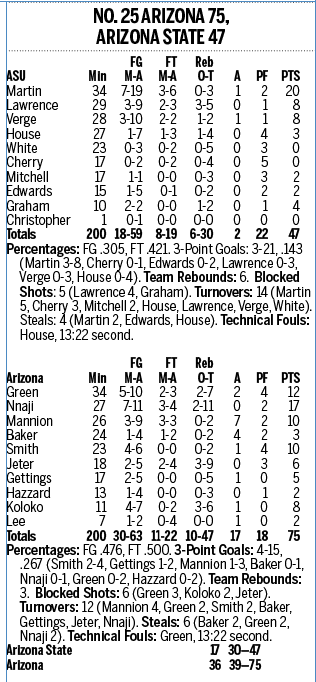 Arizona received a scare late in the first half when Mannion bruised his knee in a collision with ASU's Rob Edwards, missing the last four minutes before halftime, but he returned to play 14 minutes in the second half and Miller said he was fine.
While Mannion was limited slightly, the Wildcats received forward Stone Gettings back for the first time since he suffered a concussion and fractured cheekbone against Penn on Nov. 29. Gettings rejoined the Wildcats for practices after Christmas break while wearing a mask but was cleared to play without a mask for Saturday's game.
Upon entering eight minutes into Saturdays' game, Gettings received a warm round of applause and then pulled down a rebound and hit a turnaround jumper on UA's next possession.
"It was awesome," Miller said of Gettings' return. "Stone means a lot to our team because he's a different style of player. He's a big guy that skilled. … I thought during the game it meant a lot having him back because he does a lot of good things for our team."
Miller turned more often to freshman center Christian Koloko over Ira Lee off the bench in the second half. Koloko had six points and five rebounds through in his first seven minutes played, including dunks in each half.
Miller said he plans to play Koloko in every game and see how it goes from there. With Koloko and all his 10 contributing players, Miller said he has done probably a better job over the Christmas break in clarifying roles.
"It's something I wished I might have been able to do a little bit earlier," Miller said. "But the guys know what to do, what's expected, and I think they're trying to become a better team."