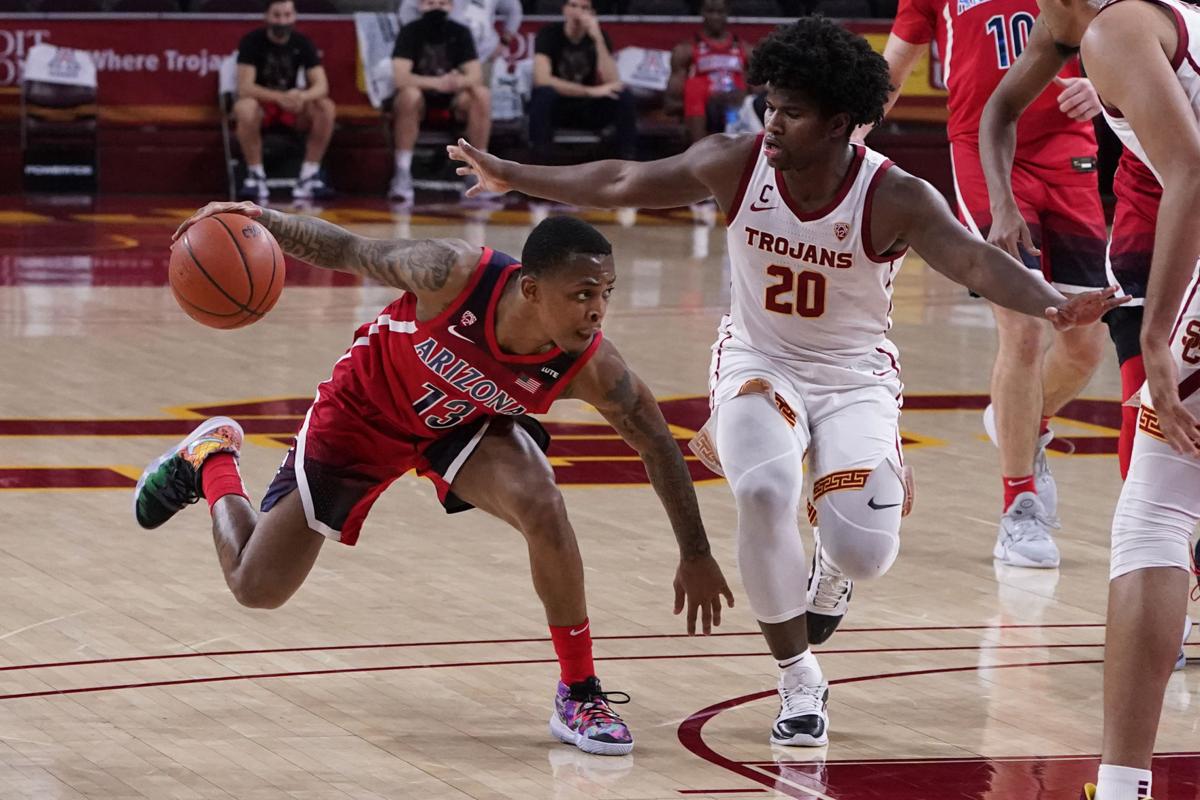 Helping the economy
Just north of the Galen Center, downtown Los Angeles isn't quite itself during the pandemic. In fact, the L.A. Live district is anything but that these days, with restaurants closed and barricades everywhere.
At least Arizona at least filled up a few hotel rooms.
The Wildcats normally stay downtown before Thursday night games at USC and then move immediately to a Santa Monica resort before facing UCLA. But this weekend they flipped things around, and moved to downtown L.A. on Friday.
The Wildcats used the proximity of the downtown hotel to reach the Galen Center easily for practices on Friday afternoon and Saturday morning.
Barriers to entry
Even before the COVID-19 era, USC had probably the toughest protocols for visiting media, scouts and other staff: Since the NCAA handed down sanctions in 2010, USC has required an online verification that essentially asks anyone entering not to give the Trojans any money.
Now, with Los Angeles County's strict health order, things are even tougher. Those entering the building are asked to first fill out an online symptom tracker, then wait 6 feet apart as they wait to enter single gate on the north side of the building. Upon being granted entry, those attending are given temperature checks, with all bags thoroughly searched not just for weapons — but also for food, which is not allowed to be eaten inside. Then there's a metal detector, of course.
At another entrance, massive cardboard placards declaring the L.A. County health COVID-19 rules line the walls, complete with Appendix A (social distancing), Appendix J and Appendix D.
Once inside the Galen Center, the Star's attempts at taking pregame video from immediately behind a courtside barrier drew a staffer's strict warning that all media must stay at least 25 feet away once the teams sit down. At most arenas, that isn't an issue because everything is barricaded off within 25 feet.
Also, as in many most arenas, roughly half of all restroom fixtures are taped off. A sign inside the Galen Center's men's room contained a friendly twist of that British slogan: "Keep Calm and Wash Your Hands."
Is this just about it?
Without any direction from the Pac-12 on whether their postponed Jan. 16 game at Oregon will be rescheduled, Arizona has begun to assume its season will end following next Sunday's home game against Washington.
UA coach Sean Miller referred to having "three games left" after UA lost at UCLA on Thursday and, when forward Jordan Brown was asked about the team's mindset with only a few games left, he spoke of the immediate future.
It's about "just the next game and finishing the season strong," he said.
Just fans (and dogs)
USC hasn't attracted hordes of celebrities to its cardboard cutout sections, which lined the three sides of the court facing the television cameras.
Included was a gentleman in a Hawaiian shirt wearing a "USC Grandparent" hat, a young girl in a hula dancing outfit and, of course, a dog in a black USC sweatshirt.
Estonia survives without Kriisa
While the NCAA pondered Kerr Kriisa's ineligibility back in November, the Estonian guard returned home to play for his national team in the FIBA EuroBasket qualifiers.
The Estonians weren't able to get him this weekend, with the now-eligible Kriisa tied up in Los Angeles playing for the Wildcats, but they managed to pull off a big win anyway.
Estonia beat Italy 105-101 in overtime Friday to near qualification out of FIBA's Group B. Estonia needs to beat Russia on Sunday or North Macedonia on Monday, or North Macedonia needs to lose to Italy on Sunday, to clinch a berth in the 2022 EuroBasket event.
Without Kriisa, Estonia received 10 points and four assists from point guard Kristian Kullamae while veteran guard Sten Sokk, known for his high basketball IQ and court vision, came off the bench to dish 14 assists while scoring three points.
Kullamae plays in Spain while Sokk plays for Tallinn's BC Kalev/Cremo club in the same Russia VTB League in which former Wildcat center Dusan Ristic plays for a team in Saratov, Russia.
Utah's loss is Finland's gain
While Kriisa remained with the Wildcats, Utah forward Mikael Jantunen left Salt Lake City last week for a chance to start on his national team.
The move was good for Finland, which received 11 points and four rebounds from Jantunen to help beat Switzerland 92-84 on Friday and clinch a EuroBasket berth out of Group E.
But it wasn't so good for the Utes, who suffered one of their biggest losses of the season, 74-56 at Oregon State on Thursday and were also without him Saturday at Oregon.
Still, Utes teammate Pelle Larsson, a native of Sweden, said Jantunen made the right move.
"I think it is great for him," Larsson said on a Zoom media call last week. "Making the European championships is a big thing. … It is not every day you get to play in the European championships as a Scandinavian team. And he is starting on that team… so that is a great honor for him."
The big number
0 – Rebounds in the first half from Evan Mobley, USC's projected high NBA lottery pick.