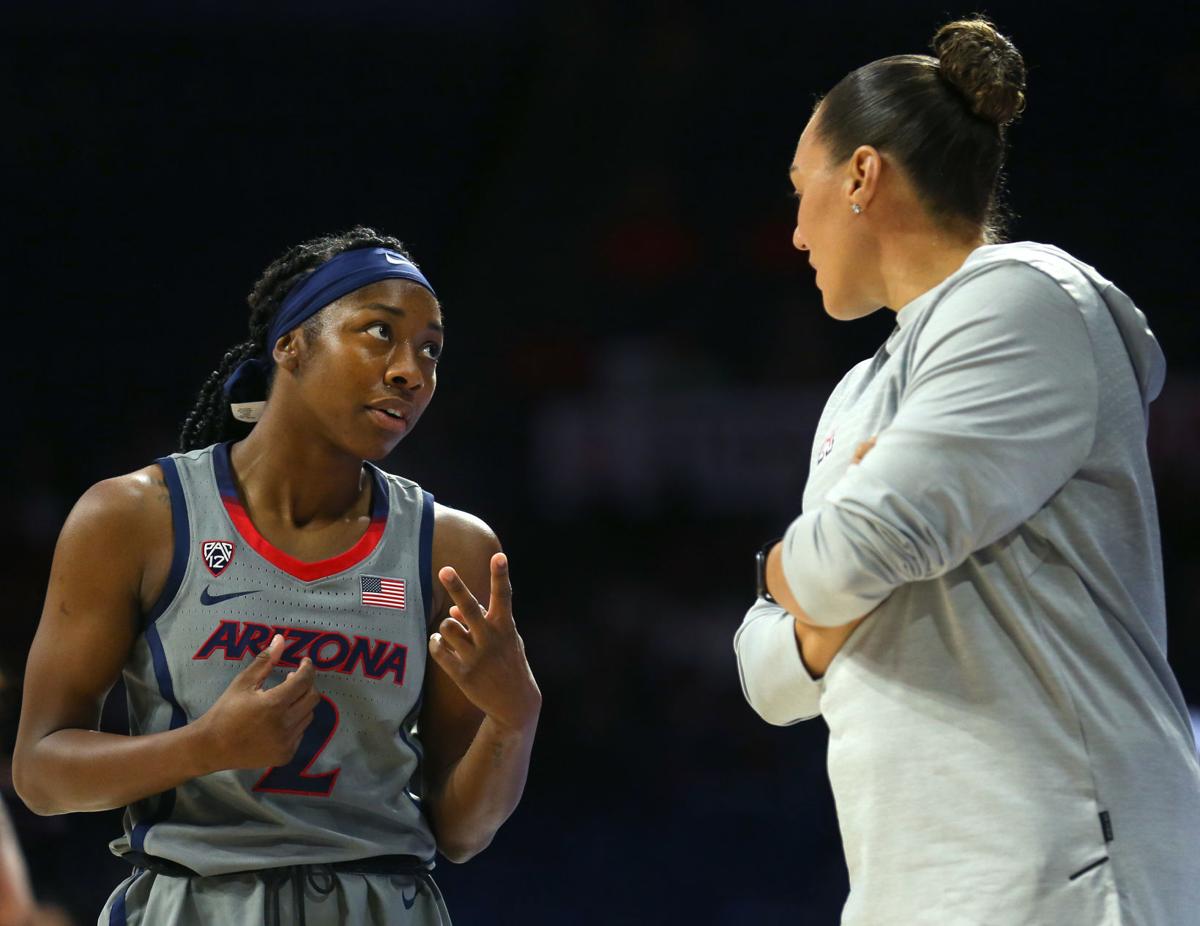 The Arizona women's basketball team enters December in a not-so-familiar place:
• The Wildcats are undefeated at 7-0 — their best start since the 1999-00 season — and for the first time in school history they've won seven games in November.
• They are ranked in the AP poll at No. 24, the first time they've been ranked since December 2004.
• They are one of only two teams in the nation in the top 10 in field goal percentage (48.8%) and field goal percentage defense (30.1%), along with No. 2-ranked Baylor.
• They are second in the nation in scoring defense — holding opponents to 45.6 points per game — second only to Georgia Tech (41.3).
To say November was good for Arizona is an understatement.
Arizona will try to get December off to a strong start when it plays Monmouth at 6:30 p.m. Monday at McKale Center.
UA plays four games — three at home — over the next four weeks before starting the Pac-12 season at ASU on Dec. 29.
The Star sat down with UA coach Adia Barnes on Sunday and talked about her defense, her expectations, and how she game plans for Aari McDonald.
In the past, you've said non-conference is about getting used to different styles of defense. This year is it more about fine-tuning your system and getting your rotations set or a mix?
A: "It's a little bit of everything. We're trying to get our rotations set. You saw in the last couple of games we've had good looks — trying different things, using different rotations and getting better. We're working on things. As we get better, you'll see a better non-conference schedule. Next year we are playing Texas, Gonzaga and a couple of other really good teams.
"We're focused on us. But, as you've seen this weekend with all the upsets you can't overlook anybody. We're not overlooking any of our opponents. We're seeing improvement every game. We're working on our stuff and competing. I think we are sharing the ball a lot better than we were at this time last year.
"And, defensively we've been playing very well. We're in the top 10 in scoring defense and field-goal percentage defense. And our field-goal percentage is also in the Top 10."
You are one of the top defensive teams in the nation and you held UC Riverside to 27 points and only six points — all free throws in the second quarter — on Friday. When you talk about taking your defense to the next level what does that look like?
A: "When I talk about next level, and I think of just the future preparation for the month from now. Those are the mistakes I don't like — we put them in the bonus. We have to know, OK, we're really aggressive, but then when we have four fouls, then that's the time to pop back and be solid. We're not good at that. But, I like the fact that I have to rein them in versus tell them 'go' and put a fire under them. I like that, but I don't like how we're not smart at that yet. We don't know OK, pop back and just be more contained in those situations."
Aari McDonald impacts the game on so many levels and we see different aspects every time out. She can go off and score 44 points like she did at Texas. She can dish out 14 assists like she did against Prairie View A&M. Then, she flies around the court getting steals and rebounds like she did against UC Riverside. Do you game plan for her or is it based more on what's happening on the court?
A: "I game plan for her always to be successful. I never question what I get from her. She always gives 150%. She's proven and has earned everything. Aari doesn't care about the numbers — she doesn't get caught up in that. She wants to get her teammates involved. If they are collapsing in the paint, she'll go one way. If one of her teammates is hot, she'll get it to her. She's so unselfish. I don't think there's a script. She's going to do what she needs to do to win. She's just a gamer.
"She's not going out there saying 'I'm scoring 25 points.' That's what I love about her. It's not about her — she wants to win and she wants our team to be successful. She'll do whatever it takes to make that happen."
Pac-12 is a month away, however how close are you to having your rotations set?
A: "It's not solid yet. Things change because of the matchups, but we are getting consistency from Helena (Pueyo). She has been good off the bench. She's hitting 60% of her 3s and had nine points in 17 minutes. That's pretty impressive. She's one of the best freshman in the country. She's a good player.
What do you think of all the upsets this weekend?
A: "I think it's crazy, but that's college basketball. There are some really good teams and anybody could win on any given night. That's why you don't take anyone lightly and you have to prepare. That's what I love about college basketball."
Are you where you expected to be at this point in the season?
A: "I am where I expected us to be, but we have a lot more to improve on in the next month heading into Pac-12. We are focusing on keeping people healthy, getting in better shape. We are going to be facing very talented teams and the strategy has to be on point and the team needs to be prepared. My job is to prepare us for Pac-12 and we'll be prepared."
Rim shots
• Fresh off their win Friday, the Wildcats hosted their second Future Cats session Saturday. This was squeezed between only two practices to prepare for Monday's game.
• Chemistry is a big thing on this team. One of the things that stood out for Barnes in Friday's win was her team cheering each other on.
"The little things I think about in a game like this is the reaction when I put Birna (Benonysdottir) in," Barnes said. "In the timeout I put her in and they were excited in the timeout cheering and then I watched the bench when Birna hit a 3, the whole team celebrated like we won the championship. Those are the small things I look at because all the other stuff takes care of itself."