TEMPE — When watching a replay of the first Arizona-ASU game this season, Sun Devils coach Bobby Hurley said he remembers the following line being placed above the score graphic:
"The loser of this game will be out of the tournament, according to Joe Lunardi."
"I mean, this was a long time ago," Hurley said. "So you're seeing it everywhere, as you're watching … you'll see the cut-ins from the bracketologists, and who's in and who's out, and the last four in, last four out and the whole thing."
If such a prediction was made then, it might actually hold up to be true after all these weeks.
Already having dropped out of Lunardi's ESPN bracket projection after being blown out at USC and UCLA a week prior, then losing that Jan. 31 game at Wells Fargo Arena 95-88 in overtime, Arizona now needs to win next week's Pac-12 Tournament in order to get in the NCAA Tournament field.
But ASU still sits firmly on the bubble, finishing second in a weak Pac-12 race while possessing a puzzling combination of marquee wins and head-scratching losses.
Still with a bubbly NET rating of just 71, the Sun Devils probably need to beat Arizona on Saturday and maybe even win one in the Pac-12 Tournament to feel good about their NCAA Tournament chances.
Or maybe even more than that.
"There's no more time to relax," ASU forward Zylan Cheatham said after the Sun Devils practiced Thursday at the Weatherup Center. "I mean, we've dropped games that we feel like we shouldn't have dropped and we put ourselves in this position. So there is no more margin for error. There's no more room for any of that type of stuff and that's how we're approaching every day.
"I feel like we need to get every game going forward."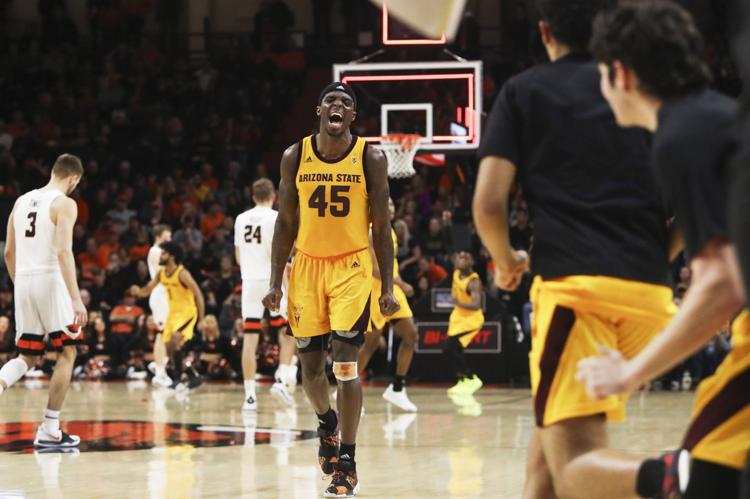 Hurley expressed a little more optimism than that. On the second line of ASU's official game notes for Saturday are the words "ASU w/10 Quad 1&2 wins," bringing attention to the top-tier wins the Sun Devils have collected, and Hurley reinforced that angle.
He appeared ready to counter any dissenting bracketologist, if necessary.
"I am aware of what people are saying and I do feel like this is a big game," Hurley said. "We're focused on that and our conference tournament, and trying to make a statement there.
"But, you know, our quad one and two wins speak for themselves and our winning percentage in those two areas is stronger than just about any other team that is really in a bubble situation right now.
"I think the NCAA tournament's been built on teams that show that they could beat other high-level teams and we've done that pretty well this year."
They did last year, too. At 20-11 after a first-round Pac-12 Tournament loss to Colorado, the Sun Devils received a controversial at-large bid that appeared to be based largely on positive outliers: Namely, wins over eventual No. 1 seeds Kansas and Xavier, plus ones over No. 9 seed Kansas State and San Diego State (11).
This season, ASU built its reputation early on with wins over Mississippi State and Kansas but lost at home to Princeton just a week after their big win over the Jayhawks.
The Sun Devils were just 5-3 in the Pac-12 before their Jan. 31 game with Arizona, and their uneven ways were best exemplified the following weekend, when they were blown out by 11th-place Washington State but handed first-place Washington its first conference loss two days later.
The Washington State home game drew just 9,517 fans, over 5,000 fewer than showed up to watch UA a week earlier, with a shrunken student section.
There may have been even less ASU energy on the floor.
"If you've watched our games, you know that's kind of been an Achilles heel for us," Cheatham said. "In some games, we've come out with low energy, whether it's first or second half, and teams have pulled away on us. Sometimes we make the comeback, sometimes we haven't, so we got to do our best to just maximize each possession."
Of course, energy shouldn't be a problem for either side on Saturday. Both teams put up spirited efforts in the first edition of the instate rivalry on Jan. 31, though UA's defense lagged late possibly because of a lack of depth: Center Chase Jeter was limited with a back issue that cost him the previous two games, and guard Brandon Williams was sitting out the first of six games with knee pain.
But this time, both teams have had a week to recover from their trips to Oregon, even though Jeter bruised his knee at Oregon State last week and ASU forward Taeshon Cherry is questionable after taking an inadvertent kick to the face from teammate Luguentz Dort.
Fortunately for ASU, Hurley said it did not appear more than that after Cherry earlier sat out a total of three games with concussion-related symptoms.
"Lu got him pretty good," Hurley said. "It was more of a scrape and a bruise issue. He has not really demonstrated the concussion symptoms.
"He's happy and appears to be healthy but we're trying to be very conservative with him because he's had a few examples of it over the last few weeks."
If he's prevented from playing this time, Cherry might be the only guy not going all-out.
The Wildcats are trying to finish the Pac-12 season at 9-9, send grad transfers Justin Coleman and Ryan Luther off in style (as well as any other potential departees) and put last week's 26-point loss at Oregon behind them.
For ASU, it's about staying on the good side of the bubble, sweeping the Wildcats for the first time since James Harden played for the Sun Devils (as a sophomore in 2008-09) and beating UA at McKale Center for the first time since Hurley was hired before the 2015-16 season.
There's a lot on the line.
Even if ASU and UA didn't reside just 110 miles from each other.
"It's just the rivalry … you know how we feel about each other," Cheatham said. "It's a really big game for both groups. I'm really excited about it. This is what you prepare for. This what you play for."