Marcel Yates realizes it isn't a revolutionary concept. He's just hoping it's a realistic goal.
Yates' No. 1 objective entering his third year as the Arizona Wildcats' defensive coordinator is "to be a lot better against the run." His defenses have been stellar against the run in the past — just not at Arizona. At least not yet. He knows how much easier it is defend the pass when opponents aren't gaining nearly 5 yards every time they hand the ball off.
"You want to stop the run and make teams throw the ball," Yates said this week. "I've always believed in that. Probably every coordinator in America believes in that. To stick to that and actually do it is a little tough."
It has been tough for the Wildcats. In Yates' first two seasons, they have ranked ninth in the Pac-12 and in the mid-80s nationally in run defense. Arizona improved slightly last season, lowering its yards allowed per game from 194.2 to 185.1 and its yards allowed per carry from 4.7 to 4.6. But no one who coaches or plays defense for the Wildcats is remotely satisfied with those results.
"That was a problem for us last year," sophomore linebacker Tony Fields II said. "Our gaps opened up a lot. We were young at the linebacker position, and we weren't really deep at the two D-tackles or D-end. Now that we have depth, it'll be a lot different."
There are two primary sources of optimism regarding Arizona's run defense. One is that players such as Fields — one of four true-freshman starters on the defense last season — will improve markedly in Year 2. The other is that the Wildcats have gotten deeper and bigger up front.
In the past two recruiting cycles, including transfers, the UA has added three of its top four linebackers (four of five if transfer Santino Marchiol is eligible this year); six defensive tackles; and projected No. 2 defensive end JB Brown.
Arizona now has as many defensive tackles weighing 300 or more pounds — five — as it had the previous two seasons combined. PJ Johnson — a 6-4, 335-pound junior-college transfer — has drawn rave reviews so far.
If Johnson, Dereck Boles and the other defensive tackles can do what they're supposed to do — engage and occupy blockers — the linebackers should benefit.
"It's a huge difference," Fields said. "Everything is more clear."
Of course, there's more to effective defensive line play than being big. Yates — who's been spending the majority of his time with the defensive front now that he's coaching linebackers instead of cornerbacks — has been emphasizing gap integrity throughout camp.
"It depends on how they play," UA coach Kevin Sumlin said. "Size is one thing, but you better be able to move. You better be able to hold gaps.
"Across the board, they've improved physically. We'll see whether that's good enough."
Yates knows what a good run defense looks like. In 2015, when he was the defensive coordinator at Boise State, the Broncos ranked fifth in the nation against the run, allowing 108.2 yards per game and 3.2 per carry. The previous season, Yates' first as a defensive play-caller, Boise State ranked 36th nationally, yielding 142.6 yards per game and 3.9 per attempt.
Yates' success in Boise, along with his recruiting connections in Southern California, led former UA coach Rich Rodriguez to hire him in January 2016. Yates knew it would take time to rebuild the defense. Star linebacker Scooby Wright turned pro after the 2015 season. Without him for most of the year, Arizona ranked 114th in total defense.
The Wildcats finished 115th and 118th in Yates' first two seasons. In 2016, Yates arrived too late to contribute to a recruiting class that was short on players who could contribute to the defensive front. Last year, Arizona relied heavily on newcomers.
With the defense no longer lacking in talent, depth, size or experience, Yates faces a pivotal year.
"I gave myself a certain amount of time when I came in here in '16 and I kind of looked under the hood," he said. "I said three or four years would be enough time to recruit the right kind of guys.
"Every year in college football is a big year. I think this year is a huge year for us. This is my third year as a coordinator, third year for some guys being in the system. So yeah. But I want to be good every year."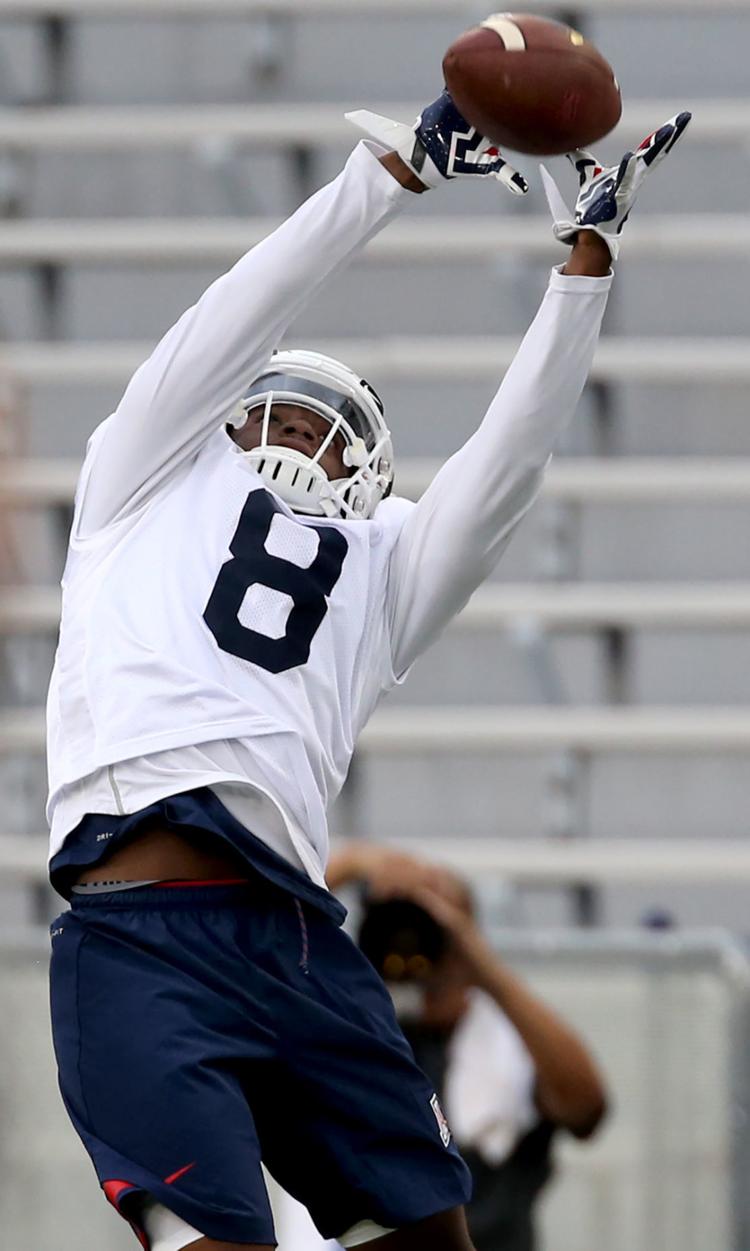 Grad transfers in
Two key graduate transfers — cornerback Tim Hough and punter Dylan Klumph — officially have joined the team and practiced for the first time Friday night.
Hough transferred from UNLV. He originally was committed to Oregon but wanted to be closer to Las Vegas, his hometown, after the earlier-than-expected birth of his daughter on June 4.
Hough appeared in 29 games for UNLV and brings FBS experience to a position in dire need of depth. Veterans Jace Whittaker, Malcolm Holland and Sammy Morrison all have missed time during training camp.
Klumph played the past two seasons at Cal, averaging 43.9 yards per punt. He is expected to be the starter for Arizona, which ranked last in the Pac-12 in punting last year.
Extra points
Wildcat great Ricky Hunley attended practice and spent time chatting with UA athletic director Dave Heeke.
Freshman Zach Williams (6-2, 224) has been working at both tight end and wide receiver.
Redshirt sophomore Michael Eletise, who had primarily been playing left guard, spent some time at right guard Friday.
Veterans not spotted on the field included defensive tackle Sione Taufahema.
The Wildcats practiced for less than 90 minutes in shorts and shells at Arizona Stadium. They are expected to don full pads Saturday night before taking Sunday off.
---