Like countless others, Demetrius Flannigan-Fowles has dreamed of playing in the NFL since he was a little kid.
But even after a four-year career with his hometown Arizona Wildcats during which he started 36 games, Flannigan-Fowles didn't see the NFL as a realistic possibility until very recently.
Flannigan-Fowles participated in the Jan. 19 NFLPA Collegiate Bowl at the Rose Bowl. He performed well. His outlook changed.
"After that I was like, 'Wow, I really have a shot at this,'" Flannigan-Fowles said after his pro-day workout at Arizona Stadium on Friday. "I was able to compete against some of the best college athletes. I got a lot of phone calls and a lot of text messages about my play. It really hit me. I'm about to do this thing."
Flannigan-Fowles continued to improve his draft stock with a polished workout in front of NFL scouts representing all 32 teams. He ran the 40-yard dash in 4.57 seconds, a good time for a safety checking in at almost 6-2 and 205 pounds. That time would have ranked 15th at the position at the NFL scouting combine had Flannigan-Fowles been invited.
"I thought it was a good workout," he said. "There were obviously some things I thought I could have done better. It is what it is. I'm blessed."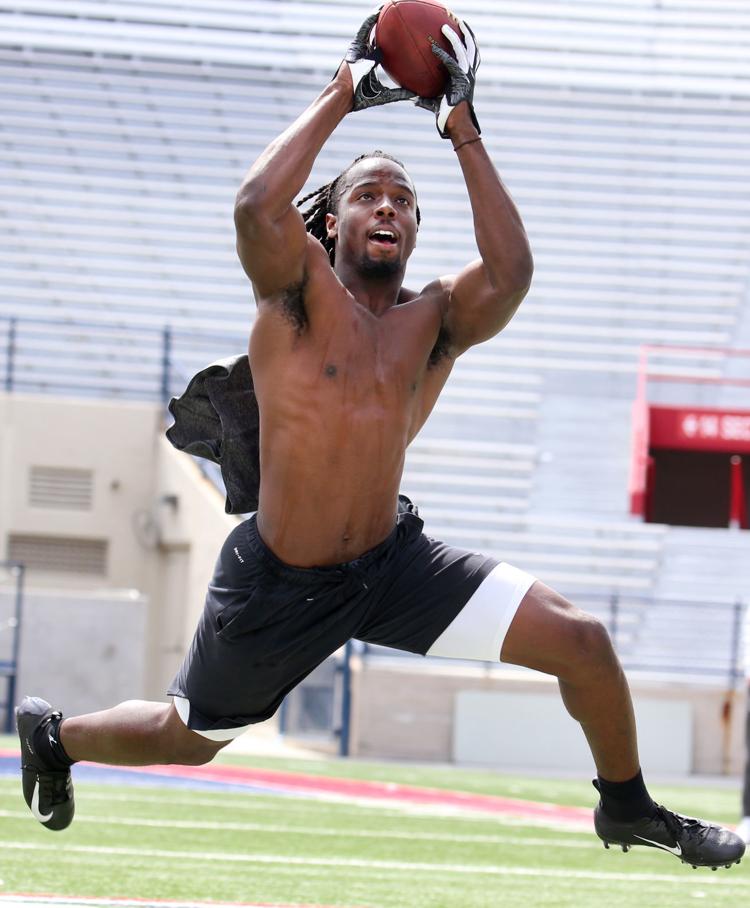 Flannigan-Fowles is among the humblest recent ex-Wildcats. After pro day, a scout praised Flannigan-Fowles' intangibles. His character, combined with the workouts, should get him invited to an NFL camp if he doesn't get drafted.
Flannigan-Fowles is hoping to follow the path laid out by former UA safety Will Parks. The two were teammates in 2015. Parks is entering his fourth season with the Denver Broncos, who selected him in the sixth round of the '16 draft. Flannigan-Fowles watched Parks' pro-day workout closely.
"He looked like he was out there working," Flannigan-Fowles said. "So I try to bring that same element when I'm out here."
Flannigan-Fowles has been training at Phenom Sports Performance in Westlake Village, California, working out as many as three times a day. He's also taking three online classes in hopes of earning his degree in economy and industry by May.
"I don't let it stress me out," Flannigan-Fowles said. "I'm doing all this training and stuff, but if I don't finish these last three classes that I have to graduate, I know I'm going to be kicking myself later."
Six of Flannigan-Fowles' family members, including his mother, attended pro day. Flannigan-Fowles played two seasons at Tucson High and graduated from Mountain View.
Despite sitting out his senior year of high school, Flannigan-Fowles played as a freshman for the Wildcats. He finished his UA career with 243 tackles, including 10 stops for losses. He also had 22 passes defensed, six interceptions, three forced fumbles and two fumble recoveries.
Flannigan-Fowles had some inconsistent stretches during his time at Arizona. He said Friday that he could stand to improve his open-field tackling and that scouts told him he needed to use his length better.
"When I get there," Flannigan-Fowles said, referring to the NFL, "I'm going to evaluate myself and try to get better every day."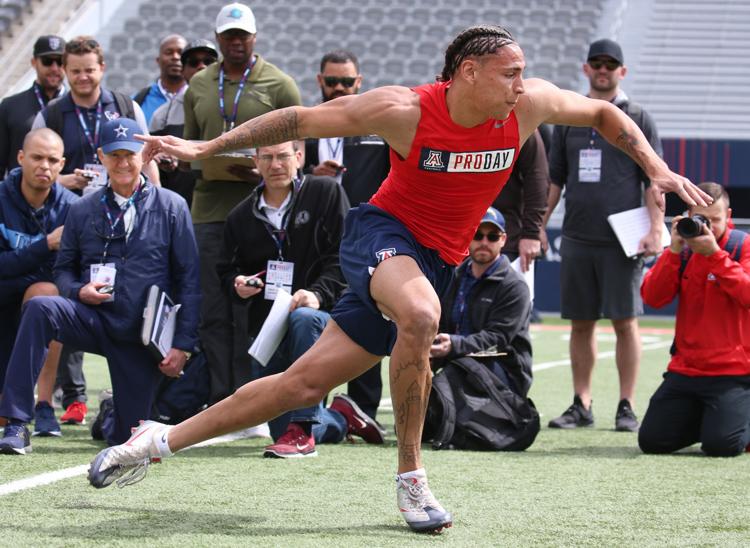 Dressed for success
At the conclusion of his pro-day workout, receiver Shawn Poindexter changed clothes. That isn't unusual. This was: Poindexter donned a white UA polo, beige khakis, brown dress shoes and a matching belt.
Poindexter looked like someone attending a job interview. Which is exactly what pro day is.
"Burt Kinerk advised me to be ready just in case teams come up and talk to you," said Poindexter, who has been working with Kinerk, the prominent Tucson attorney and athlete representative, since December.
"Even yesterday, I met with the Niners. They said it was totally casual. I showed up in business casual. They respected it and thanked me for it."
The San Francisco 49ers were Poindexter's favorite team as a youth. One of their coaches, former NFL receiver Miles Austin, conducted Poindexter's workout.
"Got a chance to talk and listen to Miles Austin, who coached me up a little bit out there," Poindexter said. "Which was awesome."
UA outside receivers coach Taylor Mazzone, a former college quarterback, threw passes to Poindexter and fellow receiver Tony Ellison. Mazzone is part of the local team Kinerk and Poindexter assembled to help him prepare for pro day and the draft.
Poindexter was disappointed with his 40 time — unofficially north of 4.6 — mainly because he felt he let down UA track coach Fred Harvey, who had been training him. But Poindexter impressed scouts with smooth route-running at 6-4½, 212 pounds.
One scout came away particularly enthralled with Poindexter's hands. He caught almost everything thrown his way.
"I performed pretty well," Poindexter said. "I missed my 40, but it's all good. I made up for it with my routes and catching the ball. Just waiting on phone calls now, I guess."
Poindexter is Arizona's highest-rated prospect, and he probably will be selected on the final day of the April 25-27 draft. He emerged as a possible pro in his final season with the Wildcats, catching 42 passes for 759 yards and 11 touchdowns — all career highs.
Poindexter earned an invitation to the East-West Shrine Game, where he caught a touchdown pass. UA coach Kevin Sumlin has compared him favorably to Josh Reynolds, a former Texas A&M receiver who transformed himself from a project into a pro. The L.A. Rams took Reynolds in the fourth round of the 2017 draft, and he started for them in the Super Bowl.
Several family members were waiting to greet Poindexter after his workout. Now that it's over, what's next?
"Just continue to work hard," he said. "Team workouts potentially. Waiting to get calls. And then draft day."
Extra points
Arizona's other possible draftee, defensive tackle PJ Johnson, looked uncomfortable at times during drills. A scout said afterward that Johnson likely would land a job, regardless of how he looked, because his size is so rare. He measured at 6-3
⅞
and 323 pounds, about 22 less than his playing weight last season. Johnson did 20 bench-press reps before on-field drills.
Offensive tackle Layth Friekh had to cut his workout short after pulling up during his first 40-yard dash. Friekh watched the rest of pro day with an ice pack on his right calf.
Two draft-eligible UA prospects, defensive tackle Dereck Boles and receiver Shun Brown, did not participate in pro day. Brown worked out for scouts at a Tucson high school Thursday.
Four other players participated in pro day: punter/holder Jake Glatting, punter Dylan Klumph, snapper Nick Reinhardt and kicker Josh Pollack.
Dozens of current Wildcats and most of the UA coaching staff attended all or part of pro day. Former UA receiver Trey Griffey also came to support his ex-teammates.
The 2019 Wildcats are set to begin spring practice Monday evening.