About 15 minutes into the first practice of spring Wednesday, the Arizona Wildcats entered hurry-up mode.
Jordan McCloud threw a pass to the left sideline, where Tetairoa McMillan made a leaping one-handed catch. Later in the drive, McMillan made another nifty grab in the corner of the end zone for a touchdown.
Arizona's prized freshman receiver wasn't done.
In a subsequent drill, QB Jayden de Laura threw a pass that was slightly behind McMillan. The four-star recruit from Servite High School in Anaheim, California, whirled, extended his left arm and plucked the ball out of the air. He made it look easy.
It was just one practice, without pads. McMillan wasn't facing the first-team defense. But if you were looking for the embodiment of this new era of UA football, it wasn't hard to spot.
"I thought he had a very good practice today," second-year coach Jedd Fisch said. "He clearly shows that he's got tremendous ball skills, tremendous opportunity to make plays for us down the field.
"But on the same token, there's a lot for him to learn. There's a lot of the game that he has to understand going against Division I DBs.
"It's going to be different. He's gonna have to keep building it against all those guys and keep competing. But I certainly was proud of how we played today, and I expect a lot from him this season."
McMillan is one of 19 newcomers who've joined the Arizona program for spring ball. More are on the way as Fisch and his staff retool a roster in desperate need of a makeover.
The Wildcats went 1-11 in Fisch's first season with a team that mostly was in place before he got here. A top-25 recruiting class, plus an impressive batch of transfers, has UA supporters brimming with a newfound optimism.
There's a long way to go, of course. There are bound to be injuries and other setbacks. Even Wednesday, defensive tackle Kyon Barrs and receiver Jamarye Joiner were rolling around on scooters after having foot surgeries Tuesday. And offensive lineman Josh Baker was in a sling because of a pectoral injury. He'll also be out for spring.
But overall, for a first day, it was promising.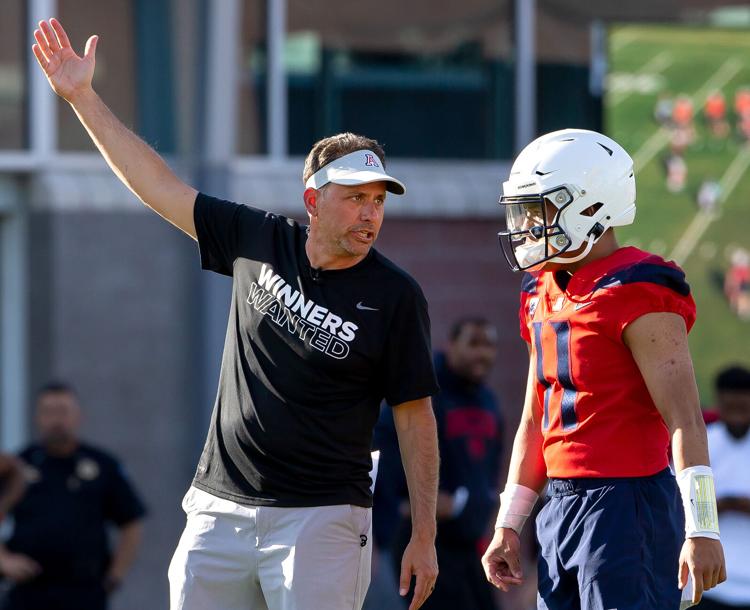 Roster turnover
When the rest of the newcomers arrive before training camp, the overall group will represent more than one-third of Arizona's roster — 41 players in total, Fisch said.
If that seems like a lot, well, it is. But it's also a sign of the times. The NCAA transfer portal and the one-time transfer exception have made it much easier for players to change schools.
"I do believe we'll see bigger jumps than traditional," Fisch said, "maybe than we had a decade ago and five years ago even. But we also are in a situation where we had to turn over a lot of the roster."
Arizona lost several players who last season took advantage of an additional year of eligibility granted by the NCAA because of the pandemic. The Wildcats also haven't been a good team in a long time.
"You had to be able to find people that could replace them at scholarship levels," Fisch said, referring to the departed "Super Seniors."
"Then you had to be able to build your roster up. We won one game in 24 chances here. So we've had to do some things with the roster to get ourselves in the best possible position to get as competitive as we possibly can as fast as we possibly can."
Robust RB room
The composition of the running back room hasn't changed that much.
Freshman Jonah Coleman is here. Freshman Rayshon Luke is coming. Redshirt freshman James Bohls has moved to linebacker. Bam Smith entered the transfer portal.
But Arizona's four leading rushers from last season – Drake Anderson, Michael Wiley, Jalen John and Stevie Rocker Jr. – are all back. And Fisch is pleased with their fitness, especially after many of them were banged up for parts of last spring.
"The best part about our running back room heading into the spring is that we're healthy," Fisch said.
All of the returning backs are at or near 200 pounds.
Anderson is listed at 191 on the roster and has gained about 17 pounds since arriving on campus in January 2021, Fisch said.
Wiley is listed at 202 pounds; as a freshman in 2019, he weighed 186.
John, the biggest of the backs, has trimmed down a bit. He was listed at 221 pounds last year; he's at 212 on the spring roster.
Rocker was listed at 202 pounds as a freshman last year; he checked in for spring at 199.
Special attention
Fisch has made a change within the coaching staff that he hopes will pay dividends.
Fisch added full-time special-teams duty to tight end coach Jordan Paopao's responsibilities. Paopao shared that role last year with Keith Dudzinski, who's now at UMass. Paopao has worked double duty in the past, including at UNLV in 2020.
Special teams were a mixed bag for the '21 Wildcats.
Punter Kyle Ostendorp was named first-team All-Pac-12 and set a school record for gross average. Kicker Tyler Loop made all 12 of his field-goal attempts. Arizona blocked two punts, returning one for a touchdown.
The Wildcats also had four of their punts blocked. San Diego State and Colorado returned theirs for touchdowns, registering psychological blows from which Arizona never could recover.
"We had four punts blocked last year, which is just not acceptable," Fisch said. "So we're going to work very hard at that. We felt like it changed the game, two different games. We just couldn't get our mind right after that occurred."
Arizona will have new kick returners this year after the departures of Stanley Berryhill III (punts) and Tayvian Cunningham (kickoffs). Candidates to return punts include transfer Jacob Cowing, cornerback Christian Roland-Wallace and freshman Jai-Ayviauynn Celestine.
Fisch would like the punt returners to be more aggressive. The goal, he said, is to gain the equivalent of a first down – at least 10 yards. Berryhill averaged 8.7 yards per punt return last season.
"If you can get a first down with your special teams, then you've helped the offense one series," Fisch said. "We did not accomplish that. We need to find a way to set up some returns."
The Wildcats weren't effective on kickoff returns either, ranking 11th in the Pac-12 with a cumulative average of 18.7 yards.
Contact sports reporter Michael Lev at 573-4148 or mlev@tucson.com. On Twitter @michaeljlev