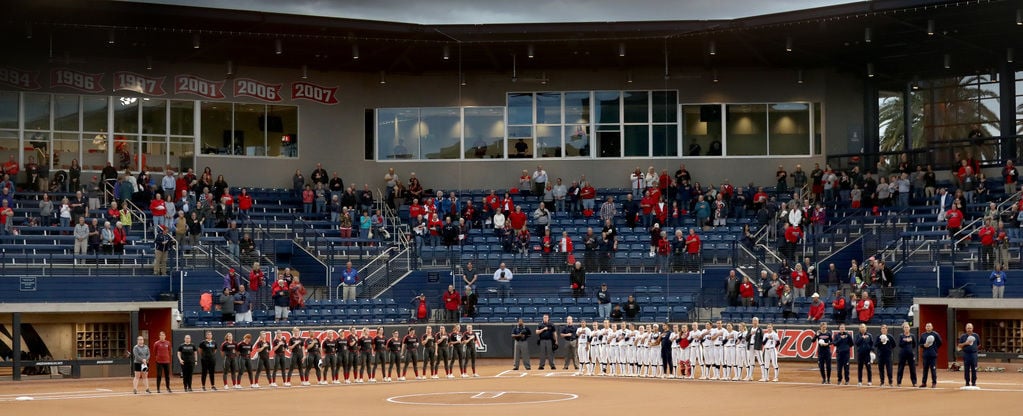 UPDATE: The Pac-12 announced Thursday morning that all games have been canceled. 
Following the Pac-12 Conference's lead, the UA athletic department will limit attendance at Wildcats sporting events to family and personnel it deems essential, effective immediately.
That means this weekend's Pac-12-opening baseball and softball series against Oregon State at Hi Corbett Field and Hillenbrand Stadium, respectively, will still go on as planned, but with no fans permitted.
The Pac-12 and UA policies are certainly subject to change: Wednesday alone included news that conference basketball tournaments were closing to fans and that NCAA men's and women's basketball tournaments will do the same, that the NBA is suspending its season indefinitely, and that the Seattle Mariners and other Pacific Northwest teams are looking to reschedule their March games. 
In a statement released late Wednesday, the UA added that it is "actively working to enact new refund procedures for fans and staffing policies for those affected by these new restrictions." The fourth-ranked Wildcats softball team played Tuesday night against St. Joseph's, and has a series vs. rival Arizona State scheduled for next week. 
"Arizona Athletics will also continue to monitor Coronavirus (COVID-19) updates from our campus partners as well as government agencies including the Center for Disease Control, Arizona Department of Health Services and Pima County Health," the UA said. 
The UA will limit attendees to family and a small number of essential personnel, including media. It's in line with what the Pac-12 said earlier Wednesday, when it announced that, starting Thursday, the men's basketball tournament will take place with "only essential staff, TV network partners, credentialed media, and limited family and friends in attendance."
"This decision has been made based upon new information, including the recommendation of the NCAA's COVID-19 advisory panel," the Pac-12's statement said. "Similar limited fan policies will apply to all Pac-12 sport competitions and Pac-12 Championship events until further notice. 
"While we understand the disruption this will cause to our many fans, we have made this decision in an effort to do our part in helping to limit the spread of the virus and in the interest of the health and safety of our student-athletes, campus communities, working and volunteer event personnel and all those who attend Pac-12 events."
Concerned about COVID-19?
Sign up now to get the most recent coronavirus headlines and other important local and national news sent to your email inbox daily.