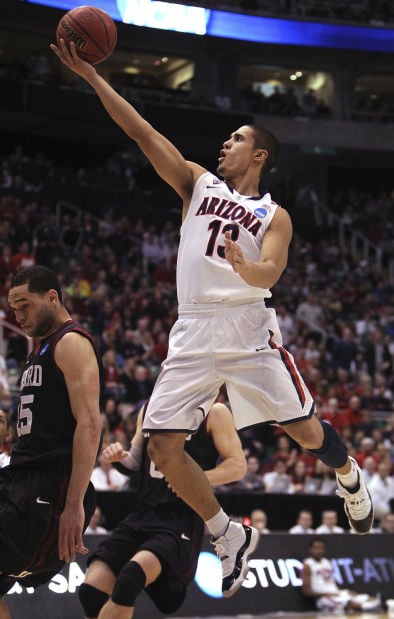 HONOLULU - Knowing they might face each other in the Diamond Head Classic final, Arizona and San Diego State mutually agreed to postpone their home-and-home series for another year.
The Wildcats and Aztecs will meet tonight at 7:30 p.m. not only in the Diamond Head Classic championship but also in an elimination game of sorts for being the top team in the West (Arizona will get to deal with UCLA in Pac-12 play, but it isn't scheduled to play UNLV until next season and Gonzaga not until 2014-15 or later).
They're both undefeated indoors - the Aztecs have lost only on an aircraft carrier, to Syracuse - and both the highest ranked team in their respective conferences. UA moved to No. 3 in The Associated Press Top 25 on Monday while SDSU is No. 17.
While Arizona was the dominant program in the early years of what has been a frequently played regional series ever since Lute Olson took San Diego native Luke Walton home in 2002-03, the Aztecs have had more success overall in the past four seasons.
That fact is not lost on UA coach Sean Miller, whose Wildcats have been beaten twice by San Diego State since his arrival. The teams might have met in the 2011 NCAA Elite Eight, but the Aztecs were beaten in the Sweet 16 by eventual national champ UConn.
"Their program stands for itself," Miller said. "I've only been in the West for four years, but during my time there's no program that's thrived more than San Diego State."
After they beat Miami 69-50 in the Diamond Head Classic semifinals on Sunday, the Wildcats were reminded of those two games, a lackluster 63-46 loss at San Diego State during Miller's first season of 2009-10 and a 61-57 loss at McKale Center last season - when the Aztecs rattled off a 21-4 run that the Wildcats never fully recovered from.
"I know every time we've played them we lost, so Christmas is going to be a nice little present for them," UA senior Kevin Parrom said. "I want to get that win."
The new guys received the message, too. Even freshman center Kaleb Tarczewski, who didn't have a whole lot of reason to follow Aztec basketball as a kid in the woods of New Hampshire.
"It does" mean something, Tarczewski said of the series. "I don't think Arizona has beaten them for a couple of years. So we need a win against them, and we're trying to stay undefeated. We're really looking forward to it."
For the first five minutes Sunday, it appeared that the Wildcats wouldn't even get a crack at the Aztecs. They had four turnovers and four fouls in the first five minutes against Miami. But the Cats had only 10 turnovers from there until they gave up two more in the final minutes.
"We were playing hard," Miller said. "We were putting in a good effort and playing against a good team. We seemed to settle in from that point."
Tarczewski made it easier by constantly swiping the ball off the boards. The 7-footer had 13 rebounds to help UA to a 46-20 rebounding advantage overall, while Miami struggled without starting center Reggie Johnson, who hurt his hand in practice Friday.
"He did a great job," Miller said of Tarczewski. "It's very difficult to rebound at the level he rebounded at both offensively and defensively. I felt there was a lot of contact on a lot of his shots inside. Ending with eight points, I would have loved to see him be in double figures."
Tarczewski's 13 rebounds tied his season-high set on Dec. 1 at Texas Tech, in a game when rebounding wasn't quite as critical.
Sunday, he was one of many UA standouts. The Cats had five different players hit three-pointers in the first half alone, and received 22 points from their bench, 15 in the first half. Miami had one point from its bench.
"That's outstanding," Miller said of the 15 bench points before halftime. "It was a total team effort. …
"It was one of our better performances of the year and it came at the expense of a good team who is obviously missing one of their better players, but (the Hurricanes) are still a very good team."
There's little doubt the Wildcats will need at least a repeat effort tonight against the Aztecs.
"They beat us twice, so no one has to tell us how good they are," Miller said of SDSU. "We know it, and we're going to have to play a great game to beat them."
• What: No. 3 UA (11-0) vs. No. 17 San Diego State (11-1), Diamond Head Classic final
• TV; radio: ESPN2; 1290-AM, 107.5-FM