Two years after Texas Longhorns tennis captain Dave Snyder helped UT win the 1956 Southwest Conference championship, he was hired to be Arizona's tennis coach. He was still among the nation's best young tennis players.
In the spring of 1959, Snyder entered the Tucson Adult Tennis championships, heavily favored to win the singles title, matched in the finals against 16-year-old Bill Lenoir, a junior at Tucson High School.
Lenoir won 3-6, 6-1, 6-3 and went on to win back-to-back state championships. That summer, he won the U.S. national high school championships in Charlottesville, Virginia.
Naturally, Snyder recruited Lenoir in earnest, and over the next four years, the son of a UA law professor turned Arizona into an NCAA power in men's tennis. With Lenoir in the lineup, the Wildcats finished No. 3 and No. 4 in the NCAA championships and by 1963 he was playing at Wimbledon.
Lenoir, who started playing tennis as a recreation option while in the Cub Scouts, was a three-time first-team All-American.
Lenoir, ranked No. 40 on our list of Tucson's Top 100 Sports Figures of the last 100 years, chose not to pursue a lengthy pro tennis career. He declined a chance to be on the USA's Junior Davis Cup in 1962, telling the Star "I'd be better off studying at the UA." At the time, he was a 4.0 student with classes in analytic geometry, calculus, chemistry, physics and ROTC.
When Snyder took a year's sabbatical to pursue an advanced degree at the University of Iowa in 1965, Lenoir became the Wildcats' tennis coach, the youngest head coach in UA men's sports history. He had married his UA college sweetheart, Linda South, and was also a math professor.
But Lenoir probably got more attention for what he did in 1968 than anything he did at Wimbledon or in the NCAA tournament or on the magical days when he beat big-name tennis stars Arthur Ashe, Dennis Ralston and Charlie Pasarell.
He became the head coach at rival Arizona State, where he stayed through 1972.
"I became a traitor," Lenoir told me in 1995. "It was fun to be involved in something that drew so much intensity."
The two-time Wimbledon player subsequently became the head pro at a high-end Scottsdale tennis facility. In 1985, he sent a résumé to the Tampa Yacht and Country Club, applying to run the club's tennis program.
The man who received Lenoir's application, Florida attorney Steve Gardner, a Tampa Country Club executive, had grown up as a tennis player. He recognized Lenoir's name, especially because Lenoir included a photocopy of the 1959 cover of Tennis World magazine, in which Lenoir was featured under the headline "Arizona Whiz Kid."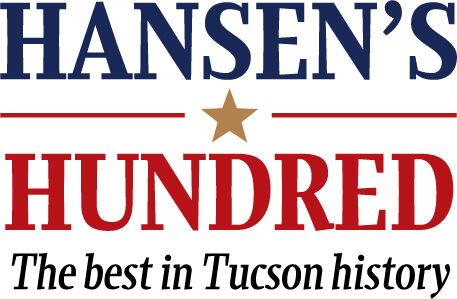 In my 1995 interview with Lenoir, he told me he regretted not pursuing a longer competitive career in tennis.
"I didn't reach my peak," he said. "I do regret that I didn't play in five or six French Opens. I was very good on clay courts. I could've been ranked in the top 10. But only a few guys made good money then. The times were so different."
But he played long enough to beat nine future Wimbledon champions.
Lenoir remained at the Tampa Yacht and Country Club until his death in 2005 at age 64. He died of thyroid cancer.
Contact sports columnist Greg Hansen at 520-573-4362 or ghansen@tucson.com. On Twitter: @ghansen711