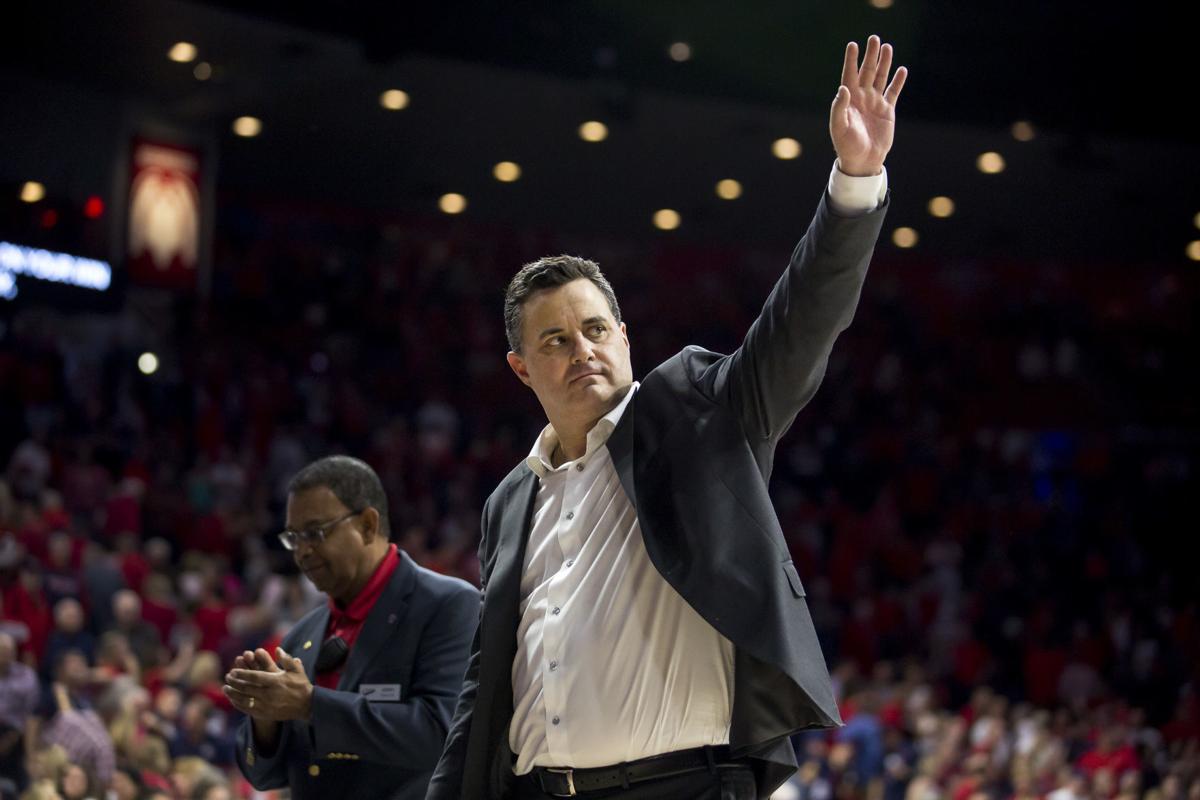 At 51, Mike Candrea coached Arizona to the 2006 NCAA softball championship. At 51, Jerry Kindall coached Arizona to the 1986 NCAA baseball championship. And at 51, Lute Olson coached Arizona to its first Pac-10 basketball championship.
This is a good age — 51 — to coach at Arizona, right?
It's the epitome of "the prime of a coach's career," isn't it? I mean, at 51, John Wooden was just getting started, three years away from his first national championship at UCLA.
Sean Miller turned 51 on Sunday, which was precisely the day it occurred to 13,161 please-make-it-happen-now Arizona fans that this could be the start of something big at McKale Center.
Maybe not a national championship ''big." But certainly a Final Four "big".
The Wildcats are better than you thought they'd be, aren't they? They've got depth that goes 10 deep. They've got a centerpiece, Zeke Nnaji, who can't seem to miss a shot. They've got a point guard, Nico Mannion, who looks up to the burden of restoring the Point Guard U legend.
And they've got time on their side: Seven weeks until they hit the Oregon Trail to play the Ducks and Beavers, seven weeks to climb the AP Top 25 poll, test themselves against Gonzaga and Baylor, and pick up where they left off at the 2015 Elite Eight against Wisconsin.
This is a Double-D team: defense and depth. That's the code that unlocks the door and allows you to think nothing is out of reach.
When asked Sunday if this could be the best-shooting team in his 11 Arizona seasons, Miller nodded in affirmation. "I think so," he said. He used terms like "firepower" and "mismatch".
"I really relish the depth we have right now," he said.
True, the Wildcats haven't played anybody yet. Their 83-53 victory over New Mexico State on Sunday was disappointing in that the Aggies arrived in Tucson minus three top players, all idled by injuries.
But it's also true that the Wildcats showed no mercy, a trait of Miller's best teams, playing with a fire usually displayed only by teams that treat walk-over games with a this-is-how-we-play-every-night intensity.
"We gave the maximum effort," said Miller. "That's what this is all about."
On Sunday, Miller's team blew out all 51 birthday candles in one collective breath.
This turning-51-and-stepping-on-the-gas thing isn't for everybody. The man who invented McKale Madness decades ago, Fred Snowden, was finished as a coach at 44. At 51, Rich Rodriguez coached Arizona to the Pac-12 South football championship and then lost his touch and his job.
But Miller turned 51 with possession of the great equalizer, a recruiting touch that only a few in college basketball can match.
After a career-type mis-step a year ago — the club's worst conference finish in 46 years — Miller was resourceful, dogged and persuasive enough to add Nnaji, Mannion, Josh Green, Max Hazzard and Jemarl Baker to the Class of 2020. He introduced Stone Gettings to the rotation and salvaged Devonaire Doutrive from the dreaded NCAA transfer portal.
And although the Wildcats' have only beaten NAU, Illinois, San Jose State and New Mexico State — teams listed Nos. 47, 85, 305 and 324 in the current Kenpom.com rankings — it doesn't look anything like a typically slow-to-adjust-to-changes club that will need a few months to figure it out.
The Wildcats have been good from the opening tip.
On his Interstate 10 drive from Las Cruces to Tucson early Sunday, New Mexico State athletic director Mario Moccia stopped in Willcox to eat at Popeye's Chicken. But it was Arizona that was dining on spinach, muscles showing, forcing 20 turnovers and displaying so much scoring versatility — Baker was especially impressive with a career-high 16 points and no turnovers in 16 minutes — that Nnaji didn't attempt a field goal in the second half.
Think about that for a minute.
Nnaji went to halftime having made 17 consecutive field-goal attempts over three games and his yet team was so efficient that it expanded its lead from 19 to 30 points even though Nnaji didn't get off a shot.
Not only does Miller have a new look this season — he doesn't wear a tie on the sidelines — his team has a new-look, too, and the McKale Center fans love it. Arizona now plays uptempo basketball. Hallelujah, right?
Through Sunday, the Wildcats have averaged 14.3 seconds per possession. That's comparative warp-speed, that's No. 13 in the country. A year ago Arizona was No. 173, preceded by No. 192 and No. 299 in the last three, unfulfilling seasons.
A lot of it is that Mannion, Green and Nnaji are full-speed-ahead athletes, but it starts with Miller, who is showing he isn't too stubborn to change. The no-tie, pick-up-the-pace transition style may help UA fans forget the dribble-dribble-dribble days of Allonzo Trier as each season seemed more disappointing than the one before.
Arizona's depth, inside and out, makes it possible to be more aggressive, not milking the clock, afraid to make mistakes. Miller confirmed Sunday that he told his inside players "don't play it safe."
So far, the Wildcats are playing with daring and emotion, and although it's not yet Thanksgiving, those are precious intangibles some teams take months to deliver.
---
Photos: Arizona Wildcats defeat New Mexico state 
Arizona Wildcats vs New Mexico State Aggies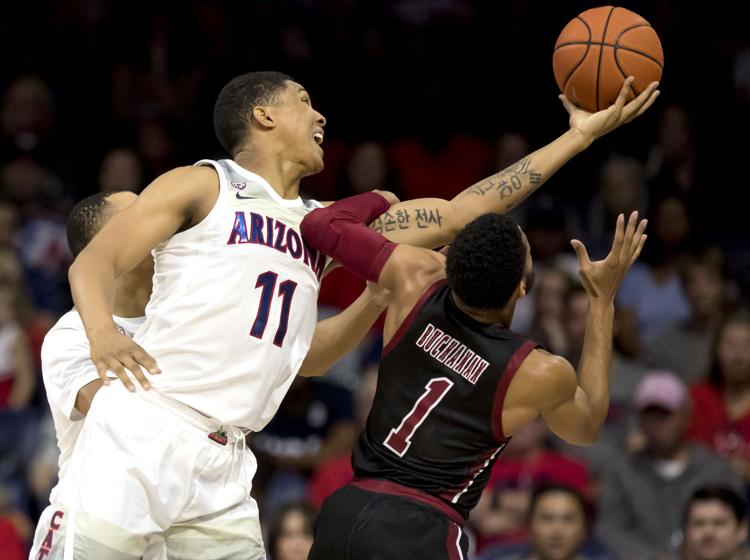 Arizona Wildcats vs New Mexico State Aggies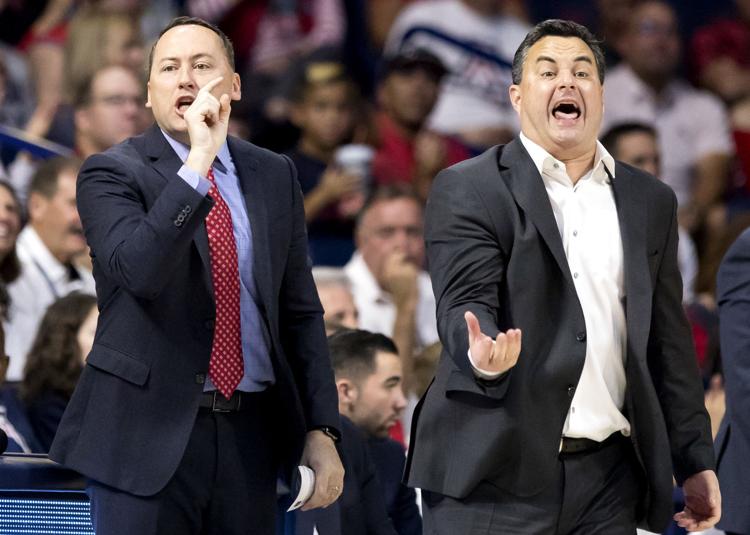 Arizona Wildcats vs New Mexico State Aggies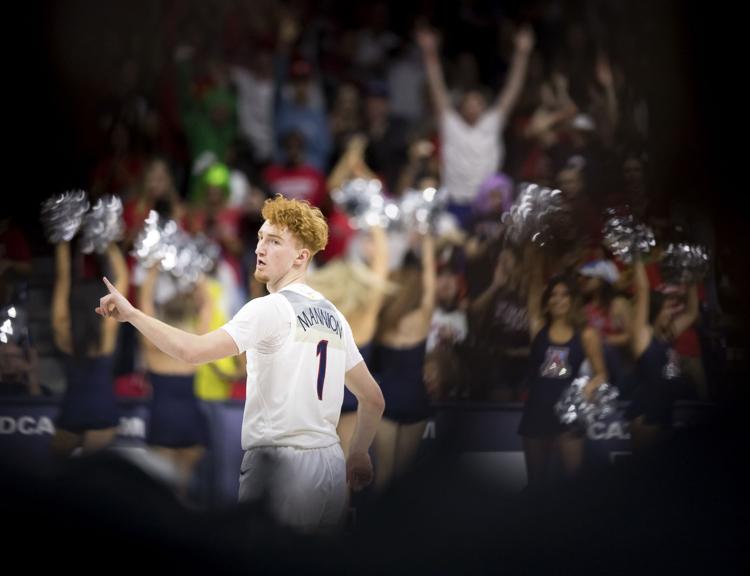 Arizona Wildcats vs New Mexico State Aggies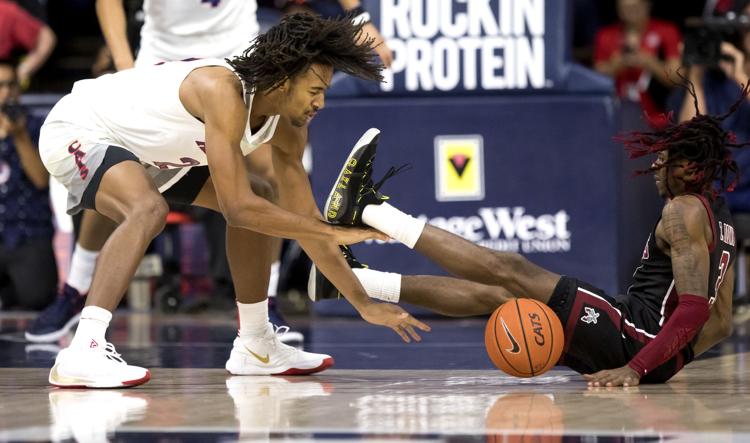 Arizona Wildcats vs New Mexico State Aggies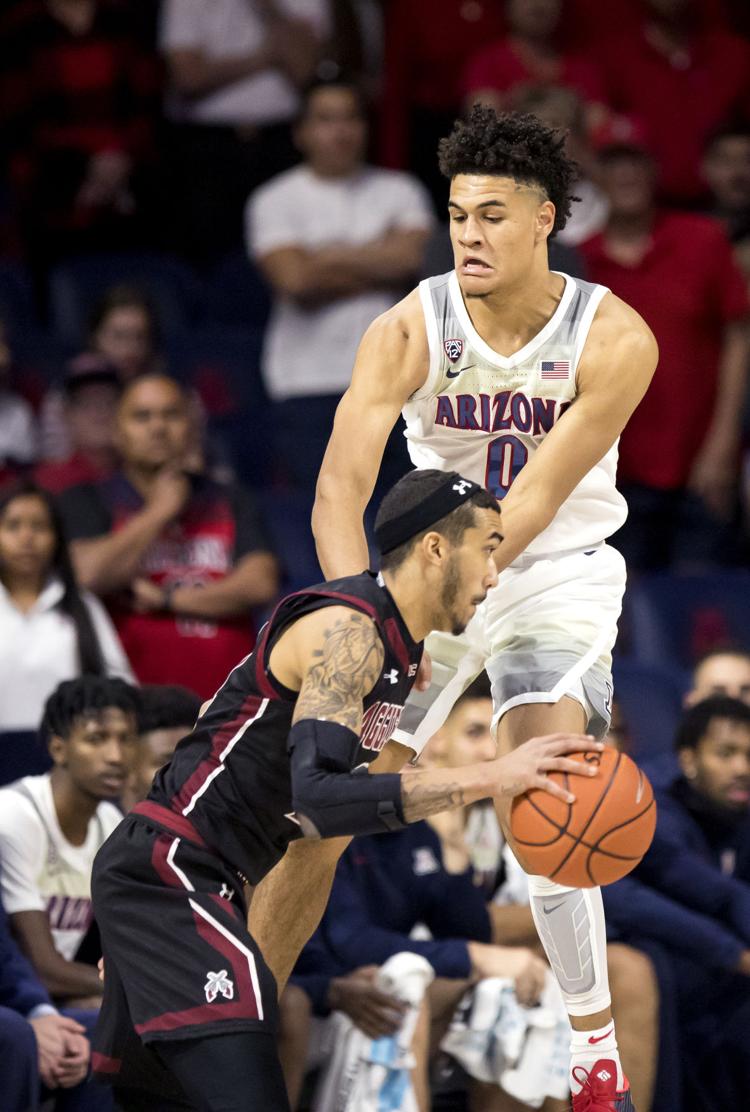 Arizona Wildcats vs New Mexico State Aggies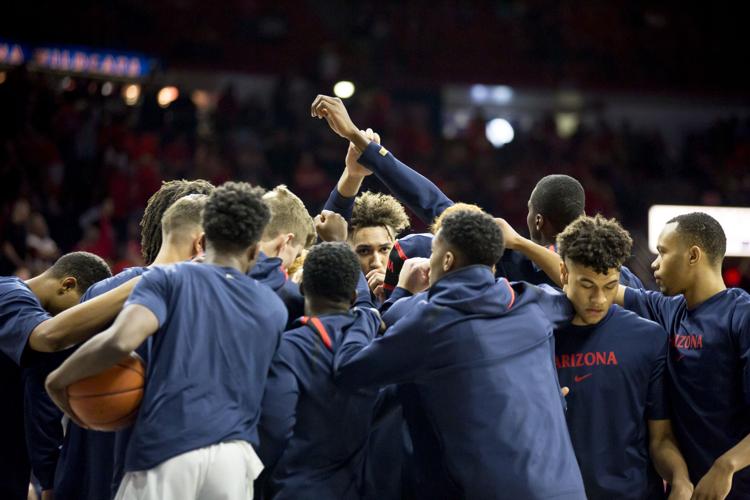 Arizona Wildcats vs New Mexico State Aggies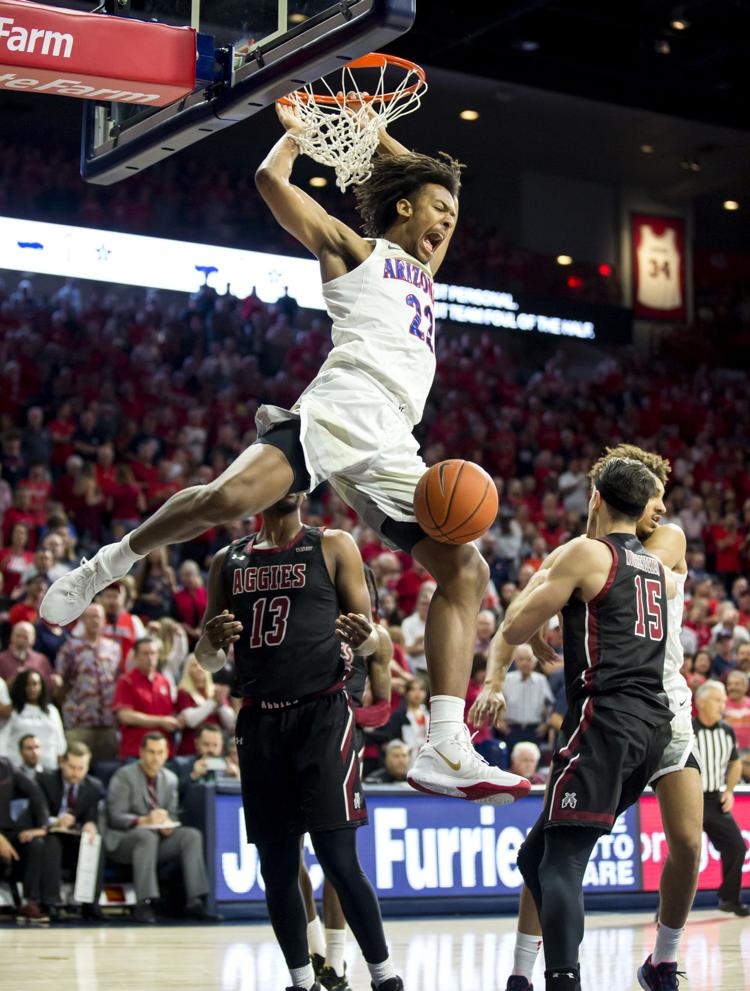 Arizona Wildcats vs New Mexico State Aggies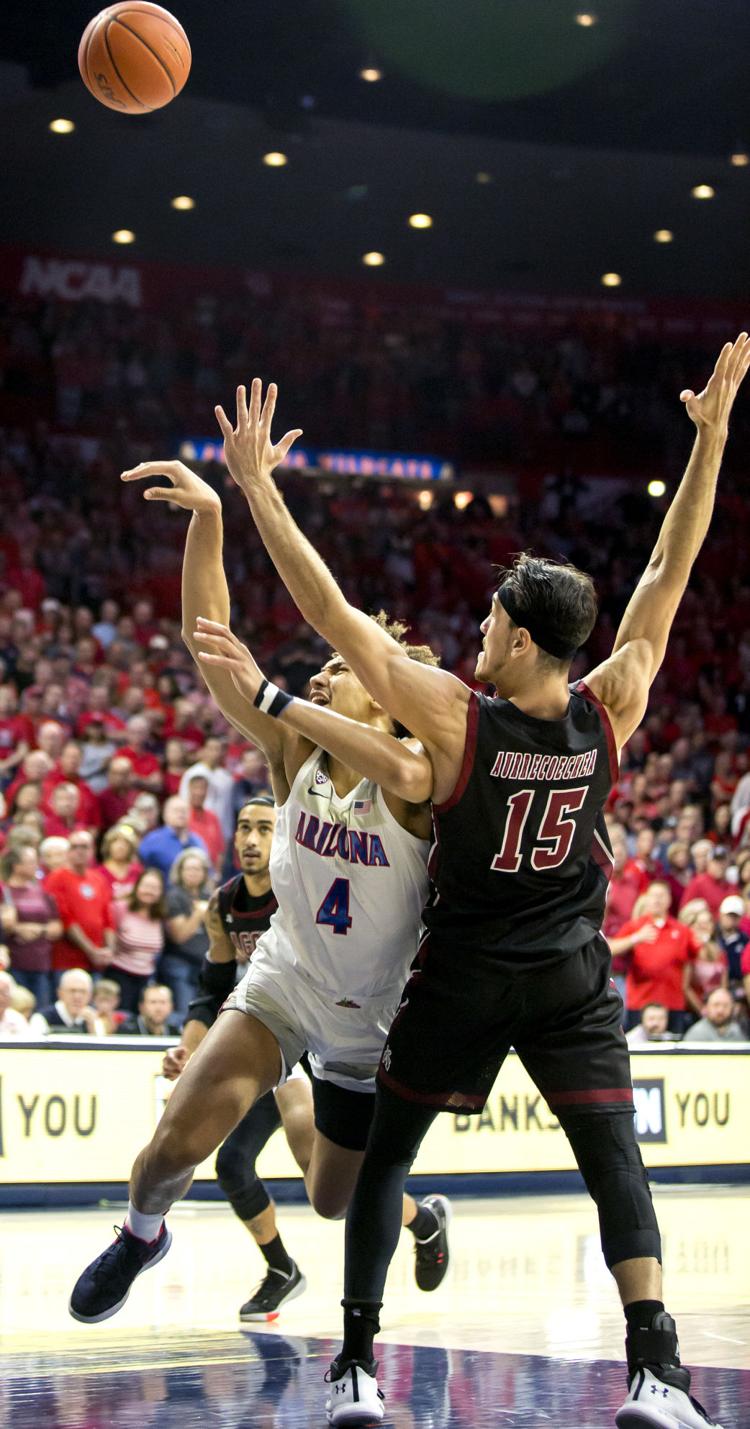 Arizona Wildcats vs New Mexico State Aggies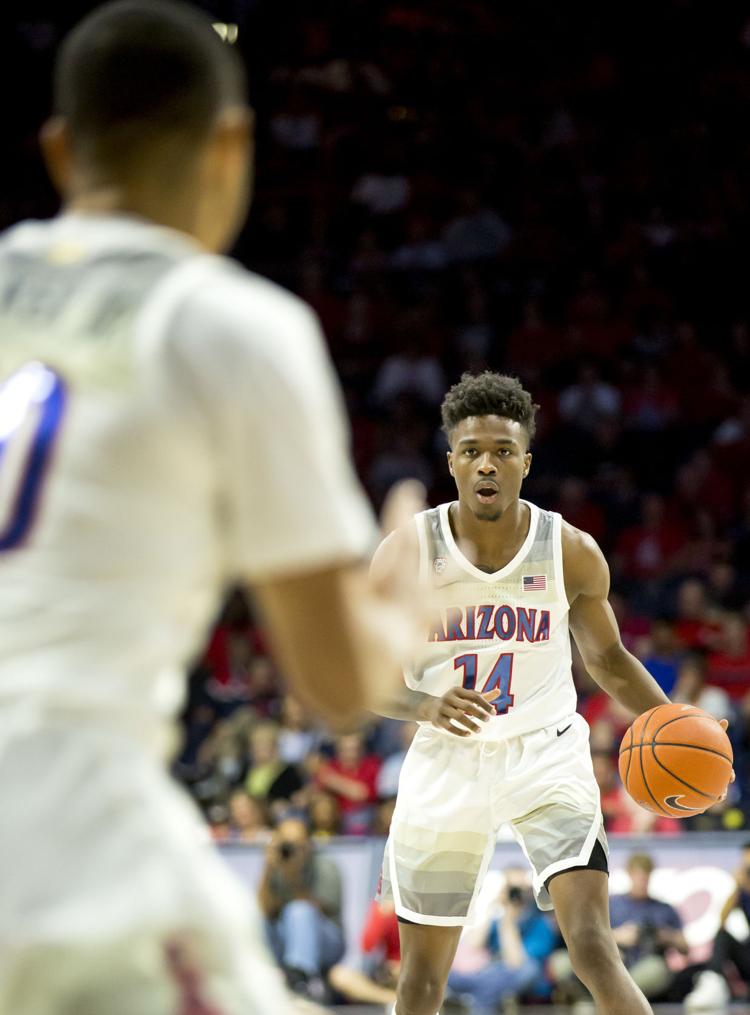 Arizona Wildcats vs New Mexico State Aggies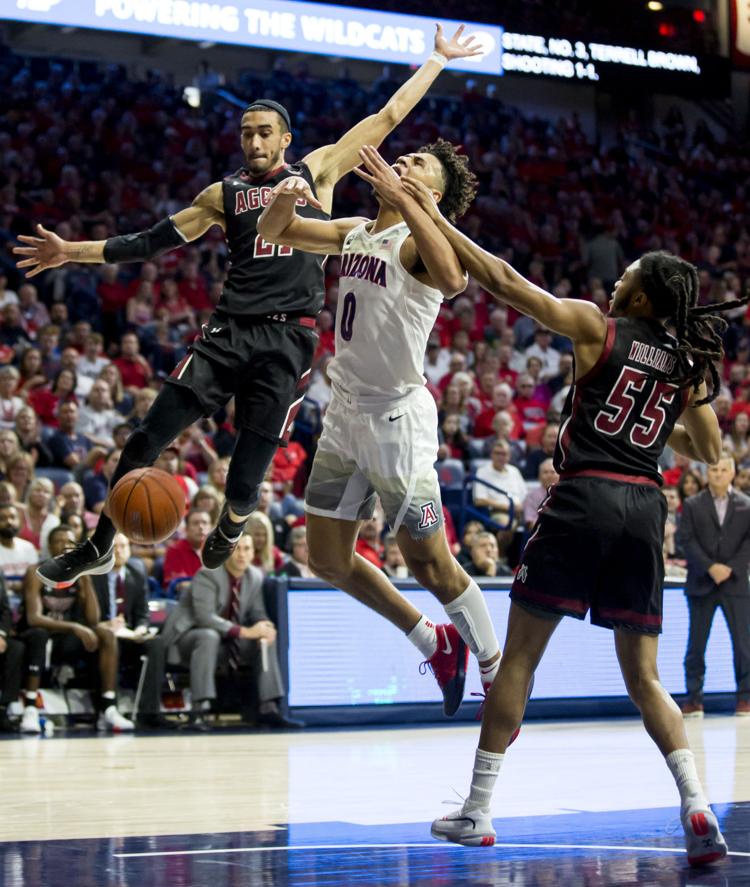 Arizona Wildcats vs New Mexico State Aggies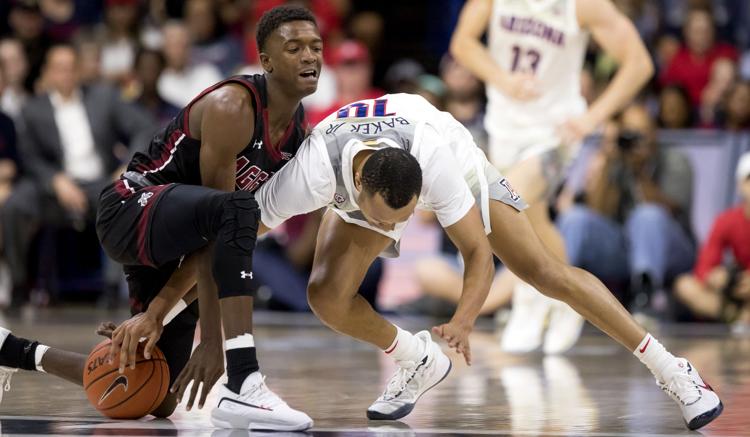 Arizona Wildcats vs New Mexico State Aggies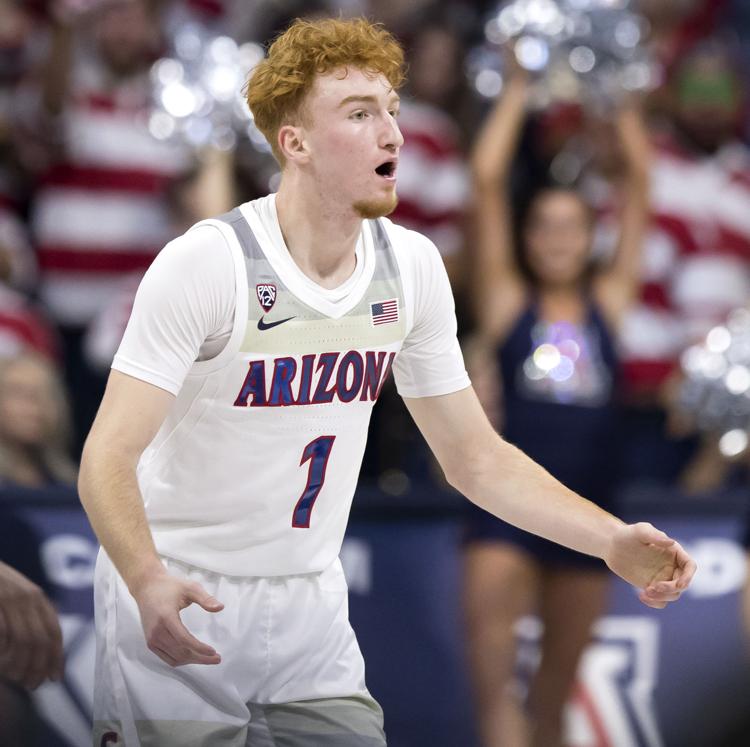 Arizona Wildcats vs New Mexico State Aggies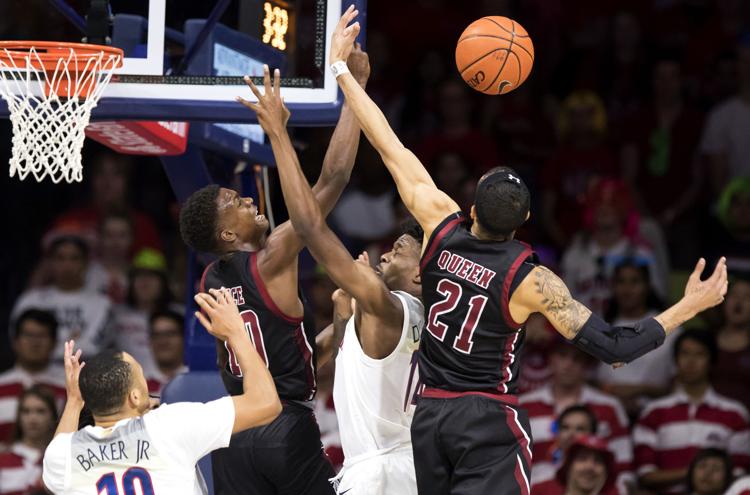 Arizona Wildcats vs New Mexico State Aggies
Arizona Wildcats vs New Mexico State Aggies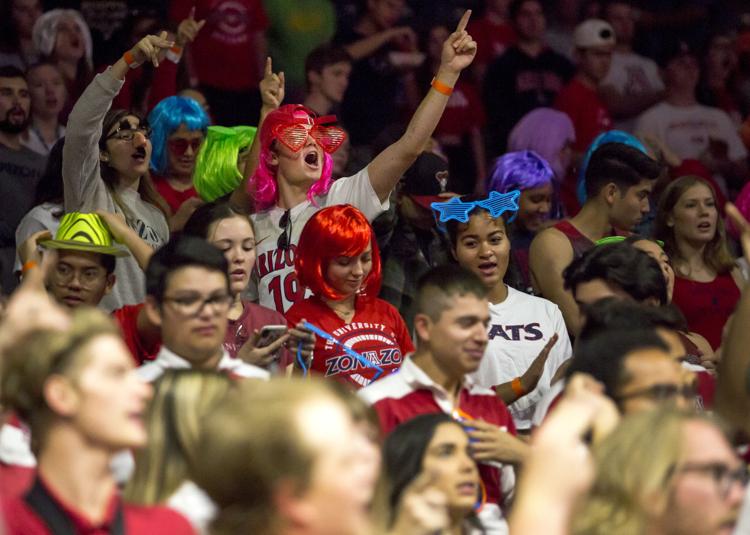 Arizona Wildcats vs New Mexico State Aggies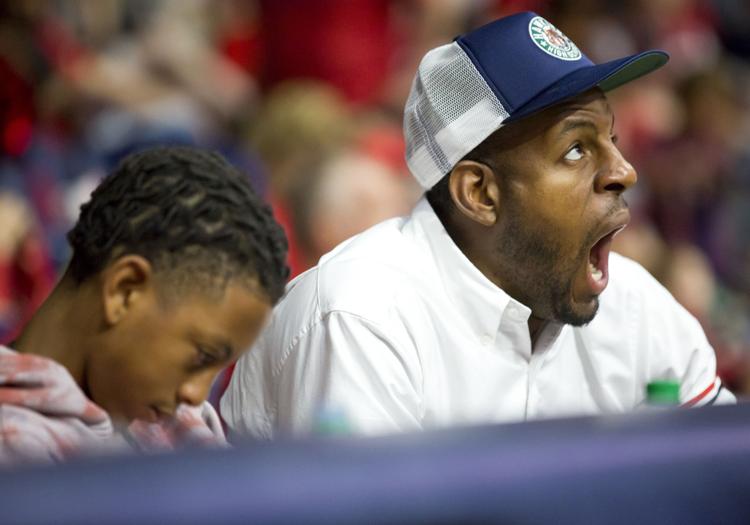 Arizona Wildcats vs New Mexico State Aggies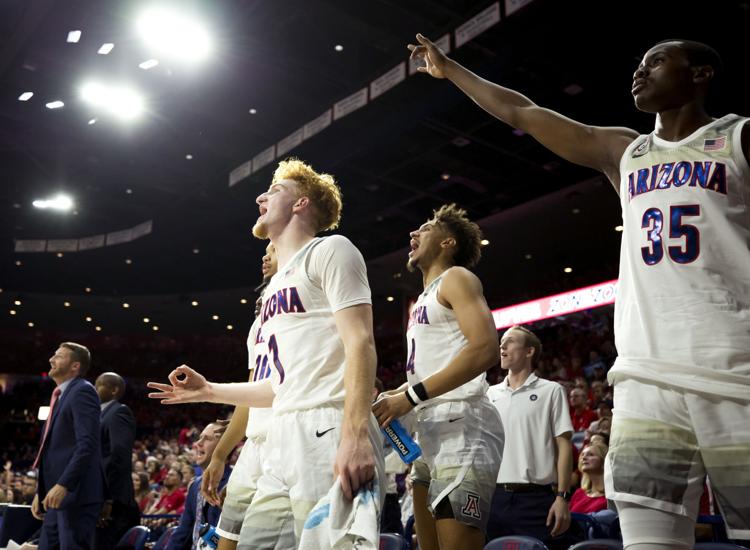 Arizona Wildcats vs New Mexico State Aggies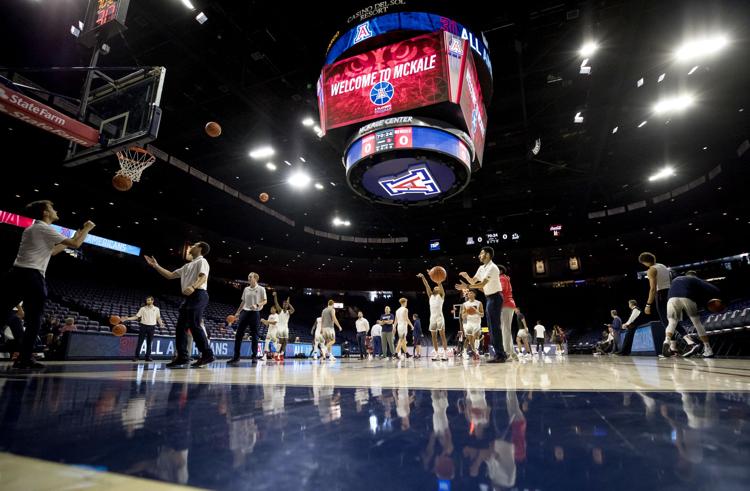 Arizona Wildcats vs New Mexico State Aggies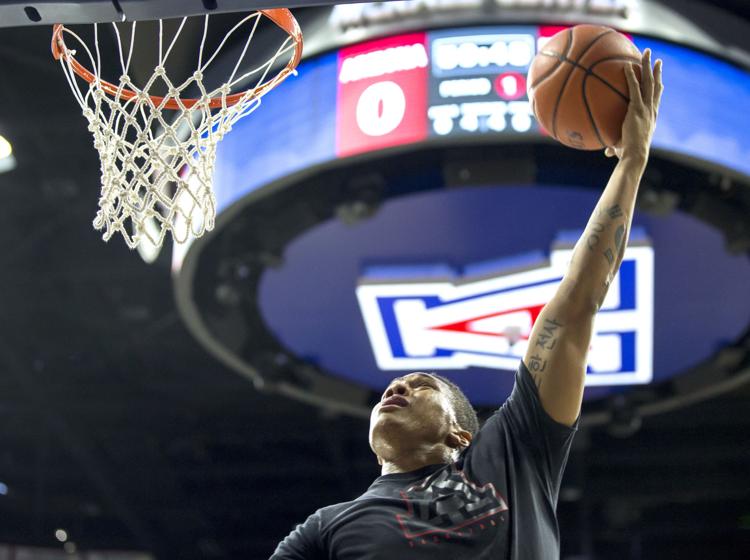 Arizona Wildcats vs New Mexico State Aggies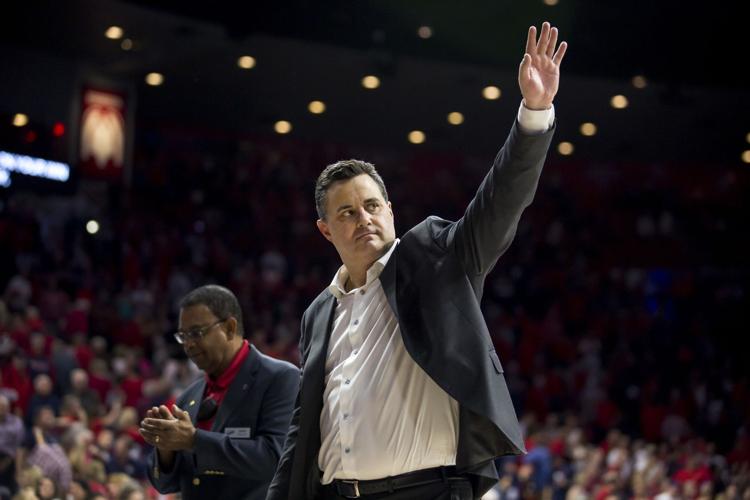 Arizona Wildcats vs New Mexico State Aggies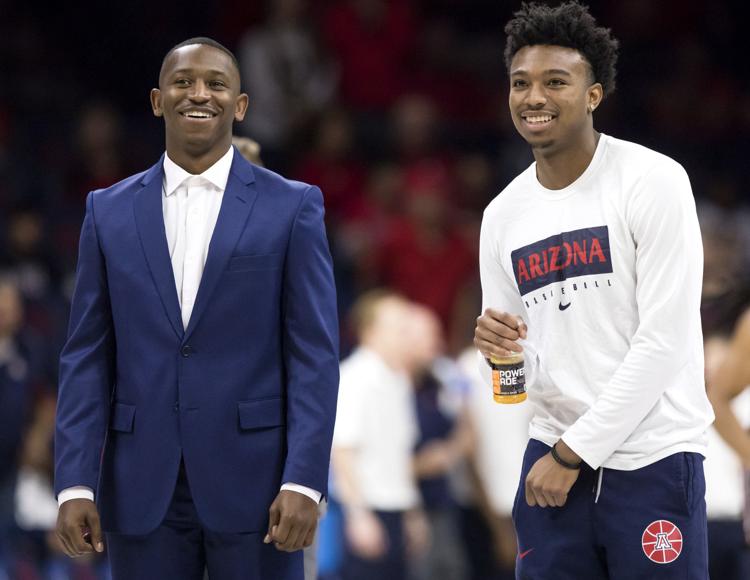 Contact sports columnist Greg Hansen at 520-573-4362 or ghansen@tucson.com. On Twitter: @ghansen711