I am typing slowly, checking the UA basketball roster, making sure this is spelled correctly:
I'm guessing you and 99 percent of the people in Thursday's Fox Sports 1 audience were not sure if the "Doutrive" came first or last.
But with 10:08 remaining in the first half at McKale Center, the D-Man blew the dust off his sneakers, tossed his warmup jacket to a trainer and stepped into a troublesome game. Arizona led Colorado 14-13. As with most of Arizona's early schedule, the Wildcats were struggling.
It didn't take Doutrive long to make an impact. He took his first shot nine seconds after checking in at the scorekeeper's desk. Most of the statisticians sitting there did a double-take.
"Doutrive is going in? Really?"
The crowd loved it. At a school that hasn't produced an off-the-bench Cinderella story since ... well, since Steve Kerr in January of 1984, this had the makings of a special moment.
Do you realize Doutrive had played just 45 minutes this season? He had not moved from his place deep on Sean Miller's bench in six games. That's a lot of DNPs.
It was Nov. 29 against Georgia Southern, a 100-70 laugher, that Doutrive got a shot. He played 12 minutes and scored eight points with four rebounds. Was I the only one who wondered "where has this guy been and why hasn't he played more?"
He certainly looks the part: 6-feet 5-inches, 175 pounds. He was a 4-star recruit from Van Nuys, California, ranked as high as No. 16 of all shooting guards in the Class of 2018. If he had signed with a school like Colorado, he'd probably be averaging double figures and starting.
But as Arizona rolled past the Buffaloes in a Doutrive-inspired 64-56 victory Thursday, it became apparent for the first time in forever — well, maybe — that Miller isn't going to stand pat with the personnel that got the big minutes in the 13-game pre-conference schedule.
"As we watched (Doutrive) grow in practice, from the onset, I thought there could be a period of time he could become important to our team, because his style is so much different than anybody else's," said Miller. "He's an offensive rebounder. He's clever, he understands when to pass, when not to. I was just really excited to see it."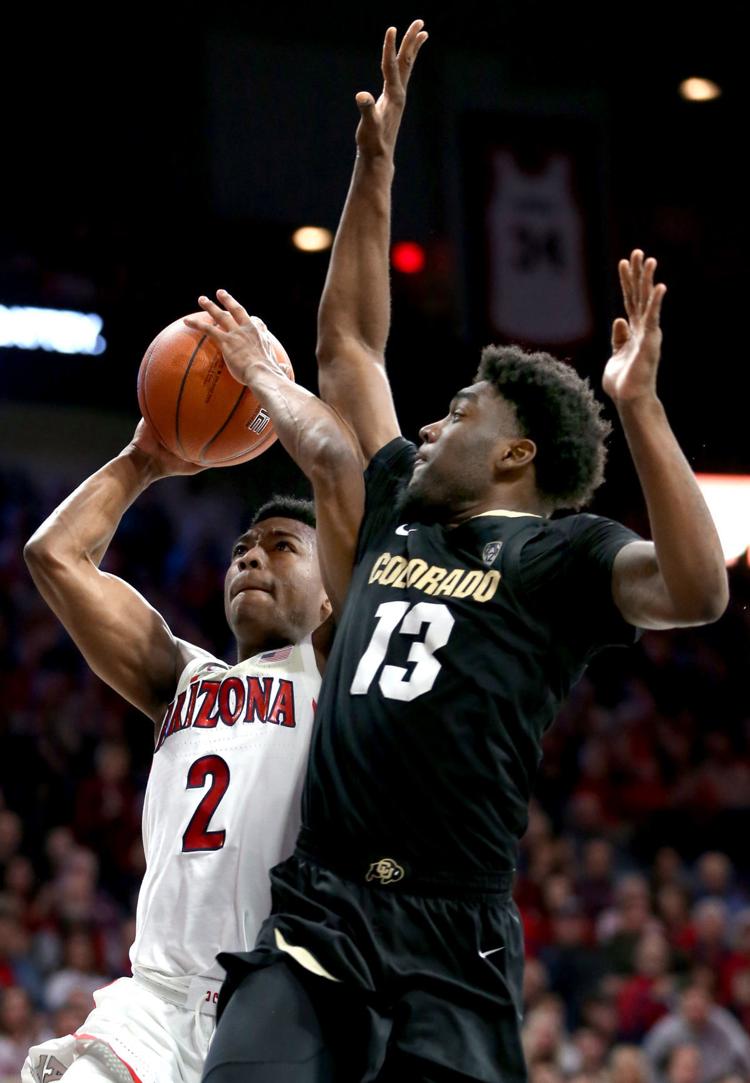 Doutrive played seven minutes in the first half and his presence was undeniable: Arizona expanded its lead from 14-13 to 35-21 as he returned to the bench. He got his unexpected chance because point guard Justin Coleman dislocated his shoulder in pracitce Monday, and was limited to four minutes against the Buffs.
"He was being an energy guy, getting the fans going," said Arizona freshman guard Brandon Williams. "That's what he does. We needed him tonight and he showed up."
Maybe Devonaire Doutrive will be part of a new personality of this 2018-19 team — especially given Oregon's loss of injured 7-footer Bol Bol and Arizona State's annual January meltdown. It isn't impossible that Arizona can punch it out with anybody in the fragile Pac-12.
Doutrive sounds like he's just happy to get a shot.
"I'm just being humble," he said, as if on cue. "I'm just being patient. Whatever is needed is my role."
Miller's steady answer has been that Doutrive needs some work, especially in the weight room. No doubt about that. You can picture the D-Man of 2020 and 2021 with 15 more pounds and a ton of confidence.
In the second half, Miller continued to give Doutrive more of an on-the-job tryout. He inserted him with 15:46. This time it took him about a minute to score, a follow shot to give Arizona a 47-32 lead.
Alas, Doutrive committed two turnovers in three minutes. On the second, Miller threw his hands into the air and grabbed his head. As soon as Doutrive reached the bench, assistant coach Mark Phelps sat next to him, clipboard in hand, reviewing what looked to be a play or two.
That usually doesn't happen in mid-season, but Doutrive is so new that he can surely use some in-game tutoring.
Miller mixed and matched a lot of unfamiliar personnel groups Thursday, which is a good thing. Notably, Emmanuel Akot, starting at guard, appeared to play with more confidence.
The allure of a player like Doutrive goes beyond a Cinderella-type story; Arizona needs for another productive body off the bench. It needs a spark.
And, sure, it wouldn't hurt to if that spark-ee was Devonaire Doutrive. At an established power like Arizona, there are so few guy-comes-out-of-nowhere stories that make the journey so much more enjoyable.
Doutrive didn't inspire a legend Thursday. He did not play in crunch time. As Colorado closed to within 57-50, he was back in his well-worn spot on the bench.
Miller said he likes a scenario in which " a young guy fights, scratches and claws his way into the lineup. I believe Devonaire will be a big part of what we do this year. If you watch him, you know his best days are in the future."
Let's hope there's a Chapter II to this story.