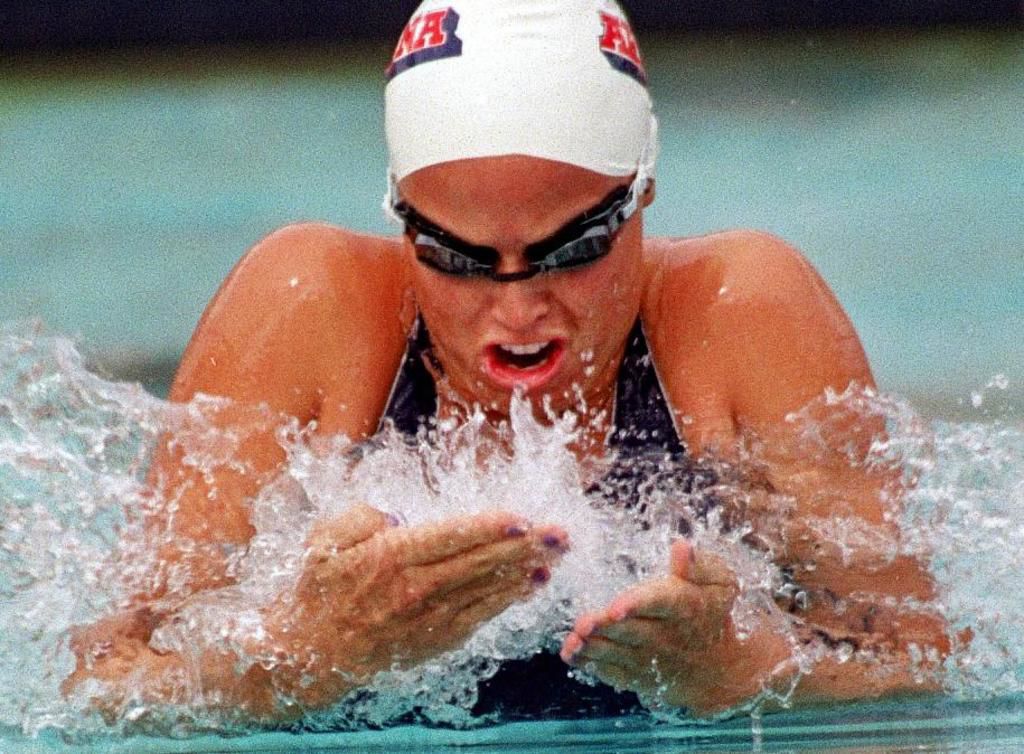 Editor's note: Star columnist Greg Hansen is profiling 10 times that Tucson teams beat No. 1. Today: Arizona's 2000 win over top-ranked Stanford in swimming.
Not to suggest that Frank Busch had some serious ground to cover when hired as Arizona's swimming coach in 1989, but his first UA women's team lost to powerful Stanford by 1,035 points in the Pac-10 championships.
Two years later, the gap widened to 1,227 points.
The points system in swimming can be confusing, so let's just say it was similar to Arizona's 1991 football team losing to national co-champion Washington 54-0.
"Nobody challenged Stanford for a long time," Busch says now. "As with any coach, you had to figure out ways to accumulate enough talent to maybe knock on the door someday."
Arizona began knocking in 1997, moving into third place in the Pac-10, scoring 1,000 points (1,090 to be exact) for the first time. But it wasn't anywhere near enough to catch Stanford, which won the Pac-10 championships 13 years in succession, 1987-99, without much of a challenge from anyone.
Stanford also won the NCAA title seven times from 1989-98.
As with John Wooden's basketball dynasty at UCLA, the Stanford swimming program was its own version of Pauley Pavilion, with national championship banners everywhere.
But after the 1996 Atlanta Olympics, Busch's accumulation of talent reached heights never imagined at Arizona, or at most college swimming programs.
Busch went to Southern California to recruit 1996 gold medalist Amanda Beard. Then he went to Baltimore and got a commitment from 1996 gold medalist Beth Botsford. Finally, he went to Jacksonville, Florida, to successfully recruit 1996 gold medalist Trina Jackson.
That's the Triple Crown of swimming recruiting, if ever there was one.
"When we recruited Trina, I thought there was no way in the world she would come to Arizona," Busch remembers. "Plus, on her visit, she was sick as a dog — the flu — and just cradled up on my couch in my office. And then she committed to us. You just never know."
Beard had become something of an American hero during the '96 Olympics. She was about to turn 15, yet won silver medals in both breaststroke events, and a gold medal on a USA relay team. She was photographic, with a winner's smile. TV cameras followed her for a week.
But after the '96 Olympics, Beard's swimming trajectory changed as she morphed into a young adult. Many of the elite swimming programs suspected her best swimming days were gone.
But Busch, who became a Hall of Fame coach for his ability to tap into talent and develop it, saw promise where others saw a dead-end.
"Amanda just felt like she needed a change of scenery, a different taste," says Busch. "My approach was that there was no way someone with that kind of talent at 14 would just suddenly lose it. Once she began to believe in what she was doing outside the pool, she made a great comeback. She deserves all the credit."
By the time Beard, Botsford and Jackson were on campus together, 1999-2000, the Wildcats began a 12-year run in which they challenged for the national championship in men's and women's swimming almost every year.
But first they had to overcome Stanford's 13-year domination of women's swimming.
At the Pac-10 championships held at the pool used for the USA's 2000 Olympic Swimming Trials, Busch's lineup of Beard, Botsford, Jackson, Sarah Tolar, Denali Knapp, Rachel Joseph, Emily Masten and diver Lindsay Berryman was the most potent in school history.
Still, it would take about 1,300 points to win the Pac-10 title and unseat Stanford. The Wildcats had never scored more than 1,136 in the conference finals.
"I've never seen girls work this hard in my life," said Botsford, the nation's leading college women's backstroker, named the Pac-10 Freshman of the Year.
For two days, Stanford and Arizona swapped positions on the leaderboard. Stanford won nine events. The Wildcats surged back as Tolar, Botsford, Beard and Berryman won conference titles.
"There's a lot more to it than recruiting," says Busch, who would coach Arizona to the 2008 men's and women's NCAA championships and then become national team director of USA Swimming from 2012-2018. "First, you've got to figure out how to unite that talent and put it in a team-first mentality.
"That team, in 2000, came together. It was a journey that makes great lifetime memories because of the camaraderie, the sweat and the tears they all put in."
Arizona ended Stanford's 13-year-run as Pac-10 champions, winning 1,325 to 1,197. Busch was named the NCAA coach of the year. Arizona finished No. 2 in the NCAA finals in a down-to-the-wire showdown with Georgia, losing by the equivalent of an arm's length.
And it wasn't a one-time shot, either. Arizona's women's swimming teams went on to win three more Pac-10 titles in eight years.
Postscript: At the 2000 Olympics in Sydney, Australia, Beard was not among the favorites to win any medal. But in the final two lengths of the pool in the 200 breaststroke, she came from the outside lane to win the bronze medal. Busch, who had shown so much faith in her two years earlier, stood on the deck, beaming.
Beard went on to win the 2001 NCAA title in the 100 breaststroke and win a gold medal and two silver medals in the 2004 Athens Olympics. She now lives in Gig Harbor, Washington, with her husband and two children. She is a motivational speaker and swimming instructor, and was inducted into the International Swimming Hall of Fame in 2018.
Where are they now? Tolar, a 24-time All-American at Arizona, is the principal of Marcos de Niza High School in Tempe. She is married with two children. Garcia, a 23-time All-American, lives in Eagle River, Alaska, and works for the state of Alaska. Trina (Jackson) Falca, a 15-time All-American at Arizona, lives in Phoenix with her husband and two children. She is a certified fitness instructor.
Contact sports columnist Greg Hansen at 520-573-4362 or ghansen@tucson.com. On Twitter: @ghansen711
Be the first to know
Get local news delivered to your inbox!