Things you never used to hear in Pac-12 football:
Colorado might go to the Rose Bowl.
Colorado has a better quarterback than Oregon.
But in the unpredictable year of our lord 2020 — a year in which USC is playing at Washington State on a Sunday evening in December and Coastal Carolina might be better than any team in the Pac-12 — the Buffaloes are possibly all of those things.
Here's the problem: Colorado was the singular team on Arizona's schedule that the Wildcats figured to beat.
As Arizona lost its 11th consecutive game Saturday night, 24-13, the Wildcats at last made some potential game-changing plays on defense, including their first turnovers of the season. It wasn't anywhere near enough.
Maybe 13 points was enough to win football games in the 1990s, but those days seem as long ago as the Gunfight at the OK Corral. Since 1994, Arizona has won a single game when it scored 13 points or fewer — a 10-9 victory over Cal in 2010.
That's once in 317 games. No player on this Arizona roster had yet been born.
As much as this losing streak is about Arizona's porous defense, it's also about its impotent offense.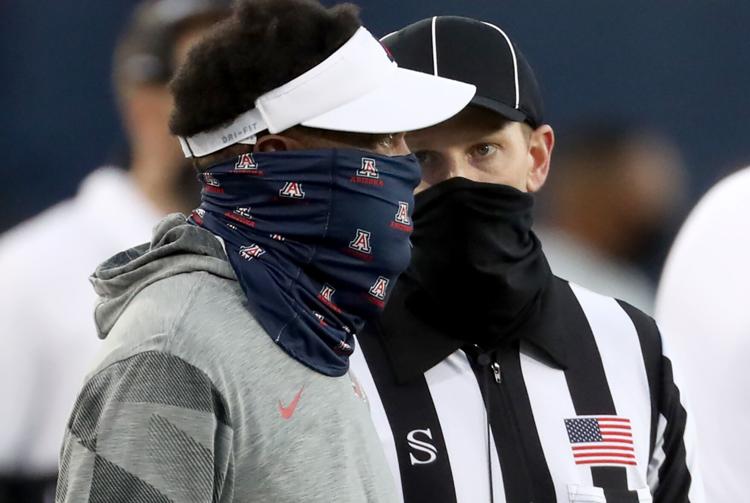 After Saturday's game, Arizona senior running back Gary Brightwell said "we're locked in right now'' and tried to put a positive face on a season gone wrong. His teammate, defensive lineman Roy Lopez added "a lot of these games, we should've won.''
Late in the game, the Wildcats twice got within a single Usain Bolt stride of the end zone and scored no points. Arizona coach Kevin Sumlin added some context, saying "we were able to run it in the middle of the field."
If middle-of-the-field gains counted, the Wildcats would've indeed ended their losing streak. They chewed up so much yardage between the 20s — almost 500 yards — that it seemed like Brightwell and fellow running back Michael Wiley were doing a strong impression of Ka'Deem Carey's school-record 366-yard rushing day against Colorado in 2012.
But even as productive as Wiley and Brightwell were, combining for 239 yards, they couldn't match CU's Jarek Broussard, who gained 301 yards, the most yards an opposing running back has ever gained against Arizona. (Old record: 288 by Oregon's LaMichael James in 2011).
Get this: Broussard was playing in his fourth college football game. He all but made you forget those record-shaking games UA quarterback Khalil Tate played against the Buffaloes, 122 points and three victories in three years.
If you thought Arizona's losses to UCLA, USC and Washington were forgettable, the Colorado week one-upped them, if that's possible.
It was a week of multiple opt-outs by active players and multiple decommits by recruits. It was a week of injuries to starting linebacker Jalen Harris and starting offensive lineman Jordan Morgan.
It was a week that CU quarterback Sam Noyer, starting his fourth college game, passed for only 92 yards, yet made it stand up without much suspense.
What's left? The Territorial Cup on Friday evening at Arizona Stadium. It is normally a game that qualifies as a giant eraser, capable of blotting out misdeeds and mishaps of previous games. But that might not be possible in 2020.
Arizona's losing streak is now the sixth longest in league history. That just doesn't scrub off with some strong football detergent or a cure-all victory over the Sun Devils.
It puts Arizona on a dreaded list that includes:
• Oregon State, 0-15 in 1995-96;
• Washington, 0-14 in 2007-08 and OSU in 1981-82;
• Washington State, 0-12, in 1998-99.
Before he left a Zoom conference interview Saturday night, Sumlin said he would use Sunday to review the Colorado video "make adjustments and move on."
If only it were that simple.
Contact sports columnist Greg Hansen at 520-573-4362 or ghansen@tucson.com. On Twitter: @ghansen711