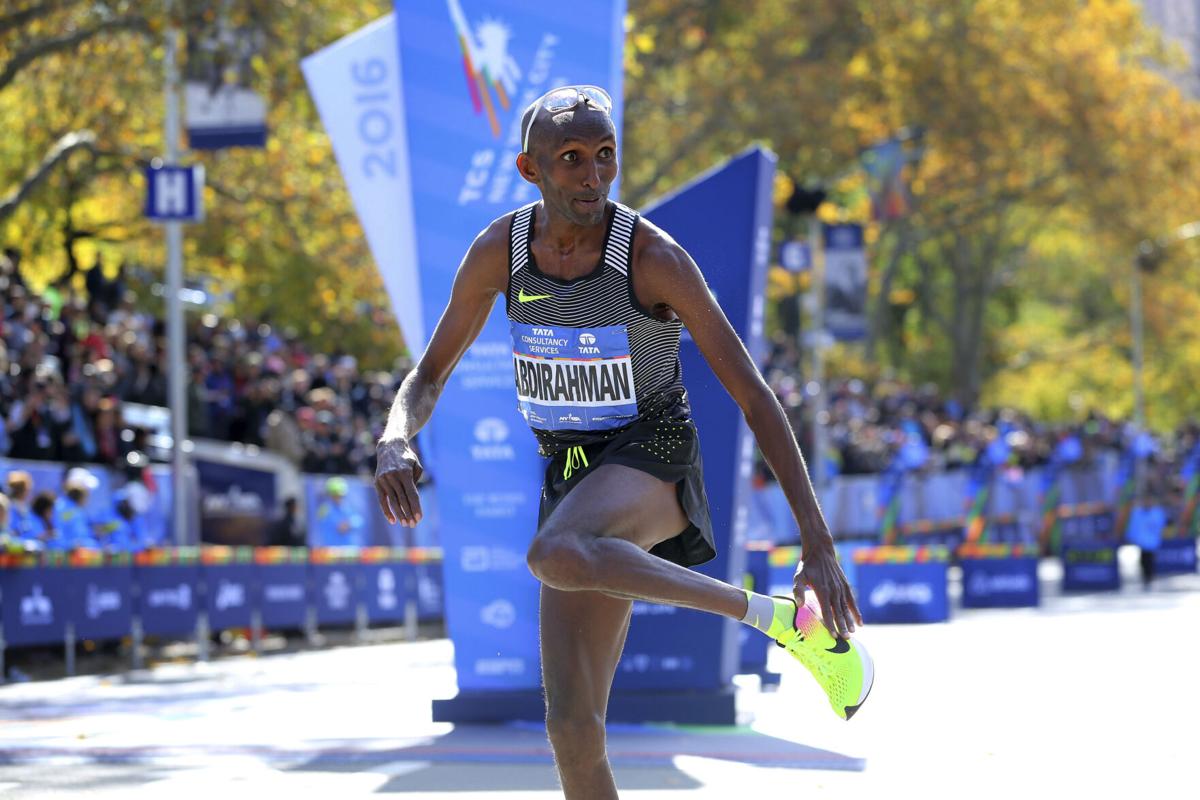 The Star's longtime columinist writes about the local running star and his new book, why ASU is back on the NCAA's radar, and which UA coach is leaving college for the pros:
---
Abdi Abdirahman will 'be ready' for Olympics at age 44
After qualifying for the U.S. Olympic team in February 2020, finishing third in the marathon, Tucson's Abdi Abdirahman did much more than celebrate his 44th birthday and soak in the historic accomplishment.
He flew to his winter training grounds in Suluta, Ethiopia (altitude: 8,400 feet), intent on working toward winning a medal when the race at the 2021 Tokyo Olympics are held in Sapporo, Japan on Aug. 7. Abdirahaman then returned to Tucson where he and his coach, ex-UA track and cross country coach Dave Murray, created a strategy for what will be Abdirahman's fifth Olympic appearance.
"I've mostly been in Flagstaff, training at high altitude (6,900 feet)," Abdirahman said last week. "It was 90-something in Flagstaff for a few days, but that's fine. It's going to be warm in Japan. I'll be ready."
And then there's this: Abdirahmam wrote a book. His autobiography — "Abdi's World: The Black Cactus on Life, Running and Fun" — will be released by Soulstice Publishing on July 10.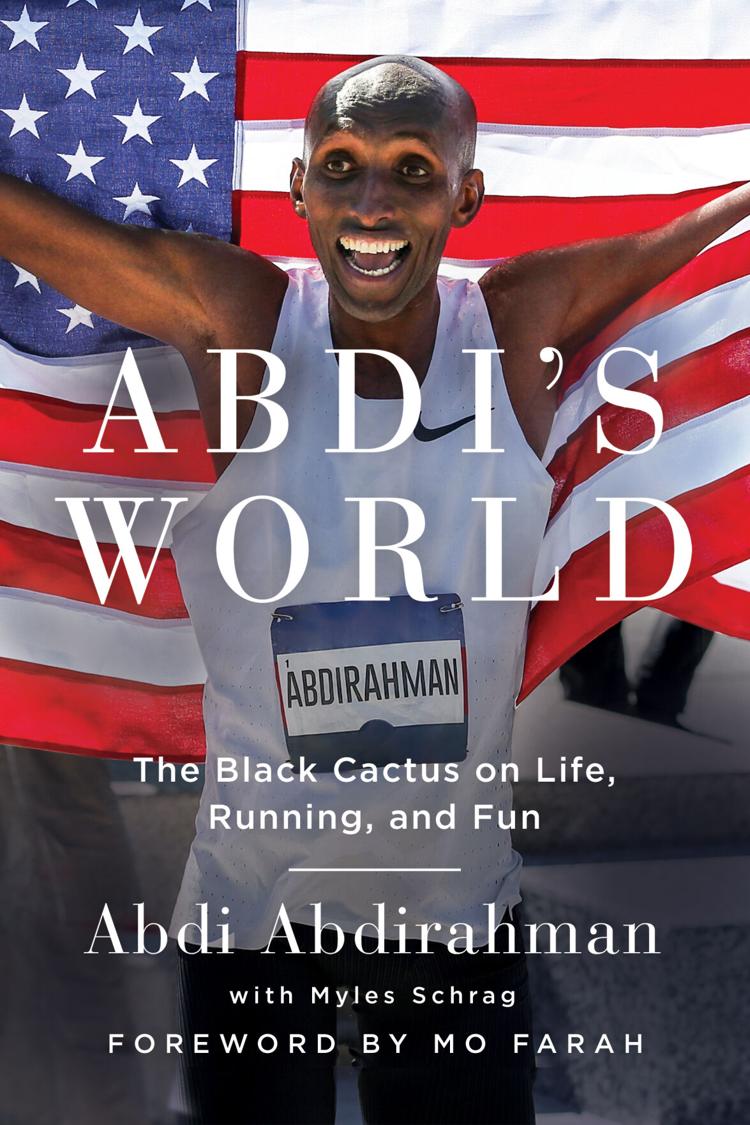 Abdirahman is in Oregon this weekend for the U.S. Olympic Trials, but for once he won't be competing.
He is in Eugene to be processed for his trip to Japan, and also to be honored with all those who qualify for Team USA between now and next weekend.
Abdiarahman said that "writing the book with (author) Myles Schrag was a lot of work. It's about my family leaving Somalia during a civil war when I was young, it's about coming to Tucson, it's about making the track team at Pima College and then becoming an All-American at Arizona.
"I spent a lot of time talking about Coach Murray and what he means to me and how he has influenced me for 25 years. I have so many memories from the Olympics going all the way back to 2000 in Australia."
The latest chapter in Abdirahman's life — he is the oldest distance runner to make an American Olympic team in history — is one of the most compelling. At 23, he finished 10th in the 2000 Olympics as a 10,000-meter runner. He is a four-time USA 10,000 national champion. He is also 10 years older than fellow Tokyo marathon qualifier Galen Rupp, a former Oregon Duck.
"It never gets easier; I've been running 100-plus miles a week in Flagstaff and before that in Tucson and Ethiopia," Abdirahman said. "People ask me if I am happy just to make the team and I tell them no. I expect to be on the podium, with a medal. Why not? I expect to be at my best."
---
Chris Nallen leaving UA for pro golf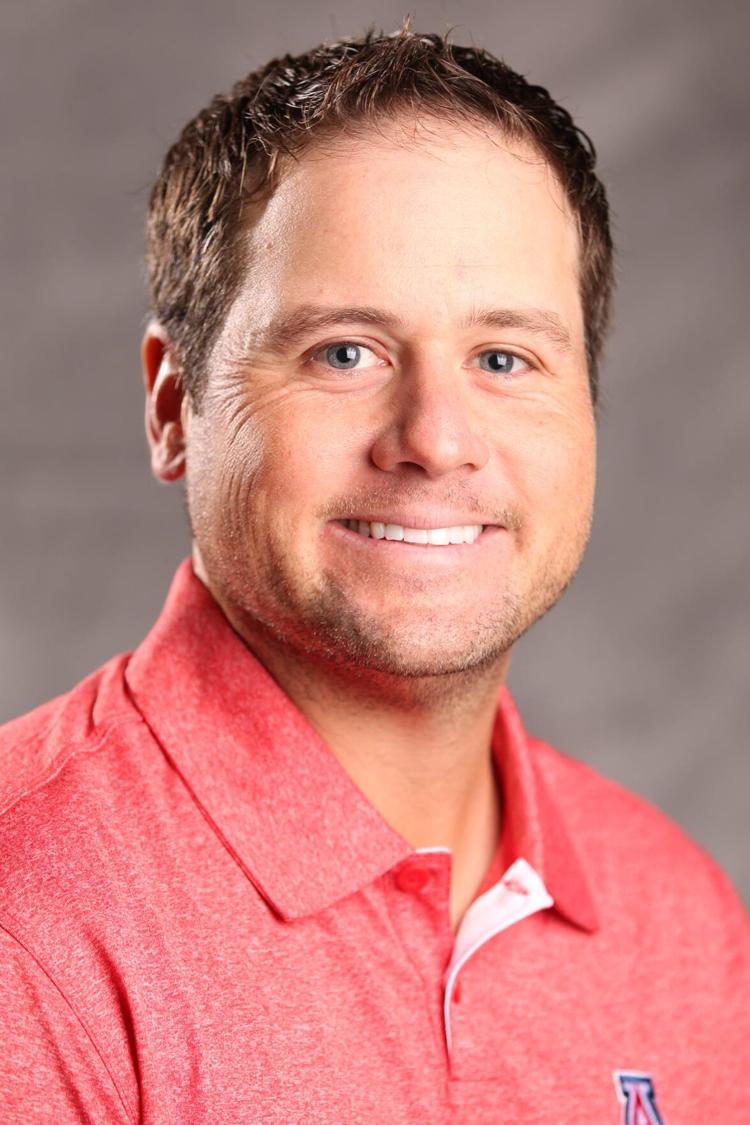 Six weeks ago, UA assistant men's golf coach Chris Nallen shot a 63 to win the U.S. Open local qualifying tournament at Sewailo Golf Club. It wasn't quite as good as the 58 he shot at Arizona National while an Arizona golfer 17 years ago, but it was enough to influence Nallen to leave college coaching and attempt to make a living on tour, at whatever level.
After eight years as Jim Anderson's top assistant coach, Nallen, 39, will now follow the dream that started in earnest when he won his debut on what is now the Korn Ferry Tour in 2004 at the Gila River Classic.
"Great golfers never lose their fire," said Anderson, who this season coached Arizona to its first Pac-12 championship since Nallen's senior year, 2004. "Chris is ready to burn again."
Chronic back problems and multiple surgeries, the last in 2013, derailed Nallen's goal to become a PGA Tour regular. He isn't much different from another former Arizona All-American, Ted Purdy, 47, who last week earned a berth in the PGA Tour's Palmetto Classic, where he missed the cut.
How do you make a move toward the PGA Tour when you're 39? For Nallen, and others who still have considerable game, it's from playing in such events as the Colorado Open in early August in Denver, where the winner is paid $100,000.
Nallen was a consensus All-American in 2004 along with current PGA Tour regulars Bill Haas of Wake Forest, J.B. Holmes of Kentucky, Ryan Moore of UNLV and Camilo Villegas of Florida. At the time, Nallen had just set the UA record for lowest scoring average, 69.7, in school history.
---
Sun Devils have history of NCAA violations
According to the archives of the NCAA Infractions Committee, Arizona State is the second-most punished Division I school in NCAA history.
SMU has been punished 10 times, ASU nine, followed by Texas A&M, Oklahoma, South Carolina and Wichita State, all with eight NCAA probations/penalties.
ASU's administration last week confirmed that the NCAA is investigating the school's athletic department for possible football recruiting violations during the COVID-19 dead period, including whether the program hosted high school prospects on visits. The Athletic reported that the NCAA is also investigating whether ASU football coaches paid for recruits' expenses during what would've been illegal visits.
What baffles me about the allegations is that ASU coach Herm Edwards would have little to gain by breaking recruiting rules, but a great deal to lose. He's 67. His exceptional football career and his admired reputation appeared to be safely in the books. His legacy is now at stake.
It would be morally reprehensible to try to take advantage of recruiting rules during a pandemic. Edwards is still passionate enough to put the pedal to the metal, but what the NCAA will seek to learn is whether he (a) doesn't run a tight ship and (b) whether he closed his eyes to possible recruiting violations.
The slow-moving NCAA investigative process is such that the most predictable outcome is for Edwards to retire before a decision is reached.
The history of ASU football includes four previous NCAA punishments:
1954: The Sun Devils served a one-year postseason ban and two-year probation for providing expenses via the Sun Devil Foundation to fly potential recruits to Tempe to try out for coach Dan Devine.
1959: The Sun Devils were put on probation for two years, with a one year postseason ban, for providing free housing for nine recruits, taking them on an expenses paid trip to the Grand Canyon and former improper employment and lodging.
1980: ASU was prohibited from playing in 1981 and 1982 bowl games and not allowed to play in televised games for two seasons. The NCAA found that eight football players used bogus academic transcripts, student-athlete car repair bills were paid by boosters and one booster gave a Sun Devils football player a plot of land to sell for profit.
2005: An ASU compliance official provided extra benefits for a football player, ranging from $2,400 to pay for the player to buy new tires and wheels for his vehicle, and use a credit card to pay electric bills and also to sell university textbooks for profit. The NCAA put ASU's football program on a two-year probation, but no postseason ban.
Arizona was penalized six times by the NCAA between 1961-2019, including two football probations, in 1961 and 1983. The '83 penalty included a two-year postseason ban for improper recruiting and benefits to football players during the Tony Mason years of the late 1970s.
---
Ex-Dorado Turner Washington to focus on discus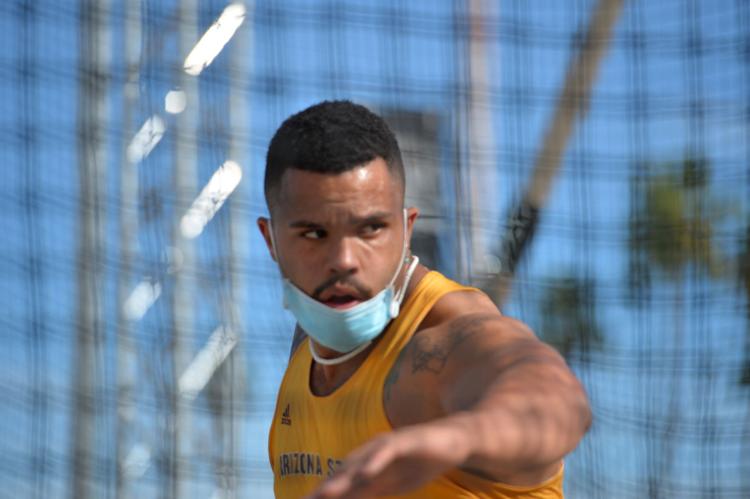 Canyon del Oro High School grad Turner Washington elected not to compete in the U.S. Olympic Trials shot put competition Friday, an event he won a week earlier at the NCAA finals. Washington is going to concentrate on the discus, which will be held Thursday and Friday at Oregon's Hayward Field. Now a junior at Arizona State, Washington has the second longest U.S. discus throw of the year, 217 feet, 5 inches, among those at the Olympic Trials. Three others have throws over 210 feet. The favorite is Mason Finley, 30, who is 6-8 and 340 pounds and was a 2016 USA Olympian. Defending gold medal champion Christoph Harting of Germany, 31, has thrown the discus 231 feet.
---
New Olympian Delaney Schnell returns to Tucson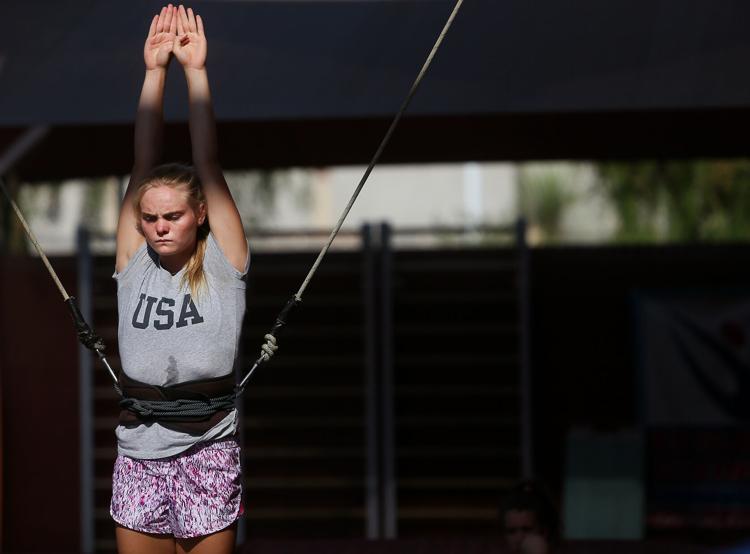 After winning the USA Diving Olympic Trials in the 10-meter platform and Synchro Pairs, UA senior Delaney Schnell, a former Tucson High student, returned to Tucson and began a final month of workouts before leaving for Tokyo on July 17. Schnell visited the Arizona Dynamics Gymnastics facility upon returning, speaking to the young gymnasts — she began her career as a gymnast at that facility when she was 4 — and gave instructions to many of the young athletes. She is scheduled to compete July 27 in the Synchro Pairs competition and Aug. 4-5 in the 10-meter platform event. Schnell usually trains five hours a day at the UA, including weight work and diving.
---
Add name to list to locals

After Schnell qualified for the Olympics last week, I listed the other eight Olympians from Tucson schools who preceded her. I omitted one key Olympian: Salpointe Catholic grad Colleen Lanne Cox, who won a silver medal in swimming at the 2004 Athens Olympics. Cox, who set three Big 12 records while a Texas Longhorn, is the daughter of 1970s UA football standout Justin Lanne. Now living in Austin, Texas, Colleen is the head coach of the Circle C Seals swimming program. The others from Tucson schools to make the USA Olympic team are Michael Bates of Amphi, track and field, 1992; Caitlin Leverenz of Sahuaro, swimming, 2012; Anthony Sanders of Santa Rita, baseball, 2000; Doug Northway of Sahuaro swimming, 1972 and 1976; Tairia Mims Flowers of Salpointe, softball, 2004 and 2008; Kerri Strug, Green Fields Country Day School, gymnastics, 1992 and 1996; Lacey Nymeyer John, Mountain View, swimming, 2008; and Abdi Abdirahman, track, Tucson High, 2000, 2004, 2008, 2012 and 2021.
---
Matt Grevers emotional after qualifiers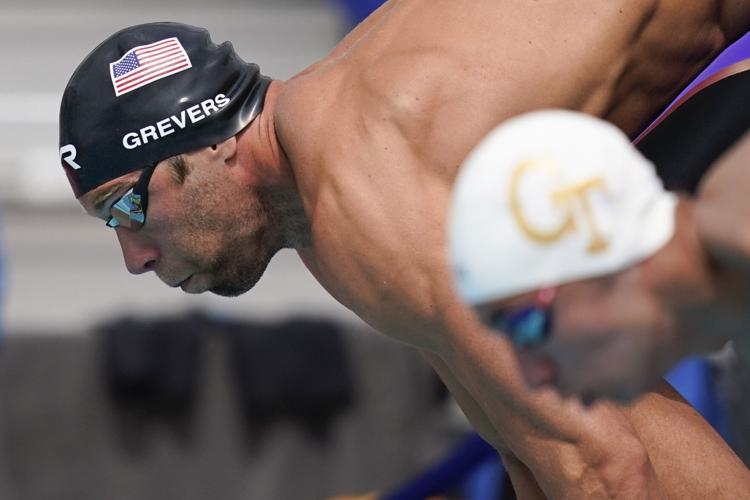 Tucsonan Matt Grevers, a six-time Olympic medalist, finished fifth in his specialty, the 100 backstroke, in last week's Olympic Trials in Omaha. Grevers, 36, was emotional after the race, referring to the moment as "a warm embrace." He was given a rousing ovation by the fans at the CHI Health Center Arena. Grevers said he is likely to continue swimming competitively but will focus on a real estate career and being a father. Matt and his wife, former Arizona All-American swimmer Annie Chandler, have two young daughters.
---
Tucson's Bryce Cotton misses out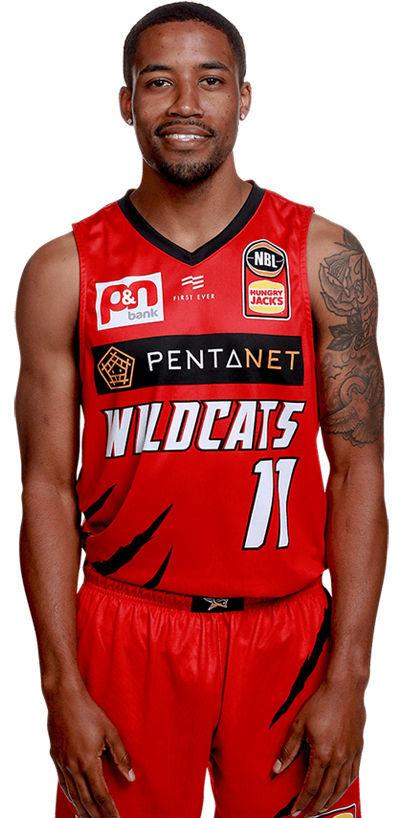 Palo Verde High School grad Bryce Cotton was selected MVP of Australia's National Basketball League for the third time last week. Cotton, 29, hoped to be part of Australia's Olympic basketball team, but the processing of paperwork was delayed during COVID-19 restrictions and was not completed by last month's deadline. "I know the club did everything possible to try to make it happen," Cotton told reporters. "It was just one of those things that didn't pan out.'' Australia's Olympic team will include former Pac-12 defensive whiz Matisse Thybulle and NBA players Patty Mills, Ben Simmons and Joe Ingles. Former Arizona forward Josh Green is trying to make the Australian Olympic team; Green averaged 2.6 points per game for the Dallas Mavericks in 39 NBA games as a rookie.
---
My two cents: Young Wildcats can learn from veteran Justin Kier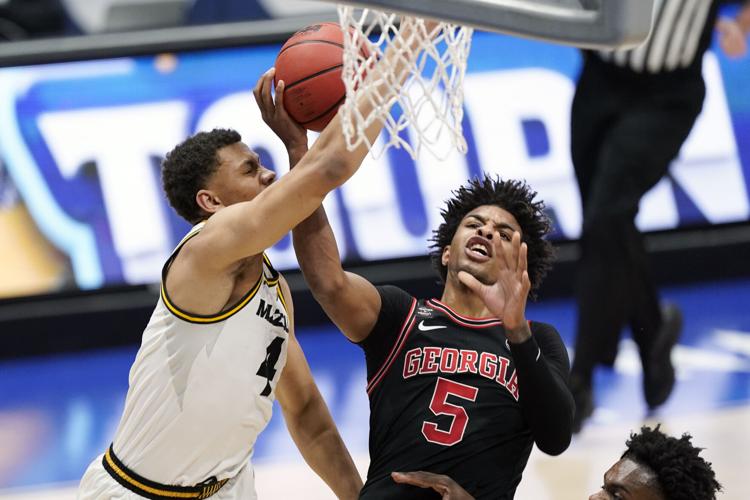 Arizona basketball coach Tommy Lloyd has restocked the UA's basketball roster in two quick months, with grad transfers, regular transfers and freshmen. It figures to be one of the youngest teams in UA history.
But grad transfer Justin Kier, a sixth-year senior who previously played at George Mason and Georgia, will be the second oldest Wildcat to play at the school dating to the opening of McKale Center in 1973.
When the UA plays its final game next March, Kier will be 23 years and 10 months old. The oldest: Kevin Flanagan, who was 24 years and two months when he played his last game for Arizona at the 1994 Final Four. The other Wildcats who were 23 in their final season include Kirk Walters, Gene Edgerson, Brian David and Luke Walton.
Youngest? Gilbert Arenas was 17 years, seven months as a UA freshman. Incoming freshman Adama Bal will be 17 years, eight months when he arrives on campus this summer.
In a game that rarely exhibits patience, Lloyd will have time on his side — at least in Year 1.
Contact sports columnist Greg Hansen at 520-573-4362 or ghansen@tucson.com. On Twitter: @ghansen711