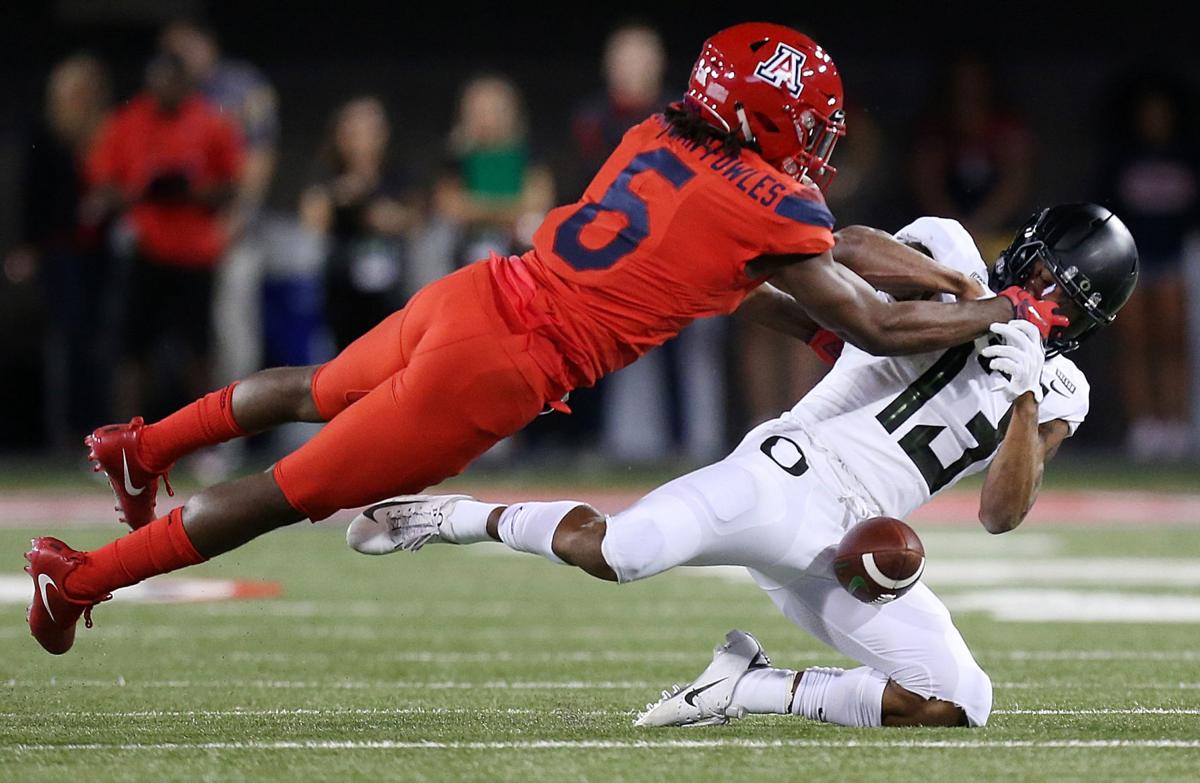 Dear Mr. Football: Is Oregon always favored to beat Arizona?
A: The Ducks have been the Las Vegas betting-line favorite over Arizona for 18 consecutive games dating to 2000. That's an Arizona football record for lack of faith.
Based on research from the annual Phil Steele football yearbook, the Ducks have been favored over Arizona by a combined 226 points this century. As always, those Vegas lines aren't foolproof.
Arizona won as double-digit underdogs in 2006, 2007, 2013, 2014 and 2018, which means the oddsmakers fully blew it in five of the last 11 Arizona-Oregon games. Some were seismic upsets: Oregon was ranked No. 2 in 2007, No. 5 in 2013 and No. 2 in 2014.
Until this week, Oregon has never been more than a 23-point favorite over Arizona. Now the betting line is a series-record Oregon minus-27.
Dear Mr, Football: Wasn't USC favored over Arizona in more consecutive games?
A: If you count seven long-ago USC-Arizona games from 1916-28 — the Trojans won all by a combined score of 298-26 — the Trojans were favored over Arizona 19 consecutive times.
But since the Pac-10 was formed, USC's longest streak of being favored was 12. Finally, in 1993, Arizona entered a USC game favored by 2½ points and won 38-7. Arizona was also the Vegas choice to beat USC in 1999 (winning 31-24) and 2010 (losing 24-21).
Dear Mr. Football: Now that Notre Dame has announced its 273-game streak of home sellouts games will end Saturday against Navy, are the Ducks in position to surpass that at Autzen Stadium?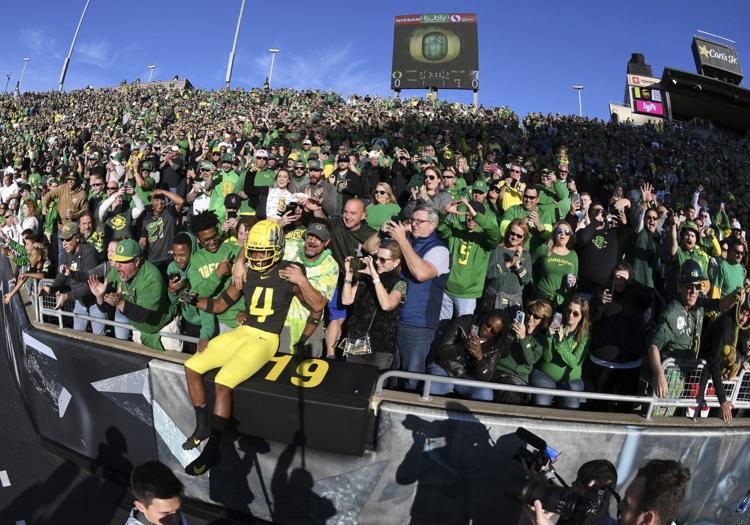 A: Autzen Stadium built the Pac-12's longest football sellout streak, 110 games. Alas, the streak ended in 2016. This year the Ducks have failed to fill all the seats in home games against Montana (49,098), Colorado (50,529) and Nevada (50,920). As many as 59,361 have attended UO home games this season.
Utah is now beginning a chase to break Autzen's record of consecutive sellouts; the Utes are at 57 and counting, although capacity at Rice-Eccles Stadium (roughly 45,500) diminishes the feat a bit. Utah is expanding its stadium by 6,000 seats for the 2021 season.
Arizona played in six consecutive sellouts at Autzen Stadium from 2004-14. The UA's road sellout streak at Sun Devil Stadium reached a record 14 games from 1967-1993.
Most consecutive Tucson sellouts at Arizona Stadium? It's sad. The record is four, set in 1961 against Colorado State, Hardin-Simmons, New Mexico and Wyoming, and tied in 1994 against Colorado State, UCLA, Cal and ASU.
The longest sellout streaks in pro sports history? It is believed to be the Portland Trail Blazers' 814 games from 1977-95 and the Boston Red Sox's 820 games from 2003-13.
Dear Mr. Football: How much has Arizona missed 'Big Stack?'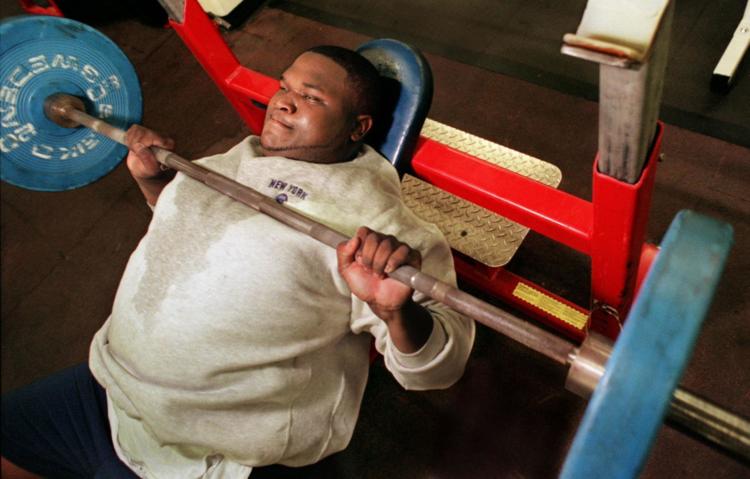 A: Yusuf Scott, the Pac-10's offensive lineman of the year in 1998, died of heart failure this week in his hometown of La Porte, Texas. He was 42.
Scott, a big, ol' lovable guy, was sometimes known as "Big Stack" — or "Big U" — after he racked up an astonishing 102 pancake blocks during Arizona's 12-1 season of 1998. He once invited a Star photographer to his apartment and posed for photographs eating a stack of pancakes.
Scott is one of just six Arizona offensive linemen ever to make the All-Pac-10/12 first-team. Over that period, almost 300 offensive linemen have been voted to the all-conference team.
That's a head-shaking bad number for a program that has been size-challenged for what seems forever. The Arizona all-stars were:
1982, Jeff Kiewel, a Sabino High grad, who went on to play for the Atlanta Falcons.
1986-88, Joe Tofflemire, an Idaho product and three-time all-star, was the league's offensive lineman of the year in 1988. He died in 2011.
1989, Glenn Parker, a JC transfer from SoCal who didn't play high school football.
1994, Warner Smith, a miner's son from small-town San Manuel. He died in 2018.
1998, Scott, who skipped his senior season, 1999, to enter the NFL draft.
2008, Eben Britton, who was the 39th overall pick the 2009 NFL draft.
Scott belongs on any list of best-ever Arizona offensive linemen, a group that would also include pre-Pac-10 linemen such as Green Bay Packer first-round pick Bill Lueck, former Buffalo Bills first-round pick John Fina, Palo Verde High School product Jim Arneson, Sahuaro High School's Brian Murray, the first-ever UA NFL draft pick Tom Greenfield, former Cholla High football coach Ed Brown and 1951 AP All-American Jim Donarski.
Dear Mr. Football: Can Arizona's beleaguered defense set any records at Oregon?
A: If they allow 12 points, the Wildcat defense will become the first in the conference to allow 4,000 points this decade. Here's how it stands in the race to 4,000:
Arizona, 3,988 points allowed.
Colorado, 3,936 points allowed.
Oregon State, 3,899 points allowed.
Cal, 3,758 points allowed.
The two Pac-12 teams poised to break into the College Football Playoff are not in this points-allowed race. Utah has allowed 2,762 points this decade. Oregon's yield is 3,323. They are the two lowest totals in the conference.
As I reported two weeks ago, Arizona is the only team in the league to allow 50,000 yards since the league was expanded in 2011. Arizona's total now stands at 51,389. The next closest "pursuer" is Colorado at 47,159.
In the era of Air Raid/Spread offenses, strong defense continues to be the No. 1 ticket to success.
Dear Mr. Football: What are the chances UA freshman quarterback Grant Gunnell stages a coming-of-age party and stuns the Ducks?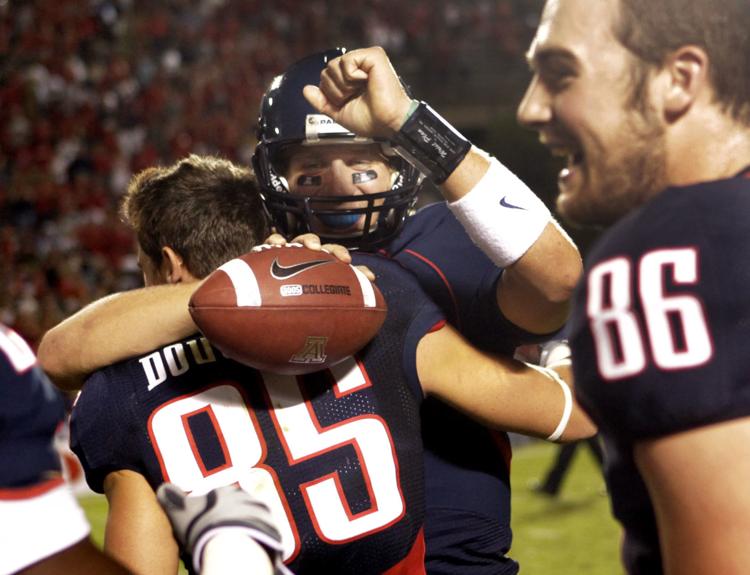 A: The closest thing to that in modern UA history was sophomore Nick Foles stunning Stanford in an October 2009 game in Tucson, 43-38. Foles threw three TD passes, overcoming a 38-29 Stanford lead in the final 11 minutes.
That Stanford team featured QB Andrew Luck and future Heisman Trophy runner-up Toby Gerhart, as strong as any 1-2 punch in the nation. A few weeks after losing to Foles and Arizona, the Cardinal beat No.. 7 Oregon 51-42 and No. 11 USC 55-21 in consecutive weeks.
Foles' breakout against Luck and Co., was his third career start at Arizona; Gunnell has one career start.
Also: that game was played at Arizona Stadium and 53,479 Wildcat fans cheered the best team of the Mike Stoops years to a rousing victory. Those positive elements won't exist at Autzen Stadium on a potentially rainy and cold Saturday night.
Contact sports columnist Greg Hansen at 520-573-4362 or ghansen@tucson.com.
On Twitter: @ghansen711.