Dear Mr. Football: What are the odds Arizona defensive coordinator Marcel Yates survives the season fully employed?
A: Let's put it at 196 to 1, overwhelming positive odds that Yates will be calling Arizona's defensive scheme in the Territorial Cup on Nov. 30.
That's because Arizona is one of a diminishing number of Power 5 schools not to panic in midseason and fire a coordinator or any assistant coach. The UA has employed 196 assistant coaches in its football history and has never dismissed one during the season.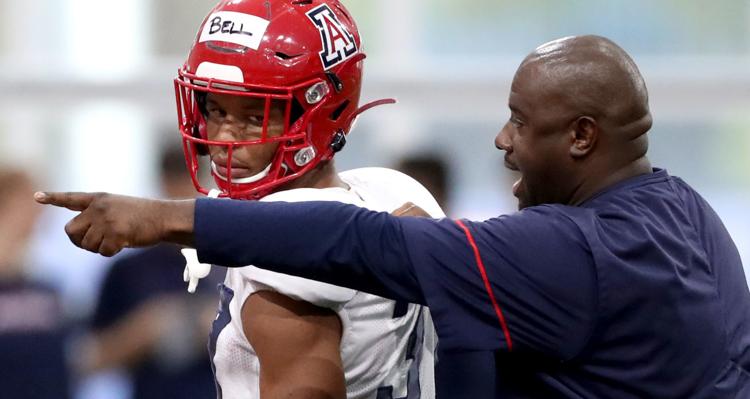 In 2006, Arizona promoted Dana Dimel to co-offensive coordinator at midseason to help coordinator Mike Canales. At year's end, Canales was dismissed. Ironically, he is now Dimel's offensive coordinator at UTEP.
And then there's this: None of the other full-time UA defensive coaches have ever been a full-time defensive coordinator at a FBS school. If Arizona dismisses Yates, it'll be a total surrender. This isn't a team with turn-the-season-around defensive personnel.
Dear Mr. Football: What would Pop McKale say if he was able to take a look at Arizona's schedule?
A: He would surely say, "What's NAU doing on the schedule?"
McKale and his successor, Dick Clausen, spent the 1950s and early 1960s working to get Arizona to a higher level — the WAC in 1962 — so they would no longer have to play Border Conference regulars like Hardin-Simmons and West Texas State, as well as small-time NAU.
Incredibly, Arizona did not play a small-college (now called FCS) opponent from 1963 to 2001. The Wildcats periodically played so-called "mid-majors" like Pacific, Long Beach State, Louisiana-Monroe and Idaho, but not until it added NAU to the 2002 schedule did it dip to the FCS level.
Games against Stephen F. Austin, The Citadel, South Carolina State and Grambling State soon followed. Now everybody dips into the FCS pool — even mighty USC, which will play its first FCS opponent in modern history, UC Davis, in 2021.
Dear Mr. Football: What does NAU get out of this relationship?
A: It will be paid $450,000 for Saturday's game, which is no longer a football ransom. ASU paid Kent State $1.5 million to play at Sun Devil Stadium last week. Some of NAU's Big Sky partners have worked better deals; Idaho State, for example, will get $550,000 to play at Utah.
The next FCS school likely to appear on Pac-12 schedules is Dixie State, a southern Utah school that will gain FCS status in the 2020 season. Dixie has already agreed to a $425,000 deal to play at BYU in 2022. Arizona has future games against FCS schools Portland State and North Dakota State.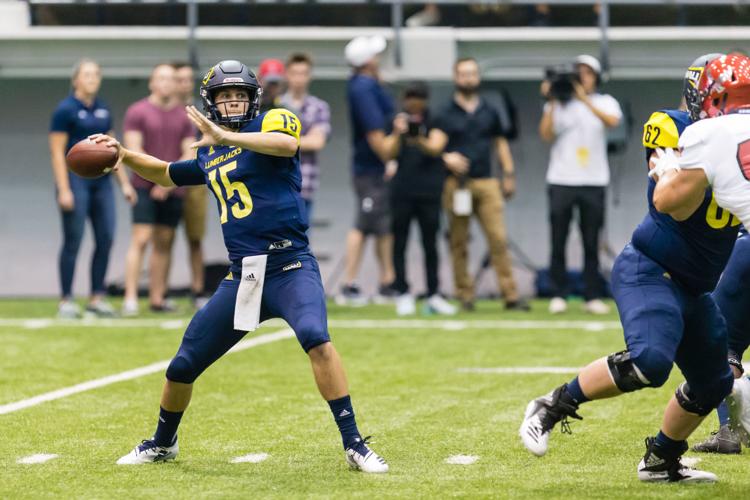 Dear Mr. Football: What's the difference between the coaching staffs at Arizona and NAU?
A: The most notable is money. Lumberjacks head coach Chris Ball has a base salary of $230,000. That's less than UA cornerbacks coach Demetrice Martin, who was paid $260,000 a year ago.
What's more, NAU doesn't employ a single "analyst" on its staff, which has become the latest NFL-type excess in college football. Arizona has five full-time analysts; ASU has six. Alabama has 12, including former UA head coach Mike Stoops.
It's not that NAU lacks big-time coaching chops. Assistant head coach Robin Pflugrad was a major part of Rose Bowl coaching staffs at Arizona State and Washington State and served as the head coach at Montana.
Dear Mr. Football: Are there any ill feelings between NAU and Arizona?
A: The lure of this in-state game lost its sting more than a half-century ago, but when the Wildcats and Lumberjacks first met, November 7, 1931 at two-year-old Arizona Stadium, it was a big event.
The Wildcats and "Axmen" worked four years to agree on a two-game series. They finally agreed to play in Tucson in 1931 and in downtown Phoenix in 1932. The Star wrote the '31 game "drew more attention than any ever held here."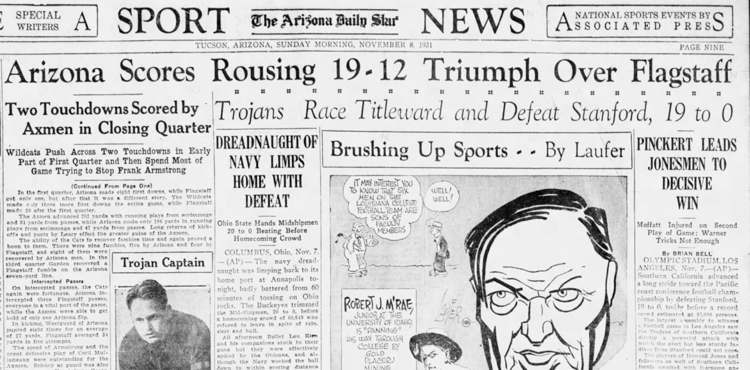 NAU paid $500 to rent a bus for the trip to Tucson, unable to pay $2,000 for a round-trip train junket. Arizona won 19-12; its starting quarterback was Hank Leiber, who went on to be a two-time MLB All-Star outfielder for the New York Giants.
A year later, Arizona lost 7-6 in Phoenix, a result that created such angst that first-year UA head coach Gus Farwick was essentially fired at year's end. The rivalry was then paused until 1940.
Dear Mr. Football: Could this game draw the smallest Arizona Stadium crowd since Arizona left the WAC in 1977?
A: The number to remember is 35,779. That's the smallest home crowd in the Pac-12 years that wasn't affected by weather.
The circumstances of that UA-Oregon game on November 16, 1985 were unprecedented. A week earlier, Arizona lost at home to No. 14 UCLA, 24-19, with first place in the Pac-10 at stake. A capacity crowd of 57,779 booed lustily when the Bruins stopped a UA rally late in the fourth quarter. Arizona coach Larry Smith made a one-finger salute to the crowd and in his press conference two days later said fans "could stay home" if they didn't like it.
Including games affected by Mother Nature, the smallest UA home crowd of the Pac-12 years was 35,599 in the 1982 opener against woeful Oregon State. That night, a once-a-decade type rainstorm deluged Tucson and actually created a moat around Arizona Stadium.
Dear Mr. Football: Do the Lumberjacks have a chance to win on a late kick?
A: There's some precedent at work; NAU special teams coach Aaron Price is the only UA opponent in history to kick two game-winning field goals at Arizona Stadium in the same year.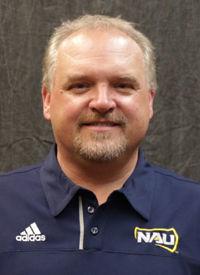 In 1992, Price — a Washington State junior — kicked a 47-yarder in the last minute to beat Arizona 23-20. Three months later, he kicked a 22-yard field goal at the buzzer as WSU beat Utah 31-28 in the Copper Bowl.
Alas, Price's career did not peak thereafter. He has had coaching stints at Humboldt State, Cal Poly, Idaho State, Missouri Western, UTEP, Tulane and for the last two years, at Hanks High School in El Paso.
This is not NAU's must-win game. The Lumberjacks' nouveau rival is Southern Utah of the Big Sky Conference; the two play for the Grand Canyon Trophy every season.
For Arizona, the margin of victory isn't significant. It'll be another week, against Texas Tech, before the Wildcats can show that a loss at Hawaii was a fluke. What matters Saturday is to keep quarterback Khalil Tate healthy, not the point spread.