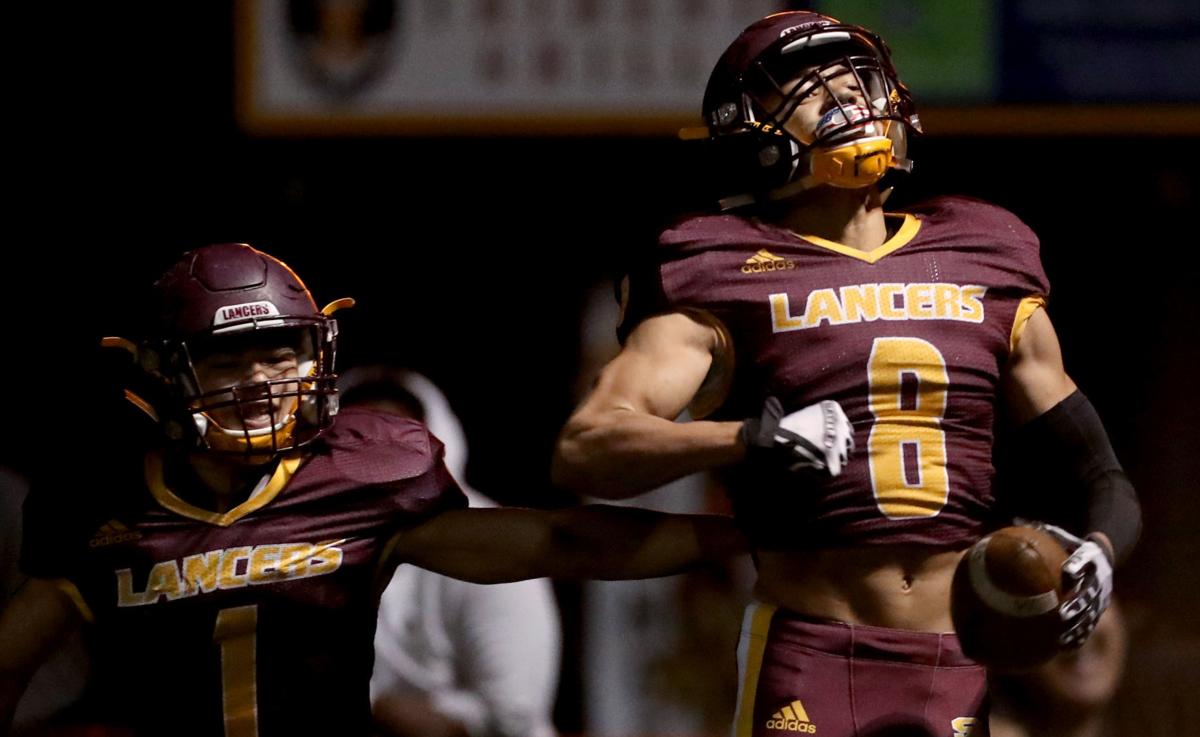 Salpointe Catholic sophomore quarterback Treyson Bourguet stared down a free rusher.
He spun, evading the defender and juking another, scrambling to his left. With his toes inside his own 10, he remembered his coach Dennis Bene's halftime instructions. The Lancers have a bevy of offensive weapons who can turn a short pass into a big gain. This time, instead of throwing it away, Bourguet found tailback Bijan Robinson, the best at doing that, running wide open.
"Coach Bene and my running backs coach were telling me dump it to Bijan," he said. "So, I was rolling out and in my head, 'I was like, 'Bijan? Bijan?' I turned, and he was right there. I got hit, so I didn't see what happened, but when I got up and everybody was going crazy, I knew we had scored."
Robinson turned the 5-yard dump down pass into an 86-yard touchdown, delivering the backbreaking score in Friday's 48-10 victory over Class 6A Phoenix Pinnacle in the first round of the inaugural Open Division tournament. 
"Obviously, coach (Dana) Zupke and Pinnacle, they're an outstanding program," said Bene, who intends to retire after this season. "I'm just extremely proud of my staff and the kids as a group that we can leave this field as winners."
The Lancers face an even stiffer test next week, traveling to face top-seeded Chandler in the Open semifinals at Chandler Hamilton on Nov. 23.
The No. 4-seed Lancers (10-0) lost an opportunity to go up three scores right before half on a Bourguet interception, his only true mistake of the night.
The No. 5-seed Pioneers (8-3) took advantage of the miscue, marching to the goal line before settling for a 25-yard field goal to trim the lead to 17-10. However, Bourget shrugged off the miscue, completing 9 of 13 for 236 yards with four touchdowns in his third start. Three of those scores were hauled in by senior receiver/safety Lathan Ransom.
"Our offense is full of weapons," Ransom said. "Treyson gets to sit back there and just have fun spreading the ball around. He's a stud and he's one of the best sophomore quarterbacks in the country."
Robinson eclipsed the 2,000-yard mark for the third straight season on a 54-yard touchdown run early in the second quarter. He had two other touchdowns wiped away by flags, part of Salpointe's nine penalties for 76 yards. However, that just delayed the inevitable. Robinson finished with 19 carries for 133 yards, upping his total to 108 carries for 2,107 yards this season, 6,908 for his career.
Yet, Salpointe's defense stole the spotlight.
Even without Michigan commit quarterback J.D. Johnson, who announced his retirement from football due to heart defect a few weeks ago, the Pioneers represented the toughest test Salpointe had faced this fall. In response, the Lancers forced five three-and-outs and pitched a second-half shutout.
Pinnacle freshman quarterback Devon Dampier completed just 11 of 25 for 103 yards, and running back Matt Goodlow mustered only 75 yards on his 18 attempts, never gaining more than 10 yards on any run.
"We were doubted coming into this game," Ransom said. "We knew how good we were. We knew we were a team that should not be messed with. To come out here and prove a point to all of Arizona was a big statement."