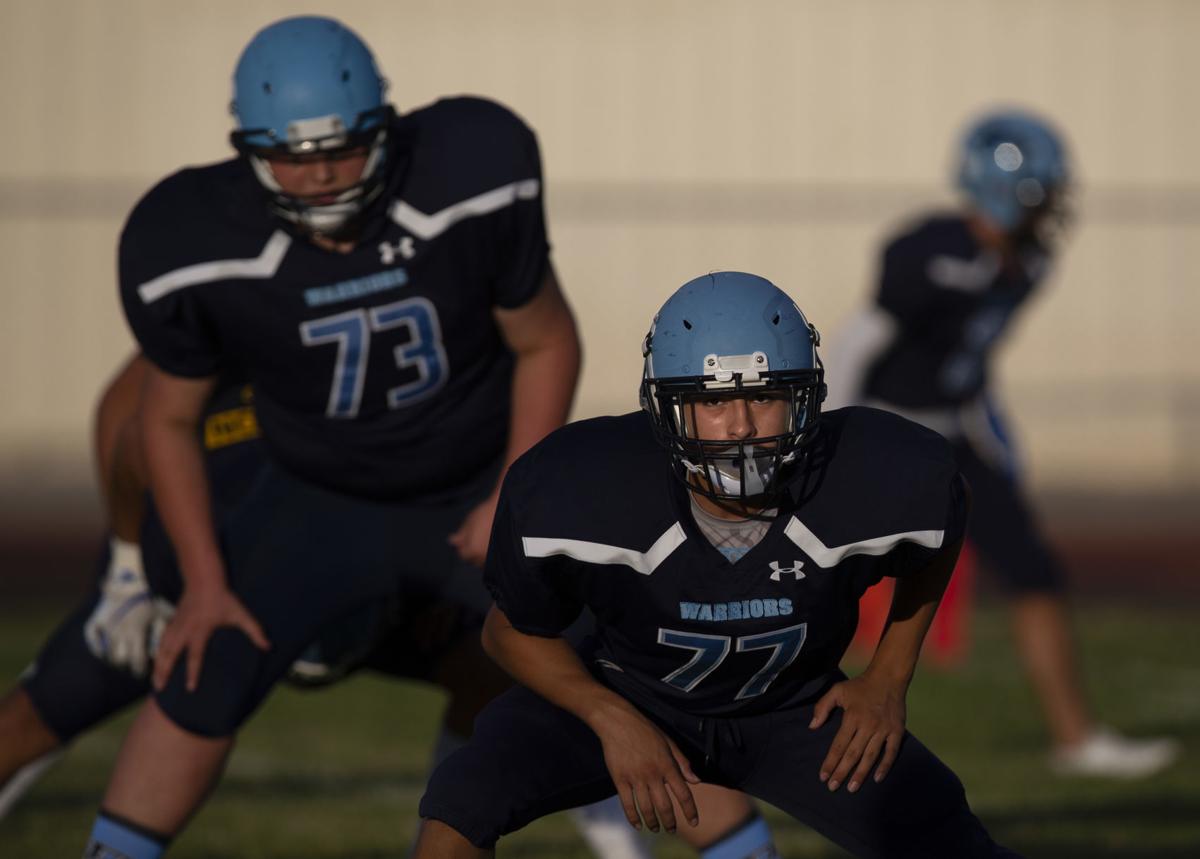 As it practiced this week, the Pueblo High School football team heard car horns honking and engines revving at the nearby intersection of 12th Avenue and 44th Street.
The nearby traffic pales in comparison to the noise being made by the Warriors' offensive line, a unit that has been a key piece to their best start since 1992.
The Warriors (4-0) will play host to Catalina Foothills (1-3) on Friday night.
"We haven't had this in a while at this school and have been seen as underdogs," senior Thomas Estrada said. "We know we have to stay disciplined and focus on our roles. Something Coach (Brandon) Sanders has taught us is not to look ahead or focus on outside noise."
The group is anchored by a line that includes Thomas and five other seniors: tackles Christian Peru and Sergio Zazueta, guards Jordon Parrish and Miguel Alday, and Juan Rabago, the center. All but Estrada have played at Pueblo since their freshman year, a big reason why their chemistry on the field is so apparent.
"As the center, everyone on the line, I had to get to know their position as well and what they can and can't do," Rabago said. "We've all been playing together for so long that we knew what had to happen and what we had to do to get there."
The group is coming off of an impressive performance against rival Sunnyside last week. The Warriors rushed for 230 in a narrow 22-21 victory. They opened their season with a 353-yard rushing outburst against Tucson High.
"We all share a really good bond," Parrish said. "Every day after school, we're always eating or doing something together. Outside of football we all hang out."
How good is the front five? Quarterback Marcelino Vega has only been sacked once this season, "and that was my own fault for holding the ball too long," he said.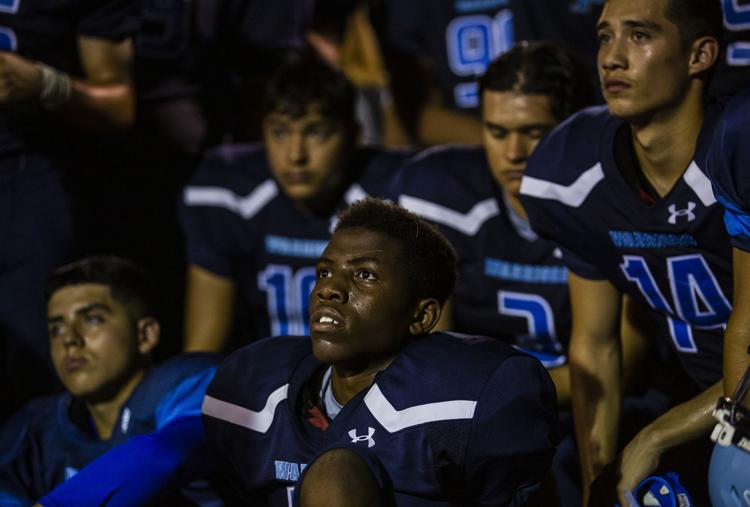 "I haven't really felt much pressure because they do such a good job," Vega added. "It makes my job easy because we're able to check each other and know we're trying to do what's best for the team and not hurt each other's feelings."
That bond has put this year's team in position to be one of the best in school history.
Pueblo hadn't made the playoffs since 1991 before Sanders, a former UA standout and NFL player, took over as head coach in 2014. Since then, the Warriors have appeared in the postseason twice while posting five straight winning seasons.
"They're in this position because they believe in what we're trying to do and what we preach in terms of being a team," Sanders said. "We're a 'we, us, our' program. We're not trying to be 4-0, 5-0; we're trying to be 1-0. Take things week by week."
Pueblo's roster is comprised of 36 players, meaning a good portion of the team plays both offense and defense, rarely leaving the field.
"A lot of it is muscle memory," Peru said. "We started in January and now with it being almost October, I have that muscle memory of going onto offense or going onto defense."
Being able to play both sides is something Rabago doesn't know if he would have been able had he not taken up another sport last winter. Rabago joined the Warriors' wrestling team, a move that he believes "helped my lungs open up."
"It taught me how to breathe under exhaustion. How to calm myself down in the heat of the moment when you're gasping for air," he said. "Now, I never want to leave the field."
As this group prepares for the final stretch of their senior season, they're proud in the legacy they're leaving.
"I feel really proud to be a part of this program," Alday said. "I think we all feel even better knowing that we have the chance to have a special season and help move it forward in the right direction."