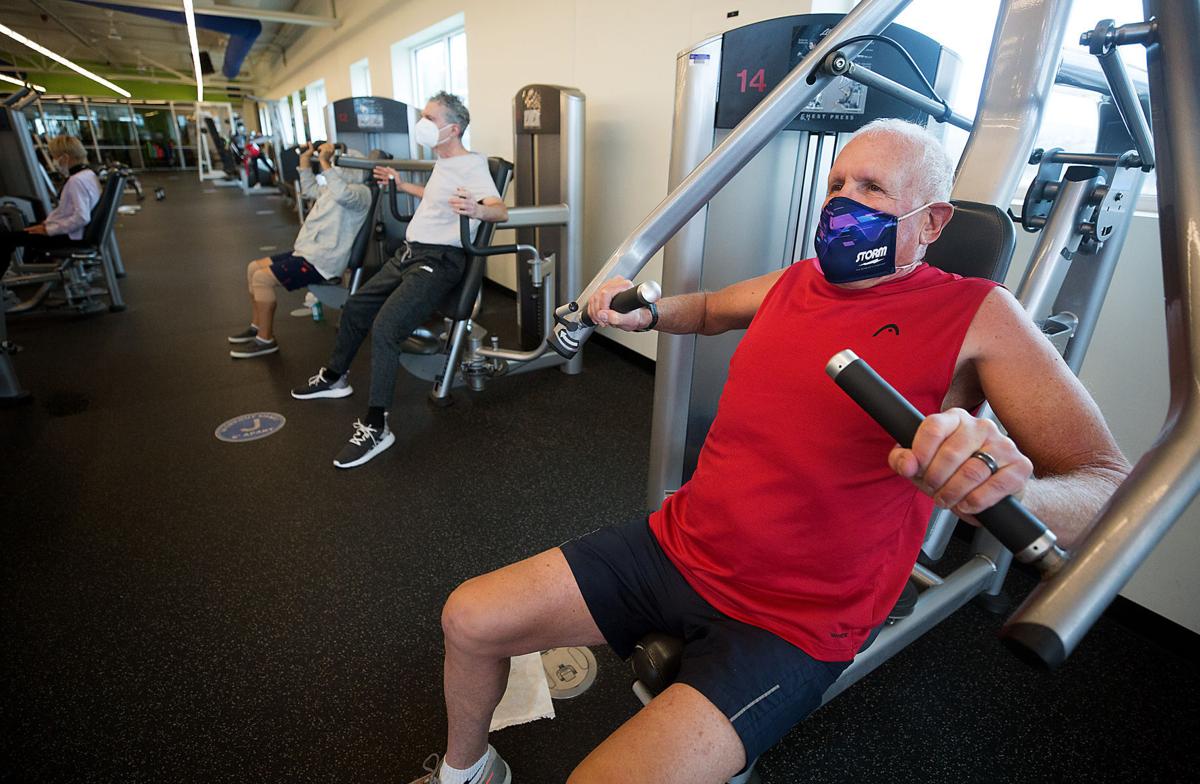 Step inside the Tucson Jewish Community Center on any given day, and you'll be struck by a sense of familiarity mixed with newness. The hallmarks of life during a pandemic are impossible to ignore — and so is the cleaning.
During one 30-minute period on a recent Tuesday, three different employees wiped down the same set of door handles leading into and out of the center's cafe. The display is purposeful, CEO Todd Rockoff said.
"We recognize that the actual and the visual of people cleaning gives people comfort," Rockoff said. "We don't just do it backstage anymore. It always took place, but it wasn't as visible."
The JCC's changes, both visible and behind the scenes, have been the key to its return — and success — amid a global pandemic.
The center shuttered for several months starting in March. During that time, Rockoff and his staff worked hard to beef up their online presence, developing programs and online classes in fitness and beyond. The JCC formed a medical advisory committee made up of professionals in the field, instituted two-way traffic throughout the facility and bought a state-of-the-art digital temperature scanner that reminds members to put on a mask or wear their mask correctly.
As a result, the JCC, at 3800 E. River Road, has maintained over 50% of its membership.
"When we closed in March, effectively we lost 92% of our income right away, because we earn through programming and membership on 92% of our income," Rockoff said. "We've been able to build some back, but we're still not whole. We're grateful to the support of donors who have helped fill the gap, and foundations and grants within the community."
The countless changes and decisions have all been aimed at giving people the services they want, Rockoff said.
In some cases, this means the cessation of drop-in lap swimming and court usage in favor of a reservation system, which Rockoff said will likely stick around in some form.
'It brought out the best of people'
More than 20,000 people passed through the JCC's doors every week before the pandemic, using the centers fitness and childcare centers. Now, it's more like 5,000 per week. Rockoff said the silence during the months the center was closed was "really eerie."
Rockofff furloughed 90% of the center's staff during the closure. The JCC still isn't back to full strength. In February 2020, the center had roughly 275 employees; now, there are 175 on staff.
"It has been a rough road, to say the least, but also very inspiring along the way," said membership director Monica Rosenbaum. "It brought out the best of people at so many times."
Rosenbaum said the pandemic and temporary closure gave staff the opportunity to have meaningful conversations and get know members on a whole new level.
JCC officials "made outreach calls and sent emails. We were overly communicative," Rosenbaum said. "Now with the reservation system and reduced number of people, there's less hustle and bustle and more time to stop and check in and have those conversations."
The JCC reopened in June, with significant changes. The center's program for young adults with disabilities was moved off site, a 35-person limit was implemented in the indoor fitness center and a reservation system went into effect for all parts of the facility.
JCC members can book a spot in the fitness center for either 60 or 90 minutes, depending on the day. Each member takes their own 2-ounce bottle of sanitizing spray from a basket marked "clean" with them. When the workout is done, he or she sprays down their equipment, wipes it down and deposits the used bottle into a basket marked "dirty." JCC employees regularly clean and sanitize the equipment center as well.
Gym equipment is restricted, with every other piece marked "closed" to ensure social distancing. Staff rotates the unavailable machines each day to ensure they aren't wearing out equipment.
Members must wear masks at all time indoors, even while working out or using the basketball, racquetball and squash courts; masks are not required while using the outdoor pickleball or tennis courts.
Personal training sessions were moved outdoors, along with group classes, including indoor cycling. Tuesday morning, a small group spread out under the pavilion beside the pool for a Tai Chi class. Most of the pool's lanes were occupied with lap swimmers; the pickleball courts were full.
In-person fitness classes have returned, but the JCC's free online classes continue to be popular. Rosenbaum said some of the online classes are drawing more participants than ever before, many of them non-member guests.
"I'm proud of our staff, our board and our community. Our staff was asked to do a lot, and each time they've stood up and said, 'Here I am, what can I do?'" Rockoff said. "Their passion for our community and for the work that they do, and not just doing it but making sure it's done well and done right."
'The key to the future'
Some of the JCC's changes extend beyond the gym and outdoors courts.
This JCC's 30th annual film festival moved online, and was more popular than ever. The results have led Rockoff to rethink the way JCC provides services to its members.
"This idea of moving from in-person or online to in-person and online is really going to be the key in the future," Rockoff said.
"Some things people are really going to want that flexibility. I think this idea of helping people get the services they want in the way that they want that is both safe and convenient is really, really important."
But with the center's increased online presence comes challenges for some members. Rockoff said he and his staff have "kind of become tech support" for them.
The center isn't just helping to keep people healthy through exercise. It's also partnered with the Pima Council on Aging to prepare and deliver 1,000 meals per week to seniors who are housed in apartment buildings through Catholic Community Services.
While certain activities or areas were paused for two weeks due to potential COVID-19 exposure, the center has not had to completely shut down since it reopened last summer.
"That's the key, if policies allow you to stay open," Rockoff said. "And to some degree, had that become looser, we might have had to shut everything down for two weeks."
'We are making an impact on individuals' lives'
The JCC's locker room remain closed, and will not reopen until Rockoff and his staff have figured out a way to do it safely.
"We can't figure out way to maintain safety and well-being in the locker rooms to level that we have set the expectation for,' Rosenbaum said, adding that the center is meeting and exceeding all of the guidelines set by local, state and federal health authorities despite receiving some backlash.
"Many people say, 'They're just guidelines and recommendations, that doesn't mean you have to do them,'" Rosenbaum said. "We understand that, but we want to."
Some members quit, angry because the center reopened during the pandemic. Others have quit because the JCC has yet to reopen fully.
"We feel horrible losing people, but knowing we're sticking to values, mission and safety is important," Rosenbaum said. "Those choosing to come back have been regular and steady. They're making it their new habit and this is going to become part of their new routine."
Rosenbaum is proud of the way the center has approached the pandemic. She says that even with everyone wearing masks, you can see the smiles on members' faces now that they're back.
In December, the JCC put on a "Reclaim Wellness" program, with members signing up in advance for various events.
The first event was a glow spin class, and its 24 slots filled up fast. The center brought in a live DJ, set up the cycles along the pool deck and made sure there were glow sticks everywhere. The JCC is now considering hosting a glow event once per quarter, expanding it to include activities like Zumba or Pound.
"We are making an impact on individuals' lives, and it is so important," Rosenbaum said.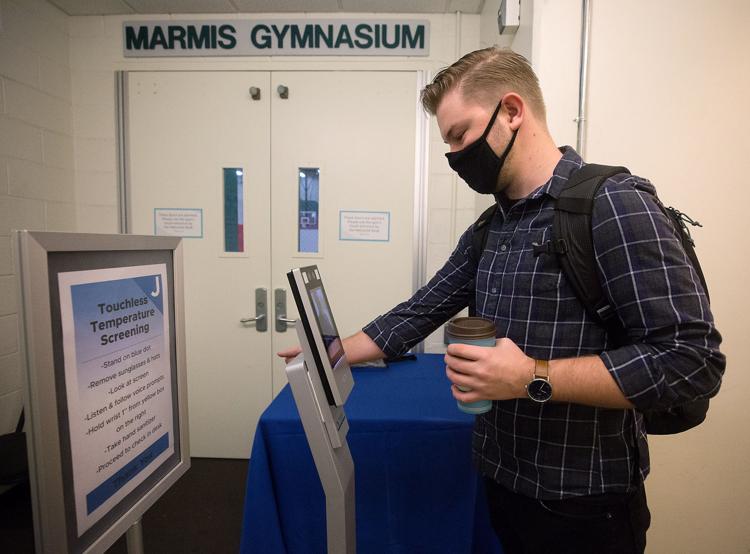 'They have been a rock for us'
"The J has been our only touch point of normalcy during the pandemic," said Gwen Mikinski, who comes to the JCC with her husband, Rod.
"Because most social options were not available, it was important for us to be able to continue to maintain our physical and mental health through going to the gym as a couple."
Gwen Mikinski is no novice when it comes to health and fitness. She is a two-time NCAA champion, former world record holder in the pentathlon high jump and former American record holder in the heptathlon high jump who coached in the 2012 Olympics.
Mikinski now owns her own fitness consulting business. She knows the value of exercise.
"The mental, physical and social benefits are tremendous. We need more institutions that have the integrity and advanced planning that the JCC staff and administration have," she said. "We are so thankful for the J, as they have been a rock for us during these uncertain times."
The Mikinskis said they felt safe working out at the JCC because of the center's rigorous sanitizing measures and the care put forth by the staff. The latter is an unintended benefit of the pandemic.
"It brought us back to where we're in a relationship business, not a transactional business," Rosenbaum said. "We're here for our members, not just as a fitness center."
Rockoff said he expects 2021 to be another challenging year, but believes the JCC's model will help them get through to the other side.
"Tucson is a very special place," Rockoff said. "We're ready to move forward and to make sure that whatever we're doing, is done with the idea of keeping the community healthy and whole."
Contact reporter Caitlin Schmidt at cschmidt@tucson.com or 573-4191. On Twitter: @caitlincschmidt