Cunningham raising money for All Heart
Craig Cunningham's big-hearted brother wraps up Canada-to-Tucson bicycle trek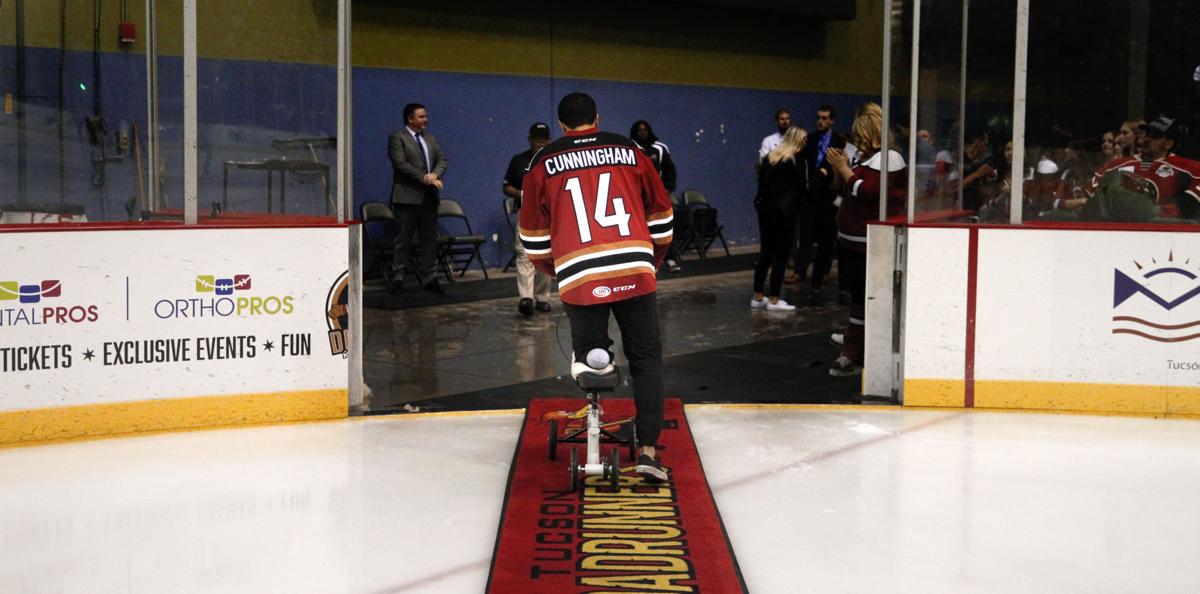 No confetti dropped from the ceiling and no balloons fell, and it's not as if Ryan Cunningham was handed the Stanley Cup to skate around the ice.
It was a modest celebration on Saturday afternoon at Banner-University Medical Center Tucson, just the five of them, those who knew most intimately what Craig Cunningham went through in this very hospital just 21 months earlier.
This time around it was a joyous occasion, the culmination of a two-week, 1,646-mile bicycle journey that took Ryan Cunningham from Castlegar, in the West Kootenays region of British Columbia, Canada, and down through Montana and Idaho and Utah and all the way to Tucson.
That's hours of twisted roads and twisted wheels, five-mile gulps and "tire carcasses."
Nearly eight months of preparation, and more than $26,000 raised toward his $50,000 goal.
All in the name of the All Heart Foundation, which only formed because, one day, Craig Cunningham's failed him.
'Look what you
did for me'
It's what it took Craig Cunningham to make it through a sudden cardiac arrest on the ice just prior to a Tucson Roadrunners game, through hours of terrifying recovery efforts at the hands of Dr. Zain Khalpey, through the loss of part of his left leg, through the hours of painful rehabilitation.
It's what it took his older brother, Ryan, to make it through roughly 125 miles a day.
It's not as if Ryan Cunningham is a professional cyclist, with a Tour de France on his résumé and spoke sponsorships.
He's a millerite foreman from a small town in an obscure region of Canada whose brother was a professional hockey player who almost died on the ice, making international news. He had barely ridden a bicycle in more than five years.
This was, as they say, out of his realm of comfort.
"When you tell someone you're going to do something that is insanely far out of your reach in seven months' time, it's not even being cynical to say like, 'OK, yeah, maybe you'll do that. Sure,'" Cunningham said. "I didn't even go public with it until I'd gone two days in a row of 200 kilometers, and then Craig was like, 'Wow, you're really going to do this?'"
Ryan Cunningham had a goal — $50,000 to help the All Heart Foundation fund some of its new projects, like a phone app designed to help monitor heart strain — and, most of all, he wanted to convey to his brother just what an inspiration he'd been to Ryan and others. Craig Cunningham just finished his first season as a scout for the NHL's Coyotes, the Roadrunners' parent club.
"With Craig moving forward in a new path of life he has to go down, I wanted to show him that the way he is handling it, the way he's coping with it, is helpful to other people," Ryan said. "His guts, his spirit, helps other people with their lives. I wanted to do something that was way out of reach for myself, that I'd have to strive very hard to get to, so that I could show him, 'Look what you did for me. This is what you do for people.'"
'Five-mile gulps'
This all started on a lark, or at least a miscommunication.
Ryan Cunningham had told his friend Erik Laithwaite, a bike shop owner in their hometown, that he wanted to do something to raise money for Craig's foundation, and that he was thinking of doing a bicycle marathon. He said he was thinking about somewhere like the midpoint between Castlegar and Tucson.
Erik heard Tucson and said, "Sure, you can ride there with some training."
With the help of his fiancé, Ellen, and the well-wishes of his co-workers and friends, he began biking a few miles a day, and then more, and more, and more.
In 2010, he'd purchased a road bike and went on a 50-mile ride. By the time he made it home, he was barely pedaling, "just swaying side-to-side," he remembers.
But Ryan made it home in one piece. He could handle it.
"I didn't even consider another way to do something," he said. "I guess the reason for that is based on what Craig went through, what I saw of Dr. Khalpey, watching what he went through, it was automatic. The only way to do justice to what he went through was a massive physical challenge."
Ryan Cunningham knew he wanted to involve Tucson, where the Roadrunners and their fans have become family.
"For our whole family, Tucson has become our home away from home," he said. "While we were worried and scared and upset about what was going on with Craig, we were living here for weeks at a time, and the people of the city were so good to us and supportive of us. The nurses and the physical therapists, the doctors — everyone in the hospital was good to us. We built relationships with them. The community became important to us."
After months of planning, Ryan was ready to ride. Ellen had handled most of the logistics, charting the route, making hotel and AirBNB reservations and planning for stops. Ryan took off on Aug. 3, with Ellen driving the support car. Ellen had to alter her plans after her uncle passed away, and so Cunningham's stepfather took over driving duties.
The hardest part of the ride, Ryan said, was dealing with 18 flat tires in one day midway through Idaho.
But it was all part of the journey.
"The way Craig approached his issues head-on was something I really admired, and it was very related to this trip," Ryan said. "Approaching a massive journey like his recovery, approaching it like one step at a time, not getting overwhelmed at how far away the ending point was, staying focused on doing as well as you could with that given task at that given moment, that motivated me.
"I went 2,600 kilometers five miles at a time. Every five miles I would drink water. Five-mile gulps."
Bond of brothers
There is a certain bond between brothers, even deeper than brotherly love. Particularly when you come from a family touched by tragedy, as the Cunninghams were when their father, Alvin, died in 1996. Craig was 6 years old. Ryan was 7.
Their bond only strengthened with time, even when Craig moved away from home at the age of 16 to pursue his hockey dreams.
When Craig suffered his cardiac arrest and subsequent leg amputation, he wasn't the only one affected. It trickled through the family like a bad rumor, leaving a battle scar on each of every one of them.
"He's a tough guy to read, a very unemotional guy," Craig said of his brother. "He doesn't give you a lot off the top. But when I was hurt, I could see the hurt in his eyes. I could tell he was hurting for me. He just encouraged me to push through, to keep it together. We spent long hours in the hospital, talking about different things. What's the next step? I came to terms with it pretty quick, what are you going to do now? He helped me through the thinking of poor me to what is the next step in your recovery?"
When Craig's hockey dreams died, a little part died in all of his friends and family, everyone back home in Castlegar and Trail, B.C., where every hockey hero is treasured like a precious gem.
"The biggest thing for probably all of us, all of his friends and family, was that every single one of us knew how much time and commitment he put into his career," Ryan said.
"That's what was hard to see get lost, something he put so much of himself into."
That explains a little part of this journey, which has reached its final conclusion.
On Saturday, Ryan made it to Banner UMC a little worse for wear, a little tired, and humbled and happy to see his family, including his mother, Heather — who was at the game the night Craig suffered his cardiac arrest — and Ellen, who made it to Tucson to surprise Ryan.
There was a quiet celebration, and a simple hug between brothers who knew exactly how much had changed, and how much they still want to change it.
"Maybe eight days in, when my knees and my ass weren't completely destroyed, I realized I was going to make it," Ryan said. "I had already determined I'd make it. It wasn't like arriving in Tucson was the finality of my success. I got in, I was tired, and the best part was when I realized I didn't have to be on a bike anymore."