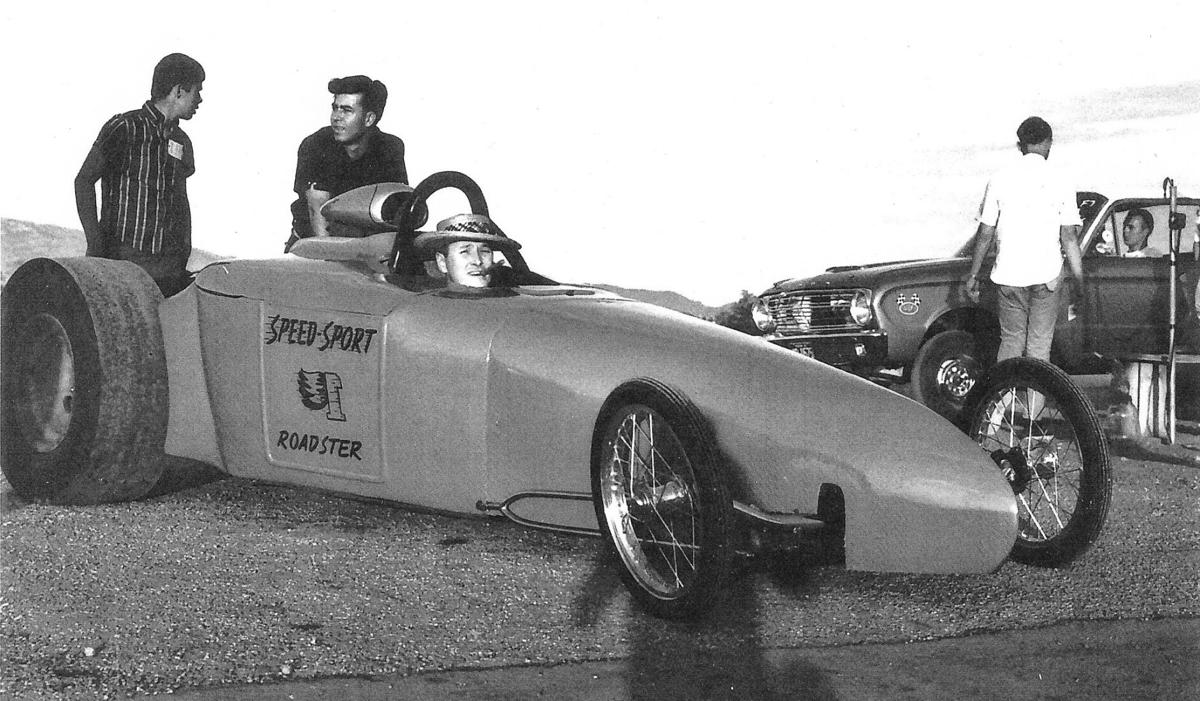 Dan Owens first met Gary Lee "Red" Greth in 1965, when Owens and his family moved next door.
Owens was 6. And Greth? At the time, Greth was deeply involved with the Tucson Dragway as a racer. He spent his days at his auto shop, which became as a hangout for Owens and a rotating cast of local kids who wanted to learn more about cars.
"Every waking moment I had that I was not in school or doing homework, I was at that shop," Owens said. "Red taught me how to weld, taught me how to use machine equipment. The rest is history. He got me started on cars."
Owens is one of countless drag racing enthusiasts who was mentored by Greth, who died last month at the age of 86 from bladder cancer. Greth took each kid under his wing and treated them like his own, as he taught them the craft that he spent his life perfecting.
"Our racing industry lost a legend, our community lost an innovator and we lost an incredible friend," said Tucson Dragway track manager Matt DeYoung, who first met Greth in 2015 and has worked closely with him ever since.
Breaking boundaries — and records
Greth was born July 3, 1934 in Dayton, Ohio, and made his way to Tucson when he was 14. He worked after school at Miller Rasor Radio and Speedometer, and was introduced to the auto racing world by coworkers who were circle-track racers. Before long, he had a job as a crew member.
When he turned 16, Greth started traveling to Phoenix for organized drag races since there was no track in Tucson. He found other ways to get his local racing fix, though, participating in street races on the Mount Lemmon "cut off," a straight stretch northeast of Tucson. The start and finish lines consisted of two cattle guards, according to the Pima County Sports Hall of Fame.
While still in high school, Greth began building and driving dragsters. He joined the storied "Lords of Tucson" car club, and went on to race in a variety of cars, including dragsters, roadsters and funny cars.
In adulthood, Greth, along with Lyle Fisher and Don Maynard, formed the famed Speed Sport racing team. They designed and built a roadster that in 1957 reached the fastest speed — 169.11 mph — of any drag machine at the time.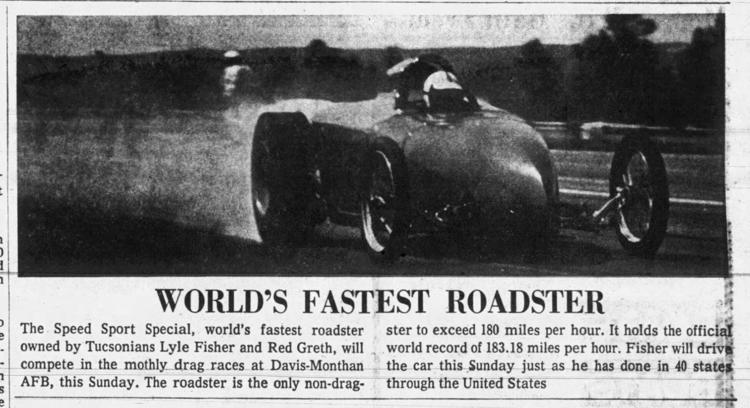 The Speed Sport roadster ran on 100% nitro with a 331-cubic-inch Chrysler hemi engine with six carburetors. The steering wheel came from a Boeing B-29 trainer. The car is legendary in the sport, and Greth and Fisher went on to design several iterations of it.
Greth and the Speed Sport raced all over the country, but had plenty of notable achievements on Tucson's drag strips.
In 1958, Greth hit 154.25 mph while racing the Fisher-Greth Tucson Service Station Supply roadster at the Davis-Monthan Air Force Base drag strip, which opened a few years prior. In the special match race, Greth took on Bob Huebner in a jalopy coupe that crossed the starting line at 90 mph while Greth began from a standing stop. Huebner beat Greth's roadster by only a car length, according to racing encyclopedia Drag Strip List.
On November 19, 1961, Greth set a track record in his Speed Sport III roadster, hitting 174.03 mph. The next year, the Speed Sport IV turbine-powered dragster set a new Davis-Monthan track elapsed time record of 8.75 seconds at 161.98 mph.
In 1964, the original Tucson Dragway opened on the northeast corner of Valencia Road and Houghton Road, with Fisher and several others taking up ownership. Greth became a partner of sorts, and helped to run the track. More than 6,000 people turned out for the inaugural race, which saw Jimmy Nix set a world record in his Dodge Charger. A week later, Fisher and Greth hit speeds of 193.66 mph in a fuel eliminator.
Greth continued to race and build cars for decades, and in 1994, the Speed Sport team members — and their car — were inducted into the International Drag Racing Hall of Fame. In 2007, Greth received the NHRA Lifetime Achievement Award.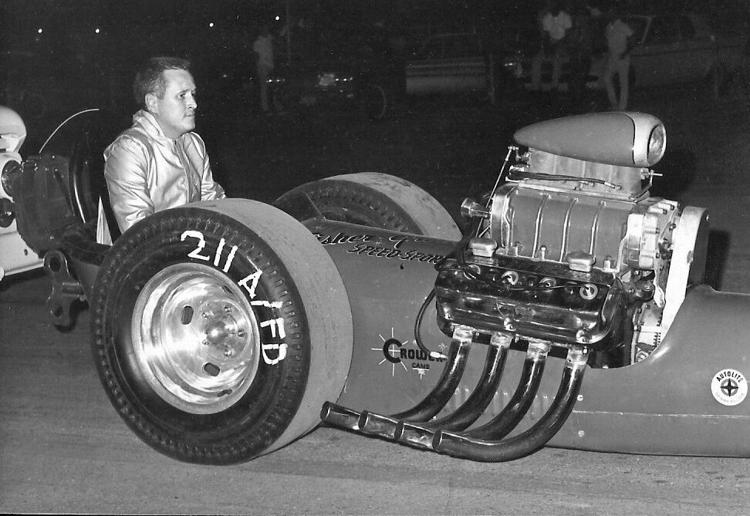 'It was like a goulash pot of motorsports'
In addition to his work with cars and at the dragway, Greth worked 47 years for Tucson Newspapers Inc., selling display ads to local companies.
"He worked for them, not so much the paper," Greth's son, Kenton, said of his relationships with his customers.
Much of Kenton Greth's childhood was spent at the drag strip and in the shop. He had to wait until he was older to work with his dad, as he was so busy mentoring others.
One of those racers was Phil Minor, who died in 1965 at the age of 17 when he lost control of his dragster while driving 160 mph.
"That wounded dad for a long time," Kenton Greth said.
While his father recovered, Kenton Greth crewed for others, traveling the racing circuit and learning the trade.
"All my heroes growing up wore silver suits," Kenton Greth said. "The Gemini astronauts in their space suits or my dad in a fire suit."
A natural-born innovator, Red Greth frequently incorporated airplane parts and military equipment, in part because that's what he could find at the surplus stores around Tucson and in California. Kenton Greth remembers his father wearing World War II fighter pilot goggles.
Red Greth used steering wheels from old B-29s and aircraft seatbelts, and he was just as much of a recycler around the house, building a giant spin art machine out of plane parts and using old Kodak paper boxes as canvases.
"He would take hand-me-downs and make things out of the leftovers," Kenton Greth said. "It was like a goulash pot of motorsports."
Greth was "creative all the time," his son added. "And he was always listening."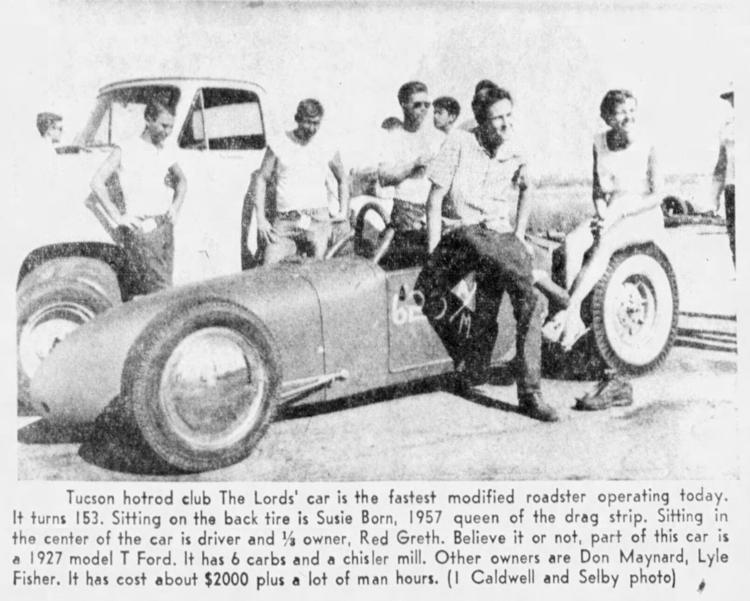 Kenton Greth said he spent a considerable amount of his childhood sharing a bed with his brother, as his room often loaned out to a racer passing through Tucson.
"I would walk in the living room, stepping over sleeping bodies," Kenton Greth said. "There were always people coming west to race in California. Our living room was a giant flop house."
'He always made you feel welcome'
Greth made some pretty famous friends over the years.
In November 1966, he and Fisher enlisted the help of Evil Knievel to make their November car show one to remember.
Knievel was in Tucson making appearances at Bill Breck Dodge while awaiting permission to jump the Grand Canyon. Greth asked Knievel if he was up for a not-as-grand challenge, and naturally, Knievel was game.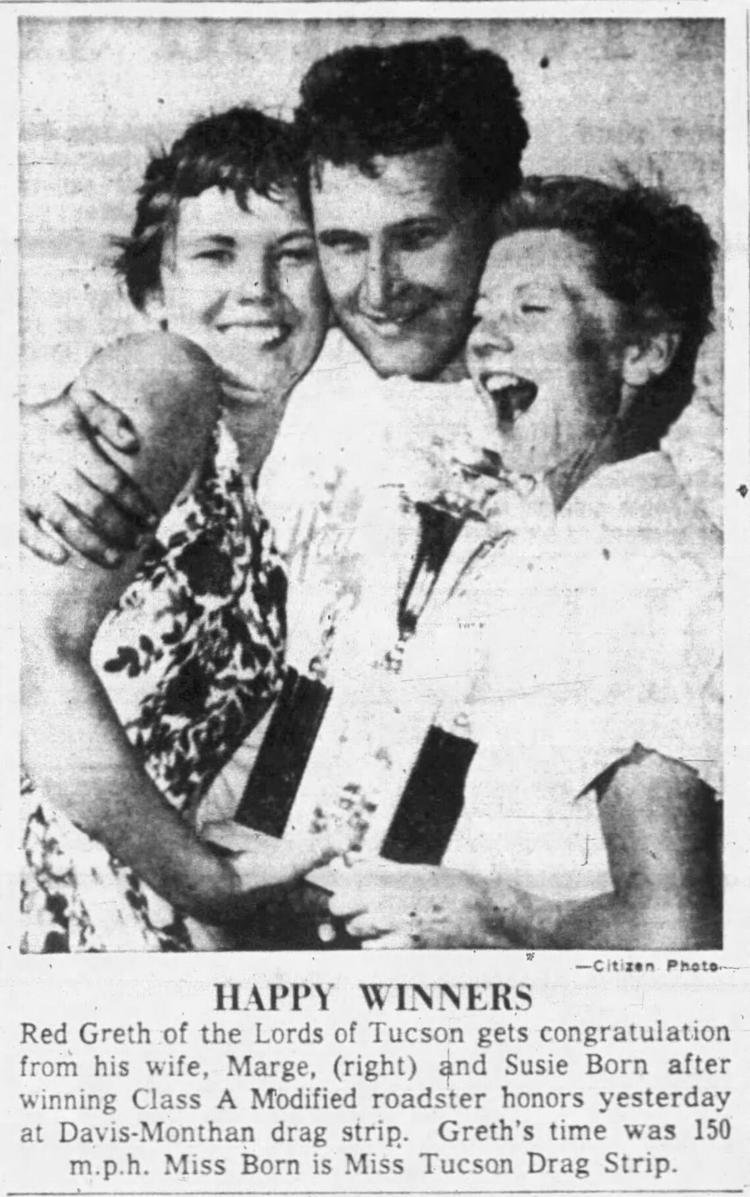 Bill Breck Dodge loaned the dragway 10 cars, and Owens and others watched on in awe as Knievel made jumped them on his motorcycle. In 1972, Knievel made a return trip, jumping 12 cars and three vans during his second stop in the Old Pueblo.
"Red's house was always open," Owens said. Racers would park their cars in front and let the neighborhood kids sit in them and pretend to drive.
"I took many trips down the drag strips in those race cars," Owens said. "He was a great friend, a great mentor, and I'm just blessed that I had him in my life."
Aside from his love of cars, Owens will most remember Greth's kind nature.
"He never said anything negative about anyone, and he always had a smile on his face, no matter what was going on," Owens said.
Mike Savage met Greth when he was 12 during a trip to the races with his brother. A few hours later, Savage was riding in the back of Greth's truck.
"He had just met me," Savage said. "I thought it was so cool. That's what I wanted to be involved in."
Savage called Greth a short time later, and before long started meeting him at the shop.
"Anytime he was working on the car, I wanted to go," Savage said.
Savage would help out around the shop, building parts and cleaning up, and would accompany Greth to the races at the dragway.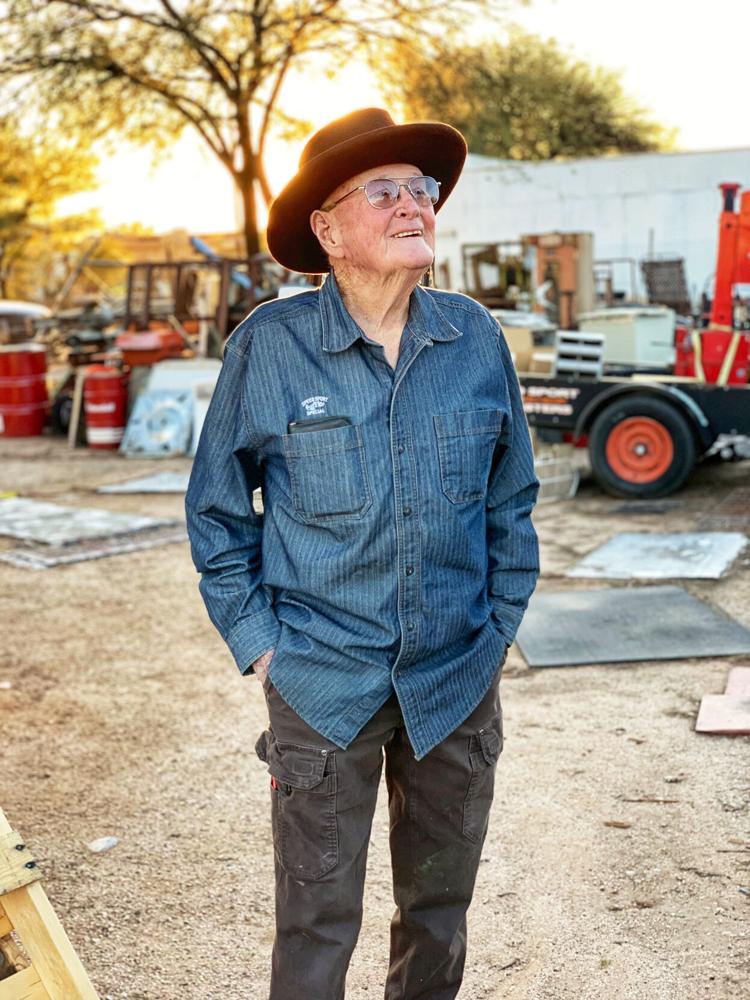 "It was really special stuff," Savage said.
It was there that Savage met Greth's niece, Suzy. She was 10 and Savage was 12.
The two dated all through high school, until Savage went away to college and the two broke up. He ended up marrying another woman, but that didn't stick.
Luckily for him, neither did Suzy's first marriage.
"Red's wife Margie called me and said I should call Suzy if I wanted to have anything to do with her," Savage said.
He took Margie's advice to heart. The two were married, and are still going strong 40 years later.
"He always made you feel welcome, no matter how old you are, and whether you were a boy or girl," Suzy Savage said of her uncle. "Everything was possible. He always let us know that no matter what it is, no matter what little downfalls we had, we could make it happen. He was always the most positive man I have ever known."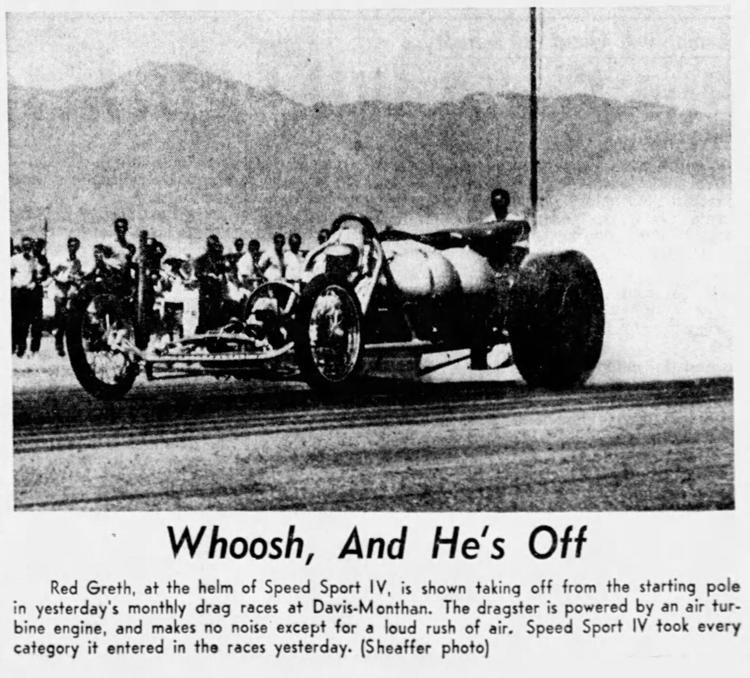 'When the battery finally wore out, it was done'
Greth carried the positive attitude and passion for racing with him into retirement. Owens said Greth was instrumental in getting the current Tucson Dragway opened in 1997, after the original site closed in 1984.
DeYoung, the track manager, first met Greth in 2015 after moving to town. He was struck by Greth's generosity.
"Red said use (the Speed Sport) whenever we needed it, we didn't even have to ask," DeYoung said.
The bright red car travels with DeYoung to events to promote the track.
Greth was especially helpful during the pandemic, signing photos and car parts in bulk for the track to use for contests and taking the Speed Sport to the Pima Air and Space Museum for a cross-promotional video.
"I've been very blessed to get to know him these last few years. Any time you called him, it was always, 'What can I do?'" DeYoung said. "He built his life around that car and what it can build in the community and motorsports and technology."
Shortly before Greth's death, the dragway teamed up with MotoSonora Brewery to create the Speed Sport Blonde, which will be released later this year. The beer can's label, designed by car enthusiast and artist Kenny Youngblood, features the Speed Sport roadster. It's a tribute to Greth, who was thrilled when he saw a print-out.
Knowing his friend was sick, DeYoung commissioned a run of 25 cans so Greth could see them as soon as possible.
"I just wanted him to hold it at least," DeYoung said, adding that he ended up falling short by a day. "It's really true that the racing community has lost a legend."
Kenton Greth said he never saw his father as larger than life, but there's a reason for that.
"When you stand so close to a tree, you don't see the shadow it casts," he said.
After decades of greatness, Red Greth ran out of time on April 13. Kenton Greth thinks his father's body simply had enough, comparing it to a car reaching the end of its lifespan.
"When the battery finally wore out," he said, "it was done."
Contact reporter Caitlin Schmidt at cschmidt@tucson.com or 573-4191. On Twitter: @caitlincschmidt.