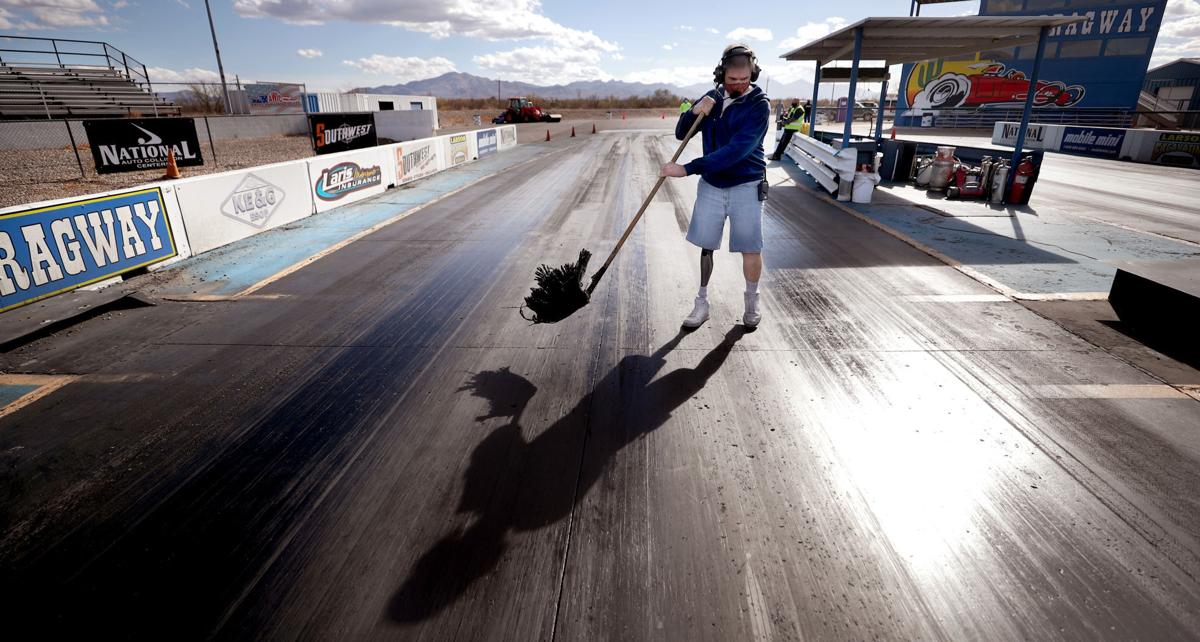 After two months of closure and uncertainty, officials with the Tucson Dragway have been given the green light by the county to resume racing with limited attendance.
The announcement of the return of Wednesday and Friday night drag racing and club days came roughly 24 hours after officials were forced to postpone the Pacific National Open Series and Lucas Oil Drag Racing Series slated for the end of the month due to attendance limitations. Pima County approved the event, but capped the total number of people allowed on site at 500.
"You can't do that, put on a Lucas Oil Race with only 500 people," track manager Matt DeYoung said. "It's meant to be a bigger race."
DeYoung said he told the county he would tape off the bleachers and close the race to spectators, and that his request for 1,000 people on site accounted only for racers, crew and a few dragway staffers. The event has been postponed to October, but DeYoung said the return of smaller events is a step in the right direction.
"I'm not asking for a massive event," DeYoung said. "I'm asking for day-to-day business."
The dragway was shuttered last March as part of the county's push to mitigate the spread of the coronavirus. During the closure, DeYoung and others found creative ways to stay in the public eye, including filming Hot Wheels races and holding scavenger hunts. The dragway reopened in May with new safety guidelines and a smaller operating capacity.
To make up for some of the track's lost revenue, the dragway hosted a series of drive-in movies and concerts this summer on nights when there was no racing. In July, an order by Gov. Doug Ducey forced track officials to cut back on the number of spectators at events. In December, the county passed its own limitations on gathering size to combat growing COVID-19 case numbers and the dragway had to cease operations entirely.
Last month, following weeks of conversations with Pima County Health Department officials, the dragway began hosting limited best package races with 20 cars at a time. Attendance for the events was limited to 50 people per session — one driver and one crew member per car, and fewer than 10 track employees.
Friday Night Drags will return Feb. 12, but like most things these days, the event will be limited: The number of racers and crew members allowed on-site will be capped, and no spectators will be allowed.
DeYoung intends to ask the county for the same attendance cap the dragway was granted for the divisional series, with 500 people allowed on the 110-acre outdoor property.
"That's 5% of my capacity," DeYoung said, pointing out that local restaurants are currently allowed to operate at 50% capacity. By the health department's own guideline of one person per 150 square feet, attendance at the dragway should be closer to 10,000 based on its size alone, DeYoung said.
"I don't want anyone to suffer and deal with what we've dealt with," DeYoung said.
"I've got 50 part-time employees that only work on race days for me that I haven't been able to pay in seven months now."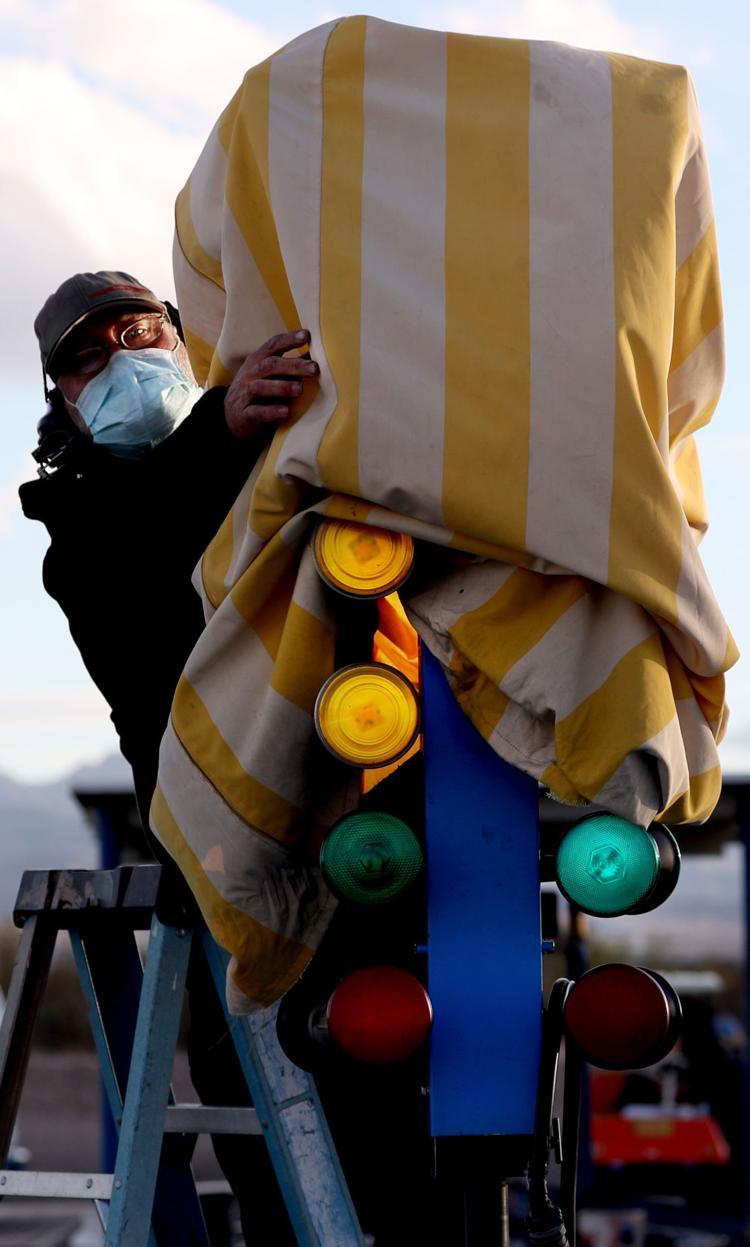 DeYoung has given them the track's stock of hamburgers, hot dogs, french fries and buns that would ordinarily be sold at the dragway's concession stands.
DeYoung said that while it's been slow going in Pima County, racing is starting to make a return in other parts of the country.
At Auto Club Famoso Raceway, in Bakersfield, California, the track is allowing three crew members for each racer. At Sacramento Raceway, which sits on private property, there are no restrictions. Tucson Dragway leases land from the Pima County Fairground.
"The issue I've had with it is yes, we're a Pima County property, but other county properties have been operating at a percentage of capacity. I'm not trying to get anyone in trouble, but we need it to be consistent," DeYoung said. "Kids are calling me and messaging me on Facebook. They want to race."
Last week, the Pima County Sheriff's Department announced the arrest of dozens of street racers. The next day, Tucson Police Department officials announce enhanced measures designed to curb racing on city streets.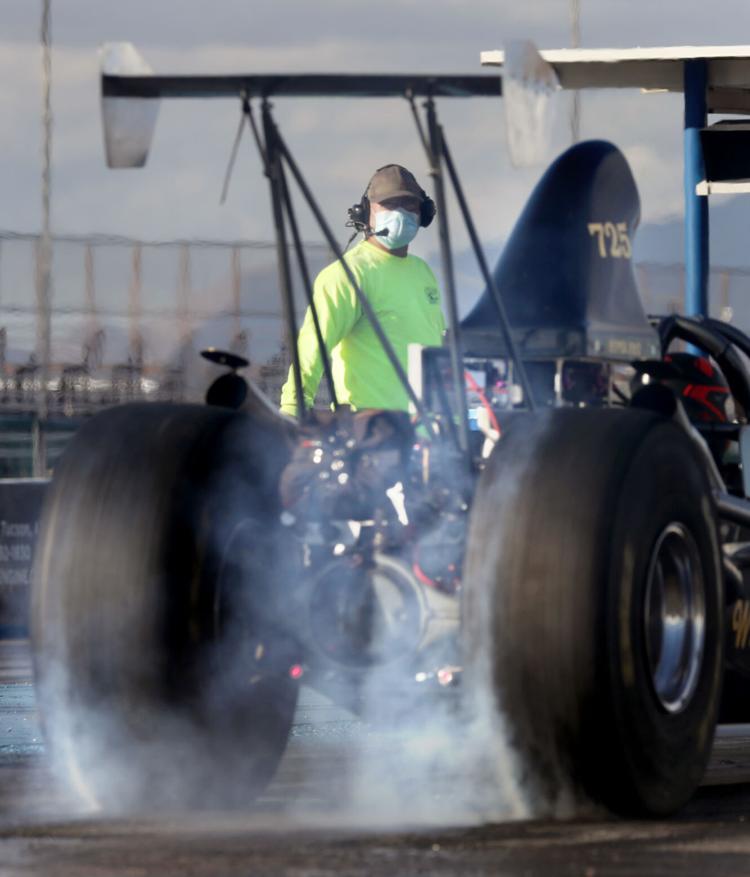 "It's a good reminder that this is the reason why the track was created in the first place," DeYoung said.
The Wednesday Night Drag events cater to street racers and are wildly popular. Young racers take their cars to the limit on the dragway's quarter-mile strip. Pima County deputies also frequent the track, according to DeYoung, who is working toward a partnership with law enforcement to remind local racers to keep it legal and on the track.
The officers are "just as much 'gearheads' as the kids that race," he said. "We want to put a face to the badges and help these kids realize they're not just red and blue lights."
DeYoung is grateful that racing is back, though he admits the experience won't be the same as before.
"It's a step in the right direction," DeYoung said. "Once the community gets involved with law enforcement and the health department, we'll really be able to make progress."
Contact reporter Caitlin Schmidt at cschmidt@tucson.com or 573-4191. On Twitter: @caitlincschmidt