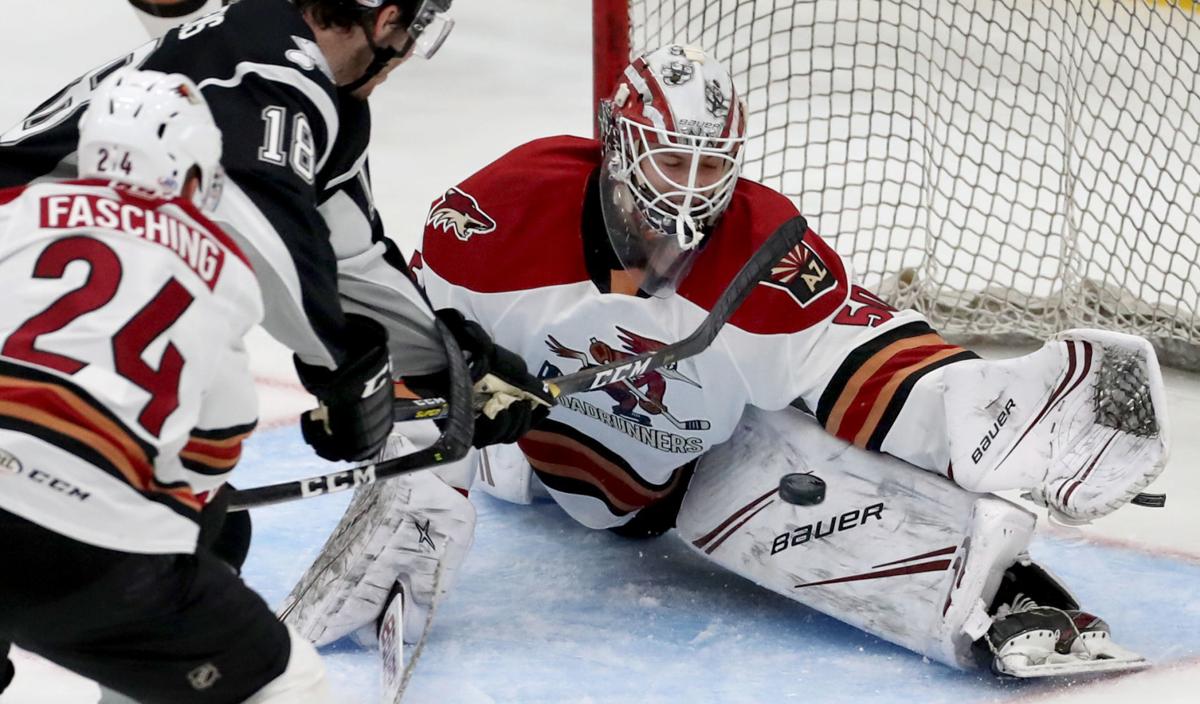 It might have crossed Ivan Prosvetov mind, but he swears he'd already decided against it on his own.
Even still, just as the Tucson Roadrunners' rookie goaltender was about to head back out onto the ice for the postgame celebration after being announced to the Tucson Arena crowd as the game's "first star" in his own first-ever professional start earlier this month, team officials took it on their shoulders to remind the 20-year-old, 6-foot-5-inch Russian netminder: "No cartwheels!" Prosvetov was apparently told.
Cartwheels? On ice? At 6-5? Wearing skates? In full goalie pads?
Oh, it's happened — a few times, to be sure — and there's plenty of video on YouTube to prove it.
While playing major junior hockey last year for the Ontario Hockey League's Saginaw Valley Spirit, virtually any time Prosvetov was named the "first star" of a Spirit home game, he'd skate out on the ice — still decked in his 30-some-odd pounds of goalie gear — and give the crowd a little bit of an encore.
Whether it's a sign of developing maturity for the fourth-round 2018 NHL draft pick, or a sign the Arizona Coyotes, the Roadrunners' parent club, are hoping its investment stays grounded — literally — it might be a long time coming, if ever, before Tucson Arena patrons see that kind of postgame performance.
Prosvetov will just have to stick to standing on his head during the game, instead — perhaps as soon as Tuesday night, when the Roadrunners drop the puck on the fifth of a six-game homestand at 7:05 p.m. at Tucson Arena.
The Roadrunners (6-1-0-0) aim for their sixth consecutive win against the Chicago Wolves.
"Well, let's just say, for a first-year, first-game pro, that was a wise decision to hold off," Zac Bierck said, with a laugh, of Prosvetov's call to graciously wave to the crowd and go straight to the postgame interview after he stopped 29 of 31 San Antonio Rampage shots Oct. 19 to in his first American Hockey League start.
Bierck, the Coyotes' goaltending development coach, said Prosvetov has shown a lot over the past couple of months in terms of his fit with the Coyote's organization. That includes that metaphorical standing on one's head — basically what Prosvetov did in his second career start, too, Saturday night.
Against the AHL Central Division-leading Iowa Wild, Prosvetov posted a 42-save performance in a 2-1 Tucson overtime victory. So far, Prosvetov is posting a 1.45 goals against average and .959 save percentage.
"He came to (training) camp this year with a good outlook, and he looked good in the rookie tournament," Bierck said. "I think getting into a preseason game with the Coyotes was a boost to his confidence, and he's doing the right things to hopefully be successful here in his first year as a pro."
While Prosvetov's on-ice cartwheels may be a thing of the past, Bierck notes that it's exactly the agility and athleticism that allows Prosvetov to even consider it that makes him succeed as a goaltender.
"He's very quick for a big guy. Sometimes you get people 6-foot-5, 6-foot-6, and quickness isn't an asset. But that's probably what made the Coyotes interested in him in the first place," Bierck said. "He's agile. He's shown he can be calm when the puck's in front of him. But if there's a couple times a game where he has to be explosive, he's capable of doing that for a big guy. That balance, I think, is a real asset for him."
Prosvetov, who participated in gymnastics as a youngster back in Russia before ever picking up a hockey stick, agrees.
"When you're a goalie you have to be flexible. If you're not flexible, you'll get a lot of injuries, and you won't make saves you know you should have," he said. "A pass across, doing the splits to make a save — a huge part of my game is being athletic like that."
With a deep slate of goaltenders up and down the Coyotes' NHL, AHL and ECHL rosters, it was Prosvetov who earned a spot with the Roadrunners this month after the season's first few days. That call was to presumable spell longtime starting goaltender Adin Hill. But with the organization granting Hill a leave of absence to tend to personal matters, Prosvetov's performance so far has probably earned him the No. 1 spot until Hill's return.
"Ivan's pretty sound technically," Tucson coach Jay Varady said. "He takes away the percentages. I think he also has an element to his game where if he gets in trouble he can react to situations as well. He's an intense individual. "He's got a high passion for the game and for winning."