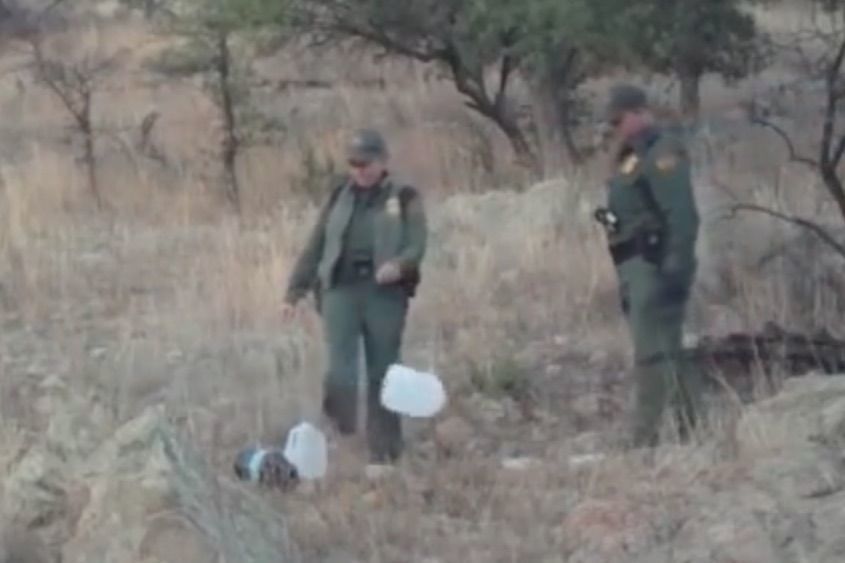 Scott Warren, 35, is accused of giving food and water over the course of three days to two people who crossed the border illegally and arrived at a building from where the group renders aid to people in distress.
Last Wednesday, Border Patrol agents were conducting surveillance on a building near Ajo known as "the barn," when they saw Warren get out of his car and enter the building, according to court documents. Agents then saw him and two people who matched the description of two lost migrants talking outside the building before going back in.
Border Patrol agents did what they call a "knock and talk," and identified the two people as Kristian Perez-Villanueva and Jose Arnaldo Sacaria-Goday, who had crossed into Arizona illegally, according to the criminal complaint filed in federal court.
The pair told agents they had researched online the best ways to cross the border illegally and got an address for "the barn," which was identified online as a place where they could get food and water. The men coordinated a ride with a person in a white van, who took them to a Chevron station, where they used Wi-Fi to figure out where to go, the agents said in the complaint.
Warren met the men outside "the barn" and gave them food, water, beds and clean clothes, the complaint says.
"This case is outrageous and violates years of understanding between the U.S. Attorney's Office, Border Patrol and No More Deaths," said Bill Walker, Warren's attorney. "There's always been recognition of humanitarian aid to save lives; we've done this same thing for years."
He said the barn is a multi-use building used by a number of humanitarian groups and organizations and, "It's right in town, not some hidden artifact that they try to keep from the surveillance of the Border Patrol."
According to Walker, there's no evidence Warren tried to hide the two men from anyone.
The Border Patrol directed calls to the U.S. Attorney's Office, whose spokesman said he couldn't provide additional information since it's an ongoing case.
The No More Deaths group and Walker said they view the timing of the arrest as suspicious since it happened hours after No More Deaths released a video that went viral. It showed border agents vandalizing humanitarian aid.
The Border Patrol's policy is to leave humanitarian aid untouched, said Agent Chris Sullivan, a spokesman for the agency's Tucson Sector, in a response last week. "We do not condone or support the destruction or tampering with humanitarian provisions."
The arrest happened in one of the most deadly corridors for illegal border crossers, said Lee Sandusky, a spokeswoman and volunteer with No More Deaths.
In 2017, of the 58 humans' remains recovered along the border, about half were found in that region, she said, adding it's "an area with an extremely high need for humanitarian aid."
This was not the first time Warren has gotten in legal trouble in connection with his humanitarian efforts. On June 1, 2017, he was arrested on suspicion of two misdemeanor counts of using a motor vehicle in a wilderness area and for leaving or discarding "personal property" — water jugs, canned food and green milk crates with food and toiletries — at the Cabeza Prieta National Wildlife Refuge. Warren told federal wildlife officers he didn't know he was driving into a protected area.
This is also not a first for No More Deaths. In June, the Border Patrol arrested four men suspected of crossing the border illegally at one of their camps in Arivaca. At that time, a No More Deaths spokesperson said the search was the first time agents had entered the camp with a warrant. The group also said it had an agreement with the Border Patrol dating to 2013 not to interfere with humanitarian-aid efforts.
Contact reporter Perla Trevizo at 573-4102 or email ptrevizo@tucson.com. On Twitter: @Perla_Trevizo