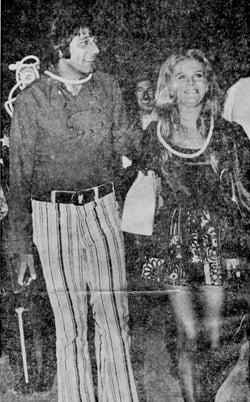 Happy Birthday, Ann-Margret! The actress was born on April 28, 1941 in Sweden. No telling where she might be celebrating this year, but in 1970, her party was at Tucson's Mama Louisa's. Her husband, Roger Smith, threw her a little bash at the restaurant on S. Craycroft.
Attendees at the party were the cast and crew of the film "C.C and Company." The movie, which had a working title of "C.C. Ryder and Company," was written and co-produced by Smith. It was about a motorcycle gang, racing and women and was filmed at various local locations, including Lower Sabino Canyon and Old Tucson.
[photo moved to image asset]
Joe Namath and Ann-Margret arrive in Tucson on
April 10, 1970. The nooses are from the Tucson
Vigilantes welcoming committee.
Starring opposite Ann-Margret was football great and novice actor Joe Namath. In his first released big screen production, Namath played a biker who saves a fashion writer from being gang-raped. Needless to say, one-thing led to another and their relationship grew.
The movie was the first time Ann-Margret filmed a nude scene. For his part, Namath said with a smile "… that wasn't any work. Hell, I enjoyed it." Ann-Margret's take was a bit more subdued. She said emphatically "If it is an integral part of the script, it has to be done."
As for that party, national Hollywood columnist Dick Kleiner wrote about it. He said that Namath presented the birthday girl with the "worst-looking pair of shoes in town." The two had an ongoing battle over each other's shoes. Smith gave his wife a "big, fat, soft, cuddly sable coat."
Kleiner, who had attended the festivities, reported that everyone had a good time.