LOS ANGELES — Near the end of a long afternoon of interviews, Arizona linebacker Colin Schooler approached Wildcats coach Kevin Sumlin to shake hands and say goodbye. Schooler's Pac-12 Media Day obligations finally were over, and he headed toward the exit of the media village at the Hollywood & Highland complex.
"He looks good," Sumlin said as Schooler walked away.
The sophomore said he feels great. Listed at 226 pounds last season, Schooler said his weight is now in the 235-240 range. He has bulked up to prepare for the rigors of the coming season, when he will be tasked with quarterbacking what should be a much-improved UA defense.
Schooler credited Brian Johnson, Arizona's new director of strength and conditioning for football, with helping him add muscle to his 6-foot frame.
"There hasn't been one easy day with Coach B," Schooler said. "Everything we do is to the max. It's shown. As a team, I feel like we've gotten a lot bigger than we were last year. … He's getting us right."
Arizona continues to work toward developing strength and depth. The Wildcats began last season rotating their linebackers, but by year's end, Schooler and Tony Fields II – both true freshmen – were playing almost every defensive snap. Did Schooler play too much last year?
"If you ask me, no," he said. "I love playing football. I don't want to come out for any reason."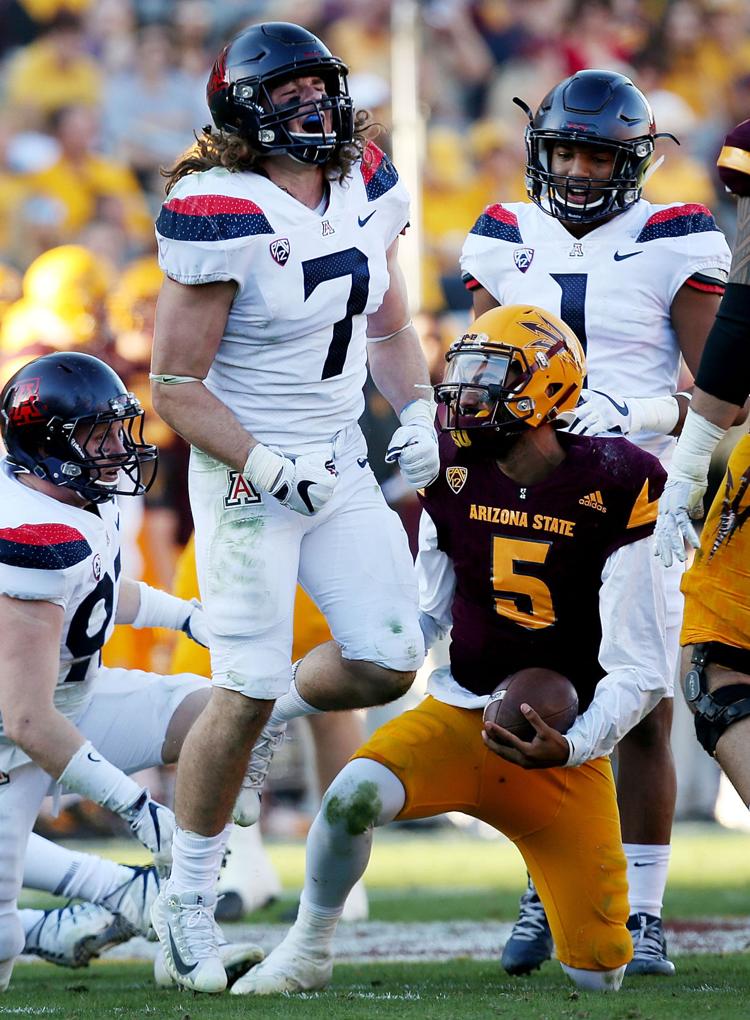 Schooler did acknowledge the possibility of wear and tear from overuse. The hope is that Arizona will have more options that defensive coordinator Marcel Yates – who's now coaching the linebackers – can trust to give Schooler and Fields an occasional breather.
The coaches moved Troy Young from safety to linebacker in the spring, and Schooler said he made significant progress. Sophomore Anthony Pandy should have an expanded role this year. Freshman Issaiah Johnson joins a group that also includes redshirt sophomore Jacob Colacion.
As for Schooler, he's seeking growth in areas other than his body. He's determined to be a more vocal leader this season.
"I felt like last year I led by example and was too quiet," Schooler said. "That's not enough at this level and my position."
Schooler spent part of the offseason watching film of himself from last year. Quarterback Khalil Tate did as well. Both said they were on the lookout for mistakes or negative plays from which to learn.
"Early on I was timid," Schooler said. "You could see as the year progressed I relaxed a little bit more, trusted my keys, trusted my coaching, trusted the players around me."
Schooler ended up leading the Wildcats with 13.5 tackles for losses and was named the Pac-12 Defensive Freshman of the Year.