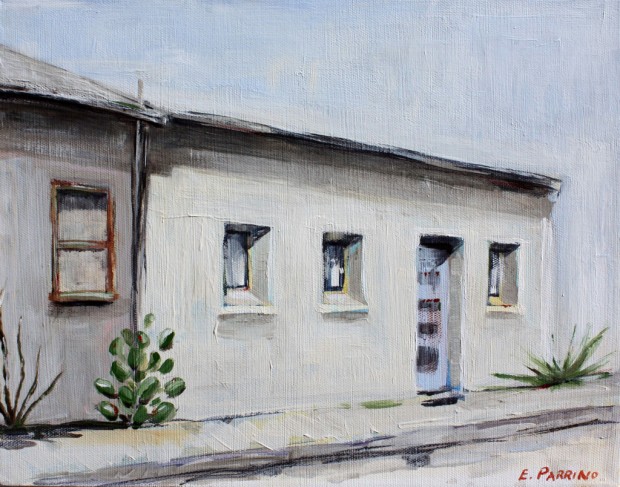 A new map and guide of Tucson's historic neighborhoods that's been more than a year in the making is set to roll off the presses this week - just in time for the 2011 Arizona Historic Preservation Conference in Tucson on Wednesday, Thursday and Friday.
The Blenman-Elm Neighborhood Association, in one of Tucson's 25 nationally registered historic districts, spearheaded the effort after residents saw a similar guide published for the Phoenix area, said Alan Myklebust, who led the effort on behalf of the association.
The neighborhood worked in conjunction with the Tucson Historic Preservation Office to research all the pertinent areas, and artist Erika Parrino, a Blenman-Elm resident, did 28 drawings and one painting for the guide.
Initially, 25,000 color copies are being printed, to be distributed in coming weeks and months at local libraries, tourist destinations and resorts, as well as the historic preservation office, the Metropolitan Tucson Convention and Visitors Bureau and the Tucson Chamber of Commerce.
UA Healthcare is paying the printing costs.
"Because we've seen historic homes being torn down by developers, and mini dorms moving into our historic neighborhoods, we wanted to do something positive to preserve the architecture and historical nature of our neighborhoods. And this is what we've done," Myklebust said.
The guide includes descriptions of each historical neighborhood, almost all written by representatives of those neighborhoods.
Most people are surprised to hear Tucson has so many historic districts, which include more than 8,000 historic buildings, said Jonathan Mabry of the historic preservation office.
"Some of them are unique in Arizona and unique nationally," he said.
For example, the homes in Barrio Viejo - called Barrio Libre in the National Register of Historic Places - represent intact streetscapes from when Tucson was part of Mexico and into the early territorial period, he said.
By contrast, Winterhaven is also old enough now to be a historic district, Mabry said.
"A lot of Tucson's urban fabric developed after World War II, so a lot of neighborhoods are becoming old enough to qualify for historic designation," he said.
Part of the challenge has been to determine which areas are actually historic, he said.
The goal with the map is to increase awareness of Tucson's historic neighborhoods and enable the map user to take a self-guided tour of those districts that add character to the community, Mabry said.
Parrino said the project was a lot fun, but also a lot of work.
She doesn't normally work with pen and ink as she did for the guide, and it was an adventure finding homes she could draw that weren't shrouded in trees and telephone poles, she said.
But she was glad to be included and is happy with the outcome, she said.
"All these old houses are literally the history of the growth of Tucson," Parrino said.
• Go to www.erikaparrino.com and click on "galleries" to see more of the artwork to be included in the historic neighborhoods guide.
• Go to www.azpreservation.com for more information about the historical preservation conference - which is open to the public and includes several free activities.